Social Selling: What, Why, and How?
The transition from the traditional method of selling to the modern (digital) method has been incredible. Social-selling has overcome all the shortcomings of the traditional set-up. There are three aspects where traditional selling fell short;
Usually, the primitive selling included fetching information of their leads from exhaustive Rolodex and buying them from multiple sources. Contrary to that, the social-selling set-up has an endless list of clients that you can approach without shelling out extra money.
Gone are the days of cold-calling and mass e-mailing. Today, your prospects won't attend a sales call unless you're very persuasive. Social-selling overcomes this problem by giving the sales professionals a chance to perform enough groundwork before approaching their leads. You have an added advantage of striking a conversation with something mutual and interesting.
When it comes to social selling, there are no shackles that can hold you behind anymore. You have access to abundant information about each of your prospects, you have plenty of time to perform research, and you can create long-lasting connections.
You can now infer what Social selling stands for! It is the art of pitching your product or services via multiple social media channels. It is different from marketing in various aspects and requires a personal effort to reach out to the various leads and guide them through the conversion process. Just like marketing has a funnel to define a customer's journey, sales have a funnel too. The difference is that in marketing you motivate people, in sales you pretty-much guide your prospect to buy your products by perfectly times sales follow-ups and constant touch.
So, the what and why part of the question is clear, now let's look at the How part of it!
Social selling happens via multiple social media channels. Be it Facebook or LinkedIn or others. As a marketer, you must understand the benefit of each social media platform for each segment, i.e., B2B, B2C, or C2C. LinkedIn is the most desirable platform for B2B sales due to its efficiency and accuracy.
With a large nexus of professional connections, LinkedIn allows you to make further connections based on multiple filters. So for sales professionals, LinkedIn lead generation is a blessing in disguise. As mentioned earlier, Social selling works on the shortcomings of the traditional set-up. The most challenging part of it was finding prospects and maintaining contact with them as a part of your customer retention process. LinkedIn simplifies this process by allowing you easy access to a plethora of people at once.
After understanding the basic questions about social selling, let's look at how LinkedIn has transformed this new form of selling in its style.
How Has LinkedIn Simplified Social Selling?
1. A Wide Professional Nexus and Easy Outreach
From fresh graduates to professionals at the peak of their career, everybody is on LinkedIn. You will find clear segments of the people on LinkedIn, and as sales professionals, you must make a judgment call about which segment to target?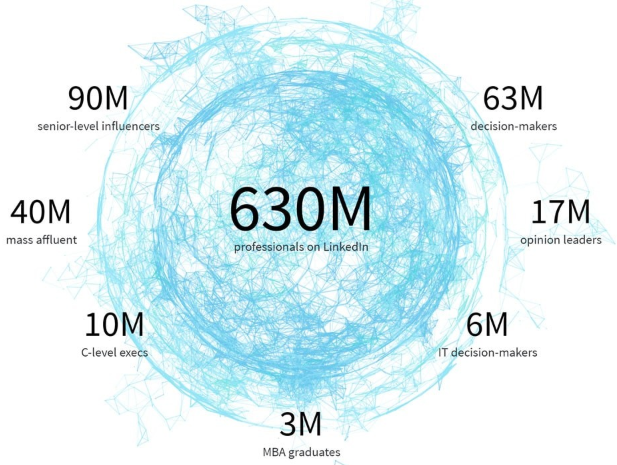 Another thing that has changed from the traditional set-up is the ease of outreaching your prospects. Sales professionals will agree that the digital set-up has allowed them to reach multiple prospects in a given time-frame, hassle-free!
But let's talk about how LinkedIn has simplified the process?
In comparison to other social media platforms, LinkedIn allows you to scan through a plethora of prospects. It does so by categorizing leads into 1st, 2nd, and 3rd of your connections; this way, most lead profiles that you come across, on LinkedIn, are somehow related to your current connections. And this gives you an added advantage of mutual connections!
2. Lead Information
Each LinkedIn profile is an information haven for any sales professional. Remember when cold-calling was the way of selling?
Remember the many unanswered calls, abruptly hung-up calls, and banters about the call. The shift from traditional to digital sales has eliminated all of that and has given sales professionals a chance to prospect with abundant information.
Whenever you navigate to a lead's profile, you'll see a few sections which have information about their interests, achievements, and skills. Such information allows you to create a plan-of-action with the leads with similar interests and skills, and LinkedIn lead generation service is a great way to find leads that might show interest in your product. LinkedIn also offers a tool called LinkedIn sales navigator that helps you find, understand, and engage with prospects. Check out this post on How to Use Sales Navigator to understand this powerful tool and get the most out of it.
3. Easy Mapping Of Customer Journey
Very similar to marketing, sales professionals can map a customer's journey via a sales funnel. LinkedIn selling helps you understand the preferences of your leads and their interests, and with that, you can curate a sales funnel for similar leads.
It is safe to say that LinkedIn selling is a data-driven version of selling, which will account for higher sales. According to stats derived by LinkedIn, the platform has the potential to generate 45% more sales opportunities in comparison to the traditional method.
4. Receiving and Implementing Feedback
It was challenging to keep in touch with each of your customers and prospects in the traditional method of selling. Not to mention, long hours of calling and rehearsing the same script over again was also very tedious. Social selling deals with these challenges in a very modern fashion. It allows you to keep your customers in the loop about your company's products or services, new offers or discounts, and other important information. All you have to do is post them on multiple social media channels, and Voila!
On the same lines, customers are also at the liberty of reaching out to you in case of any query. The query could be post-sales or pre-sales. So when you eliminate the long waiting hours and listening to the same recorded message over the customer care helpline, you ensure two things;
You don't lose out on an existing customer or a potential customer, and
You don't have to shell out too much money on post-sales processes.
Clear Your Remaining Doubts With Facts!
According to LinkedIn, there are four elements of social selling, and each of these elements is responsible for driving sales into your company. Let's understand how it has simplified the process by looking at a few stats by Oberlo;
There are over 30 Million companies listed on LinkedIn
52% of the buyers state that they consider LinkedIn as the most influential channel for researching a product.
57% of LinkedIn traffic comes from mobile users. So sales professionals do not need a brick and mortar set-up to drive more sales.
It is the second-most popular social media platform among all the B2B marketers
LinkedIn stands as one of the most prominent platforms for Social-selling. So If you're a sales professional, you know where to generate promising leads.
---
Photo by LinkedIn Sales Navigator on Unsplash