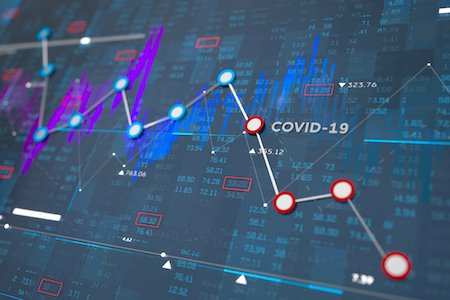 Introduction
The lethal virus COVID-19 has thrown several businesses into flummox as of late. The tourism, hospitality, aviation and healthcare industries have been especially hard hit. An alarming number of small and family-owned businesses have been driven bankrupt. During this lockdown, medium and large enterprises have also been struggling significantly to generate enough revenue to keep their operations running smoothly. As a result, many businesses have been forced to furlough and cut down on their operations and lay off a considerable percentage of their workforce.
Quite a few of the remaining employees have also been made remote, and are now telecommuting for the last few months. This situation is predicted to last the next several months, if not over a year. As such, it is crucial at this point for businesses to adopt some loss minimizing and survival strategies to weather this unforeseen storm. Even after the worst has passed, the business climate of the next several years has been irrevocably changed now, by altering ways of working all across the globe.
Also Read: How Covid-19 Has Impacted Indian Business And Economy
Survival Strategies Which Can Be Customized For Businesses Of All Sizes:
Implement a sound virtual work environment immediately
This is perhaps the most crucial strategy as of this moment, due to the massive surge in work from home happening across most businesses. As such, having a clear, easy to use, and comprehensive virtual work environment is an absolute must. It helps employees stay focused, motivated and engaged. This also significantly increases cohesiveness. Furthermore, it ensures that you can operate at least 50-70% of your capacity (depending on the business). Social distancing can effectively be maintained than when the majority of the workforce can work productively from home without any issues. Employees will also be challenged to think outside the box and learn vital new skills to adapt to this new working environment.
Keep your stakeholders in the loop.
Another essential strategy is to make sure that you communicate clearly, openly and honestly with all your stakeholders, such as investors, partner organizations, customers and suppliers. It would be best to let them know upfront what your limitations are due to this lockdown and the current scenario so that they also do not have any unrealistic and unmet expectations. This helps everyone be on the same page, and also enables a healthy communication and support channel. Since everyone is in the same boat, as of now, your stakeholders will be more than likely to help and support you through this tough time. However, make sure not to overcommit, as you may not be able to meet your pre-pandemic delivery levels right now.
Also Read: Covid-19 Challenges Faced By MSME
Engage and motivate your employees
When your business is going through significant losses and undue stress, it may be straightforward to neglect or forget about your employees sometimes. Perhaps you have even had to lay off a few, or a significant number of your employees. The remaining employees may be listless and unmotivated.
However, this is the time when you should care and focus on them even more. COVID-19 layoffs have made employees across the world extremely worried and insecure about their current jobs, their futures, livelihoods and career in general.
Upper management and business owners, who are perceived to hold the fate of normal employees in their hands are being looked at with deep suspicion. Some employees may even preemptively quit their jobs, to avoid being fired or laid off.
Thus the need to establish a stronger bond with your employees right now and reassure them is crucial. Being open and upfront about your circumstances and the exact reasons you had to lay off employees might help bring in more confidence in the workforce, by quilling baseless rumours. However, try to strike a balance not to cause panic. Employees also need to be engaged productively and encouraged to learn new skills and broaden their horizons during this time, to prepare for the challenges ahead.
Also Read: Top 10 Business Ideas After Lockdown
Plan ahead but not too far
Planning in uncertain times such as these may prove to be a double-edged sword. While it is important to chart out a rough road map of sorts which can guide businesses through COVID-19, it is also difficult, if not improbable, to plan too far into the future. However, this is something that businesses end up doing anyway, resulting in a lot of time wasted and frustration when things don't go to plan. As such, to survive right now, restraint is key, and short-term plans need to take precedence over medium and long term strategies. Businesses should thus aim to break up their plans into chunks of 3 months at a time, for better focus and clarity. This will also make them much easier to execute and will keep business owners alert and in the here and now. This is an especially useful strategy, as the last few months have proven how much can change in the space of just a few months. As such, businesses need to be prepared to be dynamic and quick to react to frequently changing circumstances.
Redesign your business model
This is also a good time to revisit some of your core business goals and strategies and redesign your business model. The pandemic situation may have forced several businesses to innovate, think outside the box and let go of several rigidly held ways of working. As such, many of them may have realized the need to change themselves and their business models along with the changing circumstances. The present business scenario calls for fluid, dynamic, resilient and innovative business models and strategies. Only those businesses who can meet these criteria will be able to survive in this harsh new landscape with its various limitations. For example, businesses which previously abhorred work from home, and sprint cycles may be forced to embrace them now. A few simple strategies to employ can be to look at your credit timelines, both from suppliers and to customers. Furthermore, businesses can also cut their losses early, and start prioritizing bills, in order of most urgent and so on. To ensure that your business is one of the survivors, you may be tempted to use this lockdown to revitalize your business strategies and model.
Avoid hasty decisions and go with the flow.
In the enormous stress and uncertainty of COVID-19, it may be tempting to make more than a few hasty decisions, to pull your business out of a slump. However, patience and a level head are the need of the hour right now. It is more important than ever to think of what effect your decisions could have for your business and stakeholders right now. Furthermore, with such little information about future business scenarios and positions, it can be quite dangerous to make any uncalculated moves.
This can only result in further heavy losses and an added feeling of instability in the workplace. There is also an alarming increase in the number of scams and pyramid schemes, taking advantage of this general anxiety. By peddling quick-fix solutions, these con artists are tricking gullible businesses into believing that they can escape the pandemic right away, which is not the case.
To best be able to survive this situation, try to go with the flow of things by now, and take things one step at a time. This will also help you get a feel for your general business surroundings so that you can adapt accordingly when need be.
Also Read: How To Manage The Shortage Of Credit During Lockdown?
Stay positive and look for the silver lining.
With rising cases and a generalized feeling of fear, melancholy and anxiety, it can be effortless for businesses to feel overwhelmed and give in to pressure. However, business owners today should never forget that they are already doing a great job, by merely having survived thus far. This itself is no mean feat in these tumultuous times. COVID-19 is also unveiling new shades of creativity, innovation, resilience, determination and an overwhelming sense of community. These feelings span across borders and know no boundaries, and should be celebrated as such.
The pandemic has also unleashed a fresh new wave of positivity amongst small business owners who are more determined than ever to not give up. New ideas are buzzing everywhere as people take this phase in their stride, and adapt at lightning speed. In order to survive better and stronger than ever before, businesses need to make sure to keep this positivity in mind. By continuing to make the best of an inescapable situation, they will continue to evolve. As such, they will not just survive, but thrive.
Final Thought
COVID-19 has changed the way almost all industries across the world work. Brutal, unexpected, and incredibly fast-spreading there was hardly any way to prevent it from affecting even the most well-insulated business. However, by adopting a few simple and effective survival strategies, as listed above, most businesses should be able to weather this storm well and emerge stronger than before.