Advertising isn't just for getting extra attention.
The ideal advertisement should encourage consumers to come back for more. Not only should it increase brand awareness, but it should also encourage customers to stay with the brand.
That said, marketers often launch loyalty programs and customer retention campaigns to keep their brand on the back of people's minds. However, customers will only stay loyal when they realize the perks of doing it.
How can you boost loyalty? Let's take a look at some of the best advertisements that have encouraged shoppers to come back for more.
Coke: Share A Coke
The beverage industry may seem saturated. Yet, Coke has managed to withstand the test of time with their iconic Share A Coke campaign.
For starters, the campaign featured Coke bottles printed with names. Not surprisingly, it encouraged people to find Coke bottles with their names, and find ones with the names of their friends and family. You could even order custom bottles with nicknames and college logos.
This approach turns customers into promoters which leads to business growth. According to one research, promoters are 4.2x more likely to buy again from the company and 7.2x more likely to try a new offering. In other words, it's a great way to encourage customers to come back for more.
True to the campaign, they'll then "Share A Coke" to highlight the occasion.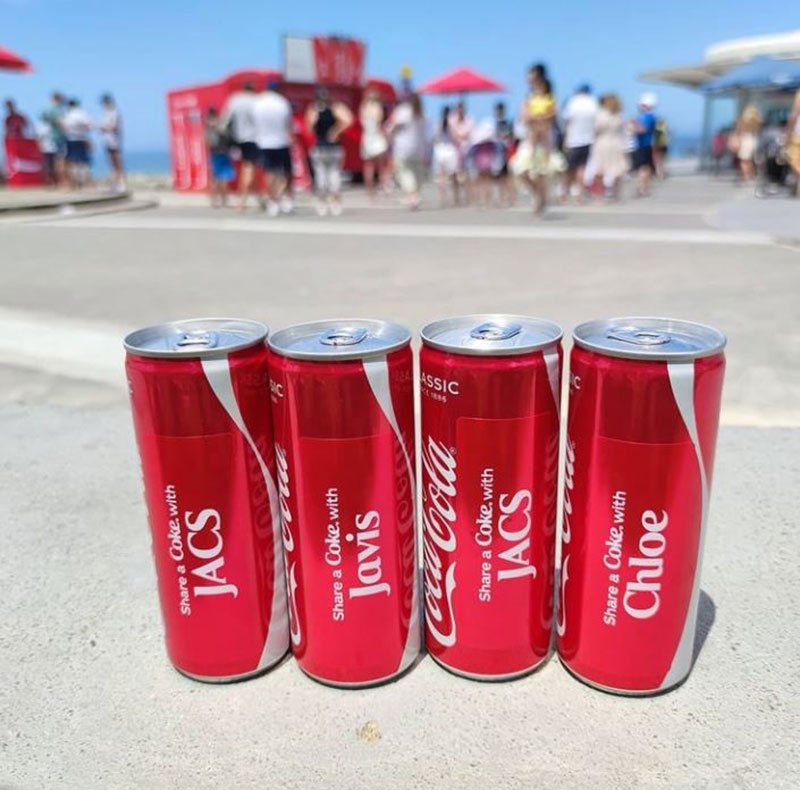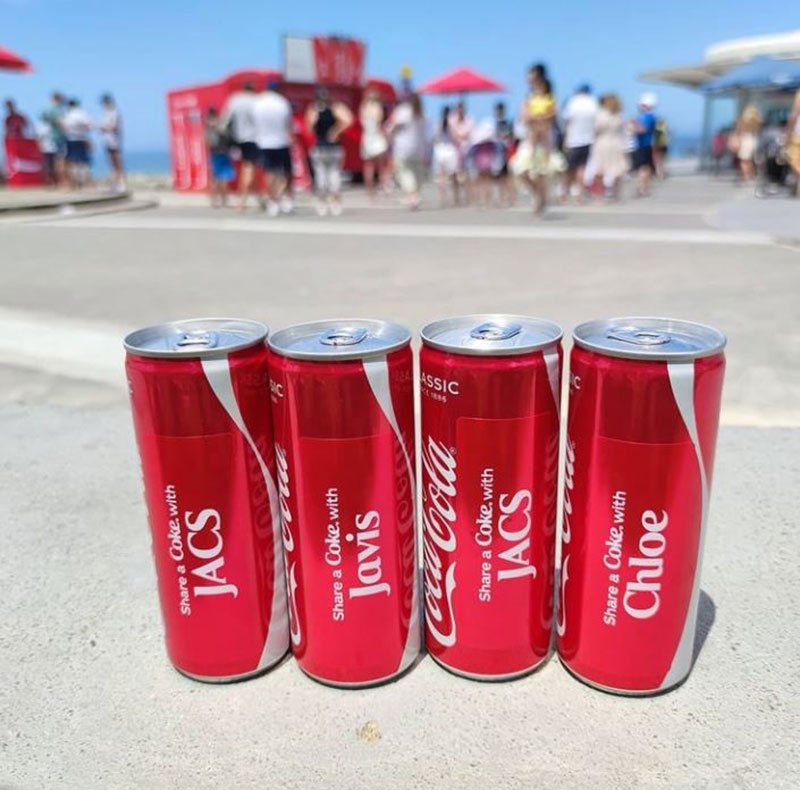 Source: https://www.instagram.com/p/CK-2M2DApuY/?utm_source=ig_web_copy_link
By adding a personal touch, Coke was able to make a connection with their consumers and heighten their sense of community.
Starbucks: Welcome Back to Starbucks
The coffee giant definitely succeeds in the customer retention department.
What differentiates Starbucks from most coffee chains is their emphasis on convenience and a seamless customer experience. One of our favorite marketing ads is the "Welcome Back to Starbucks" video which highlights the perks of downloading the Starbucks app in just 15 seconds.
Since most people have short attention spans, keeping it short and sweet is the best way to promote the unique selling point of the app.
Apple: The whole working-from-home thing
Apple keeps it real in their unglamorous and highly relatable ad about the perils of working from home.
In this campaign, the "Underdogs" navigated the new normal with Apple products. Although the products were never mentioned explicitly, you'll subtly notice the iPad, iPhone, Mac, and Macbook. You'll also see the Apple apps the cast uses to conquer meetings, conference calls, and bosses—all while working from home.
By showing how their products are vital in the remote work era, Apple encourages consumers to recognize the company's constant role in their life.
Expedia: Santa Flies Coach
Santa Claus loves to travel across the globe during the holiday season. But in the 21st century, it seems he uses a coach seat with Expedia to reach his destination. As he meets new people and visits destinations, he racks up Expedia+ points along the way.
His final destination – St. Jude's Children Research Hospital – will definitely warm hearts. Santa Claus goes from room to room to visit young patients.
The company is actually a big supporter of St. Jude's Hospital. So the campaign was meant to encourage customers to donate their unused Expedia+ points to spread the cheer this holiday season.
Zappos: Thanks customers
Retail company Zappos takes personalization to the next level in their "Thank you" letter campaign.
The company has a chalkboard of personalized items such as cookies, postcards, flowers, and goodies that they gift to customers in exchange for their purchase. Consider this personalized letter they've given to a new member of their Zappos VIP loyalty program.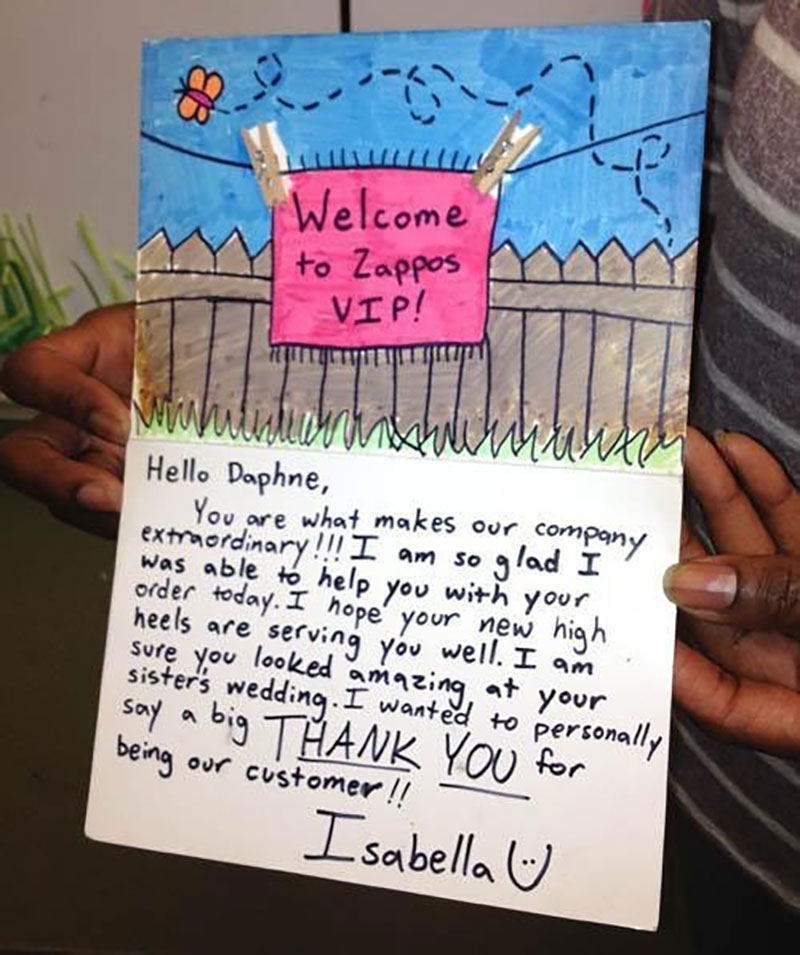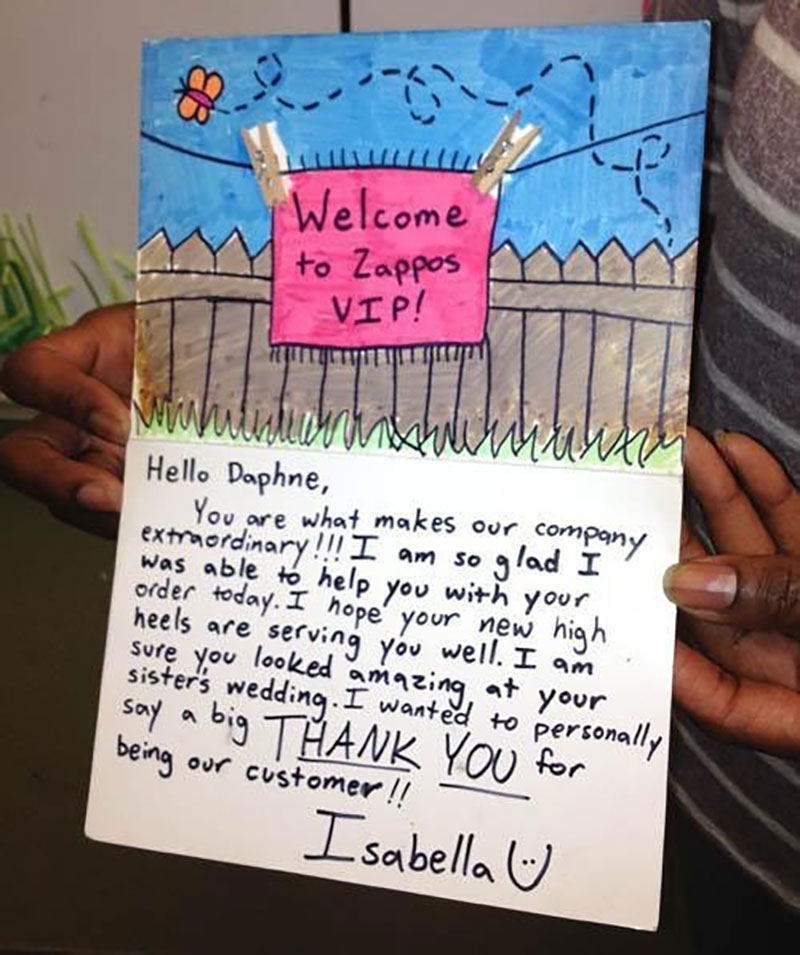 Source: https://acquireconvert.com/shopify-customer-retention/
With a unique personal touch, Zappos proves that they genuinely care about their consumers. The "being thankful to customers" approach can work across all types of businesses as well, even something as simple as retail arbitrage can benefit. Companies should never be shy about showing their appreciation for their customers.
Patagonia: Don't buy this jacket
Patagonia's ad seems counterintuitive because it encouraged customers not to buy their jacket on Black Friday. However, it emphasized the company's position as a sustainable and eco-friendly company.
The result? Patagonia sold an astounding $158 million dollars worth of apparel and 14 new store openings. While their consumers may want to "Buy Less", it seems they dedicate their occasional purchases to the brand that they love.
Source: https://www.creativenoggin.com/2013/08/patagonia-proves-creative-advertising-does-work/
Sephora: Holiday Rewards Cards
The main selling point of a loyalty program is always the benefits and rewards.
So for the holiday season, the beauty brand gave its consumers the ultimate gift by launching rewards cards. The amount of the rewards is based on their tier, with those in the Beauty Insider receiving $15 off, while VIB and VIB Rouge consumers can get $25 and $50 off.
No need to purchase to get the gift. This really makes it feel like a genuine present for their loyal customers.
Besides the perks, the ad clearly explains the benefits that customers can get. It is also surrounded by holiday-themed decorations to align with the spirit of the season.
Source: https://www.hellojaa.com/sephora-25-off-50-gift-card-holiday-2014-gift-ideas/
TOMS: For One, Another
TOMS has garnered popularity for its one for one business model. Whenever you buy a pair of shoes, the company donates another pair to the less fortunate.
That's precisely why the TOMS advertisement featured the lives of female entrepreneurs and social activists that dedicate their lives to helping people. By simply patronizing the brand, consumers can become the change that they wish to see in the world.
Nintendo: Nintendo Switch Super Bowl LI Commercial
Nintendo Switch's Super Bowl commercial shows the many ways you can play iconic games like Zelda and Street Fighter tournaments by yourself or with friends.
You'll spot a father playing with his son, two friends competing in a laundromat, and pals engaging in Splatoon tournaments between college classes. The short clips of people having fun will definitely tempt you to add the Nintendo Switch to your wishlist.
Getting customers to come back for more
To get loyalty, encourage customers to come back for more by highlighting your benefits, perks, and rewards. Communicate the perks of collecting points and you'll snag a customer that can last a lifetime.
Another option is to create a connection through personalization or foster a sense of community. After all, we tend to love the things that our friends and family like.
Now, how will your ads encourage consumers to keep returning?
Author's bio
Raul Galera is the Partner Manager at ReferralCandy and CandyBar, two tools helping small and medium businesses run customer referral and loyalty programs. He's been working in the tech sector for the past seven years and regularly writes about marketing, ecommerce and tech.