Social media platforms are constantly evolving, with new features rolling out every day. From LinkedIn stories to YouTube bite videos, everyone is trying to introduce elements that allow users to experiment with different things and stay on the platform for longer.
Instagram recently released the reels feature where you can post a bite-sized video of 15-30 seconds. These videos appear in a different section of Instagram than explore.
These reels have provided immense reach to a lot of talented creators across industries. While this has been working great, brands are still contemplating if reels are the right way to connect with their audience.
Brands are using social media for their content marketing efforts, and for all the right reasons since it's important to be where your audience is. However, the new features introduced by the platforms often put the brands in a challenging spot of leveraging the feature or waiting for others to try it first.
While there's no denying that Instagram always promotes new features to encourage users to leverage them, reels have been driving a lot of profile traffic for users who are creating consistent reels on relevant and popular topics that interest the audience.
Let's see how you, as a brand, can use Instagram reels to boost engagement, drive traffic, and generate sales.
5 ways to use Instagram Reels to boost engagement and drive traffic
Instagram reels are increasingly being viewed as a competitor to TikTok, and people are readily talking about reels being the next big thing in the digital world.
This is because reels not just offer expanded reach and exposure, it also offers an opportunity for people to navigate through your page and follow your call-to-action.
This could be a landing page, blog, your website, calendar link, etc.
This means that users leveraging the feature now will get the first-mover advantage, making it even more legitimate for you to start using reels for your brand.
The real question is, how can you create content that appeals to your audience, interests them, and adds value to them in a short duration of 15-30 seconds?
Here are 5 ways to include reels in your Instagram marketing strategy and see results.
1. Create shareable industry tips and tricks
Sharing educational content relevant to your industry can widely engage your audience, even with a 15-second video.
Some things which might appear normal for you may be new for your target audience, and if you're solving their pain point, one reel at a time, they will start following you and your content.
The idea is to add value to your target audience by understanding their problems and providing solutions for them.
For example, Hubspot creates great hacks and tips reels that help enhance their audience's work. Even though Hubspot's product and the audience is in the digital space, they are still able to create mobile and desktop screen recording videos for their Instagram reels.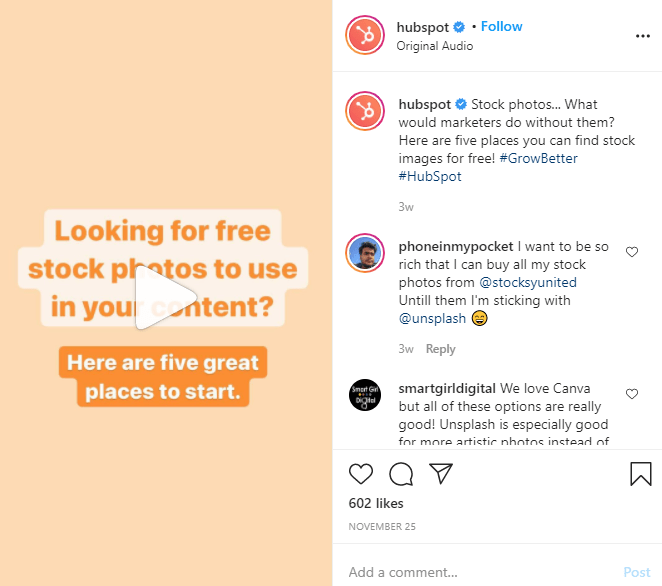 2. Do tutorials or show DIYs
Doing quick tutorials for your audience will add immense value to your reels. These can be common things that people struggle to do, or you could make quick Do-It-Yourself (DIY) videos.
These will mostly focus on helping your audience solve their most common pain points and provide value. If your tips are exceptional, they might go through your page, hit the follow button, or navigate to your website.
Consistency in creating such videos can help reach a wider audience, thus expanding your social media reach.
Sephora, the French retailer of makeup and beauty products frequently creates how-to reels for their users, covering everything from the basics to advance tutorials for makeup.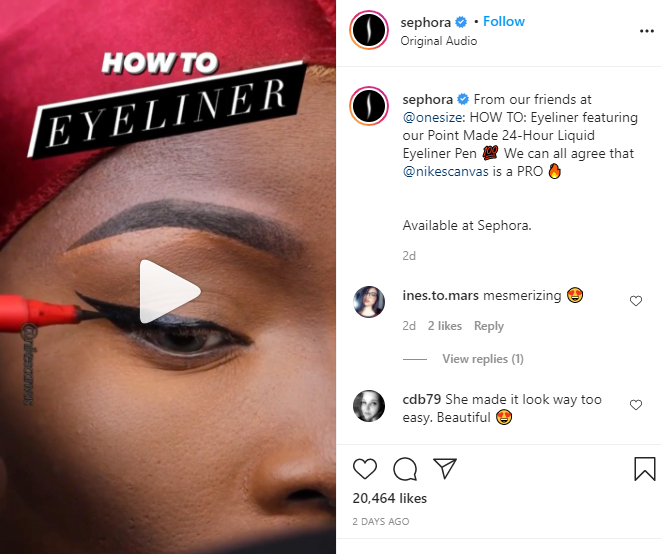 3. Start a new reels challenge
Challenges are trending on Instagram reels at the moment because people always come up with unique ways to do them, and who doesn't want to be a part of a trend?
These challenges mostly go viral by tagging the challenger and the hashtags, which go with it. This way, you get more people to participate in your challenges through which you get greater engagement.
As a brand, you could tell people to make a video using your product in the funniest way possible, and the best reel would get a voucher worth $$. This investment will be worth it for the amount of reach and exposure your brand gets through this challenge.
Sephora also started a reels challenge with the hashtag #sephorachallenge by collaborating with an influencer, Ryan B, Potter. This challenge invited all makeup enthusiasts to take this up.
4. Collaborate with influencers making reels
Within a short span of releasing reels, influencers started leveraging reels as a means to document their days, engage with their customers, and create content their audience likes. Many new creators also saw popularity solely because of the reels, and now they're getting a lot of exposure.
Collaborating with these influencers could massively help you. If there's an influencer in your industry and you collaborate with them for a reel where they tag you, it will be much easier to reach your target audience through them.
However, it's important to note that the influencer should have organic and genuine followers, which lie in your main target audience segment.
The point of collaborating with influencers is that the audience listens and looks up to them, which is why when they endorse your brand, they're more likely to check it out than when they find you organically. And reels are the perfect way to do that, given the popularity and reach that this new feature provides.
Walmart collaborated with influencers to come up with their first reel, which saw a whopping 300,000 reach.
5. Show behind-the-scenes content
People see what you show them.
If you're a brand, let's say a fashion eCommerce store on Instagram, your audience sees your products and the shoots you do, but they don't know how you do the projects, what the process looks like or how a day in the life of a fashion eCommerce brand manager/founder goes by.
Showing behind-the-scenes content gives them an insight into your brand, establishing a deeper connection than just selling products and services. Through this, they will be able to relate with your brand in a much better manner, thus, humanizing your brand.
People know the name of the brand and what it does, but they create a relationship with the people behind the brand. So, it's important to give your audience an inner vision of your brand, helping them engage with you more efficiently.
Reels is the perfect avenue for behind-the-scenes (BTS), where you can do a time-lapse, add music, stickers, and even text to show your audience what you're doing. It's like documenting your day and giving the audience a viewer-pass.
Balmain, a luxury fashion brand created a behind-the-scenes reel about their shoots which garnered over 380,000 views and gave the audience an idea about how photoshoots happen for luxury brands.
Conclusion
Instagram has a wide user base, and it's not too difficult to find your target audience.
But features like reels can help you accelerate the process and engage with your audience in a greater effect. It's a chance for you to go beyond the people following you and compel others to join you by providing entertaining or value-based content.
Like all other types of content, reels also require a strategy, analyzing which is important to see if your efforts are yielding results. This is where a social media manager comes in handy because they are able to help you develop the best possible strategy for Instagram and all social media platforms.
While Instagram does not have analytics for reels separately, you can use third-party apps which makes the experience of using Instagram much efficient.
It's the perfect way to build a community and address topics your audience is interested to hear. Once you catch their attention, they will also participate when you launch new products and services or try to sell them something because if you provide them value, they will become avid content consumers of your brand.
This is a great way to build trust in the digital world, which gives traditional methods a run for their money.
So, create an Instagram reels strategy and start working on it from today for greater traffic and engagement from your audience.