Professional graphic design software like Adobe's Creative Cloud can be expensive and complicated for the average person looking to create designs.
So if you're looking for alternative and more accessible options then you're in luck.
We've put together a list of 12 incredible online graphic design tools, with something to fit every design need and budget.
Let's get to the list.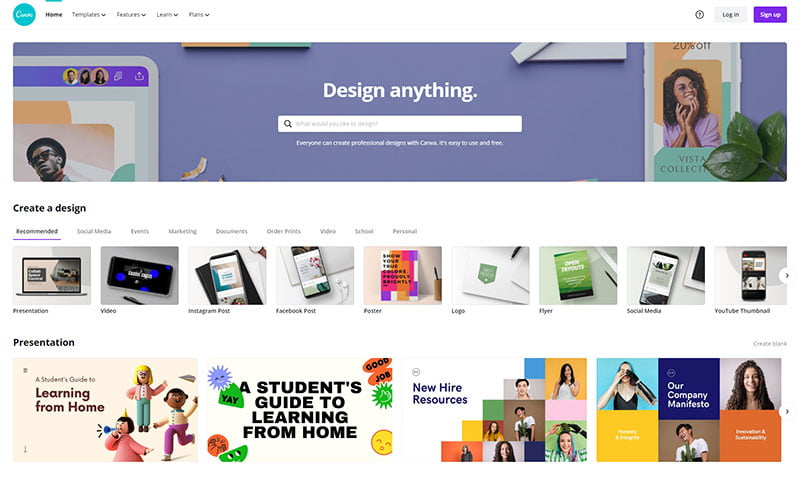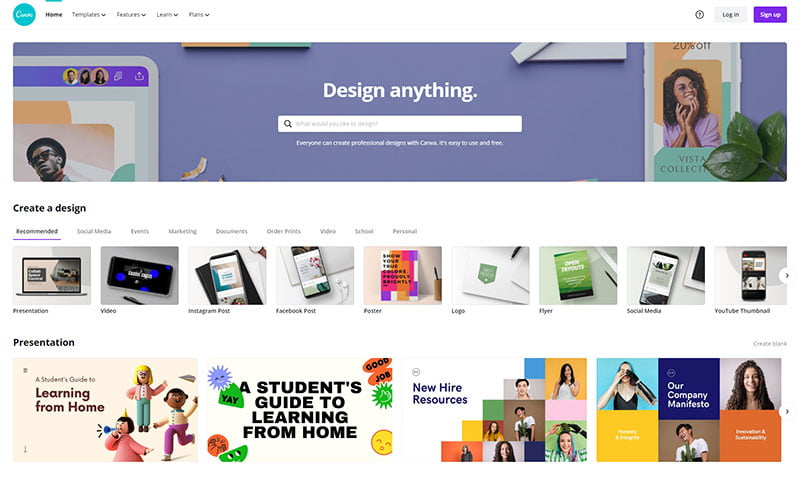 At number 1 we have Canva, a drag-and-drop graphic design tool that is ridiculously easy to use.
Canva has a huge array of pre-designed templates that you can use as the starting point for your designs, this makes it very easy and quick to create great looking designs.
It's almost as easy to create designs from scratch due to Canvas's incredibly user-friendly interface. It means starting from a blank canvas isn't intimidating at all. You just have to select the design elements you want and easily modify them to your liking.
You can create almost any design with Canva including but not limited to social media posts, logos, flyers, printables, presentations, videos, the list goes on.
The best part is that you can create many designs for free so if you're on a tight budget it's likely you'll be able to create what you need on Canva without spending a dime.
However, there are certain features that are only available to Canva Pro users. This includes useful tools and features such as being able to download designs with a transparent background, social media scheduling, access to premium design elements, and so much more.
Main features
Incredible functionality
1000's of free design elements, photos and fonts
Huge array of pre-designed print, digital, and social media templates
Customize and create designs with ease
Mobile-friendly and mobile app
Integrations with many 3rd party tools
Premium subscription available
Pricing
Create a lot for free!
Canva Pro monthly: $12.99 per month
Canva Pro Annual: $119.99 per year
Next up is Placeit, a design tool for non-designers that, like Canva, is insanely easy to use.
Their most popular feature is their mockup generator which is by far the strongest mockup tool on the market.
Placeit doesn't offer the same amount of templates and tools as Canva, however for some categories they have a far superior offering than any other online design tool currently.
This is particularly the case when it comes to streaming templates where their toolkit includes an overlay maker, banner maker, emote maker, and much more.
They also have an incredible selection of templates for YouTubers including intros, thumbnails, banners, end screens and even logo templates specifically designed with YouTubers in mind.
Everything on Placeit is template based meaning that all users have to do is select a template and customize it to their liking. It's not possible to create designs from scratch but their library of templates is huge and it's incredibly easy and quick to customize the designs to make them your own.
Main features
1000's of pre-designed templates to use
Easy to use interface
Create designs in seconds
Some free templates
Templates for many niches
Unlimited downloads with a subscription
Pricing
Many free templates
$14.95 per month
$89.69 per year
In third spot we have Visme, another top quality online graphic design tool that requires little to no design skills or experience to use, and offers free and premium options.
Like Canva, you can create your own designs from scratch and with Visme's super slick and smooth interface this is a breeze. They also have a huge library of pre-designed templates with a fantastic range of designs so you'll easily create great looking designs no matter which option you choose.
The templates cover many categories including social media posts, documents and web graphics but they're particularly strong when it comes to visualization templates such as infographics, presentations, charts, as well as interactive and animated designs.
A free Visme account allows you to create a fair amount, with access to a good selection of free templates and design elements.
However, if you plan to create designs regularly and want to get the most out of this multifaceted tool you'll more than likely need to upgrade to one of their paid subscriptions.
The free version can be quite limited, especially when it comes to the number of designs you can create and the amount of templates and design elements you get access to.
Main features
Extremely easy and smooth interface
Huge range and amount of templates
Easily create incredible visualizations
Useful 3rd party integrations
Collaborative tools
Pricing
Free plan (Limited)
Standard subscription: $25 p/month (or $180 p/year)
Business subscription: $49 p/month (or $348 p/year)
Crello is a fantastic graphic design tool that is very similar to Canva but not quite as good, yet.
With Crello it's extremely easy to create designs from scratch and, like Canva, you also have the option to use one of their many pre-designed templates as the starting point for your design.
Crello's huge library of templates includes social media graphics, print designs, marketing collateral, animations, videos, and much more. They even recently added logo templates which are good quality, but it's currently not one of the best logo makers around.
If you don't want to splash out on a paid subscription you can create 5 designs for free each month with a free Crello plan. The free plan also gives you access to their full template library, stock image library and much more.
However, if your budget allows, we recommend investing in a Crello Pro subscription. At $9.99 per month it's very affordable and gives you unlimited access to everything Crello has to offer, including extra features such as collaboration tools and the ability to remove backgrounds from images with one click.
Main features
Incredibly user friendly interface
Huge library of quality design templates
Good range of fonts, graphics, photos, and videos
Create incredible videos easily
Plenty of help resources, tutorials, and how-to guides
A high-quality but affordable Pro subscription
Pricing
Free Plan
Pro Plan: $9.99 p/month or $95.88 p/year
Adobe Spark is Adobe's first foray into the world of online design software.
You've no doubt heard of the products in Adobe's Creative Cloud such as Photoshop and Illustrator, and although Spark is aimed at a slightly different user base it keeps to the same high standards that we've come to expect from Adobe over the years.
Like many of the design tools in this list you have the option to create designs from scratch or use one of the thousands of pre-designed templates that Adobe Spark provides you with.
As Spark was created with non-designers in mind, it's incredibly easy to use (here are some Spark tutorials). Customizing and adjusting all aspects of the templates and design elements is easy to do, and they have a solid library of graphics and fonts to utilize as well.
With Spark you can create blog banners, social posts, logos, posters, animated videos, and a whole lot more.
What make's Adobe Spark unique from some of the other tools in the list is that it allows you to easily create one page websites and publish them online which is a great feature. However, if you plan to create a multi-page website then it's not going to have what you're looking for.
Main features
Premium templates – 31,000!+
Millions of free images, icons and GIFs.
Adobe Fonts library
Create many designs for free
User friendly interface
Solid collaboration features
Create single page websites
Pricing
Some free templates and features
$19.99 p/month
$239.88 p/year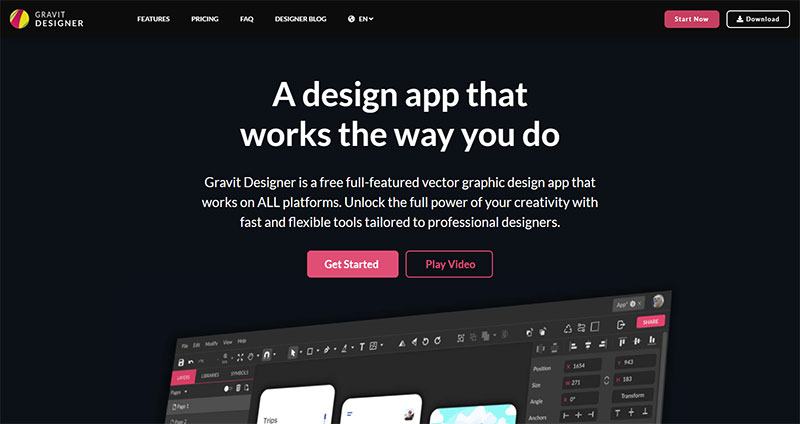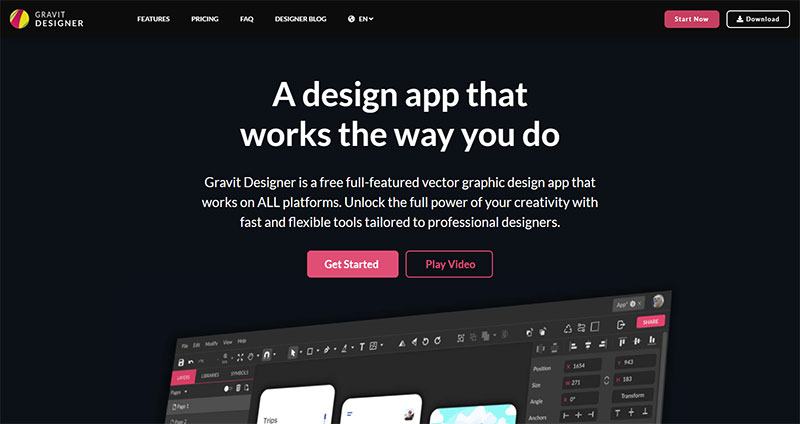 Previously known as Gravit, Gravit Designer is an incredible cross-platform design tool that has so much to offer.
The tool has a much steeper learning curve than the majority of the tools on this list but if you can get your head around it, you can create some incredible designs. .
It's possible to download the native versions of the Gravit Designer app to your device but you can also use their web browser version which is just as powerful.
The tool allows you to create high quality, sophisticated vector graphics with their huge range of features and vast toolbox that includes a Pen, Knife, and Boolean tool that lets you clip, subtract, and combine shapes. It's incredibly powerful.
Everything on Gravit Designer is cloud based, meaning anything you create is backed up in the cloud (and doesn't need to be downloaded locally).
Gravit Designer does offer a range of pre-designed templates you can use as the starting point for your design. However, their template library is tiny in comparison to some of the other tools in this list such as Canva or Placeit.
However, if you want to have complete control over every element of the designs you create then you should definitely check out Gravit Designer.
Main features
Online version or downloadable apps
Cross-platform functionality
Robust toolkit for vector design
Can export files as PDF, SVG, or bitmap
Some pre-designed templates
Huge range of features for complete design control
3rd party integrations (e.g. Google Drive)
Pricing
Free version
Pro versions: $99 p/year
BeFunky is a top quality online design tool that combines three creative features to make a unique and beginner friendly offering. These three areas are the Photo Editor, Collage Maker, and Graphic Design Tool.
Their name BeFunky is a little different but don't let that full you. Their tool has some really powerful features and offer a lot at a very affordable price.
If you're into photography and looking for an online tool to easily edit your images then BeFunky's Photo Editor will likely offer what you need. With the free plan there's a solid amount of photo editing options and tools but to access all the tools you'll need to get a paid subscription.
You can also edit multiple images at once but again you'll need a BeFunky Plus account to be able to use this feature.
Their Collage Maker is very simple to use. With BeFunky it really takes no time at all to create good looking collages.
Their newest addition to their offering is their Graphic Design Tool. Like most tools in this they offer pre-designed templates for a number of areas such as Facebook posts, Twitter headers, posters, cards, and much more. It's also possible to create designs from scratch on BeFunky.
Main features
Graphic design software
Photo Editor
Collage Maker
Many free tools and templates
Easy and enjoyable to use
Huge free stock images library
Solid mobile app
Many features only available to premium subscribers
Pricing
Free plan
Plus plan: $6.99 p/month or $60 p/year
Snappa is one of the best online graphic design tools for beginners. It's ridiculously easy to use.
Like several of the tools on this list you have the ability to create designs from a blank canvas and you can also use one of Snappa's premade templates, most of which are very high quality.
Snappa makes it easy for you to get started on your design. From their homepage you can easily select the ideal image dimensions for what you're wanting to create such as Facebook posts, YouTube end screens, Instagram stories, and many more.
Like most of the other tools you get access to a solid library stock images, design elements, fonts, and image editing features.
Snappa allows you to connect to Buffer to pre-schedule your social posts which is a great feature. They also have a good selection of image editing tools such as resizer, flipper, cropper, rotator, and text overlays.
Overall, Snappa is a great tool. However, their offering doesn't match up to some of the top tools such as Canva, Placeit or Visme at the current time.
Main features
Super easy and quick to use
500,000+ high-quality stock photos
Free downloads each month
3rd party integrations
Easily create designs with the right dimensions
Quickly resize designs for multiple platforms
Many video tutorials and help docs
Pricing
Free plan: (3 downloads per month)
Pro plan: $15 p/month or $120 p/year
Team plan: $30 p/month or $240 p/year
For people looking for a significantly easier, lighter and more affordable alternative to Photoshop for photo editing, PicMonkey is a great option.
It's definitely one of the best and simplest online photo editors available.
There are plenty of photo editing and manipulation options such as adjusting exposure, color balance, touch ups, and a whole lot more, and their clean user interface makes it incredibly easy to make all the customizations you need.
PicMonkey has also recently added many new tools and features to become a more rounded graphic design tool. They have a solid selection of pre-designed templates, allowing users to create many designs including logos, posters, banners, printables, and lots more.
They've also introduced a fantastic library of stock photos and videos, and additional features such as a background remover, design resize tool, and brand kits.
A great feature of PicMonkey is their third integrations that allow you to export your designs directly to YouTube, Facebook and Instagram.
Main features
Excellent photo editing tools
Solid library of pre-designed templates
Great mobile app
Video editing
Huge stock asset library
3rd party integrations
Premium features e.g. background remover
Pricing
Basic plan: $7.99 p/month or $72 p/year
Pro plan: $12.99 p/month or $120 p/year
Team plan: $33.99 p/month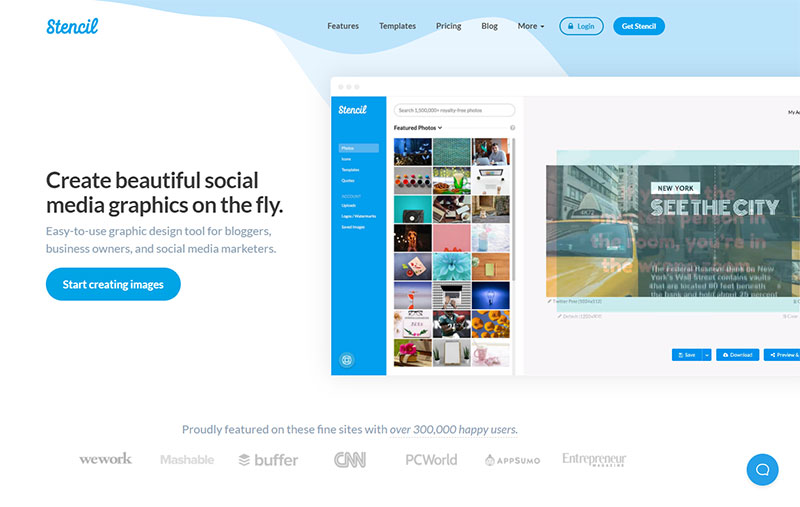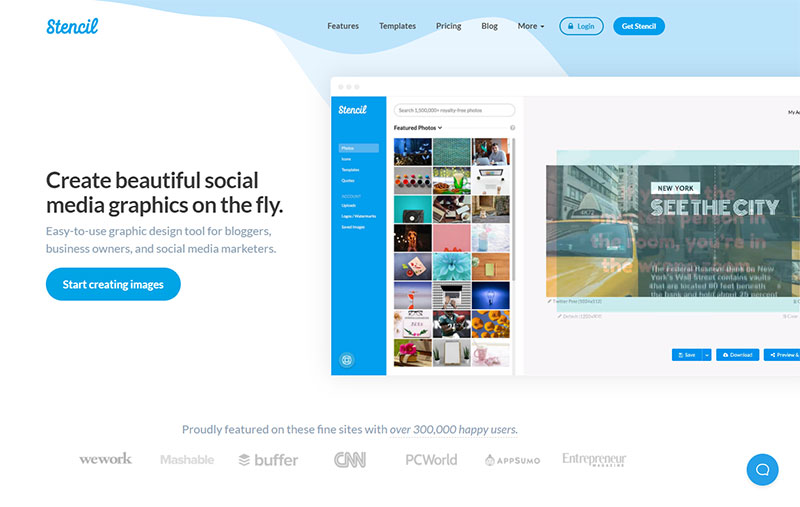 When it comes to creating social media posts, one of the best online design tools for that is Stencil.
It's an incredibly simple tool that's perfect for social media marketers, bloggers and anyone else who wants to rapidly create high quality social media content.
What makes Stencil stand out from other tools is their Quote library. You can browse over 100,000 quotes from people like Winston Churchill and C.S. Lewis and quickly add their quote to a design you're working on.
The free version of Stencil allows you to download 10 designs per month, access millions of free stock photos and a large library of icons too. However, you'll need to subscribe to access all that Stencil has to offer.
What let's Stencil down is their range of templates. There's nowhere near the amount of templates as some of the other tools in this list, and the quality of templates on offer isn't as high as tools like Canva and Placeit.
Overall, it's a very solid tool, especially if you're looking to quickly create social media content.
Main features
4,000,000+ stock photo library
1,000+ ready to edit templates
Upload your own logos and watermarks
100,000+ quotes
Incredibly easy user interface
Easily resize designs for different platforms.
Useful 3rd party integrations such as Buffer
Pricing
Free plan (10 downloads per month)
Pro plan: $15 p/month or $108 p/year
Unlimited plan: $20 p/month or $144 p/year
Design Wizard is a relatively new kid on the block when it comes to the online graphic design software market but the company has managed to carve out their own space with their user friendly and accessible design tool.
Most users will consider Design Wizard a Canva competitor, and they are a long way off matching Canva's offering at this present time. However, they do have a very solid offering.
Not only do they have a sizable library of templates for creating static designs but they offer some powerful video creation features too. With a Design Wizard subscription you also get access to a high quality stock photo library.
The main downside with Design Wizard is that you don't get unlimited downloads even with their first tier subscription, you only get 60 downloads a month unlike tools like Canva, Crello and Placeit that give you an unlimited number of downloads with their paid plans.
Design Wizard is a good tool, especially when it comes to creating social media graphics and album covers, but when it comes to the overall offering, they have a bit to go to be amongst the very best graphic design tools available.
Main features
Solid graphic design tool for beginners
1,000,000+ premium images
Large library of pre-designed templates
Template options for both print and social media
Affordable pricing
Custom template resizing
Useful 3rd party integrations
Pricing
Free Basic Plan (Very limited)
Pro Plan: $9.99 p/month or $89.99 p/year
Business Plan: $49.99 p/month or $449 p/year
Vectr is a free graphic design software for creating vector graphics that is simple and easy to use. You can use the tool online or you can download the application to use on your desktop device.
With Vectr it's possible to create a huge range of designs including logos, mockups, social media graphics, posters, and much more.
A great feature is that you can grant collaborators access to your document so that they can watch you create and edit or comment in real time.
The team at Vectr has also put together a good sized library of guides and tutorials to help users get started with the tool.
If you don't have any budget to spend on an online design tool then Vectr could be a good option for you. However, if you want to create quality designs quickly and at scale then we recommend investing in one of the other tools in this list.
Main features
100% free
Easy to use
Cross-platform capabilities
Collaboration tools
Free user guide and tutorials
Pricing