When it comes to professional UX designing tools, Adobe XD is one of the first options that come to our mind. While it is a resourceful application, a lot of people look for Adobe XD alternatives.
For instance, if you are also searching for an ideal Adobe XD alternative for Linux, Mac, or Windows, then you have come to the right place. In this post, I will make a comparison between Adobe XD and Wondershare Mockitt, letting you pick the best tool to meet your designing needs.
Adobe XD at a Glance: Pros and Cons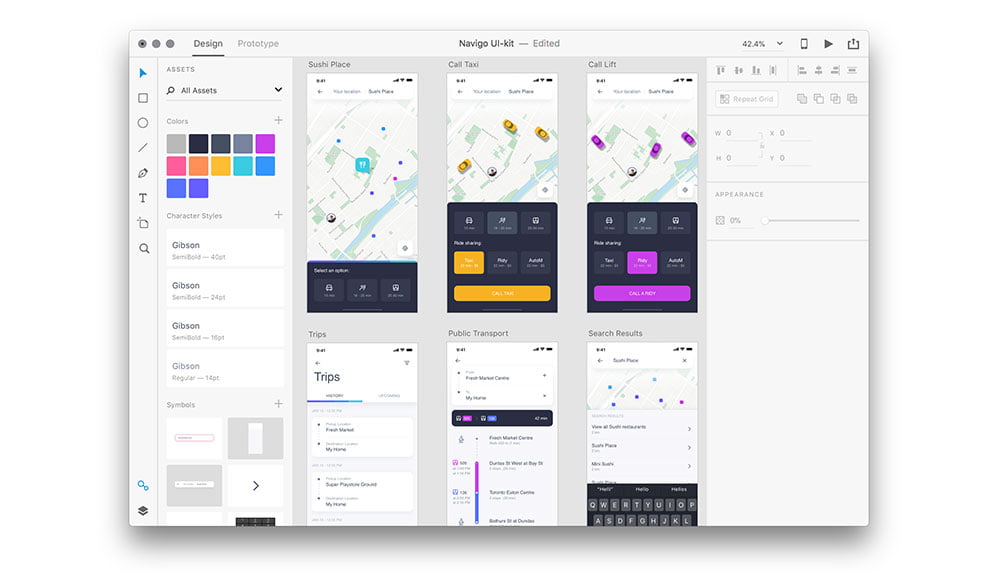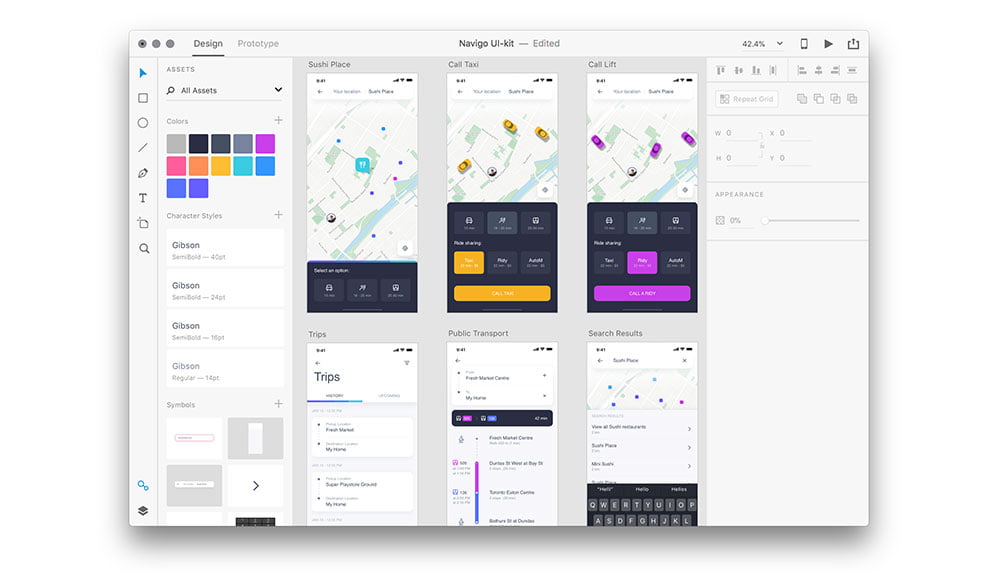 Developed by Adobe, Adobe XD is a popular vector-based user experience and designing tool that can be used to work on prototypes, mockups, and different illustrations. It is available for leading Windows and macOS versions, letting us work on collaborative designs.
Dedicated tools to design applications, websites, prototypes, voice, and more.
Tons of components with drag-and-drop options available.
3D transformations, transitions, and numerous other effects are also supported.
Inbuilt responsive resizing features to make your designs dynamic.
Pros
Direct import for Photoshop, Illustration, and Sketch.
Advanced features like voice prototyping and gamepad support.
Several plugins and third-party tools can be integrated.
Cons
Learning Adobe XD can be tough.
It is a bit expensive compared to other tools.
Limited templates and other resources.
Wondershare Mockitt is a user-friendly and responsive designing tool that you can use on the web, making it an ideal Adobe XD free alternative. Although you can access its basic versions for free, you can later update to a premium version if you want.
Mockitt is a rapid prototyping tool that can be used to create wireframes, mockups, illustrations, etc. for different platforms.
It supports hundreds of templates, components, and other elements to save your time in designing.
Since Mockitt is a web-based solution, it makes it an ideal Adobe XD alternative for Linux/Mac/Windows.
You can easily collaborate with your team via its inbuilt cloud and even assign different roles to your colleagues.
Users can get an instant preview of their design, share it with others, and even export it to different formats.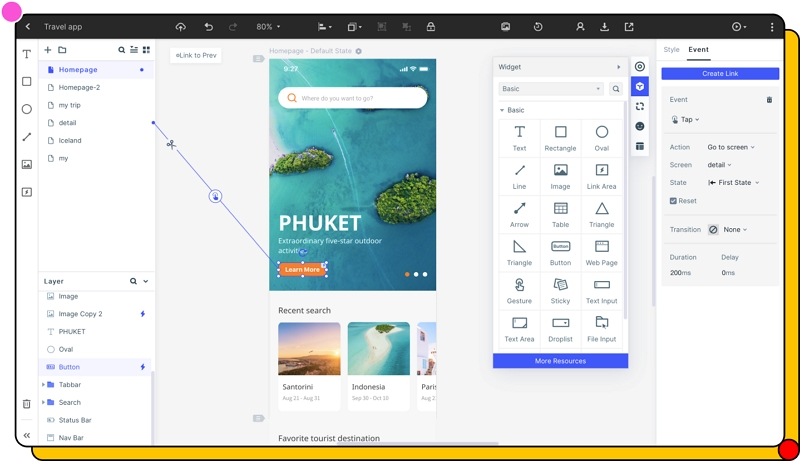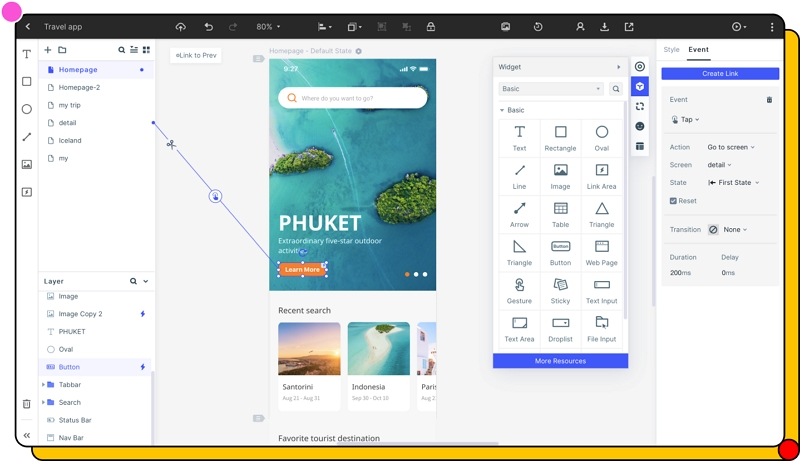 Now when you know about the basic features of both the solutions, let's learn what makes Mockitt the best Adobe XD alternative.
Overall Ease of Use
To start with, what makes Wondershare Mockitt the best Adobe XD alternative free option is its overall user-friendliness. It is one of the simplest UX and designing applications that won't need any prior experience. Since Mockitt has a zero-learning curve, you can take its assistance to create all kinds of designs instantly.
On the other hand, Adobe XD can be a bit complicated to use and is not recommended to beginners. Since the tool offers a wide range of features, it can get pretty complicated for newbies to learn their function. Although you can master Adobe XD after a while as well, but it would need some dedication or undergoing a tutorial first.
Interface and Available Designing Options
As you know, Adobe XD is available for Windows and Mac, its overall interface can slightly vary for your platform. You will get a clean canvas to start with and the range of options (like design components and elements) on the side. Later, you can drag and drop any element, customize your design, and change its properties. Though, to access most of its advanced features, you would have to do some research.
A lot of people find it hard to manage their designing assets and UI libraries in Adobe XD. That's why you can consider using Wondershare Mockitt as an ideal Adobe XD alternative. The application has an intuitive interface that would let you select the target perspective for your designs (like mobile or app). Later, you can just drag and drop any element to your canvas from the side and make the needed changes. You can also get a live preview of your designs on the native interface of Wondershare Mockitt.
Available Templates, Widgets, and Design Elements
When it comes to the readily available resources, both Adobe XD and Mockitt has a wide range of templates and designing elements to pick from. Ideally, it would depend on the type of project you are working on. Mostly, users find better templates and hundreds of customizable designs in Mockitt, making it a better Adobe XD alternative.
There is a user-generated library that you can even explore in Wondershare Mockitt. With simple actions, you can include any template to your library, add it to your designs, and customize its elements as per your requirements.
Teamwork and Collaborative Support
If you are working in a team, then Wondershare Mockitt would be a better pick instead. This is because Adobe XD is only available for Windows and Mac. Since Mockitt is a web-based solution, you can use it as an Adobe XD alternative for Linux, Windows, Mac, or any other platform.
Mockitt supports Olympic Games Cloud infrastructure, letting you work with your team and share your projects seamlessly with anyone. It also features a 128-bit SSL protocol to keep your work safe. You can also maintain different history versions of your work on the cloud and even assign dedicated roles to your colleagues for seamless collaboration.
Pricing
As of now, Adobe XD only provides a free trial version, and you have to pay $9.99 per month as its subscription fee. Thankfully, Mockitt is the best Adobe XD free alternative as you don't have to pay anything for its Starter pack. If you want to access its premium features, then you can get its pro subscription for $69 annually.
I'm sure that after going through this post, you would be able to know more about Adobe XD and Wondershare Mockitt. Since Mockitt has to be the best Adobe XD alternative and is available for free, you can get its hands-on experience without paying anything. From better collaboration to a simpler interface, there are so many features in Wondershare Mockitt that you would love to explore instead of going through the hassle of using Adobe XD.