There is uncountable photo editing software to choose from, and many new applications are coming up every day.
But which of these are suitable for beginners?
First of all, let us learn about the types of photo editing software:
An organizational photo editor allows you to arrange the files themselves. Some photo editing software has an in-built organizer, whereas other applications help you organize, manage, and share files.
Non-destructive photo editors save the original copy of the file that you have edited so that you can quickly switch between the original and edited files to compare them.
The destructive or layer-based is the final type of photo editor.
Do you know that 68% of adults in the US edit their selfies before sharing them with anyone?
Top 5 Photo Editing Software for Beginners
Movavi Picverse
You can add or remove anything from your photo with the help of photo editing software. But people often think that it requires immense technical knowledge and skills. Movavi Picverse is designed to make editing easy for beginners.
It is easy to learn and offers a wide range of tools to provide you with an outstanding editing experience. You can change the background, add new features, and remove unwanted elements from your photo in just three simple steps.
Main features of the software:
The software allows you to tweak the brightness, contrast, saturation, and details of an image to modify it.
The latest version of Picverse includes advanced AI Restoration and AI Adjustment options.
Offers a wide range of selection modes such as a magic wand, selection brush, lasso, and polygonal lasso tools.
One-click access to your favorite tools.
Its retouching mode is designed exclusively for portraits.
Allows you to remove unwanted elements through the object removal feature.
Pros
Offers a wide range of advanced automatic features.
The Interface is simple and easy to understand.
The application includes tutorials.
Uses advanced AI technology for enhanced editing.
Cons
There are no automatic updates.
It can stress your system if you do not have a decent configuration.
Inkscape
Inkscape is a unique image editor that professional photographers prefer as it includes cross-platform vector graphics and advanced tools.
The software is free and does not require you to pay for any of its features.
Unlike popular photo editing apps like Illustrator and Photoshop, You can use this software on a computer with minimal configuration. At the same time, Inkscape is very highly optimized.
The Interface in any Inkscape version is inconvenient and has not been updated in the last five years.
You might be thinking, how does software with a complicated interface suitable for beginners? Despite having a reasonably odd interface, Inkscape one of the best easy photo editing software for beginners.
It is because this software allows you to customize the interface as you please. If there are too many unwanted tools on the admin panel, you can remove them in just one click.
Primary Features of Inkscape
The software includes a variety of text processing tools and functions.
It offers a wide range of innovative gradients and effects.
Inscape allows easy node editing.
It includes a full-featured tool for managing vectors.
Pros
It is an open-source photo editor.
It is free of cost.
It includes a variety of advanced editing tools.
It is highly optimized even for the low configuration setup.
Cons
The Mac version of Inkscape includes a few minor glitches.
The design of the software is outdated.
The interface is complex originally, but the software allows you to customize it.
Gimp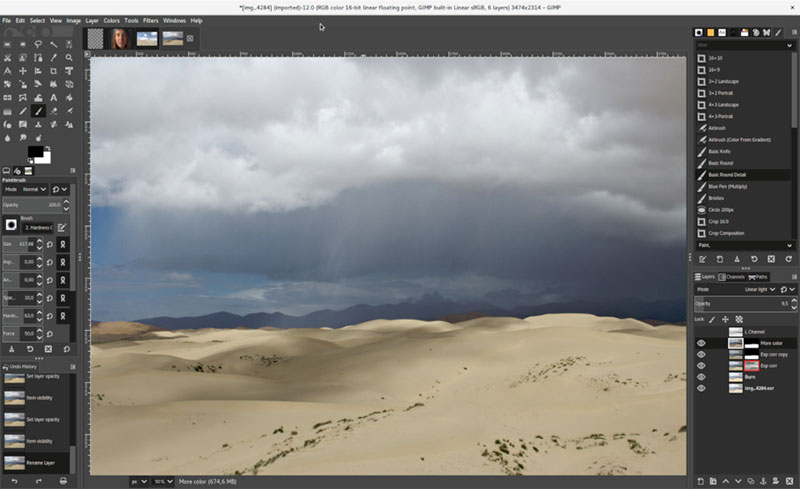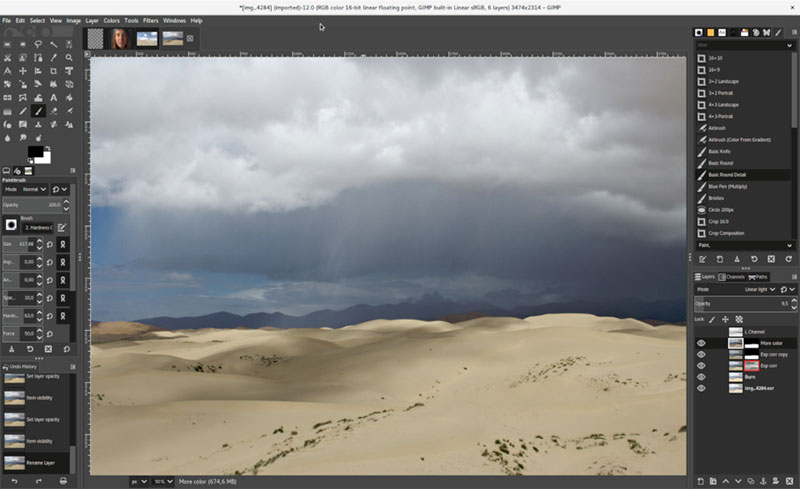 Gimp was initially designed for Linux, and it became one of the best photo editing software. That is why the designers have launched new versions that are optimized for Mac and Windows.
The company has also launched an online version so that you can use all the advanced Gimp features even without downloading it.
Gimp photo editor is optimized in such a way that you can edit images of any format, whether it is RAW, JPEG, PSD (Photoshop format), or any other format.
The Interface of Gimp is beautiful and intuitive at the same time.
The web version of Gimp is free, but it offers only basic functionalities. To enjoy all the advanced features of this software, you will need to purchase their premium plan priced at $7 per month.
Considering the range of features and tools Gimp offers, it is safe to say that the software is reasonably priced.
Advanced features of Gimp:
There are several versions of the software, and each of them is optimized for a specific OS and system.
It allows you to switch to full-screen editing mode.
It is capable of reading any image format.
Uses third-party plugins by Photoshop.
The software allows you to configure and customize the workspace.
Pros
It has an open-source code.
The software is capable of changing functionality.
It is enriched with advanced features and tools.
Allows you to work with various file formats.
Great Customer Support.
Intuitive and straightforward Interface.
Cons
The software sometimes freezes in long sessions.
There is no batch processing.
Online and mobile versions are outdated.
Pixlr Editor
Most photo editing software has similar features and tools, they also seem monotonous in patterns, but Pixlr Editor is quite different.
Besides uploading a photo from your device, this software allows you to open an image from the internet just by pasting its URL. You can also create your project from scratch with this software.
That is not all, and there is an option to import photos directly from Facebook, which would save you some time.
Main Features of Pixlr Editor:
It has an easy-to-learn and customizable interface.
The magnificent design of this software saves a lot of time.
It has an excellent import feature with multiple sources.
Pros
Pixlr is free of cost.
Allows easy and quick operation.
It offers countless unique visual effects.
It has a customizable control panel.
Cons
It requires a flash to function.
Contains some ads.
Canva
Yet another freemium online photo editing software that is pretty simple to use and offers tons of templates. Canva has an intuitive drag-and-drop interface.
The best aspect of using Canva is that you do not need to bother about starting from scratch, but you can do it if you please.
The software is quite similar to the standard editing tools in terms of the general flow.
The software asks you what type of graphic design you want to create and suggests numerous templates.
Exclusive Features of Canva:
The software is designed for teams.
Offers stellar visual effects.
Quick image cropper.
Includes unique frames, design, and photo grids.
Pros
It offers a free subscription.
Easy to learn and use, suitable for beginners.
Canva has an integrated stock image bank.
Cons
It has limited Functionality.
Pervasive design flow.
Summary
All of the mentioned editors are packed with advanced features and tools. Besides, they offer simple interfaces that are easy to navigate, even for amateurs.
The Movavi Editor seems to be more suitable for beginners than the rest, although you must choose the right software based on your requirements and preferences.