In the modern world, the main challenge for contemporary artists is getting noticed. Many paint great pictures, but not many achieve real success and recognition.
To become a famous artist and start selling paintings, you need to promote yourself.
Due to the pandemic, traditional exhibitions of young artists in galleries remain in question and attract only a limited circle of people interested in art. But the Internet opens up tremendous opportunities for artists as well. Having thought out a thorough promotion strategy and using SEO techniques, any artist can acquaint interested people with his/her works and start selling paintings. So, today we'll take a look at how SEO helps artists get promoted online.
Why artists need SEO in 2021
Nowadays, many art sites are featuring the best artists in their field, like Gagosian, Artsy, Artsper, etc. Surely, if you want to become famous, you need to be listed there. In addition, Pinterest, Instagram, and other social networks are a must for any artist who wants to get more fans and maybe an offer from a famous gallery.
But the reality is that the competition in the contemporary art market is very strong. If you really want to be successful and become not just one of the local painters but a respected artist and make your living selling your paintings, you should not lose sight of such a way as having a website and promoting it.
The main advantage of having a website is that the focus here is on your artwork that allows you to drive more sales, of course. Social media is an overcrowded marketplace for artists because you become one of many accounts that everyone follows and simply lose your identity. You can showcase your best works, provide ways to connect with you quickly, and increase your online presence by ranking top positions in Google search. You want as many people as possible to know about you and have the opportunity to evaluate your artwork without comparing them with dozens of other artists' works on neighboring pages.
Still, while a large number of artists have sites, few of them actually do promotion work. Most sites just stay there half-empty and without traffic. Such artists stay unknown and can't sell their paintings to earn their living. To make yourself famous and start getting orders, you need to attract an audience interested in art. This is where SEO comes in. SEO is a strategy to get your website ranked high – at the top of the search results for specific queries. If a person Googles your name or some query like "cool paintings," they may come across your website and become a great fan of your artwork!
Here's how artists can benefit from search engine optimization:
You get free traffic to your website.
Thanks to relevant keywords, your site is visited only by those who are really interested in art.
You increase your brand awareness – more people will know about you.
Your site is ranked higher by Google. According to a study, more than 70% of all traffic goes to sites from the first page of search results. If a person is looking for a painting to buy and sees your site on the SERP, there is a greater chance that they will visit you.
It is easier for gallery owners and agents to find information about you and contact you.
Tools to use for better SEO promotion of an artist website
Whether you're working on your website on your own or have hired an SEO specialist, you'll need this set of basic tools and services to succeed:
SE Ranking for website audit, keyword, and competitor research. SE Ranking is a versatile tool to get your site ranked #1 even if you do not have enough experience in SEO. It automatically analyzes your keywords (their density, difficulty, who's ranked for them) and finds related keywords to expand your semantic core. All you need to do is to follow the platform's guidelines to improve website performance.
ImageOptim for Google Image optimization. This free tool optimizes images to increase their loading speed. It reduces file sizes, removes junk data like comments, embedded thumbnails, metadata from cameras, etc. The service supports all popular image formats and is easy to use.
Grammarly for content optimization. Everything you write on your website should be grammatically correct and engaging. Grammarly checks your texts for all kinds of mistakes and bland or unclear content. It also helps to keep the website copy consistent, engaging, and in your tone of voice.
Hootsuite for social media marketing and management. Hootsuite is for experienced digital marketing. They have created lots of useful tools for social media management such as a set of custom social streams, find social conversations (based on keywords, hashtags, locations), and tonnes of monitoring apps. In total, the tool connected over 35 social media platforms, that is impressive!
SEO for artists in action
Okay, let's look at how SEO for artists works on examples of different artists who pay attention to SEO and rank high in the SERP. To get the same result, you can follow these simple steps to achieve success as well:
1. Selecting the proper domain
The trick here is that the domain name matches the artist's name. The best option is www.yourname.com. In this case, even if you have very little content on your website, it will still get higher in the Google search results in a few months. For example, Jordan Casteel doesn't have text on his website's main page at all but still ranks high because of the domain matching his name.
2. Using the name of the artist in the homepage snippet
It consists of the title and description. If you don't specify it manually, your CMS will generate it automatically. But it won't be good for SEO, so come up with your own relevant and catchy title and description and mention your name and who you are (artist).
TIP. If you use WordPress, install the Yoast SEO plugin. It will help you write titles and meta descriptions and tell you if they are good or not from the SEO perspective.
3. Using relevant keywords
Whether you are an artist or run an art gallery, you probably want your site to be found not only by your name but also by other keywords, like "best modern artists", "art gallery", "paintings for sale", etc. To rank for such queries, you first need to build a semantic core. To do this, you can use the services, which we will talk about below.
Also, you can take advantage of Google suggestions. Just start typing your query in the search box, and you will see what other users are looking for in your topic. In fact, these are your keywords.
Spread your keywords across the pages and write engaging content. While portfolio sites generally have a minimum of text, you can get a lot of organic traffic from optimized articles on your blog.
TIP. Use the SE Ranking keywords research tool to collect the most relevant keywords, similar queries, and long-tail keywords. And don't forget to update your lists of keywords from time to time.
4. Optimizing names of images
To make your paintings visible in Google Images, when someone googles your name, label both the image file and the Alt-text in a relevant way. An example of a good caption is Celestial Flowers (2018) by Takashi Murakami. This applies to all images wherever you upload them – on Pinterest, your website, social media, or Wikipedia.
5. Improving website loading speed
The problem with many online portfolios is that they consist mostly of a lot of images. Large and heavy images slow down your site's loading speed, which is one of the main indicators for getting your site to the top. At the same time, many artists do not want to compress their images, as the quality is lost a little. But here's what you can do:
implement lazy load;
remove EXIF data;
use a CDN;
leverage browsing caching;
specify image dimensions;
minimize redirects;
add a small and cacheable favicon.
TIP. Use the Google PageSpeed Insights tool to test your site loading speed. It's totally free and will give you lots of recommendations!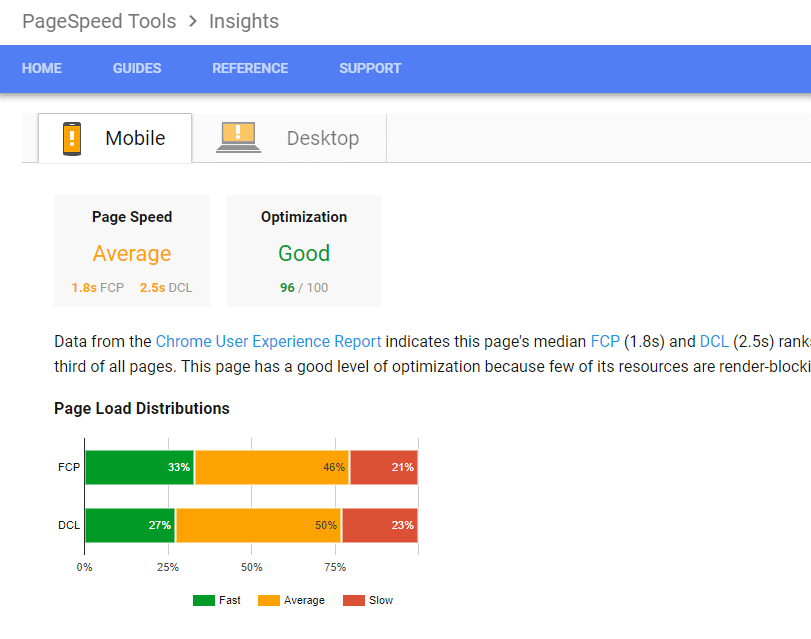 6. Optimizing the social media profile
Facebook, Twitter, and Instagram also rank well in Google for names and brands. Use your full name on your personal and business pages, mention your occupation, optimize your image and cover. The more social networks you use, the better – if you optimize all your profiles accordingly, the SERP for your name will consist only of these pages (plus your website).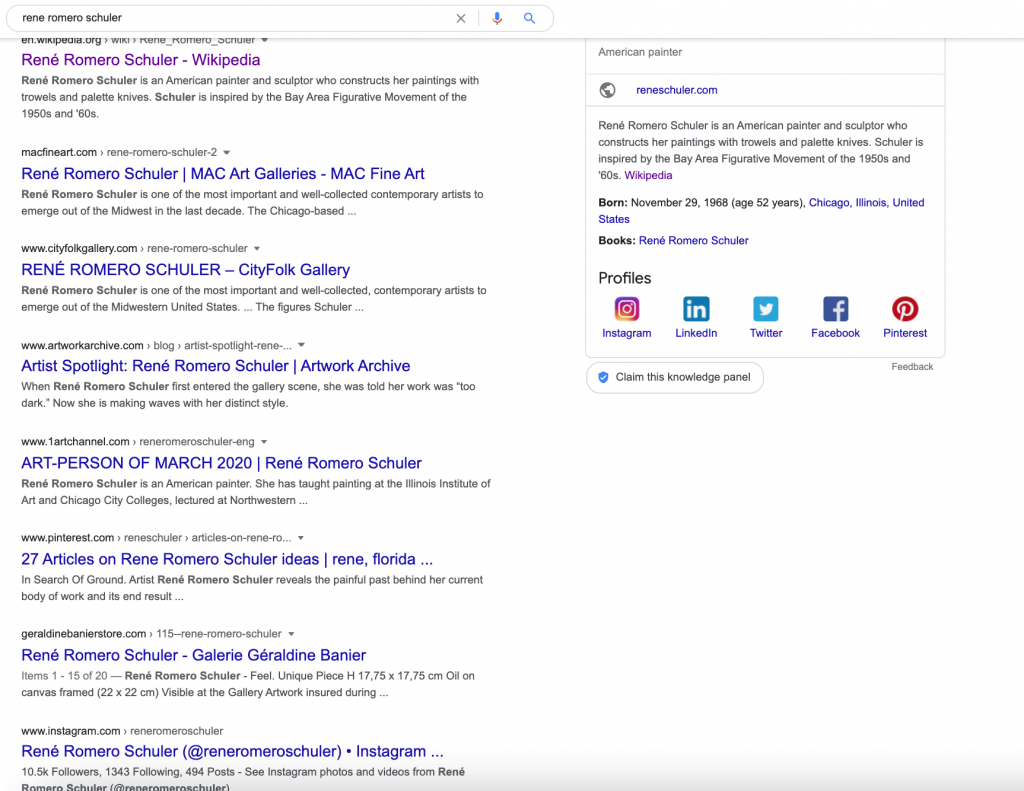 TIP. Managing multiple social networks can be time-consuming. In this case, use the Hootsuite service – it allows you to manage all your social networks in one account.
7. Adding information to Google My Business
If you have a gallery or art workshop, add information about it to Google My Business. The main feature here is to provide the complete information:
Address;
Contacts;
Business hours;
Categories;
Short description;
Add attributes, like accessibility options, Wi-Fi, payment types, etc.;
Verify your ownership.
8. Creating a Wikipedia page
It's kind of a PRO step, still a very effective one. Having your own Wikipedia page increases the trust of both people and search engines. The problem is that not everyone can create and edit pages on Wikipedia, and unverified or advertising information is removed from there. Therefore, here are some tips for you:
Hire a Wikipedia contributor. First of all, you can't write a Wikipedia article about yourself. Second, this platform has specific guidelines a dedicated writer is familiar with.
Collect sources and write a draft based on them. Every fact you mention should be backed by reliable sources – other websites, statistics, mentions in magazines, etc. Look at Wikipedia pages of other artists and follow their format. Basically, a Wikipedia article on a specific artist consists of their early years and education, featured artworks, exhibitions, etc.
Hand your draft to the hired writer and make changes if needed. The main thing is to make your article as neutral as possible – no promotion, facts only. Provide your article with a nice photo (and don't forget to optimize it for Google Images!) and wait until it's published.
Summary
Very few artists earn their living by selling their artworks. This is largely because few people know about these artists. They are exhibited only in local galleries and hope for a bit of luck. However, if you pay attention to marketing and SEO, you can become one of the most famous contemporary artists and start selling your paintings. We hope our tips will help you develop your site and succeed!