WordPress is undoubtedly one of the most valuable and beneficial content management platforms in existence.
Every second online business relies on WordPress to create and maintain successful websites. As per the research study by Kinsta, more than 40% of the websites on the internet are built using WordPress.
However, despite all the effort businesses put into making an engaging and multifaceted WordPress website, some factors can still ruin the user experience. Characteristics such a loading speed, poor interface, lack of features, and many others can directly impact your brand image. We don't want that to happen, and this is why we have come up with the best WordPress plugins to save your business websites.
This article revolves around how WordPress website owners can leverage these speed optimization plugins to accelerate business sites. We will be talking about minifying plugins, compression plugins, caching plugins, image conversion plugins, and some additional plugins to let you make several changes. So make sure you stay till the end.
Speed Enhancing WordPress Plugins
1. WPRocket: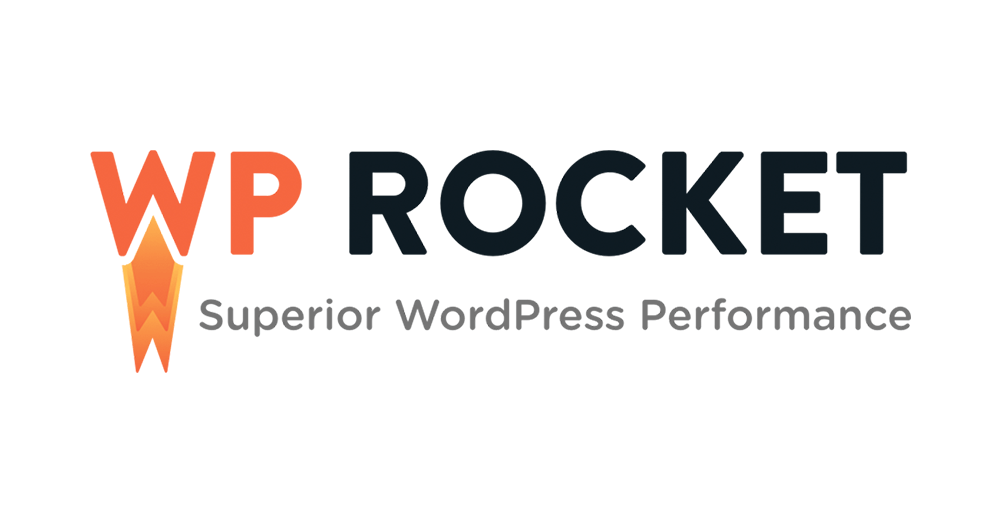 WPRocket is the master king performance plugin to rule them all. You get all the caching functionality along with a bunch of special features. All of them wrapped up in the most simple yet mindful interface. Where in many caching plugins you are required to study the entire manual to understand the basic operations, WPRocket simplifies the setup process for you by comparison.
The best part is, the plugin already comprises additional features so that you don't have to install extra plugins. For Instance, there is database optimization, lazy image loading, and the integration of the Google analytic code on your own site. WP Rocket can also delay the Javascript execution time to save your page loading time. All in all, the plugin is worth exploring if you need something to optimize the speed of your website.
Features of WPRocket:
Page Caching
CDN integration
Version rollback
Google Analytics integration to load code
Cache preload
Delay JS execution
Minimal tweaking
Simple and user-friendly interface
2. NitroPack
NitroPack is not just a WordPress plugin but a complete optimization platform. The ultimate idea behind creating this plugin is to simplify the speed optimization process. How is that done?
NitroPack speedifies everything automatically, so you do not have to sit and decide manually which plugin to use. All you need to do is add your business website and install the connector plugin. You also get the choice to moderate the level of optimization. The plugin implements compression, minification, global CDN, serving images, image optimization, and various caching types. Moreover, it also performs DNS prefetch and Javascript deferration on your WordPress site.
All the changes made by NitroPack help improve the time to first byte (TTFB) and web core vitals. If you want more out of the plugin, you can also perform customization in the settings by choosing the "strong" mode.
Features of NitroPack:
Automatic configured global CDN
DNS prefetching
HTML, CSS and JS minification
Website optimization
Image conversion to the next-gen format
Various caching types
Supports WordPress and other CMS
CSS, HTML and JS compression
3. WPFastest Cache
WPFastestCache, as the name suggests, focuses on caching. It offers a great set of balanced features that can be utterly useful to your WordPress site. This plugin works on a middle ground (neither too easy nor too tough) where you have to install, activate and customize your settings.
Further, you save these settings, and you are good to go. The unique part is that you can easily cache expiration times for different URL strings. If you check this plugin on WordPress.org, you will see how more than a million users rely on it for caching.
Features of WPFastest Cache
Minifies CSS and HTML
CDN integration
Easy setup
Sets expiration times
One-click clear or minify cache
Premium version with additional features.
4. Cache Enabler
Cache Enabler is another fantastic plugin from KeyCDN to solve your caching issues. The plugin is known for its lightweight and easy-to-install properties.
It serves you with the option to minify set up, confirm the cache expiry time, and many other features. Moreover, If you also want to add a content delivery network service to your website, you can utilize its sister plugin, CDN Enabler. Its sister plugin follows the same principle and features.
Features of Cache Enabler:
Minification features
One-click clear cache
Confirm post IDs to exclude from cache
Expiration time setup
Customize cache behavior
5. W3 Total Cache
This super popular speed-enhancing plugin is well known in the web development industry. It serves its purpose by giving you a massive range of features and supportive caching methods. Not only this, but the W3 Total cache also provides advanced support for CDN and Cloudflare services.
However, due to its massive set of features, it does not come with an easy setup. So, you can go for this plugin if you are an advanced user. Not to forget that this WordPress plugin also gets tricky during uninstalling. You need more science than just deactivating and deleting the plugin. Therefore, if you work with W3 Total cache, ensure to hire expert WordPress developers for technical insights.
Features of W3 TOtal cache-
Database caching
Browser caching
CDN support
Cloudflare support
Object caching
6. WP Super Minify
The objective of minifying is to combine CSS, JS, and HTML in order to compress them and offer them to visitors. This, in a way, takes control of the website loading time.
The important thing to remember here is to be careful while installing and optimizing this plugin, as in some cases, it can cause conflicts with other components. The good news is, WP Super Minify gives you the option to disable the CSS or JS compression if you are concerned about the conflicts.
Features of WP Super Minify
Option to disable JS or CSS compression
Easy to use interface
Extremely straightforward
Minifies JS, CSS and HTML
7. WP Smush.it
WP Smush.it is entirely based on the Yahoo Smush.it service that is utilized in removing irrelevant bytes from the image files and optimizing them. WordPress users use many files with "lossy formats" and can degrade the image quality; on the other hand, WP Smush uses a lossless format, hence, no compromise with the quality.
This plugin is managed by WPMU DEV and is worth trying if you have a WordPress site based on images.
Features of WP Smush
Optimizes in JPEG compression
Integration with Smush.it API
Strips metadata from JPEG.
Option to run the existing image through the plugin
Strips unused color from the image.
8. LazyLoad by WP Rocket
Generally, when a visitor hits your WordPress site and tries to load a page, the entire page appears on the screen. If it's a long page with several images and videos, your loading time can extend up to seconds.
The fact is, sometimes you don't need an entire page to load at the same time, especially when there are high resolution graphics. Here comes the Lazyload by WPRocket to help you pack only the specific elements asked by the user.
The exciting part is, this plugin allows you to replace your YouTube iFrames with the existing thumbnails.
Features of Lazyload
Replacement of post images and thumbnails.
Replacement of YouTube iFrames
Ultra-lightweight since JS is not used
Final Thoughts
We understand the struggle to speed up a WordPress site. The plugins mentioned above can help you efficiently maintain your business site. You might not need all the popular WordPress plugins discussed here; however, it's pretty standard for users to end up using at least six plugins. You can experiment with the tools and then decide which one suits your WordPress site better.
Featured Image by Fikret tozak on Unsplash