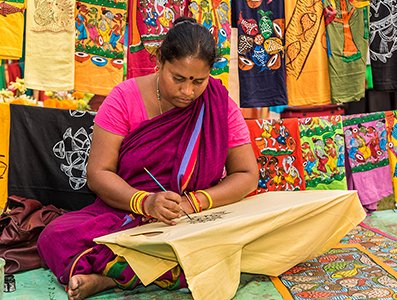 According to a report there are only 7% of working-age women who have paid jobs in India. The report outlines the importance of the participation of women in the labor force and female entrepreneurship.
Another report in November 2020 stated that India accounts for only 7 out of 100 women entrepreneurs and only half of them get into business.
It has become more difficult for poor people, especially women, who used to run their households using small businesses to overcome a variety of problems because, for most of the women, these small businesses were the only source of income for their families.
Several women dream of starting their businesses. Unfortunately, either due to financial conditions or societal and cultural norms, they face socioeconomic and other issues when they become entrepreneurs.
Therefore, to overcome these issues, the Ministry of Social Justice and Empowerment introduced the Mahila Samridhi Yojana (MSY), where along with other criteria, a single beneficiary woman can borrow up to Rs 60,000.
By starting or restarting a business, women can become self-sufficient and not rely on another for financial reasons. Additionally, they can increase their business to promote social employment. Furthermore, the loan amount can be repaid over a long duration, so women will have time to attend to business.
Also Read: Best Government Business Loan Schemes For MSMEs In India
What is Mahila Samridhi Yojana (MSY)?
If you are a woman facing a financial crisis or having difficulties starting or growing your businesses, you can take advantage of this program. Start or advance your business/ideas by taking assistance from the National Backward Classes Finance and Development Corporation (a Government of India, Ministry of Social Justice & Empowerment undertaking) that will advance a loan of up to Rs. 60,000 from this scheme.
MSY was launched on October 2nd, 1993, as a microfinance program for rural women. Under the policy, financial assistance is offered to underprivileged women, including those from low-income families.
Women from rural areas and financially disadvantaged backgrounds who have availed of the scheme have advantageously benefited since the scheme's launch.
The following are the primary goals of the scheme:
Encourage rural women and women from lower socioeconomic backgrounds and diverse ethnic groups to adopt an entrepreneurial mindset.
Assist women who face financial difficulties to start their businesses or careers due to lack of resources.
Encourage women from oppressed communities, especially those in scheduled castes or scheduled tribes, to chase their dreams despite social taboos prevailing in India.
Specifically, MSY supports women self-help groups to uplift them. The scheme targets women from backward communities, especially those who fall into the Schedule Caste (SC) or Schedule Tribes (ST) categories.
The scheme aims to financially relieve and uplift the following women categories:
Individual women and self-help groups (SHGs).
In this scheme, loan applications are accepted from women SHGs with twenty (20) or more members.
Maximum loan limit per SHG: rupees fifteen lakh (Rs 15,00,000).
Single beneficiary women who qualify for a loan can borrow up to rupees sixty thousand (Rs 60,000) as single beneficiaries.
Also Read: 5 Grants For Women-Owned Businesses
Objectives of Mahila Samridhi Yojana
The following are the objectives:
Implement schemes and development of marginalized women: This policy aims at improving the lifestyle of Charmakars (Dhors, Chambhars, Holars, and Mochis etc.), who are financially weak and considered under the BPL group. The policy aims to develop the marginalized women educationally, economically and socially.
Initiate entrepreneurial skills: Initiate entrepreneurial skills in women to learn new work and become self-dependent, thereby lending their hand in the progress of the country.
Equality: Generate equality throughout the country by providing financial assistance to marginalized women to start their businesses. If women start their own business, they will not be considered less than men and will also get equal status. This will increase the self-esteem of women in oppressed communities.
Connect with marginalized women: Connect with as many women as possible from the backward classes to the Government of India. These women can communicate their real-life problems to the government, which will further help the government to incorporate beneficial schemes.
Also Read: 9 Schemes For Women Entrepreneurs In India
Benefits of the Mahila Samridhi Yojana scheme
Women's financial circumstances have improved in rural areas.
Creates entrepreneurial ventures for economically disadvantaged people.
Those who fall under the 'Below Poverty Line' (BPL) group are given additional assistance.
Exposing minority groups to more job opportunities, thereby contributing towards the development of a strong economy.
Build a successful and financially independent female entrepreneur community.
Increase self-esteem of women and promote their empowerment.
Also Read: Top 5 Government Schemes That Have Helped Budding Women Entrepreneurs In India
Additional details Of Mahila Samridhi Yojana
| | |
| --- | --- |
| Details | Requirements |
| Eligibility Criteria | Minority women, female beneficiaries, self-help groups are eligible to apply for a loan under this policy.It is necessary to be 18 years old to qualify.Mahila Samridhi Yojana Loans are available to women from BPL families.Women whose income ranges under rupees three lakhs (Rs 3,00,000) annually or whose family income does not exceed that threshold may apply to the program.An applicant must have no criminal record or felony conviction to be eligible for a loan under the policy.If the annual income of the woman's family is below rupees one lakh fifty thousand (Rs 1,50,000), a fund release of about half of the entire loan amount is ensured by the policy |
| Rate of Interest | From National Backward Classes Finance and Development Corporation to Channel Partner: 1% p.a.From Channel Partner to SHG/Beneficiary: 4% p.a. |
| Documents Required | Identity proof: aadhar card, voter id card, etc.SHG (in case of SHGs), membership Card.Certificate showing annual income of the applicant.Completed application form.Caste certificate.Applicant's accounts book. |
| Loan Amount Contribution | Under the scheme, the borrower will receive up to 95 % of the loan amount, while the remaining 5% will be provided by State Channelizing Agencies (SCAs) or beneficiaries.A four-month time period begins upon disbursement of the loan amount. |
Also Read: The Steady Rise Of Women Entrepreneurs In India
Application procedure for Mahila Samridhi Yojana:
As of today, eligible candidates can either apply online or send a paper application.
The following steps can be followed if the candidate wants to apply for the scheme online:
Candidates can apply through the state government portals or visit the official scheme website. The link for the website portal can be accessed here.
Mahila Samridhi Yojana application forms can be downloaded from the website.
Ensure that all the required information is provided and the documents are submitted.
A potential applicant may submit her application online for future processing.
Candidates can also follow the application process via SMS.
Procedures to be followed offline:
To obtain the Mahila Samridhi Yojana application form, candidates can go to their nearest SCA office or bank branches.
After the candidate has completed the application forms and attached the necessary documents, the application should be submitted.
The candidate should specify the method and language of training that they will learn, including vocal and behavioral choice.
The SCA will then carry out verification and approval, and authentic applications will be approved for loans.
Also Read: A Brief Discussion On The Top 5 Business Ideas For Women In India
Conclusion
Women must be empowered for families, communities, and countries to have a healthy and prosperous future.
When women are safe, productive, and fulfilled, they can develop their skills and contribute to the workplace. They can also raise happier, healthier children. A sustainable economy and greater benefit to societies and the humanities are also possible through such approaches.
Therefore, the Mahila Samridhi Yojana scheme helps develop women's empowerment and gives equal status to them in society.