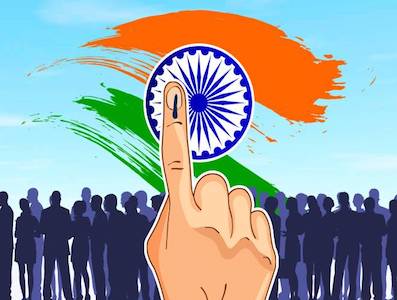 The vote is a democratic privilege for every Indian Citizen that they practice during elections to choose their representatives. Voting is a legal right under Article 326 of the Indian Constitution and is generally endowed to citizens through a statute enacted by the legislative procedure.
The Elections State and General both have direct and indirect consequences on the economy and business. We will delve deeper into reasons to vote and the impact on business through the following sections.
In the first half, we will explain the core reasons why every Indian should cast their vote and elections impact business in the concluding half.
If you are an NRI (Non-Resident Indian), first, you need to register yourself with the Election Commission of India as Overseas Voter and fill the form 6A. Secondly, you need to present physically at your respective constituency to vote. Voting for NRIs was allowed post-2010.
Also Read: Address Update On Aadhaar Card & Verifying Status Online
Reasons to Vote in India
Democracy is something we should be proud of, and voting is a way to make it better instead of complaining and abstaining from casting your democratic privilege.
Mahatma Gandhi rightly believed in, "Be the change you want to see in the world" and it perfectly fits with why all Indians above 18 years of age should go out and submit their vote.
Every Single Vote Matters
Every voter is significant, and their vote matters in the final tally. There are instances when one vote became a decision-maker between candidates. The difference of even one vote can topple governments or create a hang-government scenario.
Examples
CP Joshi, Congress Chief for Rajasthan in 2008, lost Assembly elections with one vote.
During Karnataka Assembly elections in 2004, one candidate won by one vote only, etc. (India Today)
Agents of Change
If you also complain about the system, corruption, and do not cast a vote during elections because "Yaha Kuch Nahi Ho Sakta"?
It's time to change perception. We have to be agents of change because it's our responsibility, and complaining will not bring solutions.
From local to global, there are dozens of instances when people have collectively worked towards change and brought revolutionary changes through a vote. Example: Revolts for Democratic Elections in Myanmar, Arab Spring, etc.
Also Read: Everything You Wanted To know About PMEGP Loan
None of the Above (NOTA)
The Election Commission of India introduced NOTA for people who do not want to cast vote for any of the candidates. It means even if you don't find standing candidates fit for the job, you can share your opinion in elections. The initiative has two purposes: to increase voter turnout and use it as a reference for re-elections to elect fresh candidates.
A Sense of Pride
Social media has helped a lot in boosting voter turnout. With hashtag campaigns on Twitter, inked photo sharing on Facebook, Instagram etc, people especially youngsters participated during a previous couple of elections with much enthusiasm. The trend is promising for the largest democracy in the world.
*Voter turnout for the 17th General Elections in 2019 was the highest since Independence at 66.40 percent. (Source: PIB)
Respect Our Freedom Fighters
Democracy and Independence are the outcomes of several sacrifices, movements, and martyrs. We should pay respect to our forefathers and brave women through the right to vote.
So, next time go outside, cast your vote and be a proud Indian who knows their rights and legacy.
Also Read: Top Facts About PMRY Loan
Election Impact on Business
This brings us to the second part of the blog, the impact of elections on businesses. Business and elections are connected in several aspects and we will explain them through the following sub-headings.
Customer Confidence
Businesses experience a change in buying habits before and post general elections and state elections. People generally wait for the results and often hold new investments. Customer behavior directly affects turnover and the bottom line.
Business Strategies
Union and State Governments refrain from making announcements that could derail their
election campaign. They also do not want to come under the Election Commission's radar by announcing projects that benefit any specific candidate/s or business house.
This holding of purses and uncertainty about Government initiatives makes it difficult to make business plans and growth projections until new government forms.
Also Read: Know-How PMKVY Can Help You To Start Your Own Business?
Taxation
Different governments have different opinions on taxation. Parties announce tax reforms in their election manifestos and promise to apply them post-victory. It makes the situation confusing in terms of how much tax businesses will have to pay?
Therefore, businesses generally do not make new purchases, expansion plans, etc., during the election phase to save themselves from surprises and shocks.
Impact on Share Market
The share market experiences a lot of fluctuations during election times, especially on the counting day. BSE and NSE experience high and low trading. The share market runs on sentiment, and Political leaders' announcements affect shares significantly.
For example: If a star campaigner of a political party announces high spending on infra projects in their manifesto, there are high chances that infra-related companies will see a boost in their share prices.
Change of Marketing Plans
Companies have fixed marketing schedules monthly, quarterly, and annually. However, with Election season, the plan gets postponed for months. Elections from campaigning to counting day take a major broadcast time on most of the news channels. As a consequence, they hold or postpone their marketing plans.
Profit for Relevant Small Businesses
Businesses related to printing, events, transportation, social media marketing agencies, etc., experience high demand for their services from different political parties. During the last general elections and state elections, we have seen virtual meetings, social media campaigns, and excellent growth for these businesses.
Change of Favourites
It's no secret that all political parties have favorites in the business world. Election time becomes uncertain for business houses to make bold decisions and expansion plans.
Also Read: Everything You Wanted To know About PMEGP Loan
Concluding Remarks
We hope our researched blog encourages you to cast your vote and understand the impact of elections on your business. Refer and apply for an informed decision.