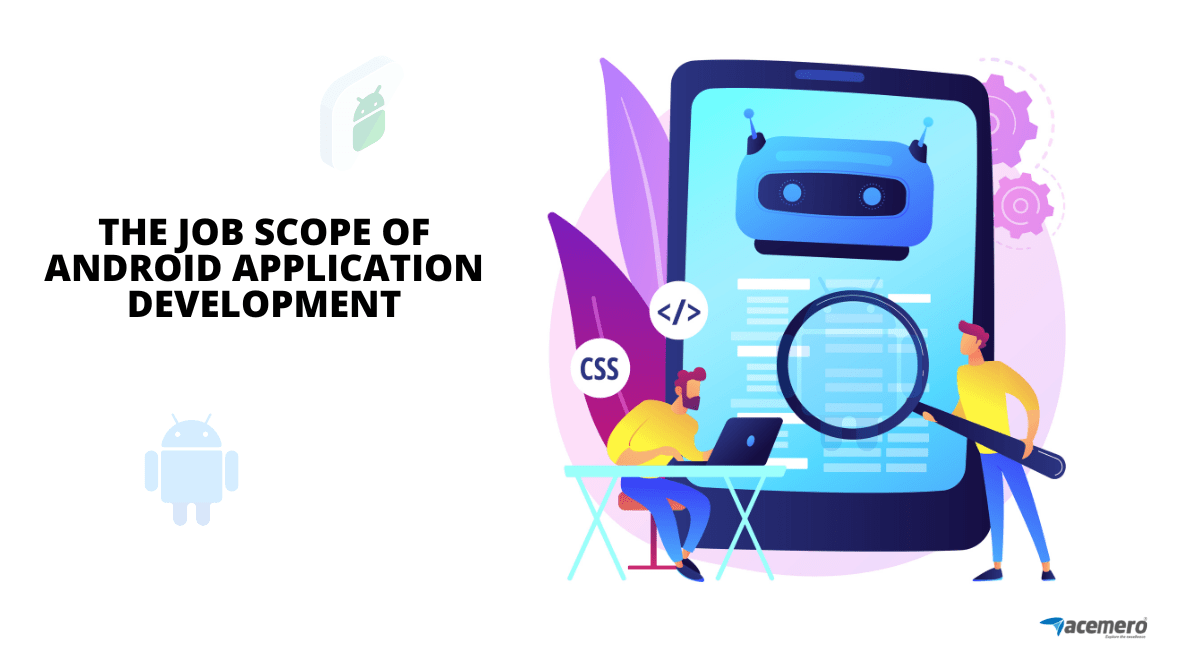 India is a country with one of the largest internet users. Most of the users in the country are Android users rather than iOS ones. But the number of people using iOS is increasing each year. So the scope of ios application development is increasing accordingly each year.
As the number of Android users increases, so does the demand for mobile applications. Android is an open-source operating system and it is used in smart devices like Android phones, TVs, tablets, etc.
The scope of android application developers has increased compared to the previous year and will increase in the coming year in India. Mobile applications used in Android should be understandable by users and unique.
Become an Android developer by following these steps.
It is easy to become an Android developer. All you require is willingness, dedication, interest, and consistency in Android development. After that, the developer has two options to continue with Android development.
Android development using kotlin
Android development using Java
In order to become an Android developer, what skills are required?
The company hires android developers for their company based on their skills in android application development. Some of the skills include:
It is not mandatory to have a degree in computer science or any other branch. One must be either pursuing CS or any other degree.
The developer should have the best understanding of the Android development life cycle.
One must have strong project development skills using Android and publish the project in the Android Play Store or Google Play.
Having an experience with APIs, third-party libraries, threading, offline storage, and some networking techniques.
There should be strong knowledge of Android UI design principles.
A developer must be familiar with the Android SDK.different versions of Android, its components, etc.
The job scope for an Android application development
Compared to desktops and PCs, people are more user-friendly with mobiles and everything is shifted online.
Jobs for android development are increasing in India day by day. Jobs for android development are increasing in India. Based on knowledge and experience, you will have a good salary package in the industry.
The scope of android mobile application development in other sectors
In digitalized India, many educational institutions like schools, colleges, etc. are updated with online courses. It is very easy for children and the elderly to learn things through online courses.
Through online classes, they can learn anything from anywhere. Some examples include TED, Udemy, Biju's, etc.
Most of the customers use e-commerce websites like Amazon and Flipkart. All these e-commerce websites give huge discounts on apps.
eCommerce applications are mainly used to sell client products directly to customers. Most product-based companies use e-commerce integration to sell their products internationally.
Digital India was announced by prime minister Narendra Modi, which brought a lot of changes in India. Online transactions are increased, so banking applications are also increased.
Maintaining and publishing bank applications is not an easy task, and the customers' information cannot be leaked. So the banking sector is ready to pay high salaries to experienced developers.
Some examples include Paytm, Phone pe app, Bhim app, etc.
Everyone loves to play games, and it has no age limit. Demand for gaming apps is increasing nowadays in India. Mostly, children like to play games. You can use the Android game development kit and Google Play to deploy them to multiple device types on Chrome OS, Android, and Windows.
Conclusion:
The number of users using smartphones is increasing day by day. From that, we can understand that everyone needs a mobile phone for study purposes, shopping, etc. About 65% of people use smartphones for shopping through applications.
– October 20, 2022 – 199 Views