Web design tools and resources can help designers and agencies streamline the creative process and create stunning websites. They can also serve as time- and labor-saving entities. Without them, some websites would be far more expensive to build. Even then, might not perform as well as they might have if certain web design tools or resources could have been brought to bear.
Fortunately, designers and agencies have a huge variety of free and premium web design products to choose from. These range from complete platforms to highly specialist software apps such as design frameworks and wireframing tools plugins.
That doesn't mean that creating a wow-worthy website is always easy. The right design tools and resources can help you work more efficiently. Also, complete projects on time, and exceed clients' expectations.
The rest is up to you and your creative talents; but having the right web design tools can still help to bring your creative vision to life. With this in mind, here are 13 essential Tools & Resources for Designers and Agencies.
Be – Best Multipurpose WordPress Theme
The more than 40 powerful core website-building features it can place at your fingertips has made BeTheme the most popular (250,000 customers) multipurpose WordPress theme on the market. Virtually every facet of BeTheme, whether it be a site, page, or section building tool or a design aide or option is there to help you to create a website that will effectively represent your brand.
5 popular core features you'll love working with:
Be Builder; the fastest and most intuitive website builder you'll find for WordPress.
Be Blocks; this library of pre-designed sections can be a real time saver.
Be Builder Woo; offers a straightforward approach to creating a pixel-perfect online store.
Be's Header Builder 2.0; quickly create the header you need.
Be's library of 650+ Pre-Built Websites; BeTheme's most popular core feature. Each one is customizable, responsive, and features basic UX functionality.
A setup wizard and helpful tutorial come with the package. Check out this free Live demo and test the impressive Be Builder's capabilities.
Trafft – Service Business Management Software You Can Count On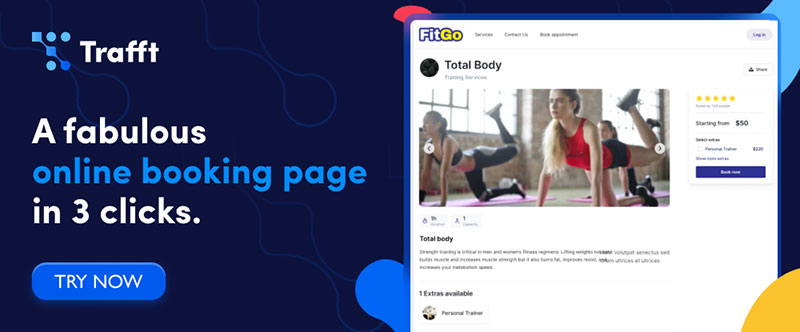 Trafft is a time-saving, money-saving, and stress-reducing website tool that allows a business to manage multiple operations at multiple locations from a single platform.
The operations in question are those associated with managing appointment bookings and include:
Managing client appointments, events, group bookings, staff schedules, and on-site or virtual meeting schedules.
Sending notifications and reminders to clients and accepting payments from them online.
Other Trafft features that clients, employees, or management could take advantage of include:
special coupons or other service extras.
using Google Calendar, Google Meet, and Outlook Calendar Sync to help track appointment and event schedules
inviting staff or clients to virtual meetings using Zoom
selecting Stripe, PayPal, Mollie, or Authorize.net as a payment option of choice.
Click on the banner to learn more about Trafft and what this service business management software tool could do to help your business.
wpDataTables – The Best Tables & Charts WordPress Table Plugin
With the wpDataTables plugin in your design toolbox you can create charts and tables that you've been hesitant to try building up to now. 66,000+ companies and individuals working with various types of complex data could tell you how this best-selling wpDataTables plugin made it easier for them to create:
tables/charts that are informative, responsive, and easily maintainable.
a table/chart in minutes, even when huge amounts of complex data are involved.
tables or charts that require data from a variety of sources and in a variety of formats.
wpDataTables does all the above quickly and efficiently given its –
4 popular chart-building engines
powerful filtering and sorting tools
ditability features that enable users to edit their own entries
Conditional Formatting feature for highlighting/color-coding key data.
Click on the banner to find out more about wpDataTables, by far the best WordPress table plugin money can buy.
Pixpa – Easy & affordable website builder for designers
Pixpa, the top-rated website builder on Capterra and Trustpilot, enjoys a 4.8/5 rating. This excellent rating is no doubt based on this easy website builder for designers –
150+ Customizable templates, drag and drop editor, portfolio and store features, and built-in blog platform
responsive design and SEO and marketing tools
affordable plans starting at under $5/month.
And of course, its excellent customer support.
Amelia – Appointments & Events WordPress Booking Plugin
Add the Amelia appointments & events WordPress booking plugin's functionality to a WordPress-designed website and amazing things will happen for service-oriented businesses such as beauty, healthcare, fitness, consulting, training and many more.
Amelia can flawlessly manage an unlimited number of appointment bookings at multiple locations from a single platform and dashboard.
Amelia can also manage group and event bookings, packages bookings, and ticket sales.
Amelia supports WooCommerce, Email, SMS, and several online payment apps.
Uncode – Creative & WooCommerce WordPress Theme
The Uncode creative WordPress theme is one of the top-selling themes of all time on Envato Market with 100,000+ sales.
Uncode is constantly updated and is loaded with features including:
70+ carefully crafted importable mix-and-match pre-made designs.
eCommerce features include an advanced drag and drop product builder, shop layouts, cart and checkout, quick-view, and more.
Uncode's bundled Wireframes plugin's 550+ section templates that can be combined to create a complete website or landing pages.
Getillustrations Web and app illustrations bundle
Illustrations in UI are here to stay, and are not just another fleeting trend. Since innovation and creativity are limitless, the popularity of certain illustration styles might vary as time passes, but with its 14,000 ready-to-use commercial illustrations:
You should always be able to find what you need.
You can download the illustrations you need and use them forever.
Commercial licenses are included.
Take advantage of a 30% discount using coupon code: ULTIMATE30
Mobirise – Website Building Software
Mobirise is a free offline website building software app for Windows and Mac. You can use Mobirise to easily create small/medium websites, landing pages, simple web stores.
7600+ beautiful website blocks, templates, and themes are included to help you get each project underway.
Mobirise has an extremely easy-to-use interface and it is Mobile/Google-friendly; you own your website and can host it anywhere
Mobirise is free for commercial use.
Slider Revolution – not just a WordPress slider plugin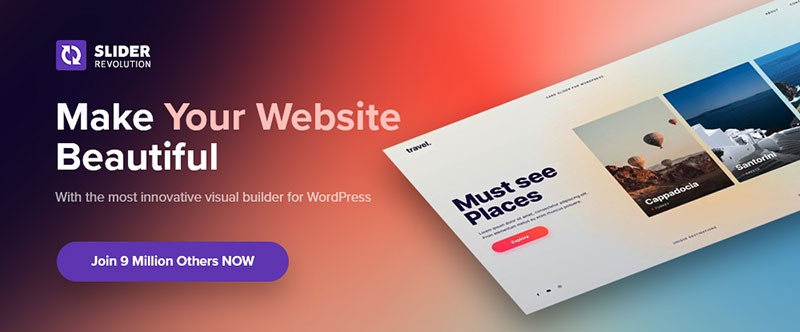 Every designer's toolkit should have a secret weapon it can use to create stunning and responsive WordPress slider, visuals, and web pages, and require zero experience to do so.
The Slider Revolution WordPress slider plugin can be your secret weapon with its –
cutting edge animation effects that require zero coding to implement.
innovative features that explore the boundaries of web design possibilities.
250+ striking website and slider templates.
WoodMart – WooCommerce WordPress Theme
Woodmart is loaded with features you won't find in most other eCommerce-oriented themes, making it ThemeForest's most highly regarded eCommerce theme.
Key features include –
80+ premade websites, 400+ templates that can also be used for quick prototyping, and 15 special pages.
A valuable selection of product page display options including filtering by brand, color, price, size, etc.
You can't order from the Shop Demo even though you might be tempted because it is so realistic.
Blocksy – Best Free Ecommerce WordPress Theme
What makes Blocksy the best free eCommerce WordPress theme? Most likely it's the following:
Blocksy is lighter and faster than most similar WordPress themes.
It has a drag and drop Header Builder and Footer Builder.
It is packed with dozens of cool features.
Most speed testing tools rank Blocksy at the top.
Plus you can use the Content Blocks module, a powerful feature for easily inserting any piece of content dynamically based on your conditions.
Isn't that reason enough?
Total WordPress Theme
Total is a powerful WordPress theme which includes a custom extended version of the WPBakery page builder together with 90+ ready to use templates and 45+ quick import demos.
Other key features include unlimited color options, custom fonts, WooCommerce integration and even full support for Elementor, including custom widgets.
Beginners find Total is surprisingly easy to work with, while more experienced designers find it offers all the flexibility they need.
The Essential Grid WordPress plugin
The items you display may be eye-catching, but if your grid design is nothing out of the ordinary the same may be true for your gallery as a whole. If that's the case, it may be time to give Essential Grid's jaw-dropping advanced features a try.
They will portray your work in the most stunning way possible with the help of –
50+ impressive, customizable grid templates.
Stunning grid layout options.
Social media feeds.
*******
A multitude of web design tools and resources are available to help designers stay on top of web design trends. Whether you need a tool to help you create a mockup, a logo, a full-blown website, or just to give you some inspiration, the web is full of websites that you can use to level up your web design skills.
Creating a wow-worthy website is not always easy. Still, the right design tools and resources can help you work more efficiently, complete projects on time, and exceed clients' expectations.
We have assembled this collection of 13 top tools and resources for 2023. It will help you create a successful online presence for your business or build upon an existing one.