It's funny that a few years ago, people were all over the new packaging material, plastic. The consumers thought this is the wonder material, the material that's great for the environment. It's cheap to produce, easy to work with, and it doesn't hurt any trees!
It was during the time where trees were being cut down indiscriminately; so people were happy that plastic was used for packaging and not paper in order to save the trees. Plastic was believed to be the material that can save Mother Earth.
Your Web Designer Toolbox

Unlimited Downloads: 500,000+ Web Templates, Icon Sets, Themes & Design Assets

DOWNLOAD NOW
---
Fast forward years later and we see the immense effects of using plastic. The problem is, plastic is non-biodegradable and it is hardly reused or recycled. Most people use it on a one-time basis only. Plastic makes use of chemicals and materials that are harmful to the environment.
We've probably heard of environment-friendly packaging design in the packaging industry. It's the hottest thing today, but it's big not only because it's popular, but because it's good for the environment.
Consumer products always have a great deal of impact on the world and our environment. Companies are now taking the responsibility of sustainability to foresee that future generations can still enjoy nature as we do today.
I admire creative and environmentally friendly packaging. The companies' efforts to save the planet are encouraging. It's good to know that there are still lots of people who care for mother earth. Here are some of the most creative and environmentally friendly packaging designs that I could find. It's time to go green!
Yellow + Blue = Green Wines
Have you ever heard of organic wines? If not, let me tell you about Yellow + Blue. This wine brand has four flavors, namely: Rose, Torrontes, Sauvignon Blanc & Malbec. The wine's packaging is an environmentally friendly carton, with 93% wine and only 7% packaging, containing less carbon footprint.
Lee Paper Bag
Lee has recently come up with a really clever paper bag. The best thing is that it's eco-friendly and that not a single part never gets wasted. It is designed by Happy Creative Services from India.
How does the Lee Never Wasted work? First of all, the packaging works just as any other shopping bag, which is to hold your purchases. But the one thing that's so cool is that 100% of it can be reused afterwards. The packaging is made from recycled paper, and can be reused again as a paper bag. However, they can be used for other purposes as well: you can cut out some parts which can be used as a calendar, a ruler, a door sign, a pencil holder, a snakes and ladders game, dice, credit card holder, condom holder, first aid chart, bookmarks, mask, custom black book–even the handles can be reused as shoe laces! How cool is that?
Flat Pack Pocket Lights
There's something so cool and practical about having a portable light source with you at all times. That's why flat pack lights are becoming the biggest thing now. They are tiny enough to fit in your wallet, since it is as big as a credit card. They're not fragile like real bulbs, but make use of LED lights implanted on an aluminum sheet. This is environment friendly, and at the same time, a great tool to guide you to safety in case you're walking down dark alleys and shady streets.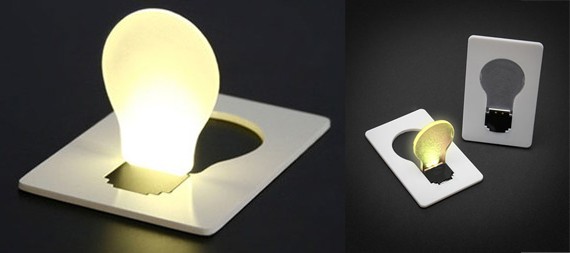 Hangerpak
This clever hanger design make use of eco-friendly carton to eliminate using plastic for hanging clothes. It also helps that it looks very innovative and sleek.
Tous H20
Nothing screams 'eco-chic' more than the latest fragrance by Perfumes y Diseño. The bottle is 100% recyclable, made from 25% recycled material. The Tous H20 is a marriage between beauty and sustainability, created to help the earth as a part of the sales is donated to providing people with clean water. Not only do you smell good, but you're creating a cleaner and safer world as well.
Recycle Easily
This is one of the most creative and eco-centered packaging designs that I have found. Recycle Easily is conceptualized by one Brett Allcorn, who encourages people to recycle the packaging they bought. The packaging has a back label that can be peeled off, revealing the return postage so that people can send the packaging back for recycling once it has already expired its use.
The creative packaging design won the Go Green Competition Award.
Eco-Undies
Eco-undies are made of organic cotton. They don't make use of any harmful chemical pesticides, and it's bleach-free and dye-free.
Gotta Moo
Gotta Moo creates an eco-friendly packaging for their milk products. Everything is 100% natural, they use the sugarcane bagasse pulp paper, coated with sugarcane lignin and printed using vegetable-based inks. The pulp paper is very much recyclable, and it minimizes greenhouse emissions too.
Eco-Friendly Packaging Design Concept for Coke
A design student by the name of Andrew Seunghyun Kim has recently created a creative packaging design for Coke. The concept hasn't exactly come off the drawing board, but we are hoping that Coke will be taking this idea into consideration.
The proposed design looks sleek and modern. It's a lot slimmer and smaller than the packaging used by Coke today; thus encouraging more people to reuse and recycle. It is eco-friendly, stackable and thus perfect to carry everywhere.
This post may contain affiliate links. See our disclosure about affiliate links here.