Abstract lighting effects can enhance your artworks exceedingly wel, and is a very popular trend as can be seen by these gorgeous photo manipulations.
You can add them to premade photos, or create whole new scenes from scratch.
Unlimited Downloads: 500,000+ Fonts, Web Templates, Themes & Design Assets

DOWNLOAD NOW
In this cool Photoshop tutorial you will be shown how to create a space scene with some nice lighting effects in 10 easy steps.
2. Windows Vista Aurora Effect Photoshop Tutorial
In this tutorial, you're going to see how to create the Windows Vista wallpaper effect yourself. This Vista lighting effect, sometimes referred to as the Aurora effect, can really transform an ordinary wallpaper to something extraordinary.
This tutorial will show you how to create a digital bokeh effect in Photoshop. The process is very easy and we will be using the super powerful Brush Engine, one of the coolest things in Photoshop.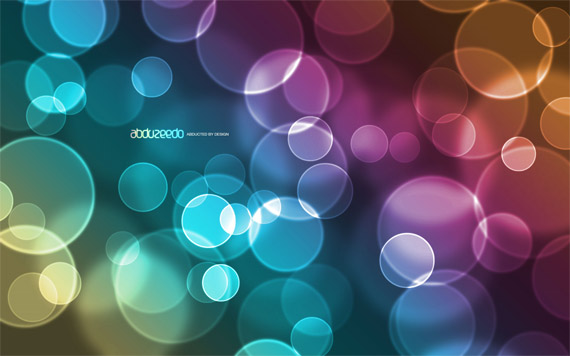 In this creative Photoshop tutorial, you will try to mimic the nice abstract preview that Axeraider70 made for his Ultimate Brush Pack 3. This will give the beginners a better idea on how to use these great resources to create their own awesome posters.
Learn how to create realistic space scene from scratch using Photoshop.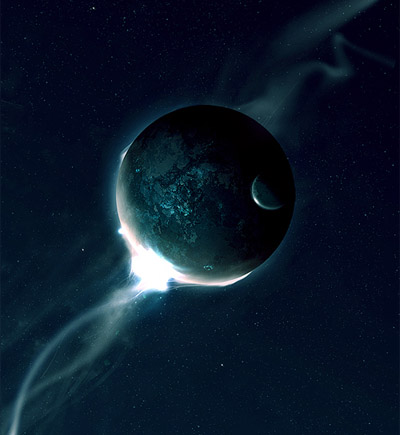 This Photoshop effect tutorial covers the creation of several different light and glow effects in Photoshop. The effects in outcome consist of smoke, light trails, sparkles, stars and bokeh effects. Luckily it's pretty simple to create each of these effects in Photoshop.
In this easy tutorial you will use some images and play with Blend Modes and Color Adjustments to create a really cool Nike Ad in Photoshop.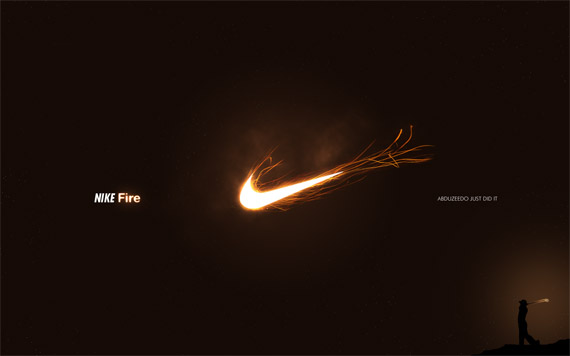 This tutorial will show you how to create an abstract space poster using geometrical shapes, masks and apply some filters in Photoshop. Layered PSD file is included.
In this tutorial, you'll learn how to create a snow-themed large piece. You'll learn how to plan the composition of the piece, to add elements into the composition, how to recycle the piece itself to generate more elements for the piece, how to incorporate pen tools into a design and finally how to finish off and fine tune the piece to make it look great.
This tutorial shows how to create a variety of light effects that can be applied to photography or illustration with equal impact. From sparkles, pixie dust effects, colored light spots and light beams, to using splatter effects as a form of lighting, it's all here.
This tutorial will show you how to create an image using light effects and sparks technique. It basically mixes some techniques from different tutorials and takes the best from them.
This tutorial teaches you how to transform a regular, every day photo into a real glamour shot. In this tutorial, you will learn how to retouch a model's face and subtly manipulate her hair. In addition, you will enhance the canvas by adding attractive lighting and 3D effects. This tutorial requires considerable Pen Tool skills, but with perseverance and a passion for design, you will certainly be able to achieve great results.
Learn how to create a beautiful "Buy me a coffee" wallpaper in Photoshop. You'll be using basic brushes and some blending effects.
This tutorial will show you how to create a water text effect. Even though it might look complex it's a very simple effect. You will need to use Illustrator for the text, then Cinema 4D to make it a 3D text and Photoshop to mix the 3D with some real photos to create a nice and realistic result.
This Photoshop tutorial will show you a simple technique that can be used to enhance any kind of subject with stunning light effects. You will use in particular selection tools, gradients and brushes to achieve the result.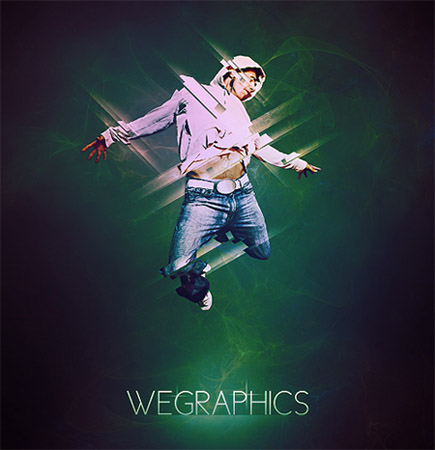 16. Energize Your Graphics with Abstract Energy Lines
In this tutorial, you will learn how to create some energetic lines you can use to create more lively digital creations. Effects such as this are great for enhancing abstract compositions.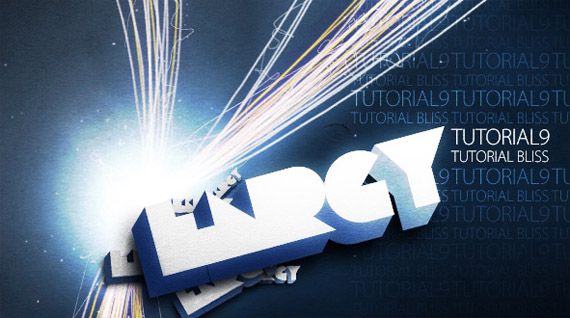 This tutorial will show you how to create glassy text effect using a series of shapes with different transparency and color effects.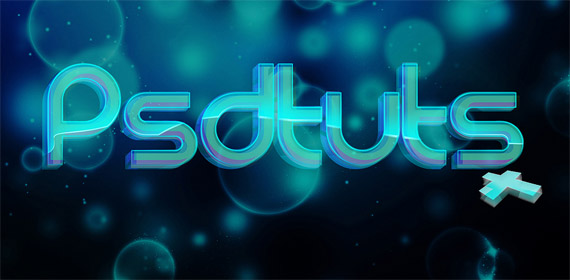 Follow this walk through to recreate this detailed design with nothing more than gradient and pattern effects.
In this tutorial, you will be creating abstract shapes using the Pen Tool and Shape Tools in Illustrator and then using those shapes to produce an abstract wallpaper in Photoshop using various color blending techniques, textures and transformation tools.
This tutorial will show you how to create a realistic IES (photometric) lighting effect. You'll be using Photoshop CS4 as well as some free plugins and software.
In this tutorial you will see how to create new Abduzeedo's 2010 symbol. It's a sort of monitor/halftone effect mixed with glows and other light effects. You will play with Blend Modes and Blurs. The whole process is quite simple and it won't take more than 20 minutes to achieve the same result.
22. Drawing an Abstract Lightbulb
This tutorial covers a couple of simple techniques, which if used accordingly can help you attain great lighting effect.
This tutorial will show you the method used to design a simple, yet elegant abstract spectrum lines in Photoshop. You will see how easy it is to achieve this nice effect and you can use it a wide range of occasions including perhaps site header backgrounds, logos, or add extra flavor to your photo manipulations.
24. Create an Abstract Composition in Photoshop
In this Photoshop tutorial, you will learn in easy steps how to create an abstract composition using rendered images and light effects. As you can see from the final result preview you will create a mystical and magical effect.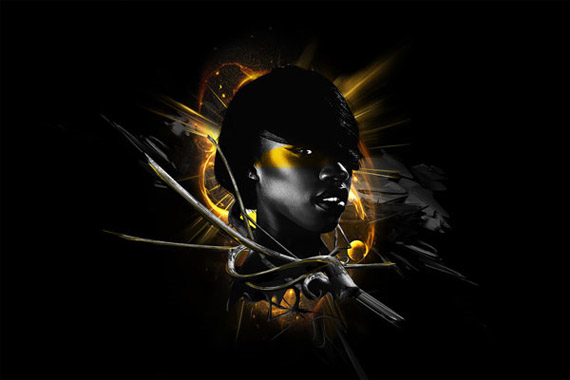 This tutorial takes you through the creative process of making intriguing light effects and applying them in your work. This is more a process description of making this illustration, than a detailed step by step how to. It will give you some good guidance on how to deal with an illustration like this and cover the overall workflow, however.
In this tutorial, you will be creating an explosive abstract piece called "What is Man?" You will have to use Cinema 4D to create the explosive effects. You will then take the 3D elements over to Photoshop for the final composite and lighting.
In this tutorial, you will learn how to make planet, star and meteor impacts in Photoshop in a quick and effective manner. This is intermediate level tutorial so some steps can be a little tricky, but the outcome is worth it.
28. How to Create Great Abstract Artwork via Custom Brushsets and Particle Effect
In this tutorial, you will be able to follow the steps needed to create this cool abstract artwork via custom brushes and particle effects in Photoshop. You will then learn how to create your own brushes and use them to add particle effects to the image to spice it up.
29. Create a Fantastic Abstract Fan Poster
In this tutorial, you are going to get creative with layering, lighting, and texture to build a fantastic abstract piece. More specifically, you're going to employ some unusual techniques to make a fan poster for the band Omega Code, but you'll quickly see many different applications for what is taught here.
This Photoshop tutorial will show you how to create an Alpha Channel using the Calculations dialog and you'll use it to get a really great abstract colorized photo effect.
Let us know if we have missed something awesome and we will be happy to update the article. You should definitely have more than enough poster ideas to make in Photoshop now!
This post may contain affiliate links. See our disclosure about affiliate links here.