The best way to improve your design skills is through practice and critique. But it's hard to find a great designer willing to look over your work and offer valuable advice.
Thankfully, there's plenty of sites online for gathering personal critiques. They range from designer forums to social networks made for designers.
Here's my list of the top sites to gather critiques on your design work. They're by far the best you'll find.
Your Web Designer Toolbox
Unlimited Downloads: 500,000+ Web Templates, Icon Sets, Themes & Design Assets
Starting at only $16.50/month!


DOWNLOAD NOW
Designer News
One community site I really like is Designer News. This is a social news site much like Digg – except it's built only for designers.
Most of the posts are external links going to news articles or featuring new tools and web apps.
But users can post discussion questions – including requests for critique of their design work.
I absolutely recommend joining Designer News as it's totally free and easily one of the largest design-only communities on the web.
You may not get a ton of feedback on your work if it never reaches the front page. But you can at least submit your latest designs and see how it goes.
Reddit
Reddit had to be somewhere on this list. It's one of the largest social communities on the web with a subreddit for everything.
We already covered some of the best subreddits for designers. But for this list, I'm recommending one specific sub to gather feedback: r/design_critiques.
You can submit your own work for free and wait for the feedback to roll in. You won't always get many responses since the community's activity tends to fluctuate.
But it is a fairly large sub with plenty of active users who visit regularly. You could also try post to /r/Design or the graphic design sub to see if they're more willing to drop some critiques.
Critiquer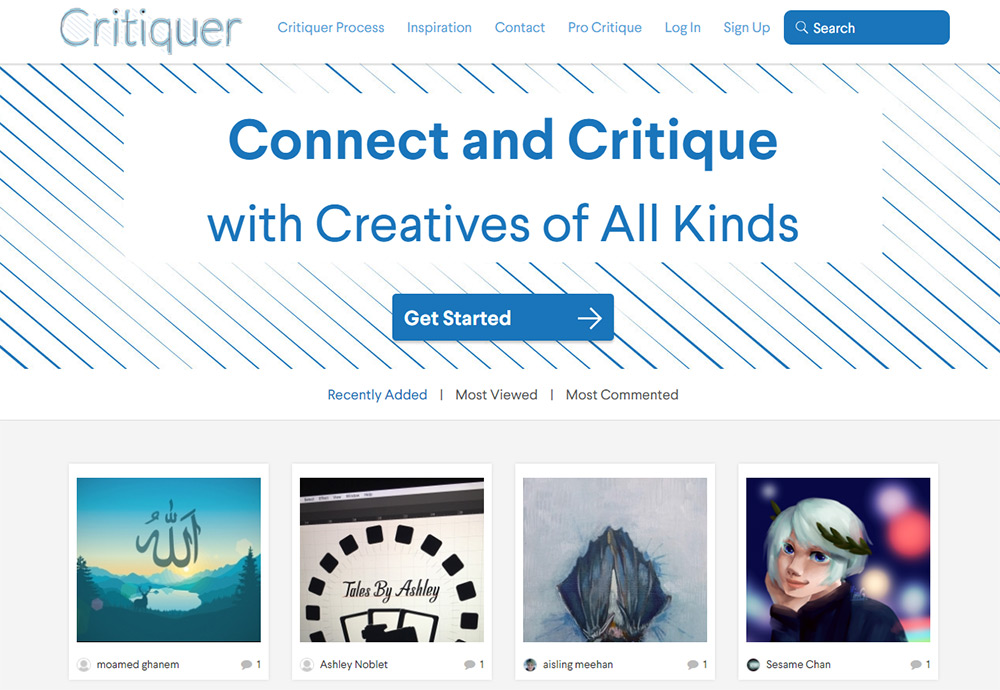 Critiquer is a very new site and it's growing quickly. The community is dedicated to providing critiques on all types of work ranging from digital art to digital design and even print design.
If you look over the homepage, you'll find a list of the latest submissions. Most of these are drawings or related to digital art – primarily because this was made as a resource for artists first. Surprisingly, in the digital art/illustration world there aren't too many places for finding solid critiques. So this budding community is an artist's best friend.
Critiquer is still growing and it's building a massive community on virtually every topic you could imagine. Whether you're just starting with web design, moving into graphic design or anything else, keep this website saved for future reference.
It'll prove incredibly helpful if you'd like to share your work and get some quick feedback.
Behance
Behance is the go-to resource for anyone looking to build an online portfolio. It's absolutely massive and might just have the largest total number of users in the digital design space.
Since it's free, you'll find a lot of variety. It's also pretty darn crowded. That means you won't have an easy time getting feedback unless you already have a number of followers (or your designs become wildly popular).
I still recommend joining and using the site as a way to develop a small following, even beyond critiques.
Dribbble
On the other side of the "online portfolios" list we have Dribbble.
This is an invite-only community of designers who publish their work pixels at a time. One nice thing about Dribbble is how active the community can be.
You'll be surprised how many people leave comments or take the time to dig through your old "shots". This can often lead to generic "awesome work!" types of comments that aren't very helpful.
But if you ask for critiques in your post description, you can try to coax some honest opinions out of other designers.
Either way, if you can get an invite to the community definitely take it.
Graphic Design Forums
The Graphic Design Forums (GDF) is one of the web's largest online design forums.
You can sign up for a free account and start posting right away. There's a bunch of sub-communities regarding different topics like digital icons, illustration or UI design.
But the best place for getting feedback on your work is within the variety of critique sections. There's one for graphic design and another for web design.
It's not super-active, but the community can be very helpful if you describe exactly the type of critiques you're looking for.
DesignersTalk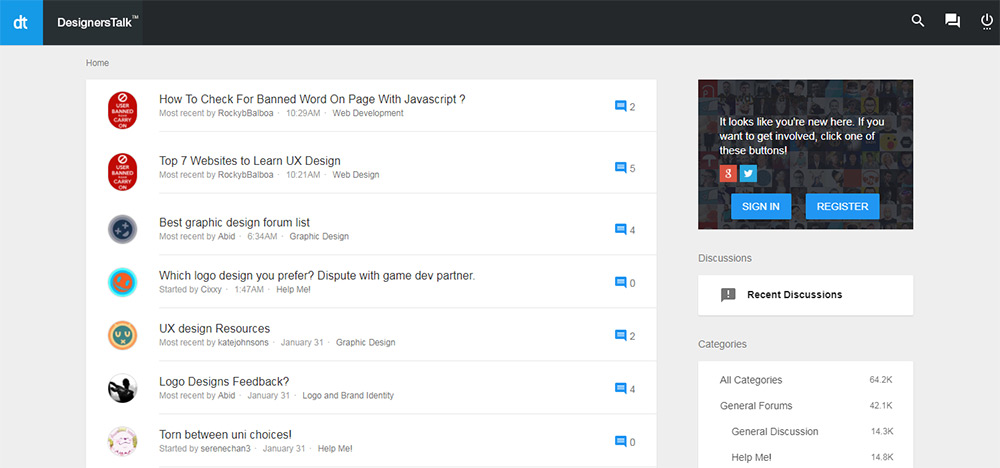 Another digital design forum worth checking out is DesignersTalk. This one's a little easier to use and it feels much smaller than GDF.
It also has a more tight-knit community, with threads being moderated a bit more closely. This relieves you from annoying spam but it can also mean that it may take longer to get replies.
I recommend joining and posting some of your work in a new thread. You could use this as a way to document your design journey or just to gather feedback from others.
UX Mastery Community
On the UX Mastery Community forum you'll find plenty of relevant topics on UI and UX design.
The homepage is a little confusing, as it just lists the most recent threads with active users. But if you visit the categories page you'll find a section for feedback – which is perfect for gathering design critiques.
Again, this community is on the smaller side. But the dedicated users stick around. And it's those people who typically offer the most valuable advice.
Please Critique Me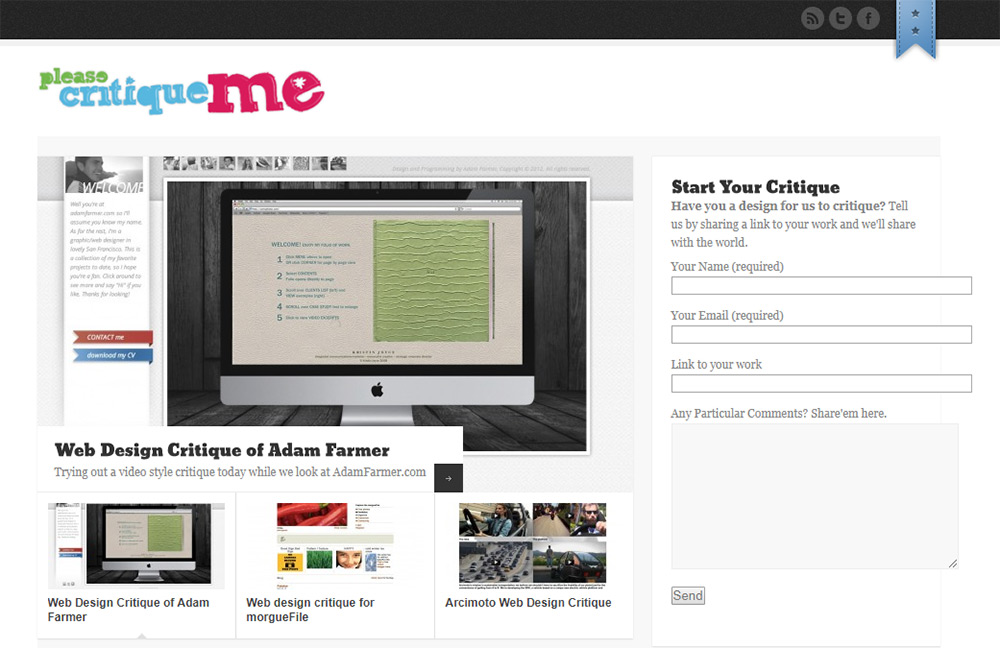 Please Critique Me is a really cool site organized much like a blog. The site is owned by the team behind OnWired, a professional design and development agency.
Whenever you submit your work to the site, they'll offer very specific critiques on what could use improvement and how to go about doing so.
I'd say that this website is one of the best places to get quality feedback. Your work will likely live in infamy on their website, but you'll also get some really useful advice.
I even recommend browsing their archives to read the critiques of other designs. You can learn a surprising amount from studying other people's work.
This post may contain affiliate links. See our disclosure about affiliate links here.