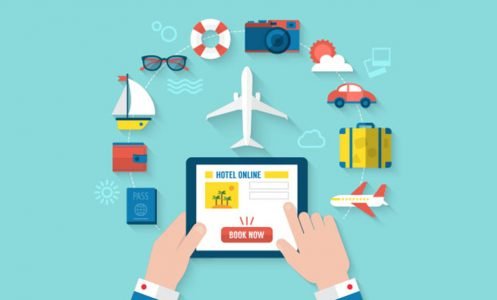 We are living in the age of technology and while we carry the whole world on our phones and laptops, everything has come to snippets on screens. E-commerce is constantly evolving and is one of the highest revenue-generating industries in the world. Mostly, technology has empowered those communities who faced difficulty in putting themselves out there to the world to sell their products or services and grow, the travel industry is one of them. While the opportunities online are boundless and liberating, they need to be utilized in the best possible way for better outcomes. Once monetized, an online travel business can fetch you more customers than most offline businesses are able to make:
Benefits of Starting Offline to Online Business in the Travel Space

Customer Base:
The internet helps in increasing the target audience manifold by putting what you offer to the whole world out there. Your business is not restricted to the four walls of your office or your city even, it gets the views and involvement of customers from all over the world. With so much scope of exploring the best offers online, travelers like to be pre-planned. Establishing an online presence will help you reach them in the middle of their comfort zones- drinking coffee in a quilt on a winter day, scrolling through beach vacations they are planning.
Also Read: Tips On Demand Planning For Travel
Flexible Timings:
You do not have to stay dedicated to a 10 to 8 timing of the shop or store that you have offline. You can run it simultaneously and tend to queries or emails any part of the day. It is much easier to advertise your itineraries throughout various social platforms and websites to always have a link dedicated to your customers. This also promotes flexible timing from your customers, especially those who have jobs to tend to and only get time to check out these offers late at night; they obviously prefer the comfort of their home after a long day.
Also Read: How To Run A Successful Travel Business
Easier Handlings:
It is easier to plan routes, escort groups, manage payments, etc when they are machine-generated and automatic since there is not a chance of any data to go unrecorded. This makes physical manuscripts merely printed sheets and not scribbled notepads piling up because the calculations are really easy and clear. This also makes you be extra prepared when you already have details about who the travelers are or the nature of travelers that you need to keep extra precaution for.
No extra physical capital investment:
You can simply run your business from your offline store or from the back room of your house and it will still run the same because no physical presence is required from you beyond the online brochure. You don't need an office or travelogue and indulge in pleasantries that don't really help you anyway. The creative intellect being the investment is to be utilized to tap into potential customers.
Also Read: How To Successfully Sell Through Akbartravel?
Adjudging Investments:
Switching to online business is quite convenient in terms of how mobile it is. After adjudging the trends, you can figure out if a particular way of advertising or promoting is helpful to you or not. On the basis of this analysis, you can easily switch to different methods if you are not getting the kind of audience response you were expecting to get. Also, with the help of the categorical division of your audience, you can release offers to attract more business from the said audience. This shows how calculated the risks are and how you can work around them.
Also Read: Benefits Of Starting Offline To Online Business In The Travel Space
There are a lot of businesses online and thus, to stand out, you need to make sure you have a selling USP and that you are improving constantly. So, it is essential that you work with all the capital you need in order to set up your online presence. At Indifi, we understand that the needs of every business are different. As a result, we offer custom loan solutions for all types of businesses we serve. As a travel agency owner, you might need funds to offer an online booking facility, pay your employees, manage bulk bookings, offer credit to your corporate clients, or just working capital- we can help you get the best loan with the most flexible loan terms and repayment schedule. This lets you grow your business just the way you want it to. Apply online or get in touch with us to know more about our unsecured loans for travel businesses
Apply Loan For Travel Agency