It is never easy to discover the best SEO analytics tool that can grow your site. With so many metrics and insights to consider when managing your site, it is crucial to select an efficient and reliable tool.
Why is Web Analytics Important?
Web analytics offers insights that help to understand the needs of your site visitors and their behaviors. You can adjust your content, CTA, and product offerings based on the gathered data.
Funnel analysis plays a crucial role in conversion rate optimization. Web analytics tools let you set customer journey funnels so that you can accurately track all the stages of the user journey right from being a visitor to becoming a customer.
Some useful data you can gather web analytics tools are:
Which pages are the users entering on your site?
What is the bounce rate or average time on the page of your site?
Which keywords are driving the maximum traffic?
Which products or service pages are the visitors viewing the most?
What are the sources of traffic?
What action does the user take after entering your site?
Which CTAs are being clicked the most?
How many conversions is your website getting?
Which products or pages are generating the maximum conversions?
Answers to questions like these and several others can be accurately obtained using a combination of web analytics tools.
Here are the top five SEO analytics tools that can help you identify and fix the bottlenecks in your SEO strategy.
1. Google Analytics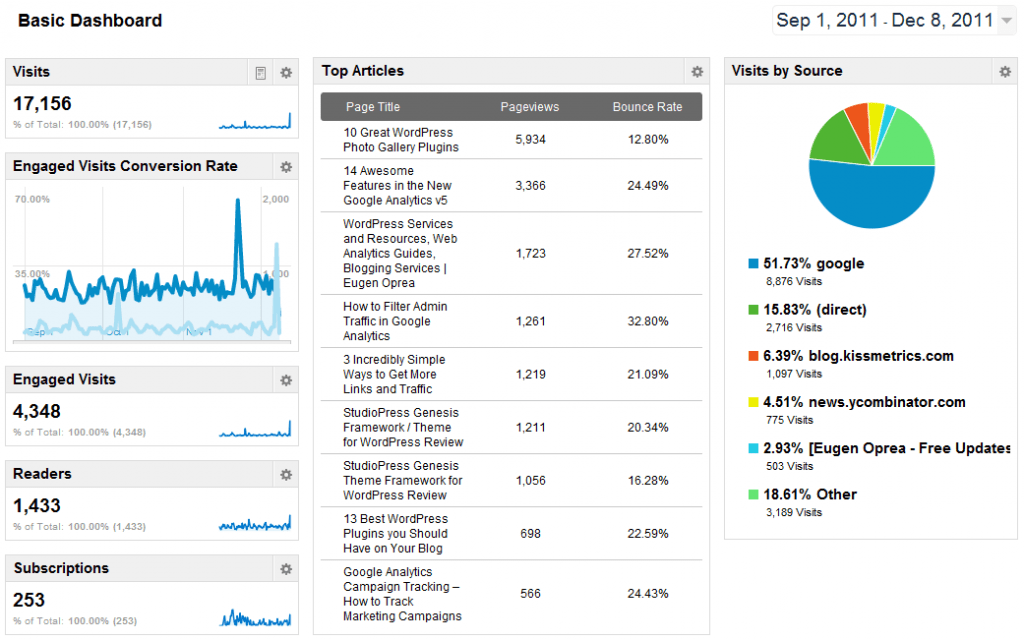 Google Analytics is amongst the best analytics tools for SEO. It provides a range of features that you need to improve your website SEO and rank high on search engines.
With Google Analytics, you can analyze every data about every site visitor and track your site performance across various platforms.
If you recently established an online store and want to know where most of your customers originate, Google Analytics can help you locate that. With this tried-and-tested SEO tool, you can track site traffic, user behavior, customer conversions, and optimize other crucial metrics such as the bounce rate.
Google Analytics uses a JavaScript tracking code to gather all the information about how users interact with your site. It does this by dropping cookies on browsers. When the users accept cookies when visiting your site, Google Analytics collects all the useful information you need to improve the user experience.
Key features
It comes with a traffic reporting feature that helps you tell how many people visit your website daily.
It comes with a Real-time Report feature that enables you to determine the real-time traffic revenue from your pages or products.
The tool comes with a pivot view and social report feature that you can use to create detailed data. This way, it exempts you from exporting data to Google Sheets.
It has advanced filters like Audience Data & Reporting that enable data segmentation so that you focus more on what is essential for your SEO. For example, you can filter visitors who have added some products in their cart but didn't complete the purchase.
It provides detailed reports using the in-page analytics feature that help you segment data and make the right decisions on your marketing campaign.
Benefits of Google Analytics
You can link it to Google Ads and keep track of all your PPC campaigns.
GA keeps track of essential metrics like site bounce rate, site speed, and dwell time, which helps you optimize your site to enhance user experience.
It is a useful tool for content marketing because it provides significant insights for customer conversion. You can use it to determine what customers are looking for whenever they visit your site.
You can use it to find out which keywords people are using to find your site.
You can use this tool to determine the third-party sites that send you traffic so that you can focus more on them to power up your content strategy.
2. Finteza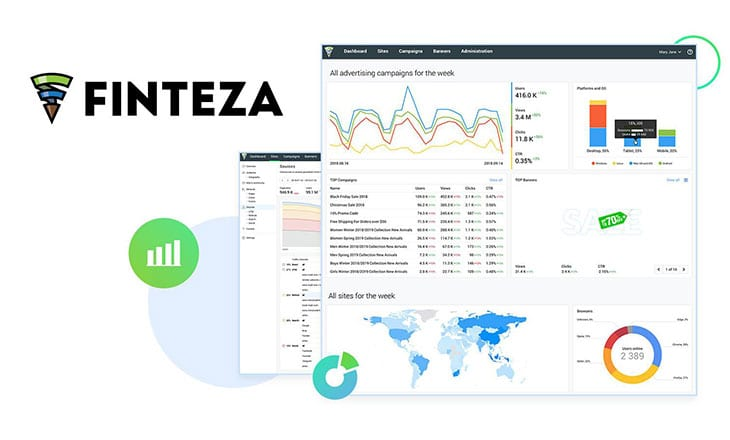 Finteza is an advanced web analytics platform. The tool provides you with real-time data in the form of diagrams, charts, and reports, which makes it useful for on-page optimization.
The tool analyses your site base unique parameters such as events, visit sources, page addresses, and UTM parameters. For instance, by using Finteza, you can discover useful information about mobile users in a click. This feature is available on the 'devices' section on the Finteza dashboard.
Key features
It has a 'Funnels' section that helps you detect all the fake conversions.
It features user behavior tracking and a comprehensive botnet analysis that enables you to discover low-quality data from multiple channels.
You can generate an efficiency report on your adverts with a few clicks.
It has a Time on Site Tracking feature you can use to determine how long users stay on your website.
It comes with an in-built advertising engine that helps you sell your advertising space and accept payments.
Benefits of Finteza
It provides detailed user analytics. You can use it to identify bad traffic and advanced audience data.
It features a distributed system architecture that ensures no additional site load.
You can use the tool to measure the quality of data from affiliate and partner sites.
It helps you cut your marketing cost by providing useful data for your digital campaigns.
You can use Finteza to collect information from all users that click on your Google Ads regardless of their location.
It provides accurate and real-time data without extrapolation and sampling.
3. SEMrush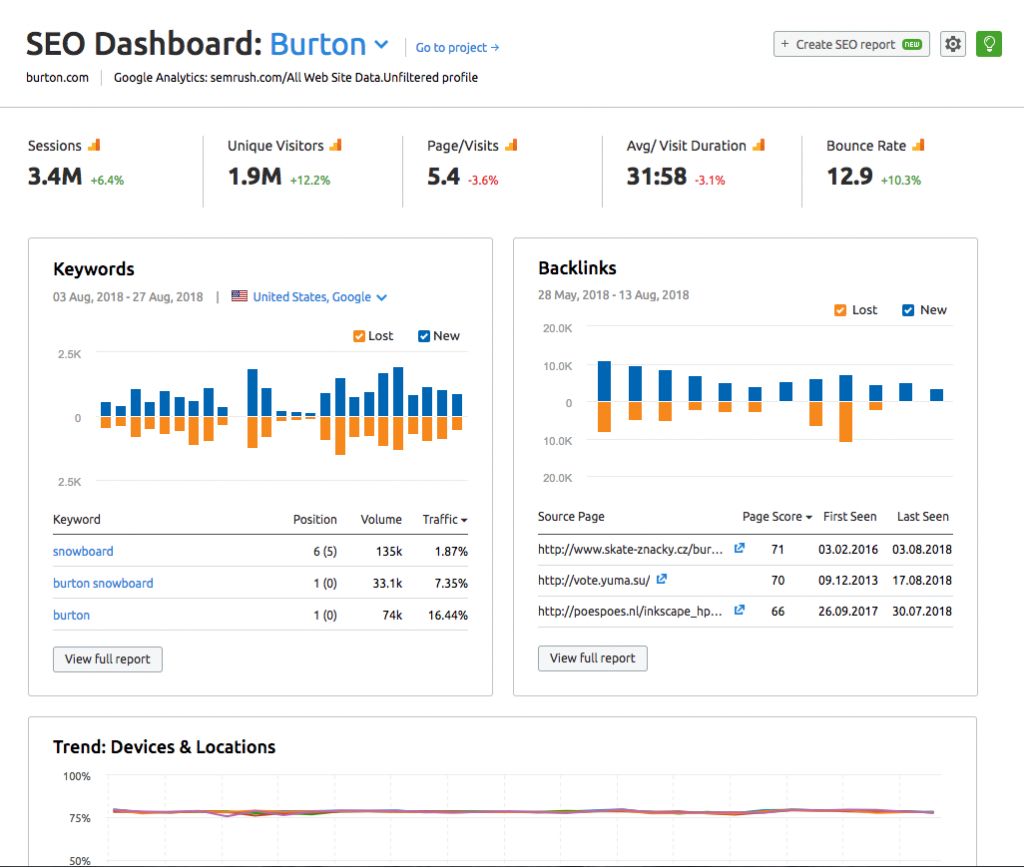 SEMrush is one of the best all-inclusive SEO analytics tools you can have for your website. This SEO tool comes with all the essential features and an elaborate dashboard that helps you manage your site.
With this tool, you can improve your technical SEO, find the best link building opportunities, and create high-quality content for your site.
If you are finding it difficult to audit your site for SEO, SEMrush can rescue you. With this tool, you can discover any underlying issues on your site that are stopping it from appearing on organic search results.
Key features
It comes with a complete SEO toolkit to help you to audit your web pages and make them more attractive to visitors.
It has a 'Social Media' management tool. You can use this tool to conduct a thorough social media posting and analytics.
It has a link building tool that enables you to analyze a link profile and create a reliable user outreach strategy.
It has a PPC keyword research tool you can use to build a paid search campaign.
It comes with a 'content feature' that helps you to create and share your social media posts to a large audience.
Benefits of SEMrush
You can use SEMrush to establish new ways to create marketing content. For example, you can check all the important keywords in your content space and use it to create useful blog posts.
It is a useful tool for developing a content strategy backed with data-driven solutions to market your site content to a broader audience.
It is useful for conducting a competitor analysis. You can use the tool to find out what your competitors are doing to incorporate in your marketing campaigns.
It is faster and helps you create your marketing campaign in minutes.
It is cost-effective and comes with three different pricing plans, Pro, Guru, and Business.
4. WooRank
WooRank is another useful SEO analytics tool that provides you with useful information on optimizing your web pages and making it more useful for your target audience.
It provides critical data to boost your marketing efforts. As an inclusive site review tool, it offers a lot of information that you can use to drive more users to your website, increase the number of leads, and convert more visitors to customers.
It comes with a day free trial to all new users. You can take advantage of the free trial version of this tool to improve your site and subscribe to the paid version in the future.
Key features
WooRank features a keyword tool that you can use to compare how your site ranks to your competitors and discover new keywords for your site content.
It comes with the 'site crawl' feature that ensures search engines crawl, access, and understand your site to rank your site on the organic search results.
The 'SEO Monitoring' tool helps you discover which of your site landing pages drive more traffic to your site.
The Sales Tool features help you identify successful leads and send them custom pitches based on how they interact with your site.
WooRank comes with a 'traffic estimation' feature that helps you compare your site traffic to that of competitors.
Benefits of WooRank
It offers services in six different languages including Spanish and Portugese.
It covers multiple areas including SERP ranking, server optimization, backlinks, and social media data.
WooRank offers you a money-back guarantee if you are not satisfied with their services.
WooRank is available on a 14 day free trial when you subscribe for the first time.
It provides a lead generation tool that you can use to convert your visitors to successful leads.
5. Moz

Moz is another best SEO analytics tool you can try out for your site. This excellent tool comes with a minimalist dashboard that makes it easy to use for any beginner in SEO. You can use MOZ to gain some insights on useful links to your website.
This tool is available on both a free and paid version. You can get a full link analysis feature on a free version to perform some link-building to increase traffic.
With this tool, you can determine all the useful keywords helping your site grow and work towards creating useful content based on your keyword research.
Key features
It comes with a complete SEO toolbar for keyword research, rank tracking, and domain analysis.
It offers a 'Local Marketing' feature that helps you with business listing audit and citation management.
The SEO Audit & Crawl feature can crawl the most extensive sites and keep a record of all recurring issues on the site which need immediate fixing.
The 'My Online Presence' feature on Moz helps you determine how your business location appears on directories and local search engines.
The tool comes with the 'Stat' feature useful for daily SERP tracking and competitor intelligence for experts.
Benefits of Moz
It crawls your site weekly and provides real-time alerts on critical issues that need your attention.
It comes with a paid and free version. Each version has some unique features that help you optimize your site to improve usability.
It helps you come up with different topics for your content strategy. You can use this tool to optimize your site for relevant topics and specific keywords.
It provides free domain analysis for any site. You can use it to see your competitors' top ranking keywords and web pages.
The tool provides custom reports on the website crawl data, rankings, links, and competitors. This way, you can track your site progress and determine if you are on the verge of maximizing your ROI
Final Thoughts
There are many SEO analytics tools you can use to improve your site and make it rank at the top of the search results.
If you are looking for the best tool to optimize your site for search engines, I recommend these five. You can start using Google Analytics as a beginner. Once you've gained more experience, then you can use more sophisticated tools like Finteza, Moz, and SEMrush. These tools are affordable and provide you all the useful insights you need.
---
Photo by Markus Winkler on Unsplash