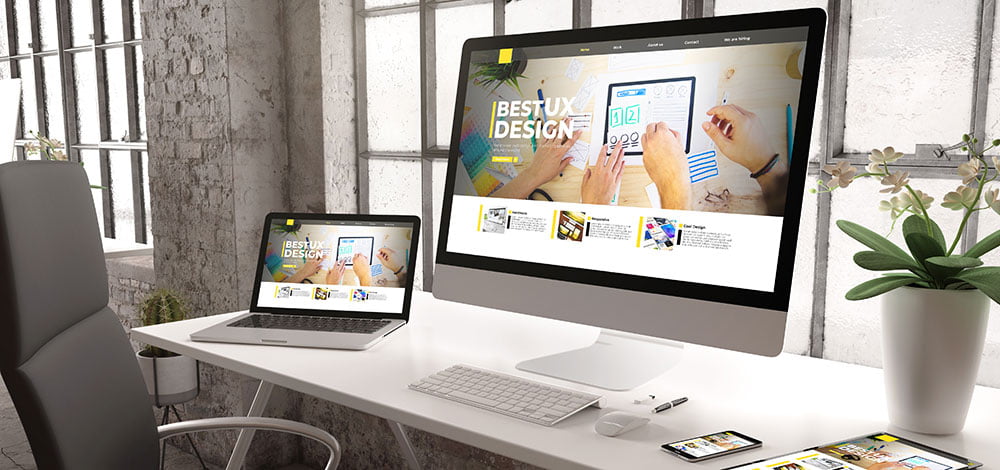 If you offer IT support services, your business definitely needs to be present online. A good online presence will make it easy for customers to find you and engage with your business whenever they have a problem. However, having a website alone is not enough to boost your business growth. As an IT support company, your website should appeal to visitors and provide them with the information they need to make purchase decisions.
As you set up your company website, think of it as your virtual office where your customers walk in. This will enable you to see it as a vital aspect of your business – a place where you want your prospects and customers to return over and over again. This means that even a small mistake in the design of the website can cause you to lose customers due to a negative experience.
So, what design considerations should you have in mind as you set up a site for your IT support company?
Below we explore the key factors that should guide your IT support company website design:
Website Aesthetics
Aesthetics have to do with the look and feel of your company website. When a visitor comes to your website, you only have ten seconds to make a positive impression and inform them of what he'll get from your website. If your website does not impress the visitor within the span of ten seconds, the likelihood of losing him is extremely high.
When you are designing a website for your company, you need to select your images, color scheme, and fonts carefully. Ensure the images you use are simple, decent, and sharp. The color scheme should mirror your color brand and the fonts should be legible in size and design. Get a website designer who can use a mix of these aspects to create a website that appeals to your target audience.
Structure Of The Site
When creating a website for your IT support company, you need to think about the layout of the website. Site structure is critical in ensuring that visitors can find what they're looking for with ease. You don't want your users getting confused when they start browsing the site as that could affect their experience negatively. The best way to structure a website is to branch it pyramidally, starting with the home page and moving down to category then service pages.
This kind of structure gives the site a logical flow that makes it easier for visitors to navigate the website. Structuring your company website well also makes it rank highly on search engine results. Increasingly, Google is preferring websites that have a properly designed hierarchy.
Site Usability
When you're developing a website for an IT support company, you need to think about the users and how easy it will be for them to find what they need. Bear in mind that even though the website belongs to an IT company, its users will not necessarily be tech-savvy. Make the site easy for average users by making navigation easy. Consider using categories and sub-categories on the site to organize the site as exemplified by tcgns.com. Also, make navigation buttons easy to find in terms of location and color. Since your website users are not necessarily professional coders, simplify your web content to make it easily understandable.
Site Loading Speed
The speed with which your website loads is the other factor you should consider when designing a website for your IT support company. Increasingly, customers are becoming impatient – if you have a website that takes more than ten seconds to load, you're likely to lose many customers or prospects. A good website should load within three or five seconds. There are several aspects that determine how fast your website loads.
The first one is the kind of images or videos you use. If your images videos are too heavy, they'll slow your website down. To address this challenge, consider compressing your images to optimize them for the web. Secondly, consider the kind of web hosting service you get for your site. Consider the kind of servers that a web hosting company is using before choosing a web hosting service. If your budget allows, opt for a dedicated hosting service as opposed to a shared service.
Website Security
As you develop a website for your company, you'll need to consider the security of the site. Ensure that you get an SSL certificate for your website in order to encrypt any communication you have with your customers. An SSL certificate is also critical in protecting critical information such as credit card details. When your website is secure, customers trust you more.
Mobile Device Responsiveness
The convenience that mobile devices offer users has seen customers give preference to sites that are easily accessible via laptops, mobile phones, and tablets. As you design a website for your IT support company, consider using a responsive website template. This will make your website accessible to your customers and prospects across all devices.
In addition to this, ensure that every page of your website works well during the design process. Having a page that does not work or load well will affect customer experience negatively and push customers or prospects to your competitors. If you have a page that has issues loading, ensure that your designer fixes it before the site goes live.
Social Media Integrations
Social media integration is critical when you are designing a website for your IT support company. Ensuring that the template used in the web design can integrate with a wide range of social media platforms available will give your company a strong social media presence. This will make it easier for prospects and customers to find and even contact you.
Final Thoughts
The design of a website determines whether customers and prospects utilize it or not. Generally, visitors don't want to wait for a site to load, or struggle to navigate a site to find what they need. Considering the seven factors discussed above as you design a website for your IT support company will keep your customers or prospects coming back.