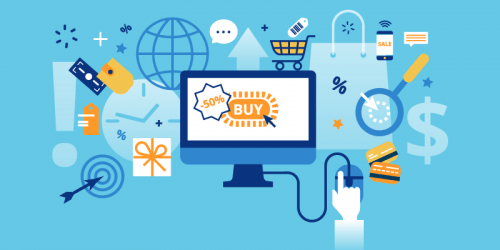 While the internet has made the world smaller, it was the advent of social media which made the members of this world connect in real-time and share stories, emotions, opinions, and experiences and establish strong relationships. It has trimmed pathways between brands and customers so much that the exchange of products, services, and money has become seamless. While all the industries have been utilizing social platforms to attract customers and proliferate the revenue and brand image, the retail industry is not behind. Now the question is how one accelerates this topline and bottom-line growth for his/her business. Be it e-commerce or brick and mortar or a hybrid model, the key to increasing sales and profits is to enhance the experience of existing customers and creating new customers
Probably, some effective ways to leverage social media to boost the retail business stated below might come in handy to you.
Also Read: Most Popular Digital Payment Methods That All Retail Shops Should Implement
Presence in social media:
Creating perception: Your social media account is your face for the customer. It should align with what line of business you are in, your core values, and most importantly your positioning.
Engagement: Sharing creative videos, customer testimonials, catchy taglines, etc. would help increase sales.
Relevance: The look and feel of your page must be in sync with the products you are selling. Aesthetics and content should be appealing both in looks and content to the specific customer segment you wish to cater to.
Communication: The language used for attracting customers from different age groups and needs would differ. So choose your words and communication style accordingly.
Cross-channel promotion: Promote your account from one social media platform on other platforms. For instance, you may put your Snapchat account link in your Instagram bio or e-commerce site/information website share the link in Facebook bio.
Also Read: Best Mobile Apps To Manage Trade And Payments For Restaurants
Advertise to attract new customers:
Expansion of Radar: While your own social media account can help you cast your magic spell at low cost, the bitter truth is that its reach is limited to the followers of your account. To enhance your popularity, you must invest in promotional campaigns. A person might be simply uploading a picture or searching for a job, but an enticing campaign on her home page can turn her into a customer.
Crisp messaging to attract customers: The preciseness guarantees the customer doesn't lose interest, and occupies less space on the screen, thereby costing you less for displaying the ad.
Sponsored ads: Facebook, LinkedIn and many other social media platforms offer paid services to companies for running campaigns, creating awareness, generating leads and engaging current or potential customers.
A small investment in these resources, if done smartly, will boost your retail business, fetching greater profits in the longer term. You may consider taking loans from lending platforms such as indifi.com
Also Read: Best Ways To Bring Your Business Online For Retail Shops
Collaborations with social media influencers to attract customers:
Paid partnerships: Pay influencers/bloggers to promote your brand to their followers. Pick the ambassadors who complement your brand positioning.
This would be a win-win scenario as both parties would reach a wider audience, thereby increasing sales.
Constant reminders & engagement to boost your retail business:
Remember, out of sight is out of mind: Posting your stories often on Snapchat, Facebook, Instagram or any other platforms often keeps you in customers' memory.
Run hashtag contests: The prize necessarily need not be expensive. Sometimes just recognition of the winner at the large platform might do the trick. Contests may also involve purchasing your products and sharing experiences, thus leading to increased sales.
Also Read: Best Mobile Apps To Manage Trade And Payments For Retail Shops
Analyze :
Social media gives you access to customer's choices, lifestyles, behaviors, etc. which can help you identify customers under your targeted segments and customize your messages for them accordingly. Dynamic ads are one of the prime ways to increase sales. There are a lot of premium apps, paid social media services, that help you gather insights on customer behavior based on their actions on social media. Not mere customers, you may also track social media actions of suppliers, delivery partners, competitors, to be on toes to change your strategies in areas of manufacturing, logistics, marketing or operations, when needed.
While most of the above come with a cost, with the right strategy, every penny spent is worth it. Money-lending platforms would be helpful to provide you monetary assistance Indifi is the market leader among such companies. Your business turnover can be as low as Rs 1 lakh or less and as high as Rs 1 crore or more; Indifi provides loans to businesses in all scales that too without collaterals. Their process is easy and fast, making them the best in the market. Most such businesses have little or no access to financing from traditional institutions such as banks or lack either collateral or finance data trail to access a loan.
Also Read: Best Ways To Organically Reach Customers For Retail Shops