Are you wondering whether content marketing is the right strategy from a B2B perspective?
You might question whether content marketing can efficiently reach your best prospects and create sales for your business.
You should know this:
Without a doubt, B2B content marketing creates a competitive edge for your business.
As we'll explore together, it does the following:
Creates a direct pathway to your best customers
Saves time for your sales team
Generates sales qualified leads
Improves customer retention
Presents you as an industry thought leader
What Is B2B Content Marketing?
Simply put:
B2B content marketing is the process of generating leads and sales via content creation. You'll also use content to strengthen your brand and expand your audience.
The biggest difference between this and B2C content marketing is that you're appealing directly to other businesses instead of consumers.
Your overall goal?
It's to create valuable content that results in a win-win situation for you and your prospects. Your plan should include the following types of content:
Thought leadership posts
Blog posts with tips for overcoming industry challenges
Social media posts highlighting a recent conference or company meeting
White papers
Videos, such as product demos or explainer videos.
Email newsletter content
Recorded webinars
Here are tips for building out a content marketing strategy.
Identify Your Target Audience
Take time to learn about your audience so that your content marketing plan hits home. Always remember that your audience includes individuals and your messaging must resonate with one reader at a time.
It's common to create barriers to this process by convincing yourself that you can't focus your audience down into specific reader personas.
However, it's a good exercise to use your website's Google Analytics data to get as granular as possible.
For example, you can see demographic information such as:
Use Analytics to understand more about your target audience and investigate other important factors, such as Interests, Behavior, or User Flow: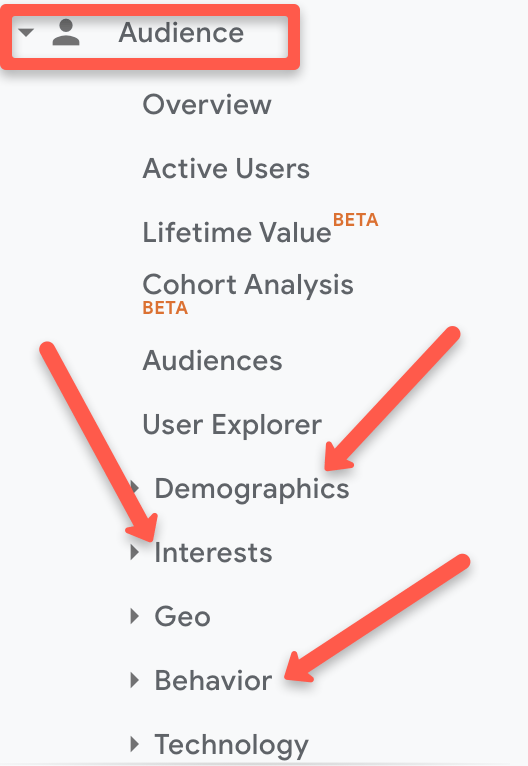 Gaining this kind of insight helps when it comes to your content marketing plan because you know how to most effectively communicate with your readers.
For example, you probably don't want to use a lot of emojis or memes if you discover that your readers are predominantly between the ages of 45 and 60, as opposed to a Millennial audience.
Research Your Competitors
Become aware of how your competitors utilize content marketing but don't outright copy their efforts.
The reason?
Because they might have tried content creation that isn't directly bringing them leads and sales.
Consider that only 45% of all B2B marketers report successfully achieving their lead generation goals.
Through research, though, you'll gain important insight into how your competitors conduct their B2B content marketing plans. Here's what to look for:
Where do they post content?
What kind of engagement, reaction, and follower actions does their content elicit?
What channels do they use when promoting their content? Do they advertise on Facebook, Instagram, or other social platforms?
How often do they publish?
How well do their audiences respond to curated content?
What type of content do they curate?
Use BuzzSumo to uncover competitor social reach:

Use tools like Ahrefs, Ubersuggest, or SEMrush to uncover important competitor data such as domain rating, backlinks, monthly visitors, and ranking keywords:
Write Down Specific Goals
Don't run your B2B content marketing strategy without a concrete plan that incorporates specific goals to guide your content team with.
Do you need to create more brand awareness or generate immediate sales?
Is the goal to create email subscribers or reveal behind-the-scenes content on social media?
Write down each goal and create content that helps you accomplish those goals.
Here's a specific example:
If you want to generate leads, then consider a blog post that educates. Teach your readers a specific combination of tips that helps them see you as an expert.
Then, offer prospects a content upgrade that requires an email address. Or, lead them directly to your booking page to set up a 1:1 call with one of your reps.
Either way, you collect information that allows you and your sales team to follow up multiple times.
Set Reasonable Completion Dates
Creating content requires time and effort.
Stay realistic when you're setting completion dates so that everyone on the team feels comfortable that they'll finish their responsibilities in time.
For more accurate planning, invest time into content mapping. This extra bit of organization can help set reasonable deadlines so everyone hits their goals.
Plan For Challenges
In the real world, plans never work out exactly the way you think they will. Even with an established business roadmap planned out, something unexpected is bound to occur.
For instance, dozens of industries were crippled by the COVID-19 pandemic which saw a record number of people starting to work from home. While this example is extreme, the point is this: identify and factor in risks.
Build that reality into your content marketing strategy so that you don't become surprised or frustrated when it's time to adjust expectations.
Think about potential problems that could arise. Work with your marketing team to discover practical methods for resolving those challenges or even preventing them from happening in the first place.
Track Progress
Monitor and track your goals consistently. If you're at five daily sales qualified leads (SQLs) and you've set a goal to reach 20 daily SQLs, then look at the results weekly or monthly.
Paying close attention to the data allows you to make decisions that either keep you on track or help you make up ground.
Let's now take a look at the specific benefits of using content marketing for your business.
Generate Quality Leads
Compared to marketing without one, research reveals that you'll get 67% more leads when using a blog.
Educating via valuable blog posts produces more quality leads and the process helps fill the pipeline for your sales team.
Obtain More Customers
40% of businesses report that content plays a big big part in their overall marketing strategy. The reason for this is that content marketing leads directly to acquiring more customers.
Not only do B2B prospects need more time when it comes to making a buying decision, but you're often communicating with someone other than the ultimate decision maker.
Providing valuable content helps your B2B buyer make their way down your sales funnel. For instance, this occurs as they consume a blog post that leads to email communication and finally, a sales call.
Improve Your SEO Results
The very act of producing content and hosting it on your website means that your search engine optimization efforts improve.
Web copy, white papers and blog posts all send a signal to Google that your site is active with content your audience loves to engage with.
You'll notice an increase in search rankings, traffic, and lead flow the longer your marketing team consistently produces quality content.
Become a Thought Leader
Gaining thought leader status should be a long-term goal of your B2B content marketing strategy.
Make sure your team stays up-to-date on trends and industry changes so that the information is passed on inside the content produced.
Two things happen here:
Your readers want to do business with leading industry thought leaders
Google recognizes your thought leadership and it positively impacts SEO results
Keep in mind that material that leads to thought leadership doesn't only need to come from you directly.
Your company's subject matter experts, sales managers and other key players should contribute. Even long-term customers can help you create excellent content in this area. This also doesn't only have to be blog posts.
You can become a thought leader by offering other content such as YouTube videos, creating online courses, ebooks, webinars, podcasts, or really any type of content that people consume
Save Time
At first glance, you might think that content marketing takes too much time to implement well. In fact, the Content Marketing Institute reports that lack of time is the top complaint heard from B2B marketers when discussing their content strategy.
Here's the reality:
Content marketing saves you and your staff time in the long run. Automate your daily tasks as a content marketer, and see your content efforts yielding results faster than expected.
How often do you and your team get asked by prospects or clients to see more detailed information or a product demo?
You'll have recorded webinars, product demo videos, and lengthy blog posts that get shown instantly to customers.
The process shaves time off the old method of explaining these types of details to each prospect or customer in 1:1 situations.
Improve Customer Retention
In a study by GfK Roper Public Affairs & Corporate Communications, it was discovered that 68% of customers feel better about purchasing from companies that produce custom content.
66% of customers also reported that they're more likely to continue purchasing from the same company when receiving that custom content.
Sending relevant, segmented, and personalized content to your customers keeps those people engaged and willing to stay with your company on a long-term basis.
Your Next Step
You should now see the difference that a solid content marketing plan will make for your business.
Make a commitment to start the process.
Don't allow it to become an idea that may or may not happen.
The sooner you begin, the sooner your company can benefit from an increase in traffic, leads, and sales.
---
Creator, Ricky Wang. You can connect with Ricky on Twitter and LinkedIn.
Photo by Lukas Blazek on Unsplash