When friends get together and build an app of their dreams, amazing applications like Social Champ are born!
Social Champ is a social media management tool for small and medium-sized businesses, solo entrepreneurs, and agencies. Social Champ has support for all major social media platforms, including Facebook, Instagram, Twitter, LinkedIn, Google My Business, and Pinterest.
What is Social Champ?
You can create, edit, manage, design, and schedule social media posts using one content dashboard. Social Champ also allows you to engage with your audience, track analytics, and create reports for all socials.
Social Champ is mainly a customer-centric tool, so they keep on releasing small and extensive features at all times. Thanks to their customer support team, you can also request the next features and include them in their roadmap!
Their UI is quite vibrant and easy to navigate, which makes using the tool a complete breeze. You can find all the primary and secondary features in the menu on the left side.
Even signing up for Social Champ is very easy; all you need to do is input your email address and name! Once you are done, Social Champ asks you about your company, and you are good to go. This information helps the tool suggest better RSS feeds for you and set your account.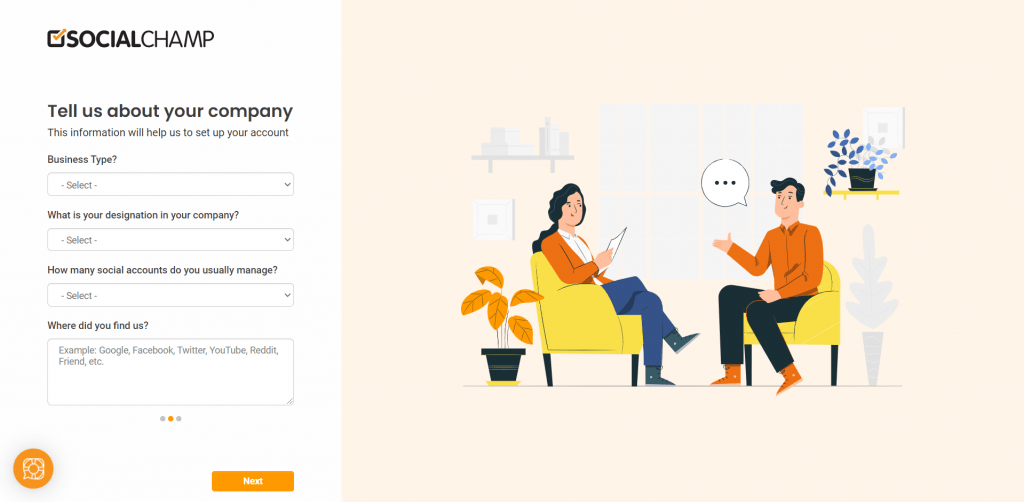 Key Features of Social Champ
Coming on to the features, Social Champ has several fantastic social media automation features, including;
Social Media Calendar
Auto RSS feed
Bulk Upload and Scheduling
Sentiment Analysis
Monitoring Analytics
Team Collaboration
Chrome Extension
Content Curation
Custom Curated Posts
Mobile Apps
Content Suggestions
Recycle
Repeat
Post Approval
Workspace
Link Shortner
Queue
Tracking
Hashtag Manager
Canva integration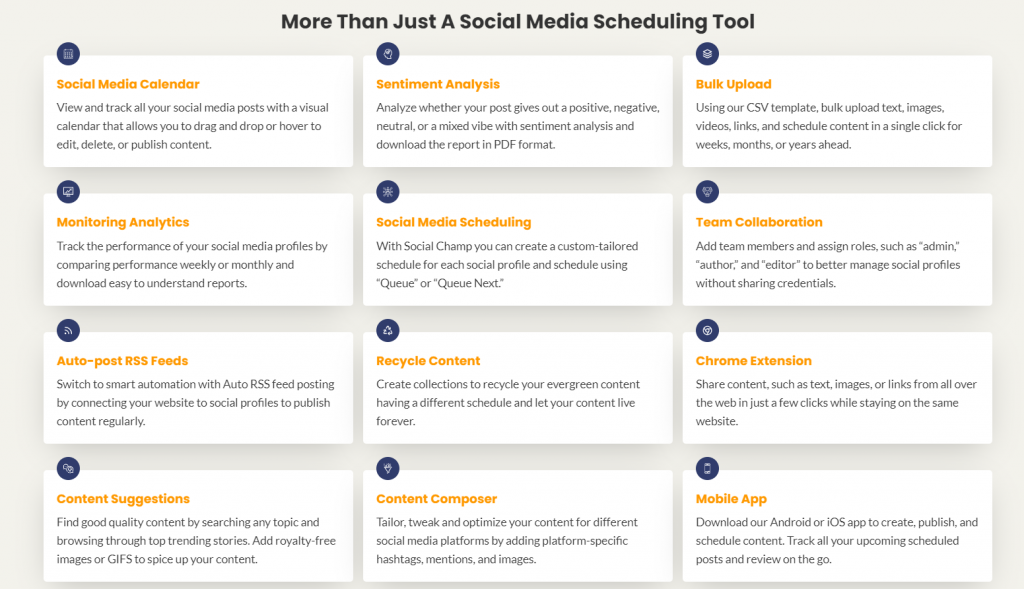 All these features enable social media managers to automate their daily tasks and schedule their entire content calendars at once. Here are a few of the star features that are our favorite.
Bulk Upload
Bulk upload is one of the most valuable features of all time. It allows you to upload up to 200 posts at once using a single CSV file. All you need to do is create a sheet with captions, images, URLs, and hashtags. Social Champ will further do everything on its own.
It will check your sheet for any issues or bugs and notify you to make changes. Once the sheet is 100% correct, Social Champ will schedule all the posts for you!
Auto RSS Feed
Connect your favorite blogs and websites to your social accounts to keep them active at all times. Once you post something on the blog, it will automatically go up on your social media accounts.
You can always connect your blog with socials, but you can also connect other websites from content suggestions. The content suggestion tab helps you shortlist relevant blogs and websites according to your business type.
With the Auto RSS Feed, you can also set the frequency and time of posts or add them to the queue.
Social Media Calendar
A calendar view of all published and scheduled posts for easy management.
With the Social Media Calendar, you can also create and edit existing posts and identify the best-performing post. The calendar allows you to organize and streamline all the posts neatly and aesthetically so that you can view the entire month's worth of content in one place.
You can also filter posts based on either future, sent, and failed posts or according to a specific platform.
Tracking & Monitoring Analytics
Track and analyze all your posts with platform-centric reports and identify your best-performing posts. The tracking and analytics option will help you create better content strategies in the future as it will show you what content resonates with your audience best and what gets the most engagement.
The feature is particularly useful for presentations as all the reports have gorgeous graphs for all platforms, making tracking even more effortless. Lastly, white-label all reports to give them a personalized effect with logos and names and download them in a PDF format.
The analytics feature also enables you to compare reports weekly and monthly and learn your audience's behavior.
Team Collaboration
Team Collaboration is one powerhouse of a feature. It allows you to collaborate with your team members without sharing credentials. You can assign them roles, such as admin, editor, and author. Each position has its own responsibilities and permissions according to which they can perform the tasks.
With this feature, you no longer need to create each and every post yourself. Your team can even help you with content curation. Instead, you can ask your writer to do it themselves. To ensure that your brand voice is consistent and that there are no issues in the scheduled content, you can cross-check all the posts.
Each time your team member schedules a post, you will receive a push notification for post-approval.
Why Social Champ?
Honestly, I am more than happy to answer this question. Social Champ is a customer-centric tool, which means that the customer support executives actually listen to your feedback and recommendations and reply accordingly.
Unlike other tools, they don't send a computerized reply to everyone. They take time to listen to your issues and find a solution that is sure to help you out.
Due to popular demand, they released a new Canva integration a few weeks back. It helps the user design eye-catching posts from within the content composer.
Here are some more reasons to use Social Champ:
Extremely budget-friendly, with plans starting from as low as $10/month.
Feature updates almost every month.
Amazing integrations, including Canva, bit.ly, and more.
Chrome extension to share images and text directly from the web.
Who can benefit from Social Champ the most?
The honest answer? Everyone!
Social Champ has pricing plans for all businesses and enterprises, including individual entrepreneurs and even agencies. Basically, anyone who is looking for quality social media automation can make use of this tool!
With their new onboarding features, it is even easier to set up your account and get the hang of the tool.
Pricing Plans
Social Champ has four pricing plans to cater to everyone. Here are the details;
Professional, starting from $10/month
Champ, starting from $29/month
Business, starting from $99/month
Agency, starting from $199/month
Additionally, if you buy a yearly subscription, you can receive a 10% off on all plans!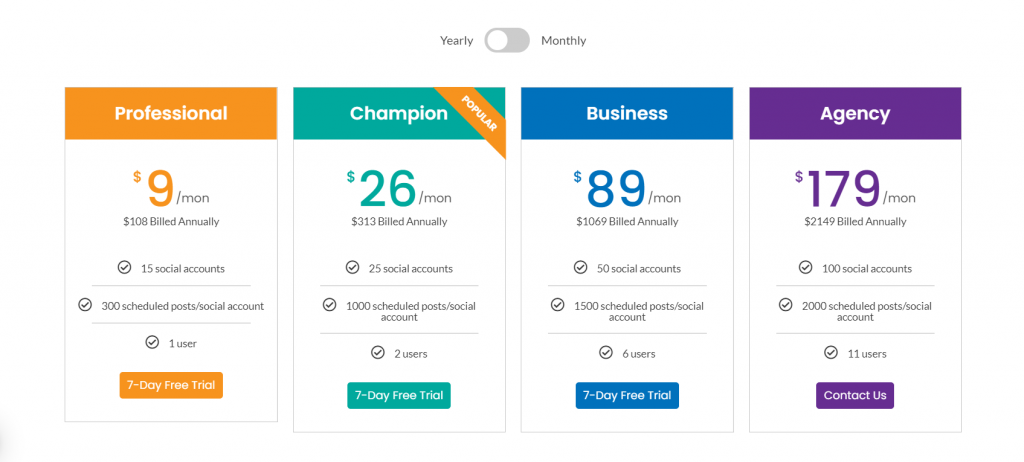 Final Thoughts
Using Social Champ for social media management and marketing is as easy as it gets. The UI is gorgeous, the response rate is pretty fast, ample features, and the pricing plans are as reasonable as it gets!
If they could just work on a few glitches here and there, they have the potential to be the best in the market. I, however, would stick to this tool. Not only because I am used to it, but also because it has a lot of potential.