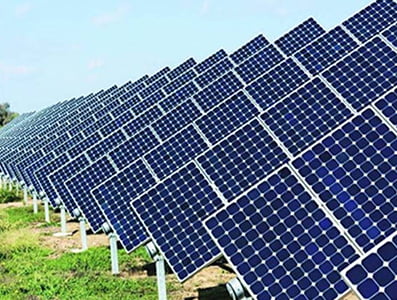 In 2019, the Government of India, Ministry of New and Renewable Energy, launched the Pradhan Mantri Kisan Suraksha Evam Utthan Mahabhiyan, also known as PM Kusum Scheme. The scheme has been launched to help farmers achieve greater security. With the implementation of this program, India can meet its commitment to increase its share of non-fossil fuel-based power up to 40% by 2030.
This program aims to provide solar irrigation pumps to Indian farmers at a discounted price, which will enable farmers to reduce their dependence on diesel-powered grids. In addition, the Government of India is committed to installing 25,750 Megawatts of solar power by year's end and is ready to invest Rs 34,422 crore for the benefit of farmers.
Let's have a detailed look at the PM Kusum Scheme below.
Also Read: Top Facts About PMRY Loan
The objective of the PM Kusum Scheme
Farmers can apply for this scheme not only as individuals but as cooperative societies, farmers' cooperative groups, and panchayats. Additionally, the Indian government has carefully outlined the use of these funds to reduce farmers' financial burdens. Approximately 60% of the total cost will be subsidized directly to farmers by the government. An additional 30% of the fund will be allocated to farmers as soft loans. The farmers must put the remaining 10% into their pocket, which is very little in comparison.
Components of the PM Kusum Scheme
The Government of India launched the PM Kusum Scheme in 2019, comprising three essential components explained below.
Component A
The first part of the scheme involves building decentralized renewable energy plants on vacant agricultural land. Each plant will be able to produce 10,000 megawatts. Through this component, farmers and others who are qualified will be able to install renewable energy grids on barren land. If the eligible candidate wishes, it is possible to install those grids over the crops. By placing the panels over the crops, the yields will remain safe since the solar panels will not directly contact them.
Component B
The scheme's component B aims to install 17.50 lakh solar-powered pumps for farmers. The government will provide farmers with solar-powered pumps that will be 7.5 HP to replace the present diesel pumps, which incur lots of costs. It is essential to note that farmers can choose higher capacity pumps, but the government will only provide financial assistance for pumps up to 7.5HP capacity.
Component C
As part of this scheme, Component C hopes to solarize 10 lakh grid-connected agricultural pumps. If the farmer is in electric surplus, the excess electricity will not be wasted but rather sold at pre-determined rates to the corresponding DISCOMS by the government.
Also Read: Everything You Wanted To know About PMEGP Loan
How will the PM Kusum Scheme be implemented?
A state nodal agency under the Ministry of New And Renewable Energy will implement the PM Kusum Scheme. The state nodal agency will then implement this scheme and create awareness with the help of the respective states and union territories, DISCOMS, and farmers. Every one of the components mentioned above will have a different method of implementation. Components A and C were implemented experimentally before 2018 to understand all factors. Component B, the installation of solar pumps, is distributed entirely through the scheme without any testing or study.
While there are some exceptions to the entire process for the Northeast region, Jammu & Kashmir, Himachal Pradesh, Uttarakhand, and Andaman & Nicobar Islands, the central government will contribute 50% of the total tender cost as financial assistance. The remaining 30% will be given as a subsidy, and the remaining 20% need to be paid by farmers.
Conclusion
The PM Kusum Scheme is a beneficial scheme for farmers since they can benefit significantly from it. Selling the extra energy produced by the solar grids on their land will provide a regular cash flow, and they can also productively utilize their barren lands. In addition, it will enable them to eliminate diesel pumps, which contribute to higher costs and environmental pollution, which is harmful to crops.
By undertaking the PM Kusum Scheme, rural areas will be able to boost their economy. At the same time, have renewable energy sources that will help to create a more sustainable future. Compared to the benefits they will receive, farmers will have to spend only 10% or 20% to participate in this program which is significantly less. Hence, if you are eligible for this scheme, utilize the benefits provided by the Government of India for your betterment.
FAQs
1- How can I apply for the PM Kusum Scheme and avail of the benefits?
You can complete the simple online application process for the PM Kusum Scheme. Either do it yourself or have any local shop assist you with filling out an application through the website. You can also download the form from PM Kusum Scheme's official website given below.
2- Is it possible for me to lease my barren agricultural land to someone else so that they can benefit from this scheme?
Yes, you can lease out your barren agricultural land for setting up a solar farm through this scheme as long as you are okay with it.
3- What is the off-grid solar system in Component A of the PM Kusum Scheme?
The off-grid solar system is a project which will be implemented on your barren agricultural land. Various solar panels and other parts and components needed to start a solar grid, including a battery, an inverter, etc., will be installed on your land.
Through the integration of these devices, renewable energy from sunlight will be produced and stored in batteries. Farmers will conduct agricultural activities such as irrigation and other activities with this clean energy source. Moreover, they can sell the excess electricity to local DISCOMs at a fixed tariff rate which will additionally benefit farmers to generate additional income.