As the market becomes more saturated with SaaS companies, it is challenging to get users to sign up and use your product or service.
The onboarding process can make or break the success of your software as it means the difference between getting someone to try out your product or service one time or 10 times.
Hence, finding the right tool for this process can help you boost conversions by a wide margin.
In fact, according to a Gladly research report, 68% of customers reported they are willing to pay substantially more for the same type of product based on the company's reputation for excellent customer onboarding.
In this article, we'll take a look at the top 5 user onboarding tools and see how they can help you turn new signups into active users and customers
Top 5 User Onboarding Tools for SaaS companies
With thousands of Software as a Service (SaaS) companies all competing to get the attention of the same customers, it's important to stay ahead of the curve in terms of customer retention and growth strategies.
The best way to do this is by consistently providing quality user experiences that make it easy for your clients to understand what you have to offer and convert them into paying customers and long-term users.
Onboarding tools are vital to growing your SaaS company, but which ones are the best?
Let's explore!
Source
Intercom has several features that make it a great option for user onboarding.
First, Intercom lets you build out user flows and publish them as recipes in your account. It is an easy way to create a template you can then share with other members of your team so that everyone is getting customers through their user onboarding flow at a similar rate. Additionally, once someone signs up, you can send them notifications when key actions occur on their account. For example, if someone hasn't logged into their account for over 30 days, you can be notified about it and contact them directly via email or live chat to re-engage with them.
Pricing
Intercom has a pricing tier to fit every size business and budget. Their starter plan starts at $74/month, growing up to their product tours plan, which is billed at $199/month.
If you're running a small business or are in charge of a team, it is best to start with their free product. This will give you an opportunity to see how much value Intercom provides for your team and organization before paying any money. They have affordable plans that grow with your needs as your company grows from hundreds of users all the way up to thousands.
Source
Appcues is one of the best user onboarding tools for SaaS companies that helps you add useful content, prompts, and call-to-actions directly to your website. It's easy to get started with Appcues, as there are only three steps.
Use Appcues to teach your users about what they need to do on their first run of your app and make sure everything they need is in one place so they don't miss anything. With features like inline code editing, you can quickly create personalized tours that are contextualized based on user actions. Not just that, but it also provides analytics which let you see how many users went through each step and how long it took them.
Pricing
The pricing plans start at $249/month per month for Essentials Plan. The Growth plan is available at $879 per month. The Enterprise plan is customizable and the pricing details are available on request. They also offer discounted plans if you're part of an accelerator program or if you're only looking to onboard one or two people. This option might be the best for early-stage companies who have fewer users but need a lot of flexibility from their solution.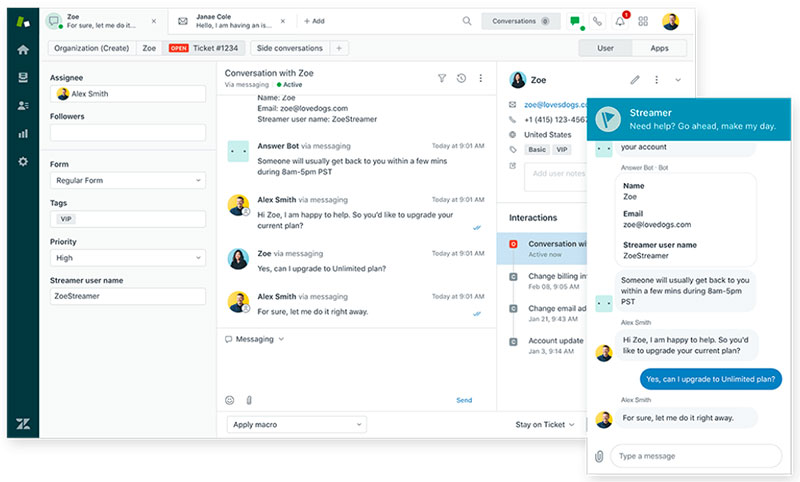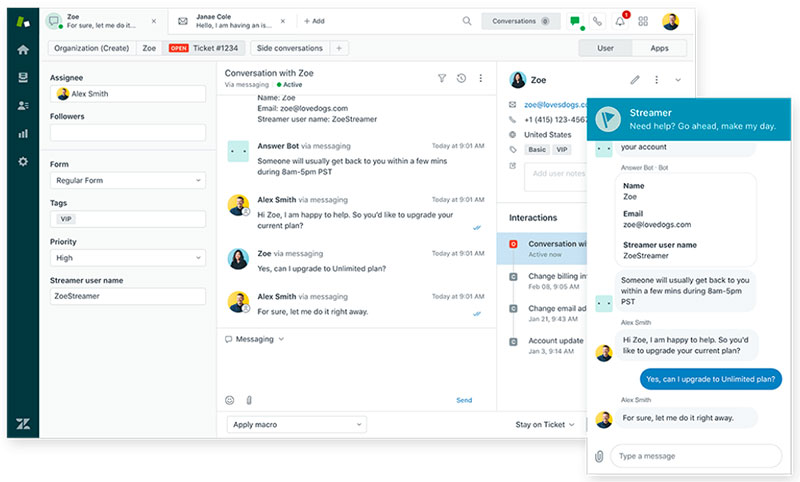 Source
Zendesk is a user onboarding tool that includes features like live chat, Help Center and email support. It also provides an analytics dashboard to review metrics in one place.
The platform has a very interactive mobile user interface design to allow you to operate the tool just as effectively from your mobile device. They are also compatible with Salesforce, MailChimp and several other popular tools. Additionally, they offer plenty of documentation on their website to help users set up their account effectively.
In addition to all of these resources, Zendesk also offers video tutorials and FAQs that can help you understand how to use their platform. For example, if you're not sure how best to use certain features or what certain terms mean, you can refer back to these resources for more information.
Pricing
The company offers a free plan, so it's perfect for startups and smaller companies.
Zendesk pricing plans start at $19 per user per month, so it works well whether you have a small business or enterprise-level company.
The Suite Enterprise plans can go as high as $215 per agent per month.
Source
Kayako is one of our favorite user onboarding tools because it's clear and concise. The intuitive interface makes it easy to figure out what you're doing, even if you don't have a background in technology.
There are plenty of features that can be added as your business grows, but its core functionality will help users get acclimated quickly.
Redirects: If your users try to go to a page that doesn't exist, Kayako will send them somewhere else. This gives them something else to do rather than getting frustrated by an error message or 404 page from your website/app.
2-Step Verification: When someone signs up for your app, they'll need to verify their email address before being able to log in. Not only does 2-step verification add another layer of security, but it also helps keep spammers at bay (and off your platform).
Interactive Mobile interface: Dynamic menu design of the Kayako mobile interface allows you to use the tool even on the go. You can log in to your mobile account to keep track of all user onboarding functions just as fluidly as through the website platform.
Pricing
Kayako offers two user onboarding plans; Growth and Scale. The Growth Plan includes full integration with email and chat platforms, support for multiple languages, and two user accounts on a single instance of Kayako and is available at $30 per month. If you need additional users or more advanced tools to manage your support processes, Kayako's Scale plan offers these additional features at $60 per month.
Source
Groove has some amazing features to offer for onboarding. Most notably, Groove's onboarding flow is designed to be a mini-cadence of retention emails (shown at intervals of 7, 30 and 60 days after signup) based on your customers behavior/usage.
The first email will give them a high level overview of how Groove works and what they can do with it. The next two emails are more feature focused, going into detail about their team inboxes, shared inboxes and project search tool. Users have access to those tools after signing up but in order to get a full picture users need both product education and guided usage.
Pricing
Groove's pricing plans range from $50 to $650 per month, with each plan granting different numbers of contacts and feature sets. Groove has four paid plans: Basic ($50/month), Pro ($250/month), Advanced ($650/ month), and Enterprise (Custom quote). They offer a 14-day free trial as well as a 30-day money back guarantee.
Conclusion
With these tools, you can have access to the most advanced features that technology has to offer currently in the customer service field.
The digital transformation of your customer support workflow can have a resounding impact on your overall business. It will enable your company to free up resources that can be redirected to innovations and productive solutions for your business operations.
AI powered tools add the intelligence that is sorely needed for a dynamic overhaul of your customer service strategy. It can turn your brand into an envy of your leading peers in the industry.