Google's job is to help people find content on the web.
Not just any content, however. It must be relevant and a good match to the search query.
Have you ever tried searching for important information and the sites that come up are just full of badly written blogs or articles? Or, you click a link only to be annoyed by the pop-ups and ads that make it impossible to easily locate the actual info that you are looking for.
Sure, you need to use keywords so Google can match you with the appropriate user search. However, Google is also looking for something of quality using important SEO fundamentals.
This is where TrustRank comes into play.
Understanding TrustRank
When you start to make blogs, Google needs to trust you before it can promote your blog.
So, it uses TrustRank, a system that grades sites in terms of their authority, trustworthiness, and overall quality. It is Google's and other search engines' way to combat web spam. The higher your website's TrustRank, the better it's likely to perform in search results.
How does it work?
TrustRank is calculated using the distance between the page on your website and a "seed site". This is a trusted and known internet source chosen by Google and honored with a perfect 10 Trust Score. The closer your website is to the seed site, the higher your trust score.
Moz illustrated the process like this: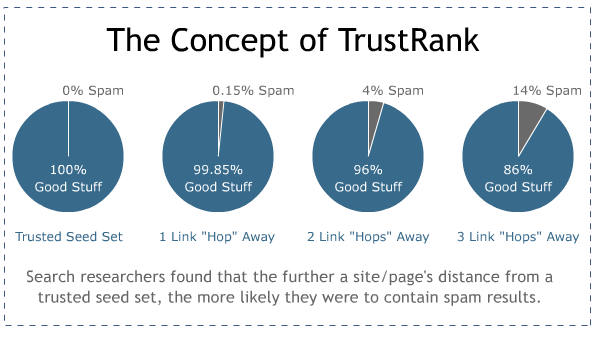 So, can you measure your TrustRank?
Almost, thanks to Moz.
They developed a metric system called MozTrust. It is the closest thing you can try to measure your TrustRank directly. It may not be perfect, but it is a helpful starting point.
Why TrustRank Matters?
TrustRank is not an official term from Google. In fact, it was built by Hector Garcia-Molina and Zoltan Gyongyi, Standford University researchers, in collaboration with Yahoo!.
But it is a real thing. It gives credibility and weight to how trust plays a vital role in both virtual and real-world relationships. A healthy relationship is built on trust, after all.
If consumers trust a business, both parties enjoy mutual benefits.
With regards to web content, trust helps evaluate if the "trust signals" a website has is legitimate.
For these reasons, you should ensure your website has a high trust rank.
How to Improve Your Google TrustRank
How can you optimize TrustRank and stay on Google's good side?
1. Optimizing On-Page Trust
You will need to make sure that your web pages themselves are trustworthy and speak of quality. This is the first place that Google will look at and determine if you're worth promoting.
So…
How do you improve your on-page optimization in line with TrustRank?
Linking To Authority Sites
What better way to show you're trustworthy than buddy-ing up with an already trustworthy site?
When you link out to other authority sites, you're essentially showing Google that you are referencing authority sources and building up trust in its eyes. Also, when you reference authority sources, people can learn more from these trusted sources and can verify your claims.
Linking out is a fundamental on-page SEO tactic. But doing so with an authority site garners attention from TrustRank.
In addition, a study found a significant correlation between linking out to authority sites and a higher Google ranking.
So, what would Google consider to be an authority and trusted source? The answer is any domain that ends in .edu or .gov. These websites synonymous with authority and linking to them shows that you are seriously reliable.
Or you can also link out to journal studies, like this one:
As you can see, the page includes all its references. This ensures that they are not making claims without backing them up with facts. These links lead to recognized and high-quality journals hosted at .org and .gov domains that create credibility and greatly improve their TrustRank score.
Mind Your Bounce Rate
Google's RankBrain algorithm now places user interaction as a ranking factor. If people are not spending more than a couple of seconds on your website, then this does not communicate anything positive to Google. Such behavior will negatively affect your TrustRank score.
Think about it, if your website offers trustworthy information, then why is everyone in a rush to leave?
Make sure to keep an eye on your bounce rate and the time on page rate in your Google Analytics. Then, do whatever it takes to keep people sticking to your website like superglue. Here are some tips:
Ensure ease of navigation
Optimize page load time, making sure that your site loads up quickly.
Ensure readability
Include sources and references. People are more likely to stay on sites with well-researched, accurate, and quality content.
Make sure that your site is device responsive
Include visuals and visually appealing graphical objects
While traditionally thin content was found on many websites, this is no longer the case. With Google's Panda algorithm, sites that have little to no content are penalized. So, if you want to rank on Google and improve your TrustRank score, make sure that the content on your site is high quality, well researched, and informative.
This can be implemented on any site in any industry. For example, Unscrambled Words, a site that unscrambles words for people, not only provides a great service, but also has in-depth information on its homepage that helps people understand how it works.
With information about what a word unscrambler is, the benefits of using such as a word solver, information on how to use it, the rules for playing scrabble, and much more, this provides everything that a user needs to know about the site, without having to search for it elsewhere.
Copyright, Terms, Privacy Policy
These are the lengthy, boring pages that you should take seriously.
The fact that Google actually pays attention to these so-called boring pages should be enough to convince you to update that copyright notice to 2020.
There's a fair amount of consensus that including these policies, terms, and copyright information all means further credibility to your website.
Plus, if you're using Google Analytics, then a Privacy page is a must on your website, according to Google Analytics Terms of Service, Section 7:
Content on these pages actually protects you from any legal liability, so don't even think of ditching these lengthy terms and notice. Since the beginning Google has been notorious for having lengthy contracts and terms and conditions.
2. Fix Your Domain
Fact: Google is a domain registrar.
It is not because it wants to sell domain hosting (at least for now), but it wants to look at your WHOIS information to determine who are the registered assignees or users of your website's registered details such as the domain name.
When approved by the Internet Corporation for Assigned Names and Numbers (ICANN) like Google, you can check WHOIS information all day long. This is so, big G can once again ensure that you are indeed trustworthy.
So, here's how you can gain more trust from your domain info:
Go Public
There's no real company with private WHOIS. When a company has nothing to hide, why would it keep its WHOIS a secret?
Here's Microsoft WHOIS, for instance:
Register Domain for 2+ Years
Google wants to know if you are in this for the long-term. Although the debate of domain registration in SEO hasn't reached a conclusion yet, it is something that cannot possibly hurt your site and might even help you.
Include WHOIS info on your Contact page
In order to really show Google that you're all about openness and transparency, you can place your WHOIS address and phone on your privacy notice page or contact page. Doing so is another signal telling Google that you actually have an "office" somewhere.
These may seem a minor detail, but which site would you trust more:
A site with private WHOIS, no contact page and is expiring in 3 months, or
A website with a real phone number and address that matches the site's official contact info, plus a 5 year or so domain registration.
I don't know about you, but I'll surely pick the latter. Choosing a domain name that's perfect for your business leads to trust signals that improve your Google ranking.
3. Be a Brand. Act Like a Brand.
Google has been into brands recently.
It makes sense that Google prefers a brand name for your URL instead of "howtobeacontentcreatorandearnmoney.com", right?
So, how can a small business look like a big-time brand?
Improve your brand signals. No matter which online business you started with, you should ensure that your brand is perceived as important:
Produce content that showcases your brand's expertise. It doesn't matter if it is written, video, screencast, or audio. Your product type will determine the channel type.
Get press coverage to build authority
Become a guest contributor to influential media outlets
Build your brand's social media following
Keep in mind that Google is a website ranking machine, and it can identify ranking by reading signals. So, to identify brands, you need to give them online brand signals.
One more thing to note, Google takes brands very seriously. Eric Schmidt, Google's CEO, even said, "Brands are the solution, not the problem. Brands are how you sort out the cesspool".
So, let's help you step out of the cesspool, clean you up, and make you look like a big-time brand.
Branded Site/Domain Name
Don't focus on the phrase match or exact match domains. The EMD update, short for Exact Match Domain, has made it very clear that exact match domains will not do you any good.
Rocking a branded domain screams "unique brand" and that you're not just some SEO-freak trying to rank for a keyword.
Active Social Media
All big-time brands are active on social media platforms including Pinterest, Facebook, Twitter, LinkedIn, and the like. And even if you're just a small-time entrepreneur growing your business, you still should get your social accounts up and rolling as it helps with brand awareness.
Don't Skimp On The About Us Page
You might think that this is one of those pages that users don't bother looking at, but it matters anyway, at least to Google.
And real brands have lengthy About Us pages that talk about the company, mission and vision statement, and even the people that keep it running. So, make an epic and thorough About Us page that tells your brand story.
With tools like WordPress or Clickfunnels you are able to build a great looking About Us page fast.
Brand Name as Anchor Text
Naturally, people link to brands with brand name anchor text. So, if your website is SEOPowerLine.com, then you better get some links with the "SEO Power Line" anchor text.
Branded Searches
People search for brands.
Awesome videos? YouTube.
Quality furniture? Ikea.
Beauty and cosmetics? Maybelline or Loreal.
SEO practices? Neil Patel.
Best Webinar Platform? Zoom.
4. Get Quality Links
So, previously we talked about how linking out to trustworthy sites can improve your TrustRank score. But what about receiving a link from one?
This is the best way to catapult you up the ranking ladder.
Like everything in the Google world, trust revolves around the links. And you will need to work really hard to get quality links from credible sites. This way you can level up your trustworthiness and get more juice for your website.
Basically, getting a link from the highly trusted "seed sites" (Google's handpicked sites with 10/10 TrustRank score) is the best. But, if you receive a link on a website, that has a link on a website, that has a link from these seed sites, then you still get a lot of SEO juice from that.
Another good example is to link on an industry site or a news site. Google said that news sites are highly reliable, particularly the sites from Google News.
Bottom line? Do what you can to get links from highly trusted sites.
How?
Do guest posts on sites with a higher Domain Rating in your niche.
Hire a freelance SEO specialist.
Use LinkedIn to do some influencer marketing.
Use press releases to get a Google News placement.
Ask your university for a story in the student paper.
Final Thoughts
You should now have a better understanding of Google TrustRank and why it is so important. These are just some of the best ways to improve your TrustRank score. There is so much more to it, but a lot of it comes down to common sense.
Every time you want to update your website or publish an article, ask yourself this: "Does it make my site more trustworthy and credible or not?"
And perhaps the best question to ask is: "Does this prove any value to my audience?"
Because at the end of the day, Google only wants its user to have a quality search experience so that they will keep using it.
So, that means that it needs to provide sites offering quality experiences by relying on various ranking factors such as TrustRank.
So, start improving your Google TrustRank today using the methods mentioned above, and you will soon see the fruit of your labor.
Now that you have read all about TrustRank, let's hear it from you.
Have you tried to optimize your website for TrustRank?
How did it go?
Let's hear it from the comment section below!