In this post, we will discuss different ways using which you can make your website more trustworthy.
Add trust seals and certificates
50% or more website buyers consider a site to be more reliable if it sports a security badge or seal.
Mentioning the payment gateways in the footer can ensure data safety.
Or use SSL certificates. These certificates ensure that your site sits on the secure HTTPS protocol featuring a padlock icon in the URL box. This shows that your site is secure. For eCommerce, reputable Shopify developers already have SSL enabled for online stores.
That may not be the case for everyone else.
Display social proof
Social proof is critical on your homepage and other pages as it provides a measure to compare different kinds of messaging.
It reinforces the claims you make.
Some examples are:
Testimonials: Testimonials tell website visitors what others feel about your brand and the products it has
Reviews, ratings, and customer feedback: When you showcase reviews, ratings, and feedback that tells others about the quality and the image of your company. You can even display negative reviews
For example on AffiliateWP's homepage, you get the message that the plugin is used by over 30,000 plus business owners.
SmashBalloon is another example. They are proud of their 1,750,000 plus customers.
User-generated content: You can generate more trust by asking the community to share photos, their reviews, and additional feedback.
Social media: You can also display real follower counts of your social media accounts to people Showcase the number of followers you have on Facebook, on Instagram, or other channels.
Build trust in the products separately
Most consumers when they shop online have multiple fears. One strong fear is that the product they will finally get home isn't one that matches what's on display online. Breaking this fear isn't easy. But there are several things you can do to allay it.
Use high-quality images. Consumers trust sites that look professional, so buy quality images or invest in professional photography
Add videos. Adding videos about the product builds credibility and trust. These videos can show usage instructions and more.
Include all the information. Tell customers about details on the products. It's weight, size, color variants, and more.
Include reviews, warranty details, and more
This prevents people from leaving the site in place of something else.
Include a 360-degree view. One more thing I see working for eCommerce brands is displaying the product images at various angles to cover a 360-degree view.
Have you ever been to a VPN site? VPNs don't sell based on the fact that if they have the most affordable VPN. What matters most is whether there are enough customers saying they their internet activity was private with so and so VPN.
Rafflepress offers a video on the homepage showing how you can use the product. This affirms our beliefs in the product.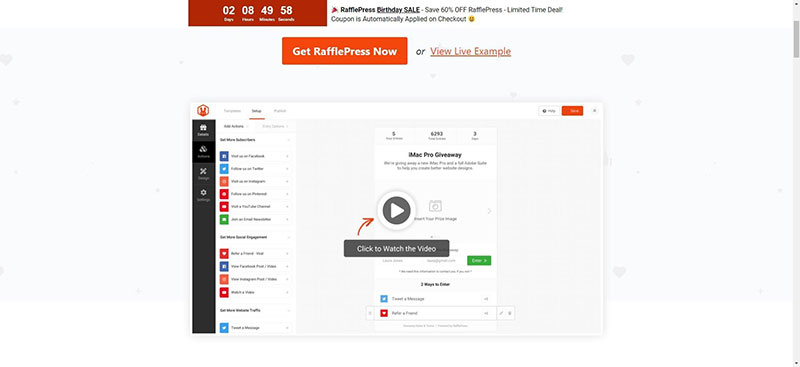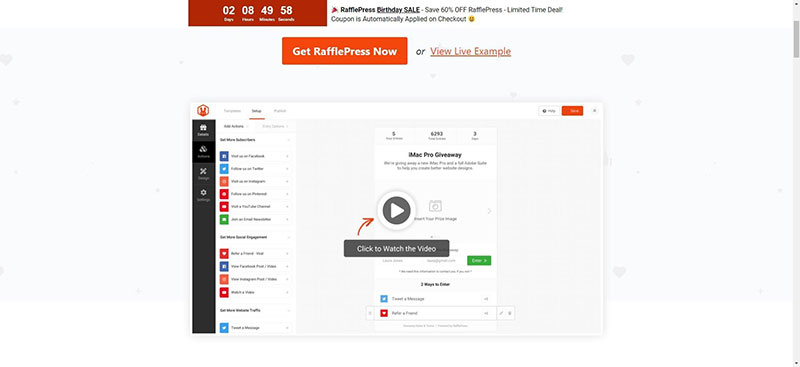 Provide detailed and transparent policies.
Be transparent to customers with respect to shipping details, how the product is delivered, your refund policies, and more.
The company policies must be ready to access so that interested parties can discover them soon enough.
Checkout list: Include details of the order, the product purchased, its quantity and more details.
Share relevant shipping information: Provide details like the time of order estimated arrival time and where it ships from.
Provide options: provide delivery alternatives like payment options.
Be upfront about additional costs: If you shock customers with additional charges they will leave the shopping cart. So be upfront about shipping and delivery charges.
Build emotional appeal across all touchpoints.
Build an emotional connection with visitors to your site to help build trust and relevance for your brand. Add these connections to different sections of the site.
Your product page: Talk about the processes you followed through when you developed the product. There's plenty of thought going on behind the development of each new product.
Tell the world about the practices you followed when you developed something. Talk about the inspiration behind the product and convey what you want to achieve with it. This helps strike a chord with the audience.
Your "about us" page: The about us page is usually the second-most visited page on any site. Tell others who you are. Include shots of your employees to humanize your brand.
On SeedProd, a drag-and-drop website builder, the page highlights a 60% off deal that you may miss out on if you don't act quickly enough.
Provide details about customer service
A report by Microsoft points out that 96% of customers say customer service is one of the most important factors that helps them remain loyal to a business. Don't forget to add FAQ pages and create content for every stage of the customer lifecycle.
On your website display the hours you operate and the hours the customer service team operates. Ideally, customers of today want 24/7 availability. However, that's not very easy. You can also put up a live chat option on your website.
Add contact information.
Physical addresses and other tokens of contact details tell the world you exist. Add an about us page to display contact details, your email address, and office address. Most eCommerce companies don't display physical addresses on about us or contact us pages. But don't shy away from these details.
You can build customer trust on your eCommerce website with the help of these. This helps build a lasting relationship.
Use a reputed domain name
The very first thing people see on your website is your domain name. Make it memorable.
Include your main keyword in your domain. If you sell recorders a domain name like joshrecorders makes it clear what the website is about. For example, the name Sendlayer tells us that it has something to do with sending, probably email sending. That helps us wrap our minds around it.
It brands with your business name
Choose a high-quality domain extension. There are countless new domain extensions. Go with the established few like.com. Org or .store.
Make sure your domain name isn't a copycat. Before choosing a domain name make sure it isn't trademarked by someone else. You can get sued. Customers will see it for the copycat it is and that makes it less trustworthy