Slider Revolution has been for some time now more than just a WordPress slider. There was a time when the only Slider Revolution templates you could find were… well, sliders.
Nowadays, they've expanded to providing website templates as well, making this WordPress plugin an amazing resource in any web designer's toolkit.
So, what does Slider Revolution have to offer?
In short:
a drag and drop editor that you can do wonders with
200+ Slider Revolution templates
a library full of 2000+ elements (yes, that is in the thousands)
25+ add-ons that simply take your design to the next level
amazing support. This is not me saying, it's the many clients that left testimonials about it
The product sounds amazing, right? Wait till you see what you can create with it.
Without prolonging the wait, I'll add below the Slider Revolution templates that I consider being the best that they've created so far.
I'll split these into three sections that you can jump directly to:
Website templates
Sliders
Carousels
Slider templates
You've designed a website but you feel that something is missing. The thing that was missing is a website slider.
Portal hero effect slider
WordPress themes can't offer you this type of effect by default. Maybe you can get some nice-looking effects on a more creative theme, but you surely can't get stunning visual elements and effects like this one as a standard.
So, if you want to impress your clients or your visitors as soon as they enter the site, you should use this Slider Revolution template.
Motion blur portfolio showcase
Every time I'm seeing this slider template, I'm amazed that it isn't some kind of complicated thing to pull off.
Well, it would be if you'd create it from scratch, but luckily, there is Slider Revolution out there and you can simply import this template and edit it.
Winery timeline slider
This winery timeline slider is one of the many slider templates in this article that you can adapt and use for multiple types of websites. There's no need for coding knowledge on your part, thanks to the customization options that Slider Revolution has.
Background effect slider
This background effect slider can add a nice and eye-catching effect to the business WordPress theme that you're using. We know that business websites are boring. You know too. So, why not make them better?
Coffee shop split slider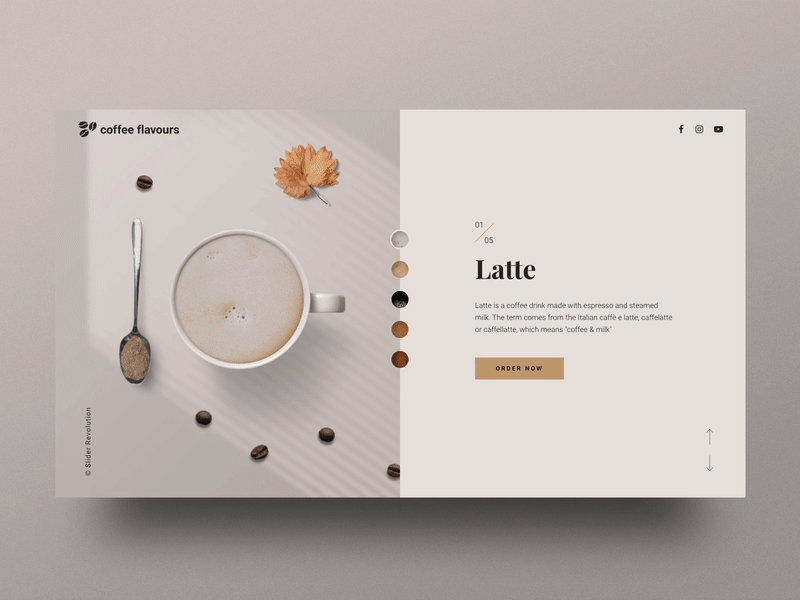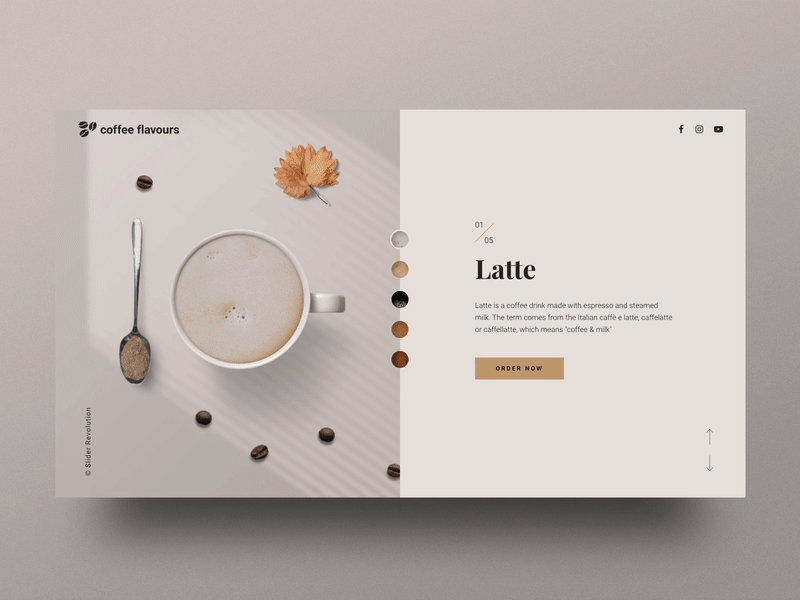 This coffee shop split slider is something that you don't see every day. It has a unique layout and the way the slides move is something that you don't see every day.
Cinematic wildlife slider
The cinematic wildlife slider is one of the responsive sliders examples in this article that can add a special effect to your website.
Modern portfolio showreel slider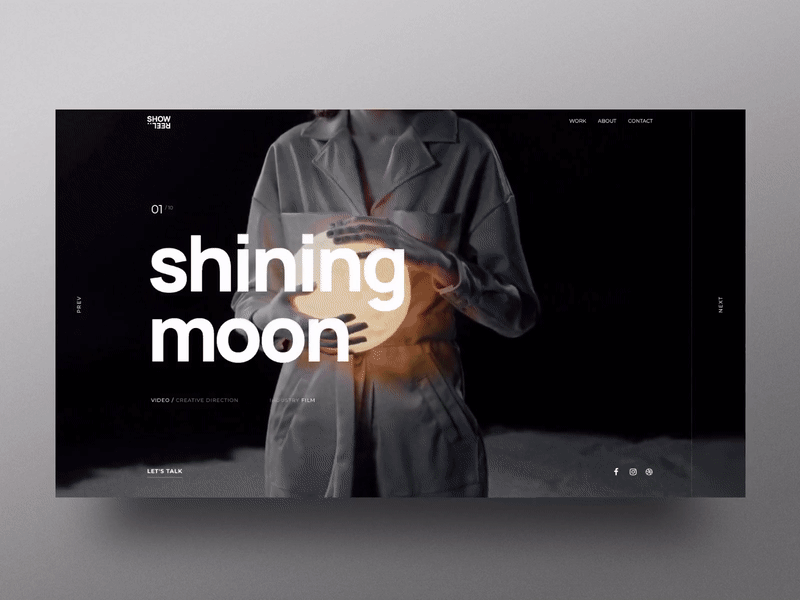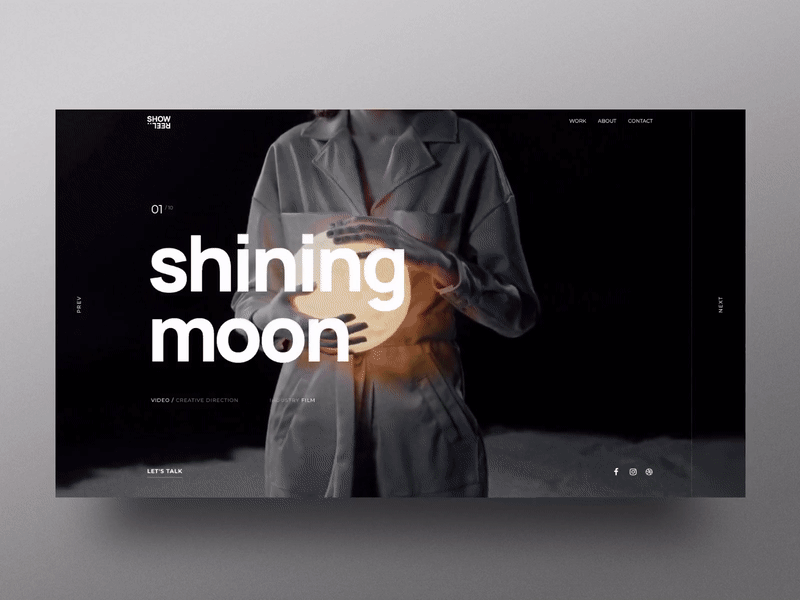 If your portfolio is missing something, then it's this modern portfolio showreel from Slider Revolution. You can use the video background feature or just awesome images to make your website look great.
Real estate slider
Real estate websites in a lot of cases are boring. But they don't have to be. This type of slider template is what you need on a real estate website to glue visitors onto the screen.
Combine this slider in the hero section with a few high-quality photos, and you've already WOWed your visitors in the first few seconds of entering your website.
Photographer & videographer slider
Creative professionals want to have a nice first impression when others visit their website. So, if you're a photographer or a videographer who cares about your image, this slider template will be the thing you need.
Fast-food burger restaurant slider
If you want to design creative websites with interesting effects like this one, you should check out this WordPress slider plugin that is like no other.
You don't have to use the exact same images though. I mean, how often can you use that hamburger?
Thanks to Slider Revolution's visual editor, you can edit the effects of this slider template to fit your own needs.
Cinematic hero titles
This is one of the popular templates that are in Slider Revolution's toolbox. And it's no wonder why. The title effects are amazing to use in hero sections.
Cyber particle effect slider
Want to step into the future? The particle effect that this slider template has is out of this world. Use it on a creative agency site or on your client's new website and it will look great.
Art gallery slider
So, you have a WordPress theme built specifically for an art gallery? That's great, but does it have this awesome WordPress slider included? If not, make sure you get this one with a Slider Revolution license.
Another particle effect slider
The first time I discovered this particle effect from Slider Revolution, I just moved my mouse around the page for a minute or two. Yes, sounds silly at first, but man it is an eye-catching feature.
Restaurant slider
Working on a restaurant website?
That's great!
It means that this Revolution Slider template will fit like a glove.
What better way to present the special offers that the restaurant has than with this slider template that's filled with lovely and entertaining animations?
Before and after hero slider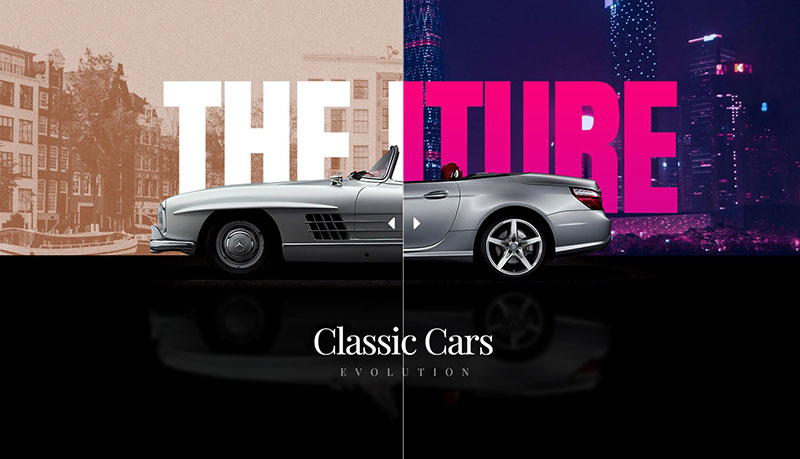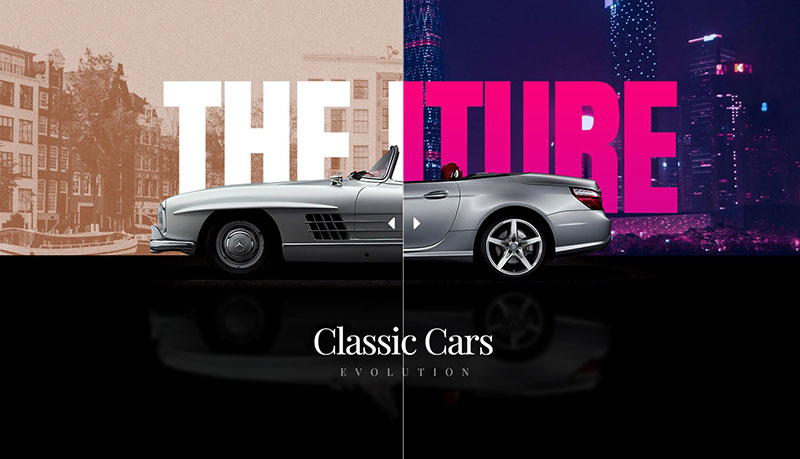 There are quite a few before and after plugins you can use on a WordPress website, but this one, in particular, is lovely.
Maybe it's the images that the Slider Revolution team used for this template, or maybe it's the smoothness of the movement. In any case, this before and after slider would look great in certain hero sections.
Hero collection
And the last one in the slider section is the hero collection. This selection of templates is the thing you need for hero sections. It has a variety of effects you can use for landing pages.
You can check out more templates below.
Website templates
Startup website template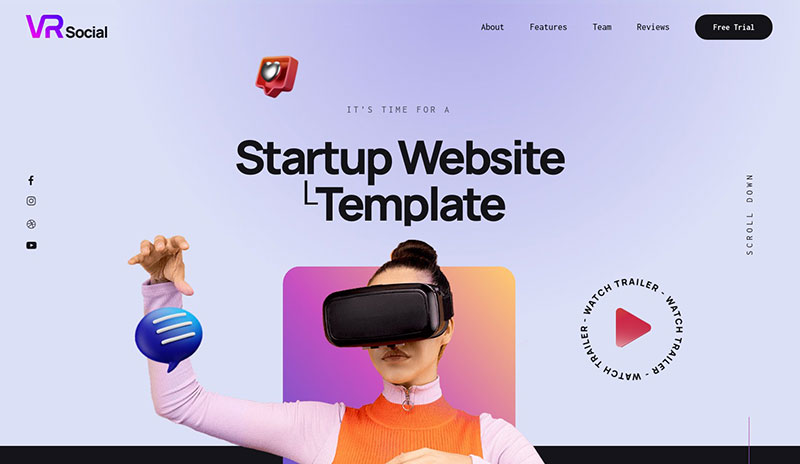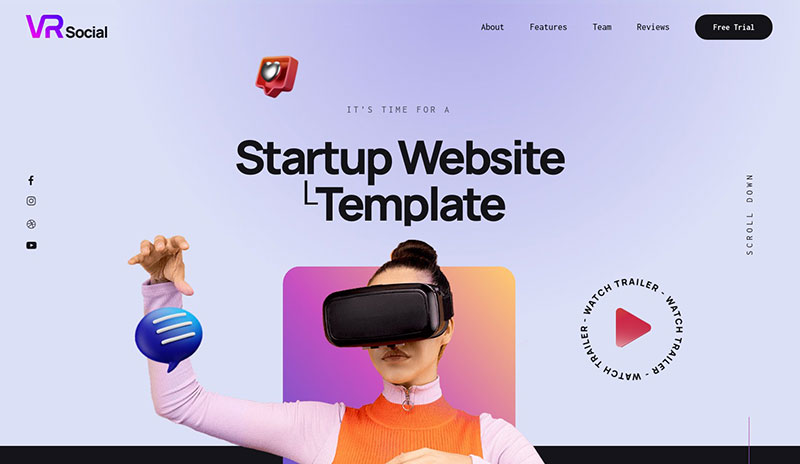 If you're looking for templates that can help you import and edit full web pages, this one is great for a creative agency or startup website. Its dynamic content that can be easily customized will make your site stand out from the competition.
Tattoo event website template
This isn't one of the typical templates that you'd use, but if you have a client in the tattoo business, the template might come to be handy.
Real estate template 1
This is the first from a 3-part series of real estate templates that Slider Revolution offers. I love the variety of templates that this slider plugin is offering. It's almost a combination of a page builder and slider plugin in one.
Real estate template 2
The second real estate template from Slider Revolution is as lovely as the first one. Featuring a video background, this website template is something that you can import and edit quickly for a real estate client.
Real estate template 3
And the last of these real estate templates is the one you need to complete the set so that you can create a variety of web pages combinations for your real estate client. Obviously, while the website templates are created for real estate, they can be adapted for any business website.
Landing page builder template
You aren't that happy with the agency WordPress theme that you are using? Why not import this landing page template from Slider Revolution? This specific demo was built to be easily editable for a SaaS landing page.
Event florist template
What if you could build a creative florist website with minimum effort?
That would be great, right?
Well, this is what would happen if you'd use this website template from Slider Revolution. It has a few pro-level visuals that you don't usually get with a florist WordPress theme.
Church website template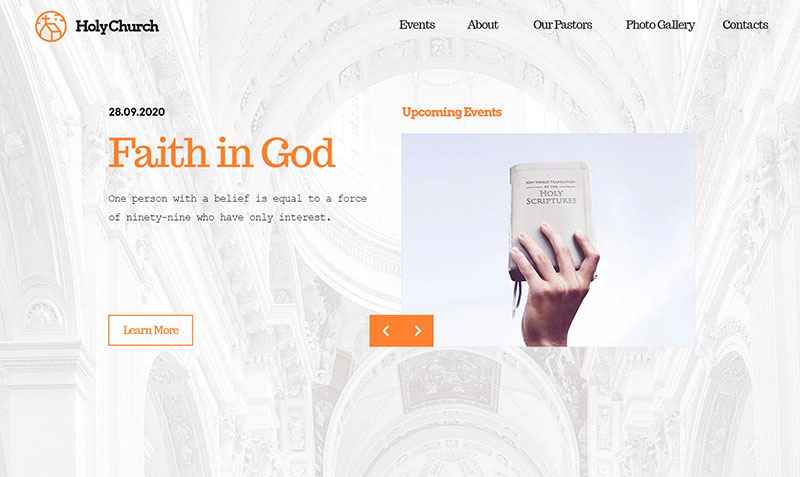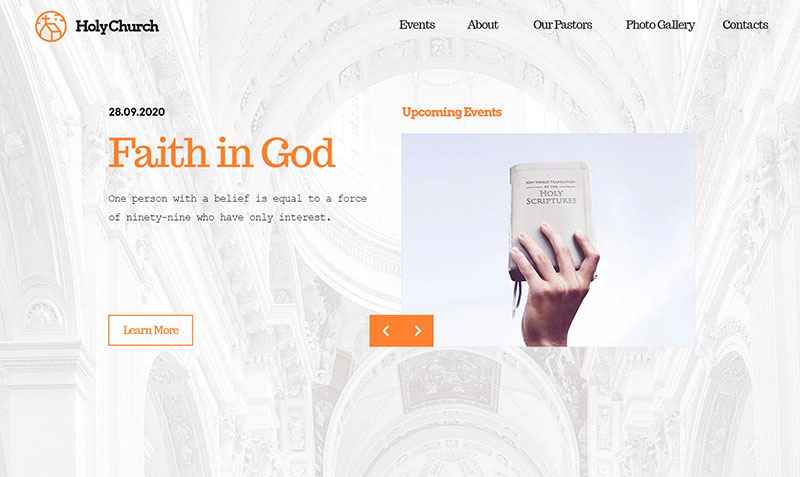 This fully responsive church website template looks great. With so much demand in the US for church websites, this template will save you a lot of time and effort when creating a church website. Why design from scratch when you can import this Slider Revolution template and edit it here and there.
Story blocks template
This type of story blocks design looks great for a website where you need to focus on the visual aspect of the website. There are other tools to create a similar effect, but considering what you get with a license from this slider plugin, I'd suggest you use Slider Revolution for getting this effect.
Restaurant template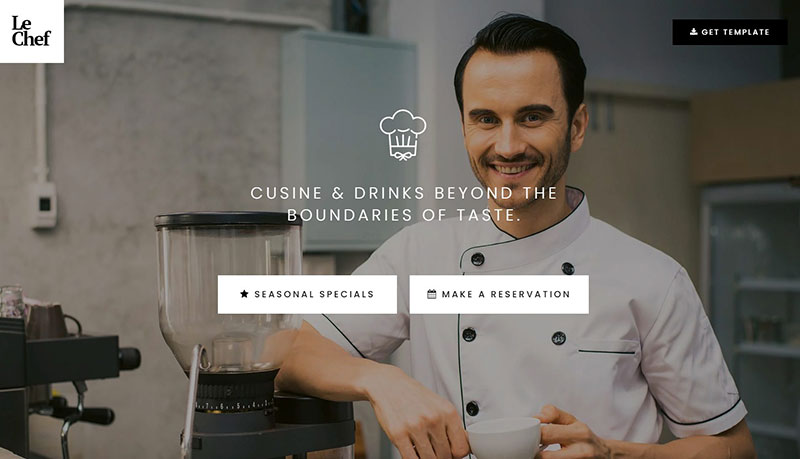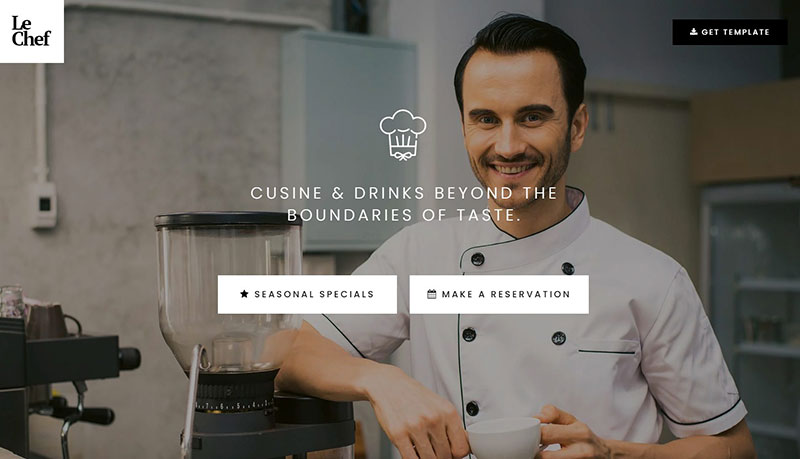 If you are looking for a responsive WordPress template for a restaurant website, this one looks great and I advise you to use it. Edit here and there, or maybe even include elements from other templates and you've got yourself a lovely restaurant website to present to your client.
Corporate website template
If you're looking to build a corporate website that isn't boring, this website template might help. Armed with a business slider and lovely animations, this template will help you create a smooth-looking corporate website.
Minimal portfolio template
Don't be fooled by the "2019" in this Revolution Slider template. It aged beautifully and can still be used to create an impression with the website visitors.
Parallax template
I know any multipurpose WordPress theme out there offers interesting effects to use, but why handle that code bloat? Use a more simple WordPress theme along with Slider Revolution and you can have a smooth-looking page like this one with parallax effects.
Barbershop website template
If you don't have a barbershop website already in your portfolio, it's a thing to wonder about. There are so many barbershops lately that need a website, that you can't miss the opportunity of using this template from Slider Revolution.
Coffee shop template
Lots of coffee shops around you but they don't have a website? Having just an insta or FB page seems a bit unprofessional. Convince the coffee shop owners that they need a website and build them one with this template.
We've had slider templates and website templates.
It's time to move on to the carousel templates that Slider Revolution has for you.
Carousel templates
WooCommerce slider pack
WooCommerce is a great WordPress plugin that has changed eCommerce since it was released. But WooCommerce has its limitations. If you want to make it look better, you need to use a WordPress plugin like Slider Revolution to create carousels and sliders like these.
Cyber carousel
Do WordPress themes usually have this type of carousel by default?
No, they really don't.
So, get this one and improve your theme.
Corporate carousel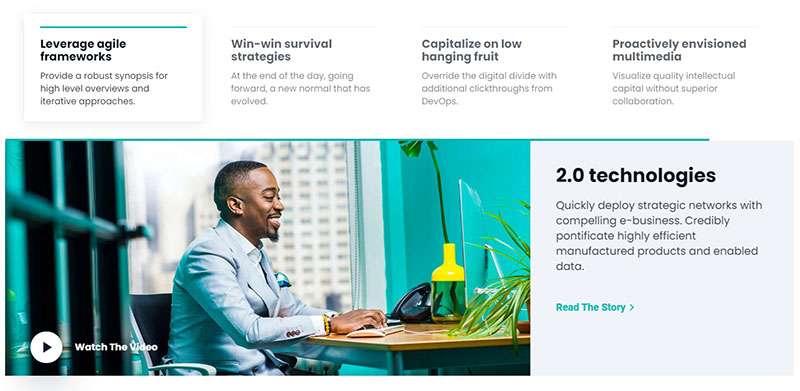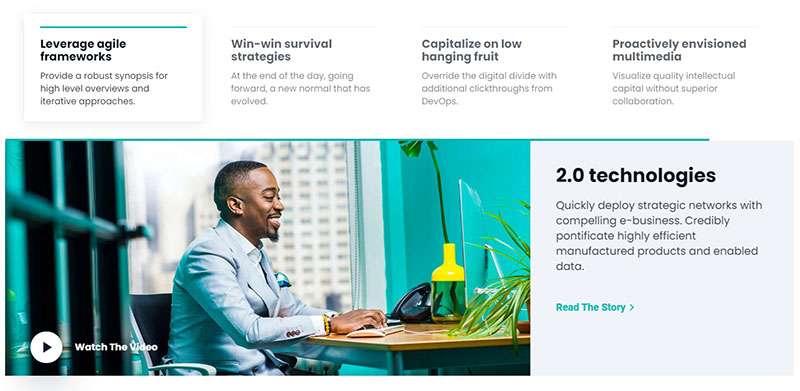 Besides all the business slider examples that this lively WordPress plugin has, there's also this awesome corporate carousel.
Food recipe carousel
Working on a recipe site? This food recipe carousel would fit like a glove. It's also customizable so you can use the carousel for almost every type of website that needs one.
News carousel
And if you want to improve your blog's navigation and make it easier for your visitors to check out various articles, you can use this news carousel that comes with Revolution Slider.
Travel blog carousel
Travel websites look better when they have high-quality imagery in there. There are lots of slider templates you can use to help you with this. There's also this fully responsive carousel from Revolution Slider that works great for this type of website.
Ending thoughts on these Slider Revolution templates
Slider Revolution is an insanely good tool for every web designer out there. If you're using a creative WordPress theme you are already using it and you know how useful Slider Revolution is.
In case you don't already know, you can get a Slider Revolution license and test it out a bit. With so many Revolution Slider templates, you will surely find something that will impress your clients. And all that with just a few clicks by importing and editing a template.
And that isn't the only reason you should use this WordPress plugin. The Slider Revolution support is amazing. Just look at their reviews only and you'll see how much they care about their user base.
I hope this article helped you get a glimpse of what you can have with a Slider Revolution license. It's a great plugin and an even better tool for any web designer that's creating fully responsive WordPress websites on a regular basis.