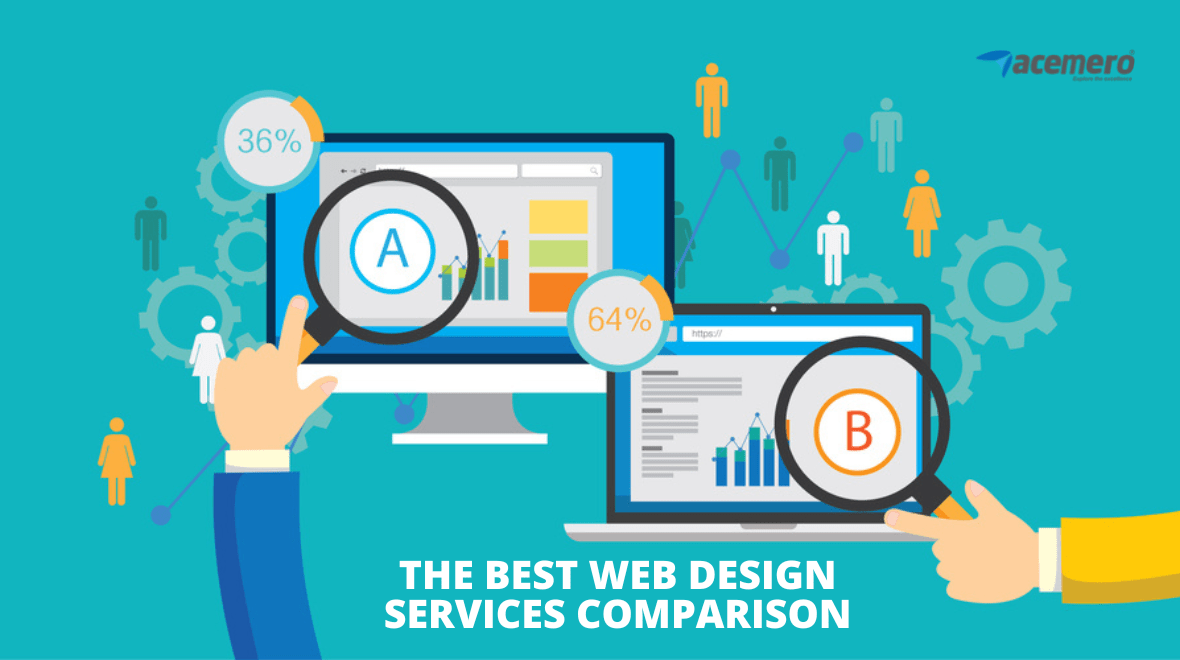 In this blog, we are discussing the comparison between different web design services. Have you heard about what web design services mean?
A web design service gives you a unique website that is ideal for your business or personal website. To create a design that is consistent with your brand, they will work with you.
The layout of your website determines the success or failure of your company. People build opinions about a website in a matter of milliseconds. That first impression is mostly a result of the design.
You must master website design if you want your brand to succeed.
A web development company plays a significant role in its web design services. There are tens of thousands of web designers and web design companies on the market today. How are you supposed to know who to put your trust in for something so crucial?
In this blog, I am listing down the top web design services for you to consider.
Reviews of the Best Web Design Services:
Another full-service digital agency is Big Drop. They are experts in digital marketing, branding, online design, and web development.
According to Big Drop, your website ought to be a logical extension of the narrative surrounding your brand. They make an effort to provide graphics that accurately reflect you, your company, and your organization.
Their designs are "human-centered," which means they put the user's seamless experience first.. Activision, Citi Bank, and Samsung are a few of their highlighted customers.
To provide their web design services, they follow a five-step process:
Determine what your brand requires.
Research your industry, audience, and competition.
UI/UX sitemap and wireframe creation
Form a content plan with you and your team in cooperation.
Create the website's graphics and other visual components.
The appropriately called Web.com is a two-time Stevie Bronze Award winner and offers both an easy-to-use website builder and expert website design services.
With free domains, hosting, an email associated with the name, pre-made templates and layout components, and an intuitive, easy interface, Web.com provide a drag-and-drop website builder.
Additionally supported by Web.com are open-source alternatives like Joomla, WordPress, and Drupal.
Web.com provides customizable plans and practical add-ons, including
SEO services
Digital marketing services
Domains
E-commerce store
Hosting plans
SSL Certificates
Web.com is a fantastic option for a personalized website and is ideal for developing branding and making sure it accurately represents you and your business.
It is a terrific web design company with offices in New York City, Maxburst also handles web development, SEO, brand identity, social media marketing, and local search marketing.
High-end web design, digital, and print are Maxburst's areas of expertise. It's the perfect answer for expanding enterprises. These designs might help you stand out from the crowd.
They provide targeted eCommerce website solutions as well as CMS-driven options. Maxburst's designs offer a distinctive fusion of fashion and technology.
CMS services, strategy and consulting services, and creative web design services are all provided by EIGHT25MEDIA.
They also provide e-commerce solutions in addition to responsive websites. This is a wise choice if you're seeking a renowned web designer.
They frequently work with the following categories of businesses:
Technology start-up/ website designing companies
Saas
Financial service
Enterprise
VC fund
B2B
EIGHT25MEDIA offers web application services as well as a web application and mobile solution design.
– November 7, 2022 – 193 Views