Your website used to be the primary interface between you and your customers. While this is still true to a certain extent, having a basic site no longer cuts it in terms of scaling your business to new heights and building a sophisticated brand. With more and more competition emerging, companies unable or unwilling to evolve and change how they do business will suffer the consequences of lost business and decreased brand reputation. Fortunately, there are some things you can do to avoid such a downfall. The benefits of cohesion can be reaped by turning your site into a fully-comprehensive digital hub that includes all marketing efforts for your business. This post will explore the why and the how of this process, hopefully enabling you to reach the desired success.
Establishing A Central Presence
Developing a centralized presence for a company's marketing activities is essential to create an effective platform from which all digital content can be accessed. Having one website as the hub for a company's digital assets allows customers and potential customers easy access to all relevant information, products, and services. The creation of this centralized presence requires careful planning and implementation of strategies that ensure a smooth transition between physical and online marketing efforts. If you want to achieve true success without the cost of hiring new staff and promoting the task in-house, you can opt for a fractional chief marketing officer (CMO) who can work with you for an agreed-upon number of days. However, according to Fractional CMO Kurt Uhlir, it's not a one-way street, and you need to be passionate about what you want to achieve if you're to see results from any outside help. Developing an overarching brand identity across all platforms is vital in creating this unified front. This will help establish recognition amongst current customers while also helping attract new ones.
Additionally, clearly defined branding guidelines help maintain consistency throughout the business's various channels. These elements should appear on internal documents, such as brochures or presentations, and external outlets, including websites and social media profiles. Fundamentally, organizing existing materials into clear categories makes it easier for customers to find what they are looking for quickly and efficiently.
Create A Cohesive Brand Message Across All Marketing Channels
Your brand is what helps to define your company, what it does, and ultimately its mission. Branding is arguably one of the most vital aspects of getting your business to appeal to new customers and keep the loyalty of existing ones. Your brand message sets the tone for your customer's perception of your business and what you stand for. Without a cohesive voice, you risk sending mixed signals that can confuse customers and dilute the impact of the market. In order to ensure consistency:
Start by defining your brand values and the key messages you want to communicate to your customers.
Ensure everyone who creates content for your company understands these values and messages so they can stay on-brand with every piece of content they produce, including the various design elements that make up your company's image.
When it comes to writing copy for various channels, ensure that it aligns with your overall messaging and reflects the appropriate tone for each platform.
For example, LinkedIn posts may be more formal, while Instagram captions may be more playful. By creating a cohesive brand message across all marketing channels, you'll establish trust with customers and increase the effectiveness of your campaigns.
Use Your Website's Landing Pages To Capture Leads And Drive Conversions
The beauty of creating a cohesive whole is that you can take advantage of the most common marketing techniques, such as landing pages. These pages are designed to capture leads and turn them from potential customers into actual customers who will purchase your offerings and, hopefully, remain loyal to your business and purchase your products or services again in the future. By requiring visitors to provide their contact information in exchange for access to the content, you're able to build up your email list and nurture those leads until they're ready to make a purchase. Remember that simplicity is critical on landing pages. Keep them focused on one goal and avoid distractions like navigation menus or social media buttons that may distract visitors from your intended action. With well-designed landing pages, you can boost conversions on your website and turn it into your business's ultimate digital marketing tool. Some of the key elements of a successful landing page include the following:
A great headline: Spending time crafting the perfect headline will pay dividends as a lead works their way through the page. If you get this part wrong from the outset, you can kiss goodbye to a vast swathe of business.
Images need to be relevant: Ultimately, it's your copy that sells. However, gone are the days of long walls of unbroken, unformatted text that confuse and bores in equal measure! Choose images you believe are pertinent to the offer and use them strategically throughout the page.
Write copy that grabs the reader's attention: As stated, your copy will do most of the heavy lifting regarding convincing the reader to take action. As with your headline, if you get this part wrong, you will lose out on business unnecessarily. Therefore, it's wise to invest in hiring a professional copywriter who has experience with your industry and the portfolio to back up their claims.
Liberally sprinkle calls to action throughout the content: If you want a reader to take action, you must provide them with the tools to do it. You don't need to wait until the end of the content to convince them to do something. Instead, you can place them repeatedly in the post with the aim of getting them to convert before they reach the end. In many ways, if they've reached the end of your landing page without taking any form of action, you might need to rethink your strategy.
Only ask for what you need: Almost nobody these days is comfortable providing their personal details, and the more you ask for, the less likely they are to offer them. Therefore, ask only for the information you need for conversion purposes.
Although these elements work today, you must remember that marketing is a dynamic field, and in order to stay one step ahead, you need to keep abreast with the latest techniques and designs. Moreover, AI copywriting is advancing so fast that you might think you can save money using these tools. While this might work for lower-value services, you really need the human touch regarding higher-value items. Treat your customers as humans rather than marks, and you will make a far better impression.
Create An Interactive Online Platform
An interactive platform can allow customers and potential customers to engage with the brand, providing them with valuable content that can help inform their decisions. Additionally, it allows for two-way communication between the business and its consumers, creating a more personal relationship than other forms of marketing. The development of an interactive platform requires careful consideration and planning. First, determine what type of user experience you want your customers to have when interacting with your site or app.
Consider things such as navigation, graphics, audio/video elements, messaging systems, etc., that will make it easy for users to find desired information or product offerings quickly and seamlessly. Furthermore, decide how best to leverage customer data through tracking tools or analytics to better tailor content according to consumer interests. Finally, research ways in which you can encourage customer engagement on the platform by offering rewards programs or loyalty discounts. By implementing these strategies, companies can effectively create an engaging environment where they can build relationships with existing customers while also attracting new ones. Through this approach, businesses can establish themselves as reliable sources of relevant information and products; this ultimately helps increase brand recognition and trustworthiness among target audiences…a key factor in successful digital marketing campaigns today.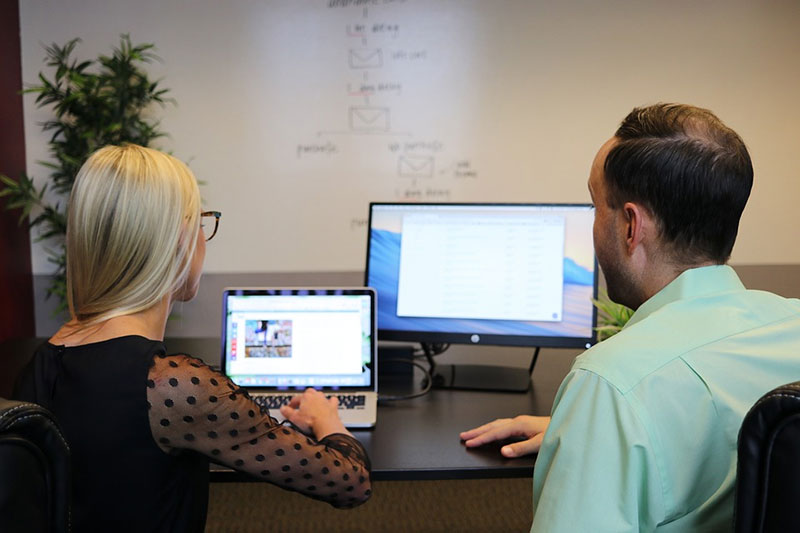 Advantages Of Turning Your Site Into A Digital Hub
There are numerous advantages to changing your site into a fully comprehensive marketing hub, ranging from ease of use to helping your customers better understand your direction of travel.
Streamlining Communication And Interaction
Effective communication and interactivity between the company's marketing team, customers, and other stakeholders are essential to transforming your website into something more than a static set of pages and content. Companies should consider developing platforms for real-time customer service via chatbots or automated messaging services and allowing customers to customize their own user experience with interactive features like polls and surveys. Furthermore, companies can utilize social media networks such as Facebook and Twitter to promote their brand identity and facilitate two-way customer conversations. Integrating analytics software into the website allows companies to track consumer behavior on their site to understand their needs and preferences better.
Competent marketers can then use this information to tailor content that appeals directly to customers or target specific demographics. Similarly, creating targeted email campaigns utilizing customer data gathered from the website will enable greater engagement with potential leads and encourage repeat purchases. Incorporating these strategies into a company's online platform helps build trust among customers while providing more opportunities for feedback and collaboration. Streamlining communication and interaction through various methods thus serves as a critical component of turning a website into the ultimate resource for all of your business's marketing efforts.
Optimizing Content Management
In order to achieve success in digital marketing, any company must manage its content effectively. It involves creating, publishing, and organizing content across multiple channels to enhance customer engagement and reach new audiences. To optimize their content management strategies, companies must ensure that all of their digital assets are appropriately managed with an effective workflow process in place. First and foremost, creating high-quality content that accurately reflects the brand's message and meets its target audience's needs is essential. Companies should strive to produce creative content that stands out from competitors while conveying the right message through visuals, copywriting, and other elements. Once created, this content should be shared strategically across various platforms such as websites, blogs, social media pages, email newsletters, etc., depending on the platform used by the target demographic.
Finally, companies should have a clear system in place for organizing their online resources so that information can easily be accessed or updated when necessary. This includes creating folders for each type of asset-based on relevance (e.g., images versus videos), assigning categories or tags to organize them further within each folder (e.g., product launches versus promotional campaigns), and setting up automated processes to help manage day-to-day tasks more efficiently (e.g., scheduling posts for specific times). Having a well-organized library will enable companies to better track changes over time which can improve performance metrics related to their overall digital marketing efforts.
A Hub Dramatically Enhances User Experience
Enhancing the user experience is critical when turning a website into the digital hub of all company marketing. An efficient and enjoyable user experience will likely lead to better sales, higher customer retention rates, and more positive brand sentiment in the long run. It is essential to consider several factors when creating or optimizing an interface for maximum usability. Navigation should be intuitive so users can easily find what they seek without becoming confused or frustrated. Users should also have access to helpful features like search functions and filters that help them quickly locate relevant content within large libraries of information. Furthermore, visual elements play an essential role in conveying information effectively on websites. Colors and graphics are used to create visually appealing layouts that draw attention to key pieces of data while avoiding clutter or confusion. Typography should also be chosen carefully with legible fonts at proper sizes, the hierarchy between headings and body text, and appropriate spacing between lines of text for readability purposes.
Implementing a digital hub for your company's marketing initiatives is essential in the modern era. It provides an efficient, effective platform to communicate with customers and potential leads and cultivate brand loyalty. Additionally, measuring return on investment can allow companies to track their progress and make necessary changes if needed.