Ensuring the store is functioning is essential, but more is needed to remain competitive in today's market. Therefore, you should optimize every aspect of your business to stay ahead of the competition. One key area to focus on is optimizing retail store operations.
By streamlining processes and fine-tuning strategies, you can save time and money. Moreover, it helps create a better work environment for your employees and a more enjoyable shopping experience for your customers.
But with so much to consider, where do you start?
To save you the trouble, we will share five unskippable ways to optimize your retail store operations and ensure that your store operates at peak performance. So let's jump in and learn how to take your retail stores to the next level in 2023 and beyond!
5 unskippable ways to optimize retail store operations
1. Automate key business processes to reduce labor dependency
Running a retail business can be challenging, especially when managing time-consuming tasks like emails, expenses, and stock tracking. These tasks can also take your employees away from customers and consume their time.
On average, store managers dedicate 3-4 hours daily to administrative procedures. Remember, time is money! Therefore, to optimize retail store operations, you must focus on what matters and consider automating some of these processes.
For example, you can leverage these automated tools to reduce labor dependency, such as
This will allow your associates to spend more time interacting with customers instead of being stuck in the backroom.
2. Manage inventory and warehouse efficiently
As mentioned earlier, with the rise of online shopping, customers expect to be able to check if a product is in stock before they head to the store. That's why it's crucial for retailers to keep accurate track of their inventory and even predict how much they'll sell each day.
Luckily, there's an inventory software that can help retail managers figure out how much stock to order and when. And with auto-replenishment features, managers can even automate some of the work and order new items when inventory gets low.
But keeping track of exact inventory levels can take time and effort. Stores are busy places with products being moved around, making it hard to know detailed what's in stock. That's where RFID technology comes in! With an RFID reader, your employees can quickly gather data about all the items on a shelf, which saves a ton of time. In fact, almost all RFID adopters have reported a positive return on investment for at least one use case. So, investing in technology like this can really pay off!
3. Create a seamless omnichannel experience for customers
An omnichannel gives customers a seamless experience no matter which channels they shop from. That means ensuring your in-store operations are just as excellent as your online ones.
Just picture that your inventory management is a mess, and you're constantly running out of stock. Customers might be disappointed when they come to pick up their purchases. And if your customer service is inconsistent across channels, people might start to feel unsure about the brand's professionality and look for other options.
But don't worry. There's good news! Companies with robust omnichannel strategies actually keep about 89% of their customers, while those with weaker plans only keep around 10% to 30%. So, if you want to keep your customers happy and loyal, investing in a solid omnichannel approach is worth investing in.
4. Gather customer feedback to improve business performance
Want to know another secret to optimize your retail store's operational efficiency? It's simple – just ask your customers! Feedback from customers can help you pinpoint areas where your business may need improvement.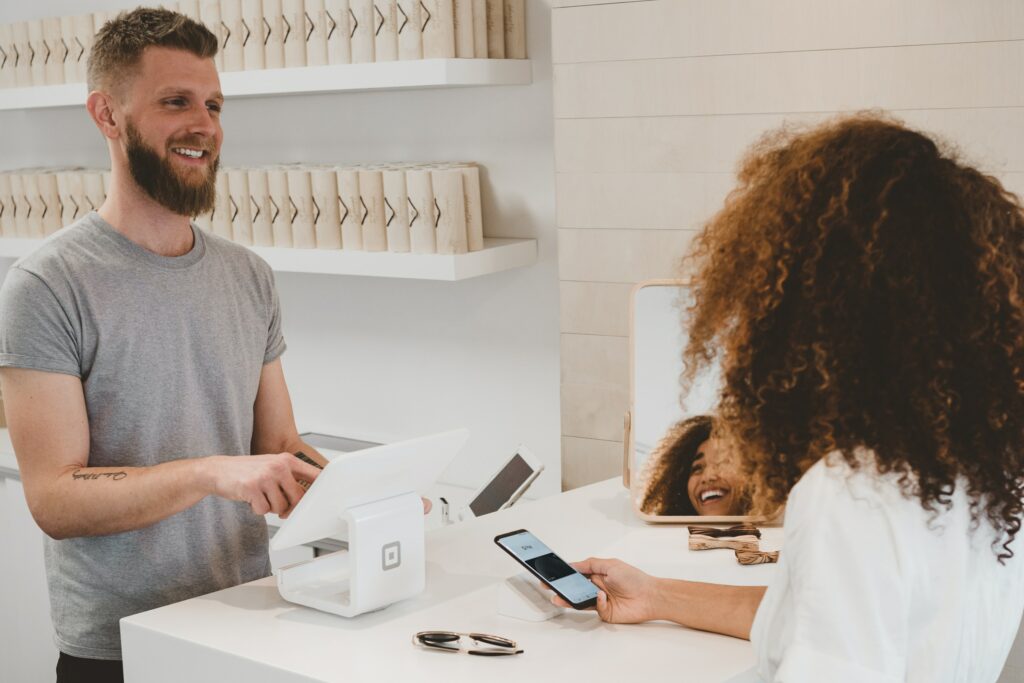 For instance, if customers consistently express dissatisfaction with the quality of customer service, retailers can take steps to improve the shopping experience. Retailers have many opportunities to gather feedback from customers, such as:
Asking for feedback immediately after a purchase
Requesting feedback after customers interact with a representative
Following up with customers months after a purchase
By focusing on your customers and their experience, you'll improve their satisfaction and your profits. In fact, companies that prioritize customer feedback and implement a customer-centric approach are 60% more profitable. So, don't underestimate the power of feedback – it could be the key to unlocking your store's full potential.
5. Train your staff effectively to enhance customer service and sales
As the former CEO and chairwoman of Xerox Corporation, Anne M. Mulcahy, once said, "Employees are a company's greatest asset – they're your competitive advantage."
And it's true! Your employees are the key to your retail store's success. They perform day-by-day tasks to keep your business running smoothly. That's why optimizing your workforce should be one of the top 5 priorities if you want to streamline your operations.
One effective method to do this is through continuous training and learning programs that give your staff the tools they need to thrive. In fact, many retail employees prefer ongoing training, which shows how valuable it can be for both the employee and the company.
Retailers can invest in specialized software designed for retail workers to make this training even more effective. Mobile-learning platforms are a great example of this, as they provide a convenient and engaging way for employees to learn and retain new information.
The bottom line
With the core elements of retail operations in mind, you can now implement these proven tactics to optimize retail store operations. Whether you are a new online retailer or expanding into a physical store, these strategies will help your business thrive in today's competitive retail landscape.
If you need additional information or would like to improve your retail operations by implementing these methods, please feel free to contact us anytime. Thank you again for your interest, and we look forward to hearing from you soon!
Featured Image by charlesdeluvio on Unsplash