Bob: Hey, Rob! What do you do?
Rob: I have a brand of my own.
Bob: Oh, what's the name?
Rob: It's called "X".
Bob: Okay, where can I find it?
Rob: Here, at this address.
Bob: Umm, I meant which social platform…
Moral of the story: If your brand is not on social media, your brand practically doesn't exist to your audience.
Besides, Data Reportal said that 75% of web surfers use social media to research brands.
So, if you are reading this thinking about how to get more inbound sales for your brand – maybe, it's time to tell your audience that you have a brand.
Whether you're a seasoned marketer or just starting out, it's crucial to understand how social media can help you build brand awareness and grow your business.
Wondering how you can do that?
Well, then, you're at the right place. We will not only tell you why you should use social media for brand awareness, but you will get a perfect roadmap to do that.
Let's dive in!
Why Should You Use Social Media for Brand Awareness?
Brings your brand to the spotlight
There are almost 300,000 new brands issued every year – what are the chances of your brand surviving now?
Almost, none if it's out of your audience's sight.
But, social media, if implemented with the right strategy, can bring your brand to the spotlight of its ideal audience.
From vertical videos to scroll-worthy carousels and even some longer text posts and trending hashtags – you get the chance to express your brand voice & reach out to potential customers by just hitting the "Post now" button.
The easiest part? You don't even have to sit and post each content every day. There are a number of social media automation tools available out there where you can schedule all your months in one go!
Lets You Connect with a Wider Audience
Remember the heart of Iron Man's suit (without which he couldn't function)?
The scenario is pretty much the same when it comes to your brand. It cannot function without its heart, i.e. its ideal audience.
And when your goal is to build brand awareness – this is even more evident.
On social media, you get to have a real-time conversation with your audience, reply to their comments, and even slide into their DMs (in a non-creepy way, of course!).
When you evolve as a responsive & interactive brand on social media – you can foster trustworthy relationships with your audience, build a community around your brand's presence & even establish yourself as an authority.
Builds Your Brand's Personality
Without a unique personality, your brand is just a name out in the cloud. However, with social media, you can establish a unique brand identity, get creative and even play a little humor.
It is your brand's personality that can help you stand out from the crowd and leave a long-lasting impression on your audience's mind – which will keep them coming back!
Have you seen how Sephora does it?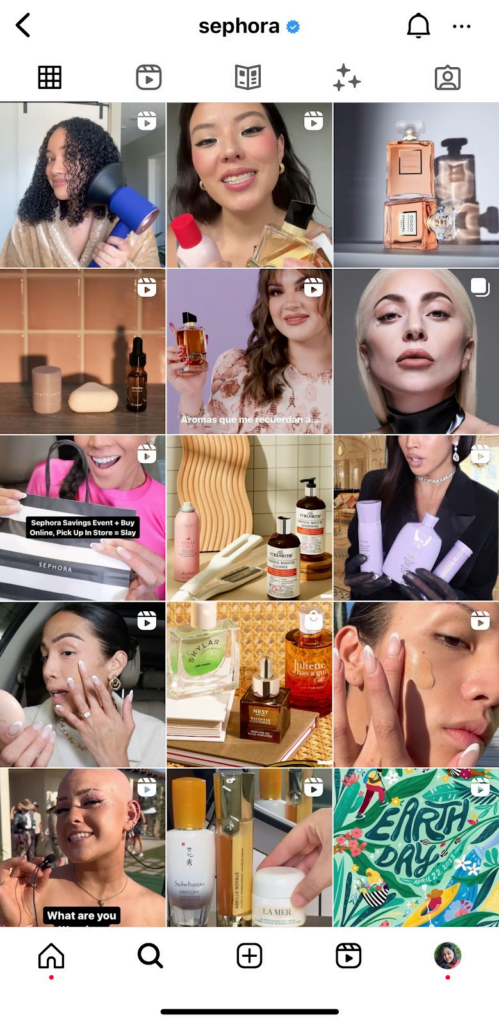 Source: Instagram
Even though Sephora's business model is all about beauty and wellness products worldwide – they go steps further in their socials and features tutorials to influencer collaborations and more.
And guess what? That's what differentiates Sephora from other brands in the same niché!
If you still haven't figured out a personality for your brand or are confused about it – try out social listening tools like Hootsuite to know how your competitors are doing it.
If you're just starting out and do not want to invest in a premium tool right away, there are many Hootsuite alternatives you can go for – that get the job done without the pocket pinch.
Reduces revenue investment
Compared to other paid channels of brand promotions, social media is quite cheaper – and that too, without compromising on the benefits you can reap.
In fact, there are a number of brands that have built such a great social media presence that they don't spend a single penny on paid ads or promotions. And are still successfully generating leads!
Not only will you save on your investment budget, but your sales cycle will also be comparatively shorter – because you have already educated & nurtured your audience on your socials.
Boosts Your Brand Credibility
Okay, you have a brand. So, does the 3 million other founders – how will your audience know if it's credible?
Well, there are ample harder ways to get it done – let's talk about the easier one then; which is – promoting user-generated content on your social channel.
When the mass audience sees your customers giving positive feedback about your brand,- there won't be any room for second thoughts. The feedback can come in many formats – from vertical shorts to written reviews, and even static before and after images. This is called customer retention marketing which prevents any sort of customer churn.
Your Roadmap to Using Social Media for Building Brand Awareness
Go for Value Over Anything Else
Social media works much like Newton's third law of motion – "To every action, there is an equal and opposite reaction".
You give your audience crap, you get crap back.
You give value to your audience, you get rewarded with engagement/sales.
So, create content that doesn't only resonate with your audience's pain points – but also ensures they are reaping value from it.
Because your audience will only remember your brand when they get something of value from you.
If you still aren't sure whether your audience is finding your content engaging enough, try using the best social media analytics tools to track your social media curve.
Say It With A Compelling Story
Who doesn't love a good story? So, why not leverage the same for your brand!
It's your chance to develop a compelling brand narrative that's clear, concise & resonates with your ideal audience.
What's best – if your brand really has a solid story to tell, like 'rags to riches' or something similar. Make sure your audience sees it and knows about it!
Engage, Engage, Engage
Source: Twitter
It will be an amateur move to consider that your ideal audience is seeing or interacting with your content.
No matter how great the hashtags are or how aligned the content is, almost half of your audience is not even aware of it.
So, how do you reach out to all your audience?
Well, that's where engagement comes in.
Make a list of your ideal lead profiles and start engaging with them every day – or at least twice every day.
You can comment on their posts, reply to their stories or slide into their DMs (but not in a creepy way!) – all these will ensure that you always stay at the top of your audience's mind.
Collaborate with Influencers
If you thought influencer marketing was just for B2C – we are sorry to break your bubble – because B2Bs have a similar share in it.
And partnering with influencers is a great way to boost your brand's visibility on social media.
Go ahead, and find influencers in your industry who have a moderate to huge following and an engaging audience – and collaborate with them to create content that resonates with your audience & promotes your brand.
Takeaway
Now, you get it?
While other channels like blogs and podcasts still work great for building brand awareness – social media brings you faster in front of your audience.
And, for your brand to survive the hustle & bustle online and still bring in revenue – there's no alternative to building brand awareness on social media.
Featured image by Loc Dang