Every website requires hosting in order to be live on the Internet. Designers and bloggers are well aware of its importance; they use it to establish their brand and business. It is also helpful to stay connected with existing and potential audience.
There are plenty of options when it comes to choosing a web host provider. Some are free and offer very limited features while others charge you little but offer unlimited features. I would recommend you to use price-based web hosting because they provide you more facilities than those free or cheap service providers.
Your Designer Toolbox

Unlimited Downloads: 500,000+ Web Templates, Icon Sets, Themes & Design Assets


DOWNLOAD NOW

You might also like: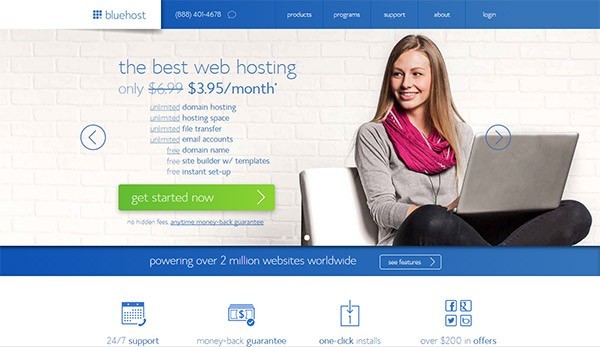 Bluehost is one of the leading web host service providers. Due to their excellent WordPress hosting, they are officially recommended by WordPress. It can easily manage large traffic without slowing down your website. Bluehost offers:
Shared hosting – best for those designers and bloggers who are not expecting millions of hits monthly
VPS hosting and Dedicated hosting – best for business purposes that need more server resources. You can get all the help that you want with trained experts ready to help you 24/7.
Reseller hosting – best for people who are in web hosting business. You can purchase the reseller hosting and use the allocated disk space and bandwidth to host your client's websites.
Here are some important features of first two options as they are suitable for designers and bloggers. Bluehost 'Shared' hosting offers many features such as:
Unlimited domain hosting
Unlimited hosting space
Unlimited file transfer
Unlimited email accounts
Free domain name
You can get these features and many more included in the plan for only US$3.95/month. On the other hand, 'Dedicated' web hosting is expensive but offers more server resources such as:
2 x 2.0 GHz CPU
4GB available RAM
500GB storage (mirrored)
5TB bandwidth
3 IPs
Free domain
24/7 support
Money-back guarantee
Standard dedicated hosting solution will cost you US$74.99/first month.
WP Engine is a professional web hosting service for WordPress. WP Engine gives you an interruption-free hosting server with the ability to handle pressure. Don't worry about getting hacked because it's hacker proof
A strong and lighting fast customer service makes this a very strong candidate for your website hosting. With its WordPress experts, you can feel relax about any issues that come to your website. WP Engine is considered a very good option for designers and bloggers who are looking for a Web host provider at a reasonable price.
WP Engine offers all these plans and pricing with a risk-free 60-day cancellation. If you are not happy with the services or platform, you can simply cancel within 60 days and get a full refund of your money. Some of their offers include:
Daily backup
One-click restore point
A high quality security
Automatic caching
One-click staging area
Risk-free 60-day cancellation
Currently, WP Engine is providing a personal plan for US$29.00/month which offers:
1 WordPress installation
25,000 visits / month
Unlimited data transfer
10GB Local Storage
Other plans include:
Professional plan with same features as personal plan but more server resources starting from US$99.00/month.
Business plan with same features but more server resources than professional plan to host large business websites starting from US$249.00/month.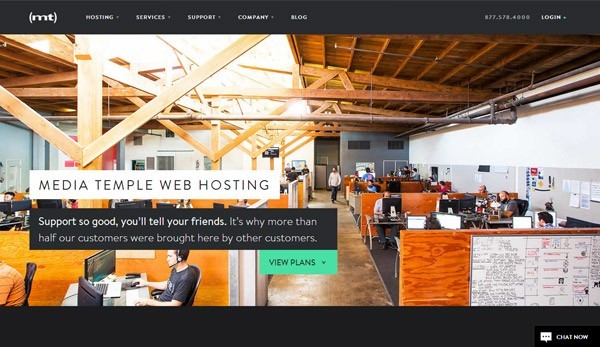 Media Temple offers a world-class hosting experience, especially for designers and bloggers. It doesn't matter how big your website is, Media Temple can handle it for you. It is the complete value for money.
There are plenty of options and plans offered by Media Temple that vary in price, features and capability. Every plan offers an upgrade version so that you never stop growing. Plans that are offered by the Media Temple include:
Grid: shared web and cloud hosting
DV Managed
DV Developer
DV Enterprise
Helix Private Hosting
When we talk about designers and bloggers, the best plan to choose is the Grid. The Grid is the ideal package for WordPress integration with many benefits for the beginners. Some of its features includes
Host up to 100 websites
1TB monthly bandwidth
SSD database storage
100 GB storage
1,000 email accounts
24/7/365 live support
All these features are available in US$20/month. It is easy to use and can be upgraded whenever you think it's time. Other offered plans are: DV Developer for US$30/month and DV Managed for US$50/month.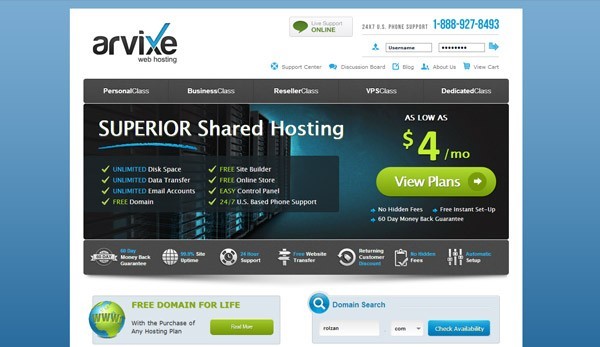 Arvixe is a well-known web hosting company for developers, designers and bloggers. The best thing about Arvixe is its reliability, quality and affordability. There are many plans offered by Arvixe for developers and designers including:
Personal Plans
Business Plans
Reseller Plans
There are also VPS and dedicated servers that are based on Windows and Linux platform. If you are looking for a simple tool to handle the all the heavy traffic on your website and making sure that website remains online all the time, use Arvixe.
With its superior Shared hosting, designers and bloggers can feel relax about handling their websites traffic and growing further. It offers different features including:
Unlimited disk space
Unlimited data transfer
Unlimited e-mail Accounts
Free domain
Free site builder
Free online store
Easy control panel
24/7 US-based phone support
All these features cost you just USD $4/month only. With no hidden fees, you also get a 60-day moneyback guarantee in case you are not satisfied with the platform. Other plans include:
Business hosting for USD $22/month
Reseller hosting for USD $20/month
VPS hosting for USD $40/month.
HostGator is one of the top web hosting sites. It is famous for its award-winning 24×7 customer support, which many designers and bloggers prefer. It is very affordable too. It offers different server plans including:
Shared Hosting
Reseller Hosting
VPS and Dedicated plans
It is designed to work perfectly with both beginners and professionals. The process of coming from another host can be very difficult but with HostGator it is very easy to switch host. When you are coming from another host, it offers:
Free domain transfer
Free file transfers
Free database transfers
Free script transfers
Features that HostGator offers for its users include:
Unlimited disk space and bandwidth
Easy control panel
One-click script install
24×7 technical support
4,500 free website templates
You can get all these features in only US$ 3.96/month. Other plans include:
Reseller hosting starting from US$19.96/month
VPS Hosting starting from US$15.96/first month
Dedicated servers starting from US$139/first month
HostGator offers a 99.9% uptime guarantee and a 45-day money back guarantee as well.
GoDaddy is one of the most well-known website hosting companies in this industry. Every designer and developer knows about it; it is the number one choice for designers. The service offers plenty of facilities for the beginners and experts.
GoDaddy knows how important your website is for you so it takes all the care for it. Everything from file manager, domain manager and database manager is exceptionally great and very easy to use. You can get all the help that you need from its 24/7 customer support available at phone or e-mail
However, managing millions of domains makes the support a little slower but the support team is always quick to respond and the complaints are resolved usually within 24 hours. Features that GoDaddy offers for its every plan include:
Free domain with annual plan restrictions
Free email addresses
One-click install of 200+ free applications
Unlimited monthly bandwidth
1GB storage MySQL Linux and 200 MB storage Windows SQL databases
Flexible, easy-to-use control panel
24/7 security monitoring and DDoS protection
Although these features including many more are available in every plan but prices vary in terms of storage and hosting number of websites.
You can host a single website in US$3.99/month with 100 GB storage
For unlimited website hosting and unlimited storage you have to pay US$ 4.99/month
Other plan includes hosting WordPress/Blog starting from US$6.29/month

Eleven2 is a highly recommended web host provider due to its service quality, support, hardware, features and uptime. It is very affordable and mostly preferred by designers and bloggers as shared web hosting.
It offers a free Site Builder to help you out in creating a fully featured website in few minutes. You can easily manage your site with its standard cPanel tools and features that help you to manage your site easily. With their customer support, they are available 24/7 to help you out.
They also offer a unique feature of live chat with which you can chat with experts live about your web hosting matters. It is truly the hosting done right. Eleven2 offers feature according to their different plans that are monthly and yearly based. The standard S-200 plan is available for US$10/month and includes:
250GB Storage Space
20,000GB monthly bandwidth
Unlimited domains
Free instant setup
SSL Certificate +$69.99/yr
Dedicated IP +$4/mo
The only difference is in the prices when the plan is taken with yearly package. Other plans include:
S-300 for US$20/mo with 500GB Storage Space and 40,000GB Monthly Bandwidth
S-400 plan is available for US$40/mo with 999,999GB Storage Space 999,999GB Monthly Bandwidth

Fatcow is a very good choice for designers and bloggers that have little capital or are launching the website for personal purpose.
Its features and plans can keep your website running all the time. People find it very reliable and friendly. Fatcow makes sure that their every customer gets uninterrupted website connection with the help of server backups every day.
The customer service is highly reliable and available on the toll-free help lines 24/7. You can also communicate with them through e-mail. Fatcow also offers tutorials and FAQ library for its users as well. Different hosting solutions that Fatcow offers include:
FatCow Plan
WordPress hosting
Domain parking
VPS hosting
Dedicated hosting
Domain registration
Free Farm-Fresh icons
Features that Fatcow offers include:
Unlimited disk space
Unlimited bandwidth
90% up-time and speed
Free domain
Unlimited MySQL database
Unlimited domains hosted
Unlimited POP mailboxes
All these features are available in the lowest price ever which is US$ 3.15/month. Other plans include
WordPress hosting starting from US$3.75/month
VPS servers starting from US$19.99/month
Dedicated hosting starting from US$119.99/month.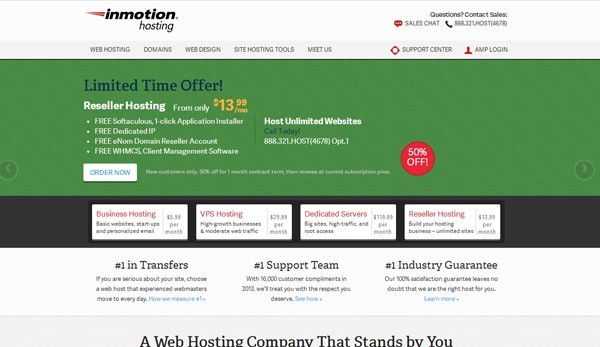 InMotion Hosting is very famous among small and large sized businesses. Whether it is website hosting or blog, they can do anything for you. InMotion is very famous due to its award winning technical support and an uptime of 99.9%.
They handle every growing business need, from a small business to an enterprise level. InMotion ensures a better speed and high service availability with multiple data centers. It offers a feature called 'Max Speed Zone' to VPS and Business class plans with which users that are near to the data centers of InMotion can enjoy browsing six times faster than anyone else.
InMotion makes sure that you get uninterrupted connection with your users with their 24/7 customer support availability. WordPress hosting is highly optimized for bloggers and offers you some great features to make your blog grow. InMotion Web hosting includes:
Business class hosting
Cheap hosting
VPS hosting
Dedicated servers
Reseller hosting
Features that InMotion offers include:
Unlimited disk space
Unlimited bandwidth
FREE 1-click installer with 310+ applications!
FREE cPanel & WHM server management tools
FREE $300 advertising credits
FREE domain name
There are plenty of others features included in the plan and it is available for US$5.99/month. Other plans include
VPS hosting starting from US$29.99/month
Dedicated hosting starting from US$119.99/month
Reseller hosting starting from US$13.99/month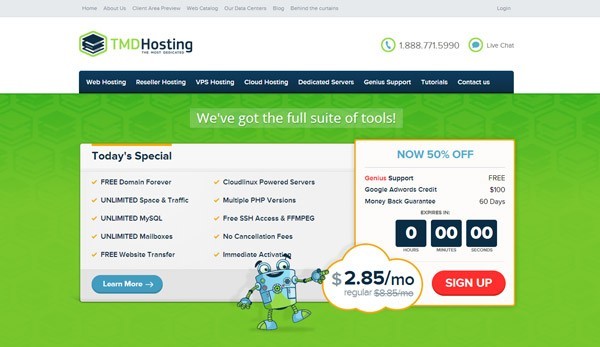 When you are running a popular site or a blog, you need various marketing tools and knowledge. TMDHosting makes it easier for you to run a website or a blog.
With a guaranteed 99.9% uptime in all the hosting plans, it gives you the best hosting experience
It offers a 30-day money back warranty in case you are not satisfied with the platform.
TMD also provides hosting for open source applications including; Joomla Hosting, and Magneto hosting etc.
The advantage that TMDHosting has on its competitors is the quick customer support. With 24/7 available support, your inquiries are resolved within 15 minutes. It also offers top level assistance with the latest technologies available.
For starters, TMD hosting gives step-by-step tutorials to help you out in any web hosting matter. Daily promotions are updates on the site with lowest price plans for the customers. Hosting services that TMD offers include:
Web hosting
Reseller hosting
VPS hosting
Cloud hosting
Dedicated servers
Different features that TMD hosting offers include
FREE domain forever
CloudLinux-powered servers
UNLIMITED space & traffic
Multiple PHP versions
UNLIMITED MySQL
Many more features are included with the package. The web hosting plan is available for USD $2.85/mo. Other plans include:
Reseller hosting starting from US$11.95/mont
VPS hosting starting from US$35.95/month
Cloud hosting starting from US$44.95/month
Dedicated servers starting from US$229/month
Wrap up!
Each web hosting service is highly recommended for you if you are a designer or a blogger. However, I would recommend you to have a close look at each plan to decide which is best for your purpose.Customer support is sometimes the only difference between an ordinary service provider and the best.
This post may contain affiliate links. See our disclosure about affiliate links here.