Infographics are graphic visual representations of data and information. They come in extremely handy when you need to explain complex information, numbers or data rather quickly and effectively.
In this article, you'll find some tips for designing quality infographics as well as some resources and inspiration.

Table of Contents:
Designing Quality Infographics
6 Simple Tips on How to Market Your Infographics
What's Coming Up Next? Use Interactive Infographics To Stand Out! Why?
How to Make Powerful And Beautiful Infographics
Your Designer Toolbox

Unlimited Downloads: 500,000+ Web Templates, Icon Sets, Themes & Design Assets


DOWNLOAD NOW

Unlimited Downloads: 500,000+ Fonts, Web Templates, Themes & Design Assets

DOWNLOAD NOW

Designing Quality Infographics
Infographics are used worldwide from magazines to metro stations. A great infographic can render complicated information easily understandable and engrossing. However, infographics can be pretty hard to design since you have to gather together a lot of information and make it look good.
Succinctness
When creating an infographic your main goal is to answer a specific question or problem. Broach a question you want to cover in your graphic and start by answering it concisely. After you've done that you can add additional facts or information to make your graphic broader.
Being concise about your topic will also help to create a more effective visualization of the graphic.
The World's Most Disastrous Oil Spills is the title for an infographic created by Travel Insurance. Their infographic answers the question precisely. After the map with biggest oil spills they've added more significant and interesting facts. This is a prime example of being concise and relevant.
Creativity
Ingenuity and design is what separates an infographic from the simple charts you see elsewhere. Think of an infographic as a poster in which you can express yourself while keeping in mind the information you have to include. Don't be afraid to use typography, illustrations, icons or other design elements. Creativity and a bit of an audacious design will make your infographics stand out.
This graphic, supplied by Minicrane-Hire provides some information about the original UNIC mini-spidercrane, which is celebrating its 8th anniversary this year. The design is definitely unique and creative,and is more about catchy and light facts than a serious analysis, so the emphasis is on creativity. The design is sort of grungy and resembles a poster. It's really pleasing and engaging.
Visualization
You don't want your infographic to be just plain text. Plain data is boring and can sometimes be hard to comprehend. Use geometric shapes, charts, diagrams, anything that can help people visualize your data. If possible, replace words with icons or symbols. Of course, you have to keep the information front and center since that's the 'info' in infographic.
Nevertheless, remember that nowadays people are a lot more visual thanks to technology, and aren't as interested in plainly presented information.
This infographic by Rackscape is an outstanding example of visualization in infographics. They've created a graphic about bytes, which may seem quite boring, though they've managed to make it extremely enjoyable and interesting. Each piece of information is accompanied by a large colorful illustration so the infographic is easy to comprehend.
Organization
Precise and well-organized information is the basis of any great infographic. Compare various information sources, make sure your acquired data is objective and relevant enough. Even the most elegant design won't attract readers if the information is incorrect.
Sometimes Google won't be enough, you'll have to visit a library or even turn to an expert. Infographics will be easier to create if you have some prior knowledge about the topic, or have a really good idea where to research the information.
Information organization is one of the most essential things when designing an infographic. You have to try to organize your information contextually and visually.
This infographic about earthquakes is a collaboration between GOOD and Column Five Media. Design is not playing the main role in this graphic though the information and facts are very applicable and neatly organized. They've includes some important facts together with some demonstrative graphs.
Transparency
Infographics can be subjective and lead readers to biased conclusions. Always cite your information sources and give readers the chance to explore the information deeper if they want to. Give them the opportunity to find additional information straight from your infographic.
Don't hide your information (no matter how 'top secret' you think the source is) because you're publishing the graphic one way or another.
This is another collaboration between GOOD and Column Five Media. They've created an infographic about electricity and energy supplies in Africa. It's a complex subject so some people might want to look deeper into it. Though they've not included direct links, there is the list of sources used in the bottom of infographic.
Accuracy
Be accurate and precise when designing infographics. It's easy to make mistakes when you're trying to scale your data in charts and graphics. Use different sizes and shapes that visualize data, but don't be excessive. You should never draw the shapes by hand and without a base scale. Use mathematical equations, compare the numbers and then use the same proportions in graphics.
In this infographic by Column Five Media we can see perfect proportions being used. They're using proportional semicircles to compare goods purchased in store with goods purchased online. The radius ratio of circles ideally matches the ratio of numbers.
Relevance
Find the style and look that fits your infographic. If you're creating an infographic about an important and sensitive topic don't make it bright and dashing. Choose a design that's appropriate and reflects the topic best.

This infographic by Visions Service Adventures is a perfect example of appropriate infographic design. They've made an infographic about struggling countries in the world so they've included a world map as well as some illustrative icons and illustrations that reflect on the topic.
Simplicity
Don't exaggerate with visual elements and the amount of information in infographics. Having a neatly-designed and informative infographic is good, but too much detail can make it too scattered and difficult to comprehend. Knowing your target audience will also help you to adjust the visual complexity and design of the infographic. If you're designing an infographic, let's say, for a poster that's going to be seen on a streetlight a simple infographic is more likely to attract attention. People are not willing to spend time on complex graphics and data if they're in rush. However if you're creating an infographic for a magazine you can afford to include more complicated charts and in-depth information because it's more likely that people will spend more time looking at your infographic.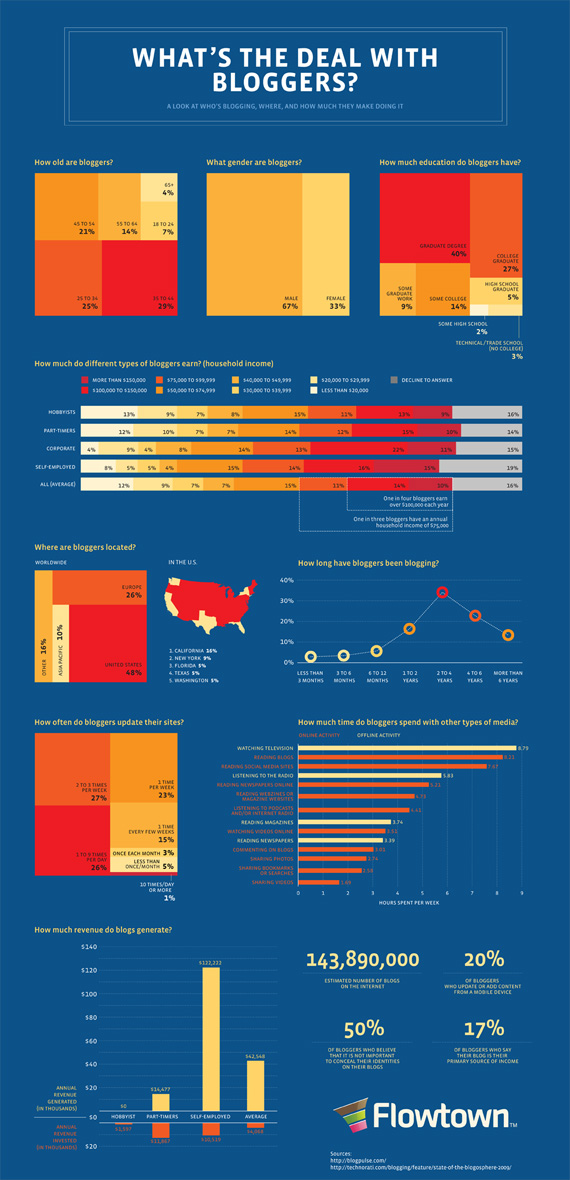 What's The Deal With Bloggers by Flowtown is a great example of simplicity in infographics. They've used a plain background, solid colors and simple charts to present the data. The result is a splendid, demonstrative and easy to understand infographic.
Blogs & Related Sites
Just like with web design, there are many blogs out there dedicated to infographics and data visualization. Even if you're not so interested in infographics you can find really useful and interesting information on some of them. Below you'll find 10 of the best blogs and websites dedicated to infographics, data visualization and the art of information.
FlowingData explores how designers, statisticians, and computer scientists are using data to understand ourselves better – mainly through data visualization. Money spent, reps at the gym, time you waste, and personal information you enter online are all forms of data. How can we understand these data flows? Data visualization lets non-experts make sense of it all.
Information Aesthetics is a weblog that explores the symbiotic relationship between creative design and the field of information visualization. More specifically, it collects projects that represent data or information in original or intriguing ways.
Infographics Showcase is collecting the best of the web infographics with a nod to some exciting graphic design. If you love information communicated in a visually appealing and simple manner then you are in the right place.
David McCandless, is a London-based author, writer and designer. He's written for The Guardian, Wired and others. He's into anything strange and interesting. Information Is Beautiful is his blog where you'll find visualized ideas, issues, knowledge and data.
Cool Infographics is a blog that highlights some of the best examples of data visualizations and infographics found in magazines, newspapers and on the Internet.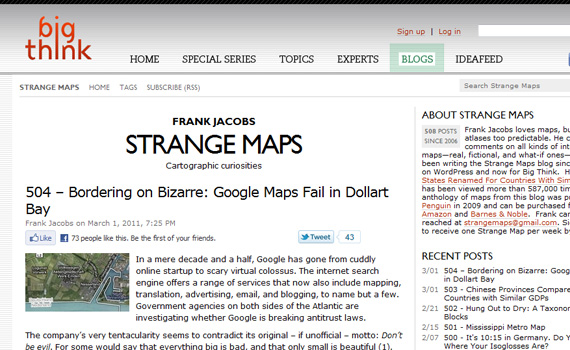 Frank Jacobs loves maps, but finds most atlases too predictable. He collects and comments on all kinds of intriguing maps—real, fictional, and what-if ones—and has been writing the Strange Maps blog since 2006.
Chart Porn is compiled by Washington DC based economist/artist Dustin Smith. This site grew out of an admiration for all the amazing data analysis work being done in the world, and the desire to pull it all together in one place. The blog's original focus on economics and graphic design has expanded over time to cover a wide range of topics.
VisualComplexity intends to be a unified resource space for anyone interested in the visualization of complex networks. The project's main goal is to leverage a critical understanding of different visualization methods, across a series of disciplines, as diverse as Biology, Social Networks or the World Wide Web.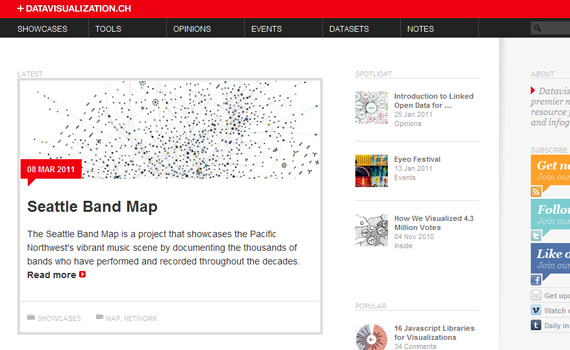 Data Visualization is a transversal discipline which harnesses the immense power of visual communication in order to explain, in an understandable manner, the relationships of meaning, cause and dependency which can be found among the great abstract masses of information generated by scientific and social processes.
Infographics News is a blog dedicated primarily to news, curiosities and information about infographics. They also cover news related to data visualization and unusual infographics.
Information Sources & Resources
Information quality is crucial in infographics. If you have to work with infographics quite often, having a resource and data library is very important. I've gathered some of the best free websites and services that offer high-quality current data in many categories.
U.S. Census Bureau is the leading source of quality data about the nation's people and economy. They provide the best mix of timeliness, relevancy, quality, and cost for the data they collect and provide. This website contains the Census Bureau's Statistical Quality Standards, information quality guidelines, and procedures to seek correction of information that does not comply with the information quality guidelines.
Gallup Daily News provides unique, unrivaled insight into the political, economic, and social issues of the moment. Gallup Daily and global tracking make Gallup Daily News a must-read for audiences that need the most accurate and up-to-date information on the thoughts of people around the world.
Thomson Reuters is the world's largest international multimedia news agency, providing investing news, world news, business news, technology news, headline news, small business news, news alerts, personal finance, stock market, and mutual funds information available on Reuters.com, video, mobile, and interactive television platforms.
4. Mbendi

MBendi Information Services (Pty) Ltd is a privately owned Internet business publishing company founded in 1995 and based in Cape Town, South Africa. The company uses the Internet to support business and political decision makers worldwide.
5. NumberOf

Here at NumberOf they try to answer the question that begins with "How Many..?". All the facts are divided into five different categories. In order to keep the facts correct, they verify each fact after 6 months of its last modification.
Nation Master is a massive central data source and a handy way to graphically compare nations. NationMaster has a vast compilation of data from such sources as the CIA World Factbook, UN, and OECD. Using the form above, you can generate maps and graphs on all kinds of statistics with ease.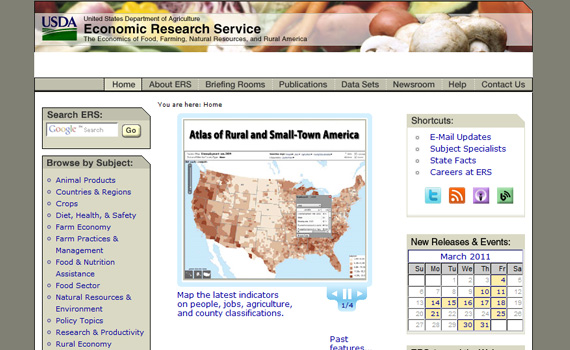 The Economic Research Service is a primary source of economic information and research in the U.S. Department of Agriculture. With over 350 employees, ERS conducts a research program to inform public and private decision making on economic and policy issues involving food, farming, natural resources, and rural development.
EveryBlock filters an assortment of local news by location so you can keep track of what's happening on your block, in your neighborhood and all over your city. They aim to collect all of the news and civic goings-on that have happened recently in your city, and make it simple for you to keep track of news in particular areas. They're a geographic filter — a "news feed" for your neighborhood, or, yes, even your block.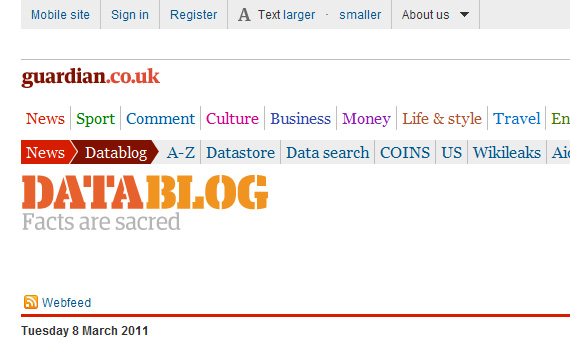 Guardian News & Media (GNM) is the national division of Guardian Media Group. It publishes the Group's flagship national newspapers – the Guardian and the Observer – as well as Guardian Weekly, one of the world's best-selling international weekly newspapers, and the guardian.co.uk website. Their Data Blog is an awesome place to find infographics and data visualization daily.
This site is meant to provide all users with improved access to World Bank data and to make that data easy to find and use. The World Bank recognizes that transparency and accountability are essential to the development process and central to achieving the Bank's mission to alleviate poverty.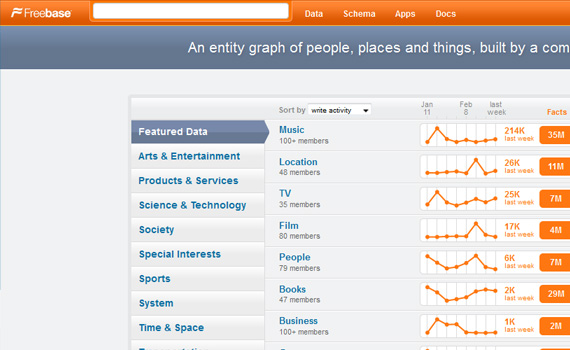 Freebase is an open, Creative Commons licensed repository of structured data of almost 20 million entities. An entity is a single person, place, or thing. Freebase connects entities together as a graph. Most of the topics are associated with one or more types (such as people, places, books, films, etc) and may have additional properties like "date of birth" for a person or latitude and longitude for a location. These types and properties and related concepts are called Schema.
GeoCommons enables everyone to find, use and share geographic data and maps. Easily create rich interactive visualizations to solve problems without any experience using traditional mapping tools.
13. Transparency Data
Transparency Data is a central source for federal lobbying disclosure, federal grants and contracts, earmarks and federal and state campaign contributions. Here you can begin your search, find the information you need, and then download records of what a candidate has received, what an individual has given, how much an organization has spent on lobbying, and many other queries.
The mission of the Organisation for Economic Co-operation and Development (OECD) is to promote policies that will improve the economic and social well-being of people around the world. OECD.Stat includes data and metadata for OECD countries and selected non-member economies.
Premium Resources
Finding high-quality data newspapers and other free services and sorting it in the way you need it can often be quite frustrating and time-consuming. We'd all love to get the exact data we need neatly delivered and as cheap as possible. I've gathered a couple of premium data marketplaces and sources for you to find dozens of high-quality data sheets. You can also make a requests for specific data you're looking for. Unfortunately, I was able to find only three services, so if you know some more you could share them in the comments section.
Launched in May 2010, DataMarket is a data portal that provides access to statistics and structured data from various public and private sector organizations. This enables users to find, compare, visualize and download statistics from organizations such as the UN, World Bank, Eurostat, Gapminder and others in a single place. Time series can be linked to news events and any selected data can be downloaded in a format suitable for use elsewhere, e.g. in Excel.
2. Infochimps
Infochimps is a place to find, sell and share data with others. It comes in two forms on our site: Data Sets: Instantly available for download. Some are free and some are for sale. Data APIs: Available with a simple subscription and an API key. Access very large or frequently updated data sets in minutes without having to host or scrape anything.
Inspiration
1.
The Dangers of Driving

2. How Would You Like Your Graphic Design?
3. United States of Unhappy Campers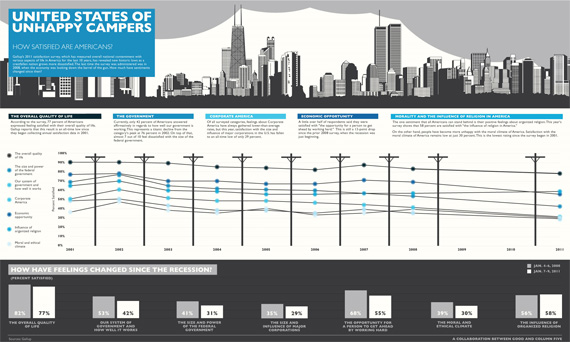 5.
Happy Birthday Formula
6.
The Potato Lifecycle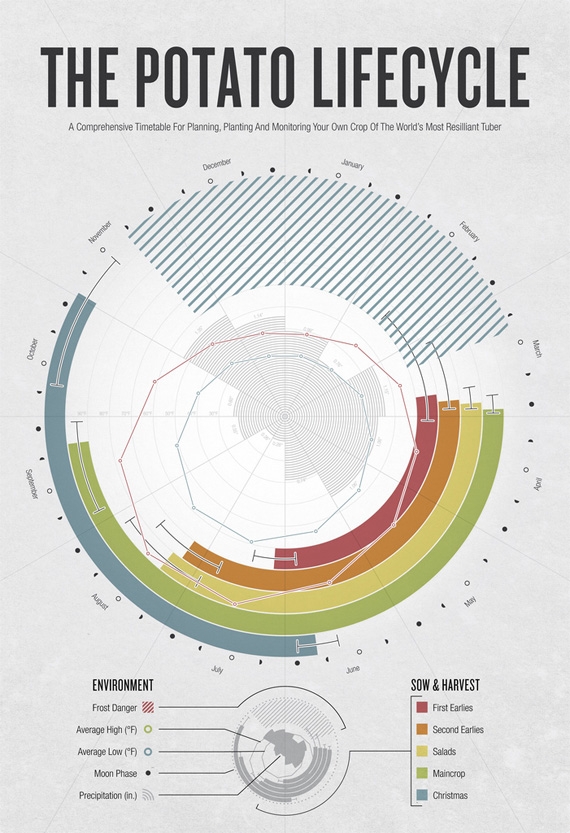 7. Visualizing Daily Activities With Media Wheel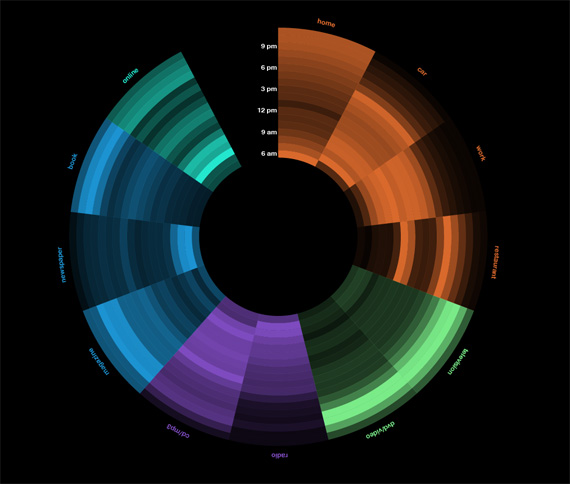 10. My Head Hurts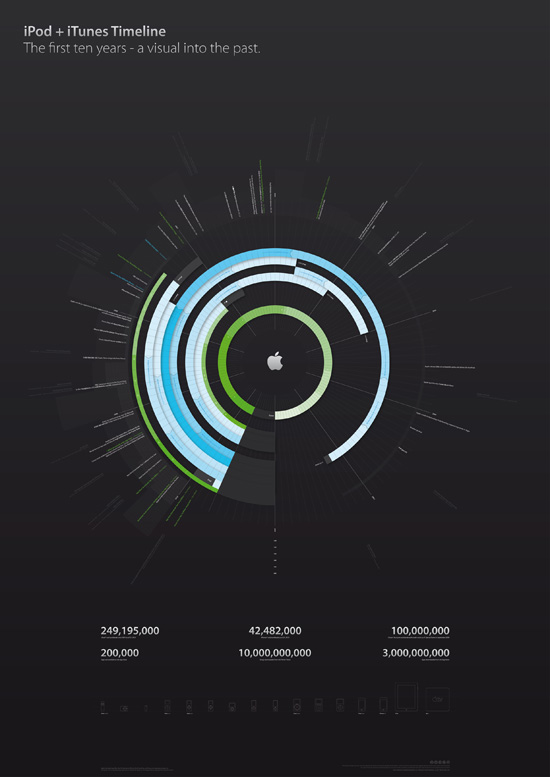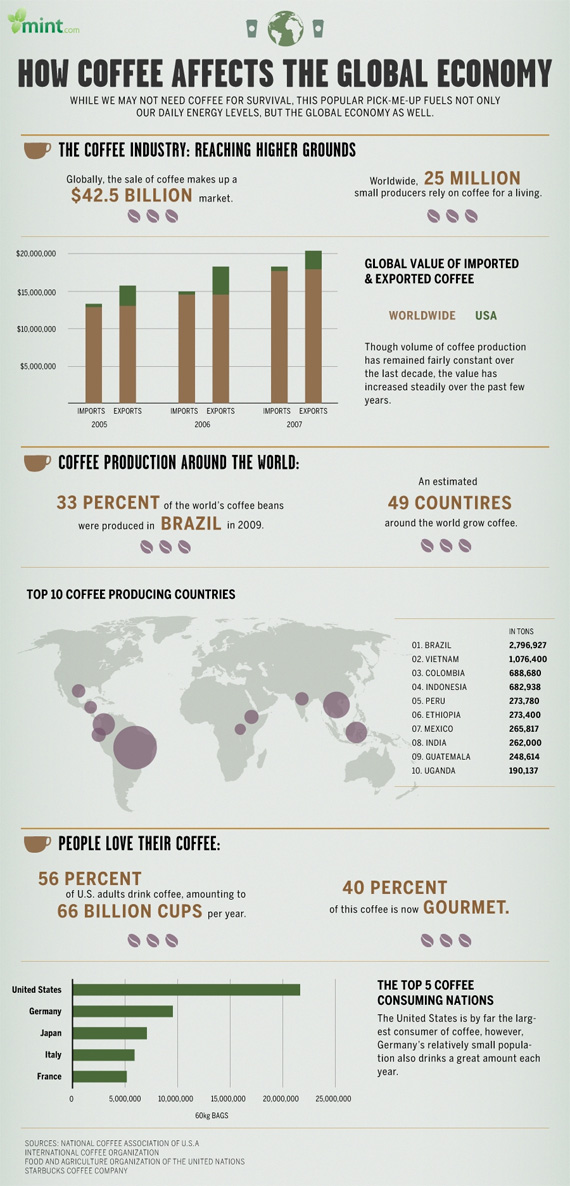 In the next section we will see how to market your infographics.
6 Simple Tips on How to Market Your Infographics
Infographics are everywhere on the Internet, there is an infographic for almost every popular subject. From serious topics like marketing to seemingly simple ones like apps and bedtime stories are made into infographics. We saw the trend back in 2010, when internet marketers were thinking of a better way to market content. Top ten lists were being overdone, and there was a huge need for interesting content, people were getting bored by the typical content marketing techniques seen up to that point.
Content was, and will always, be king. Google loves new and fresh content. But generating new and interesting content was getting tough. There were top ten lists that everyone was doing (read over doing) and there were videos not everyone could pull off or were boring. So there was a huge demand for something in between.
What makes an infographic go viral?
So, what is an infographic actually? It's basically information graphics, where by otherwise boring and bloated information is made interesting by using graphics. Fair enough. But what makes it viral?
1. Information in digestible capsule format
Infographics always comes in an easily digestible format. Small, cute and interesting graphics make the data even easier to understand and amazing. Today, many infographics we see are otherwise boring information, that are made interesting by using graphics.
2. Data that is useful
Most infographics have informational data that is really useful to people. Like this one. The information is so useful that you want to print it out and hang it on your door for quick reference, this is the compelling factor of any infographic.
3. Catering to our short-term attention spans
Today, all of us have a very short attention span. We cannot spend more than a minute on anything on the internet. This is the reason why even when all the information is available on Wikipedia, we don't read it all. But with infographics, we grasp everything even with our short-term attention span.
So, how do you market an infographic today?
That is our question today. With so many infographics being churned out lately, how can you stand out and be difference from the rest? Let's take a deeper look.
1. Submit infographics to Infographic Directories and Blogs
There are several places that accept infographic submissions and feature all of them in a very nice way. There are no processes to get into though, all you have to do is submit the infographic and hope that it will be displayed on the site. Most directories do not have an acceptance policy which means that the infographic will be displayed the moment you submit them with a link to your original source. Some of them however take some time to review the submission and publish it in due course.
Here is a good list of blogs and directories:
Visual.ly
Chart Porn
Flickr Infographics Group
Daily Infographic
Charts Bin
2. Make a paid submission to Stumble Upon
Stumble Upon is a great resource when it comes to visually pleasing content. They have a dedicated category for infographics that will get you thousands of hits every month if you submit your infographics. But getting in there can be tricky. If you make the submission from a weak account, then chances are that the infographic will be buried. But instead of taking the risk, make a paid discovery on stumbleupon. The standard Paid Discovery plan is a flat fee of $0.10 per unique visitor. There are also options for higher and lower priority serving. But its a highly effective way of marketing your content to the right people.
3. Keep the tools ready for social sharing
The basic necessity for any infographic is to make sure it can shared on social networks. When people view the infographic, make sure there are enough social bookmarking tools beside it to ensure easy sharing to all networks (or the ones that are relevant to your market). While this sounds like a seemingly basic thing to do, many bloggers and designers get caught up with making the infographic so perfect that they miss out the very basic purpose of it. Which is to get as many links from other blogs as you can and build social media traffic.
4. Submit to Reddit's Infographic Subreddit
Reddit is where the new memes and sensations of the Internet appear first. It's from where the rest of the social networking sites, get inspired for great content. And Reddit has an exclusive subreddit at (reddit.com/r/infographics) for infographics. Stuff posted here will probably not appear on the front page, but will be featured on many blogs and Tumblr feeds as there is a big community of infographics fans watching over the subreddit.

5. Leverage the Pinterest community
Pinterest is in the spotlight these days. With praises from funding managers and social media gurus alike, this seems to be the new thing in the valley. And rightly so, because like StumbleUpon, Pinterest gives you some amazing traffic for visually pleasing images and cool pins. Infographics is one category that always gets a lot of repins and likes on Pinterest. And for each repin and like, the chances of getting a new visitor to your site is increased. Watch out for the referral stats on Google Analytics.
6. Influential Blogger Outreach

Another powerful way to market your infographics is to get one of the influential people in social media to share your infographic. It could be someone with a lot of Twitter followers or Facebook friends, or even a page that has a lot of fans. Of course, you cannot go blindly and ask them for a tweet but if your infographic is good (which I assume it is), search for an influential social media user from the same niche as your infographic. For example, if your infographic is on "Valentine's Day and Love" you might want to consider approaching couple of the female social influencers on the list. Talk to them and hit a deal, like two tweets at the peak hour for $50. There are many unlisted social media influencers out there who can do it for you. Just that you need to spend some time finding them.
Summary
Infographics are a great way to get some attention, build your brand, build links and get some viral social media traffic. It hits all the above points with one stone, and that's the beauty of it. But since the idea of infographics is getting over done these days, the solution is to come up with newer illustrations, newer ideas and visualization techniques that grab people's attention. The wow factor is very relevant here. All you have is the first 3 seconds. If you can get their attention in the first 3 seconds, you've won. All the best.
Now let's look at the future of infographics. Ready? Let's roll.
What's Coming Up Next? Use Interactive Infographics To Stand Out! Why?
Just get over Infographics! It is high time that webmasters face the fact that not just every Infographic will be a hit. You are bound to hit walls head first if you don't spice up your Infographics. There was a time when people had understood the importance of the word Infographic. Soon, almost every heading in my feed had the word INFOGRAPHIC leading the title. It is not the case now because not every Infographic goes viral nowadays.
So, does this mean that the era of Infographics was short lived? Well, not really! Infographics do go viral if they have that touch of brilliance attached with them. One such touch is the interactivity which is pushed along with every new Infographic. Yeah, the Interactive Infographics will soon be the talk of the town. Ready for it?
The Current State of Infographics
Not good! Don't get me wrong but I am someone who calls a spade a spade. And, as of now, the state of Infographics on the Internet is not good. I agree that some of the best Infographics were launched in the year 2011 and they might still make some sense but they don't send chills down your spine. Hardly any of them does that! Just like the static infographic by PS Translation below:
The web is full of Infographic Resources and Infographic Designing Tips but all of them talk about the static form of Infographic that we are aware of. It is time to change. It is time to add some dynamics to our static Infographics.
Interactive Infographics Is The Future
If you notice the Google Trends below for the keyword "Infographic" then you will understand how the term Infographic picked up fame by January 2011. The interest of Internet users kept rising and the overflow of Infographics can be co-related with this trend.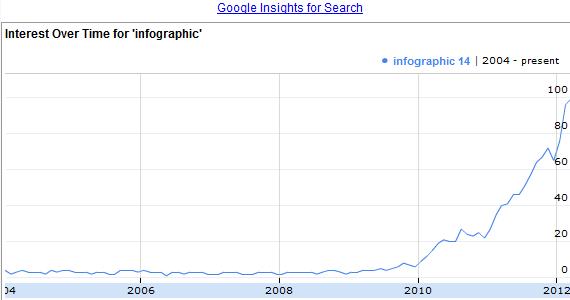 Lately, a new form of Infographic has appeared out of the blue. Though it isn't yet a trend still you will find few dynamic Infographics doing well these days. These Infographics are more than just jpeg images. They are a sorted combination of HTML5 and CSS3 so as to bring in some interactivity to the final layout. The motion element in these Interactive Infographics attracts user attention and the richer end user experience keeps the visitors riveted for longer periods.
Why Do We Need Interactive Infographics?
Interactive Infographics are the need of the hour due to their interactive features. A lot has been discussed already about the advantages of interactive features. One of the most famous research work was done by Ben Shneiderman. His paper – The Eyes Have It – starts with the following abstract:
A useful starting point for designing advanced graphical user interfaces is the Visual InformationSeeking Mantra: Overview first, zoom and filter, then details-on-demand. But this is only a starting point in trying to understand the rich and varied set of information visualizations that have been proposed in recent years. This paper offers a task by data type taxonomy with seven data types (1-, 2-, 3-dimensional data, temporal and multi-dimensional data, and tree and network data) and seven tasks (overview, zoom, filter, details-on-demand, relate, history, and extract)
Lately, there was another in-depth paper which categorized Role of Interaction in Information Visualization by Ji Soo Yi, Youn ah Kang, John T. Stasko, Member, IEEE, and Julie A. Jacko. The categories presented in this research can act as framework which helps in discussing and evaluating interaction techniques. These categories will help us to go deeper into the foundation of Interactive Infographics and understand the science of interaction. Let us go through the categories one after the other:
Select: mark something as interesting
Explore: show me something else
Reconfigure: show me a different arrangement
Encode: show me a different representation
Abstract/Elaborate: show me more or less detail
Filter: show me something conditionally
Connect: show me related items
Another in-depth study that understands the importance of interactive dynamics is Taxonomy of Visualizations by Jeffrey and Ben Schneiderman. The study proposes the following pointers under their taxonomy of interactive dynamics for visual analysis:
Data and View Specification
Visualize data by choosing visual encoding.
Filter out data to focus on relevant items.
Sort items to expose patterns.
Derive values or models from source data.
View Manipulation
Select items to highlight, filter, or manipulate them.
Navigate to examine high-level patterns and low level details.
Coordinate views for linked, multi-dimensional exploration.
Organize multiple windows and workspaces.
Process and Provenance
Record analysis histories for re-visitation, review and sharing.
Annotate patters to document findings.
Share views and annotations to enable collaboration.
Guide users through analysis, tasks or stories.
This case study has explained the importance of interactive visualizations in a very concise and beautiful manner. It is a must read:
Visualization provides a powerful means of making sense of data. By mapping data attributes to visual properties such as position, size, shape, and color, visualization designers leverage perceptual skills to help users discern and interpret patterns within data.11 A single image, however, typically provides answers to, at best, a handful of questions. Instead, visual analysis typically progresses in an iterative process of view creation, exploration, and refinement. Meaningful analysis consists of repeated explorations as users develop insights about significant relationships, domain-specific contextual influences, and causal patterns. Confusing widgets, complex dialog boxes, hidden operations, incomprehensible displays, or slow response times can limit the range and depth of topics considered and may curtail thorough deliberation and introduce errors. To be most effective, visual analytics tools must support the fluent and flexible use of visualizations at rates resonant with the pace of human thought.
The Showcase
As of now the world of Interactive Infographics hasn't evolved enough yet there have been few interactive infographics that smartly used HTML5, CSS and jQuery to come up with results that astonished many. Someday, 1WD will proudly publish a huge showcase of Interactive Infographics just like we have been done in past with static Infographics like Valentine Infographics and other cool Infographics. But, for now I guess we will wrap it up with a mini showcase of Interactive Infographics and leave you to think how you can design your next "Interactive" Infographic.
How Music Travels
How Music Travels is a first stage Interactive Infographic that uses dynamic graphics in order to give us a visual of how music has traveled around the planet with time.
Oh Gawwd! This is another piece of art which will force you to fall in love with the creation. You can move the car using your keyboard and pass by loads of information about Car Sharing. Wanna go green?

To finish the article let's take a deeper look into creating infographics that are sending a strong message.
How to Make Powerful And Beautiful Infographics
Graphics play a role in our Internet learning experience. Images have become part and parcel of the information acquisition process in our lives. Normally, graphics like pictures and drawings are used as aids and not the main tool for learning. They are just appendices that help people understand the information that is being fed to them.
That was the general idea before the influx of the Internet. The pre-Internet idea is dominated by the belief that graphics are just 'aids.' But it has surprised learning purists that graphics can be very good tools as main information sources. Thanks to the Internet, we now have Infographics!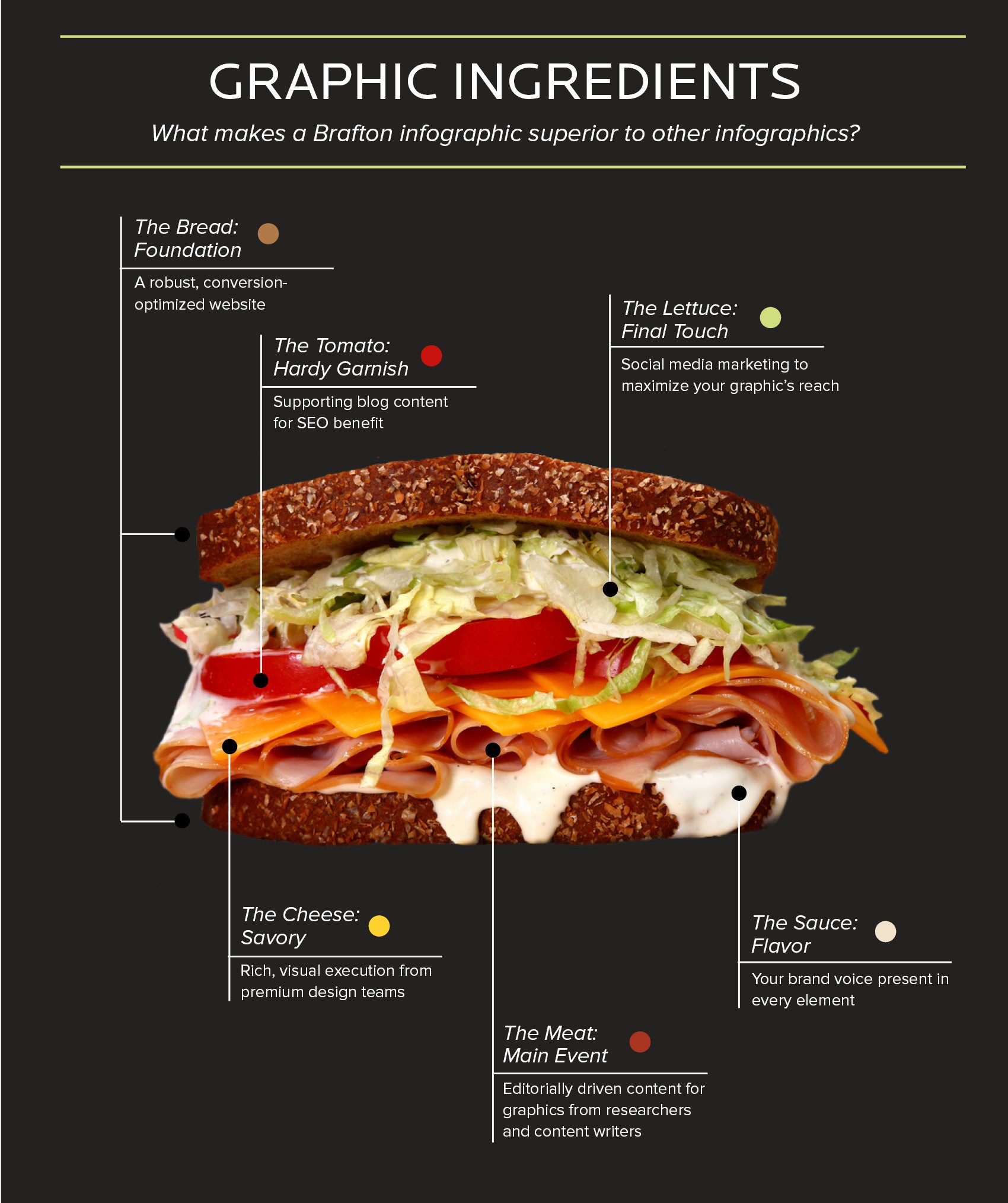 From Brafton
Infographics or information graphics are visual and artistic representations of data or knowledge. They are presented in a creative, quick and witty manner using diagrams, charts and design elements. Infographics are filled with drawings, vector and flat-design images, sketches, icons and texts to facilitate the learning experience better and more fun.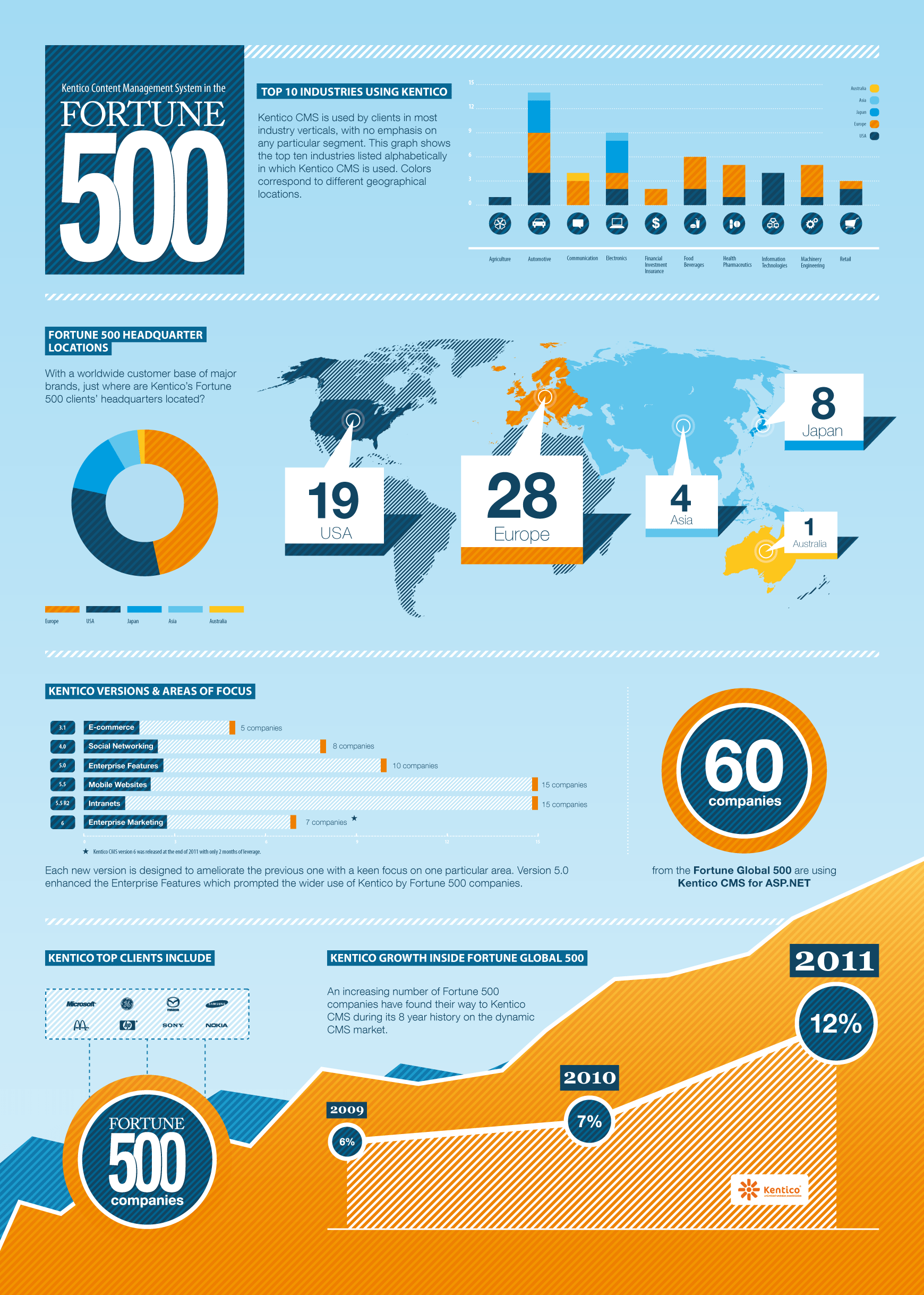 Source
The average tourist can quickly and, with fun, go through the city using an infographics-designed map, or take researching student who could quickly grasp the use of colors for advertising.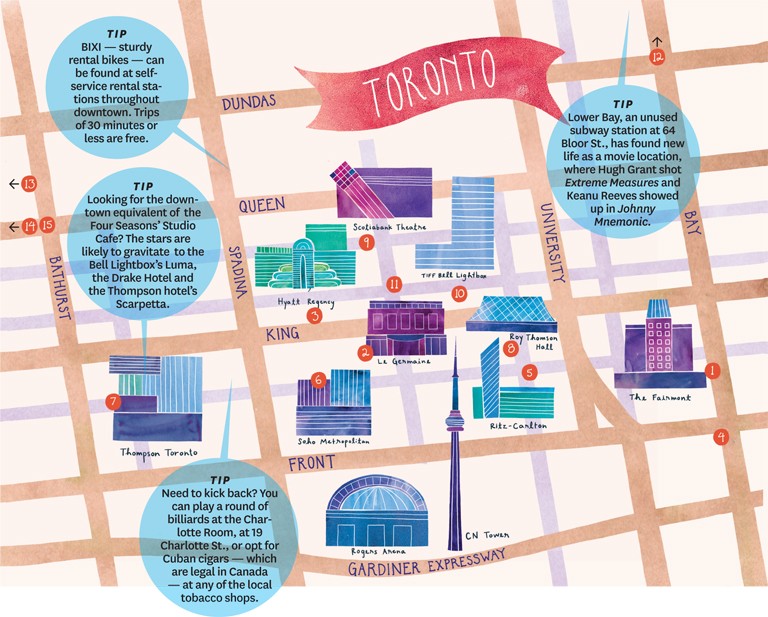 What makes infographics eye-gasmic is that they use design elements like colorful charts, dandy diagrams, flamboyant flowcharts and intelligent icons. This makes it easy for the readers to process the data because their eyes are fed with the simplicity of the design. Infographics turn away from text-heaviness and eye-sore font spacing and gives the eyes a lot of creative breathing room.
Finding the info
The first thing you take note when making an infographic is the info. That is elementary knowledge. Information, which comes before the graphics, should be correct, interesting and relevant. The graphics would totally fall and suck if you're data is as intelligent as Patrick Star.
So how do we find intelligent data? Consult Einstein or Stephen Hawking? That would be a very good idea. But since most of us are 'busy' enough to even stand up and remove ourselves in front of our own computer tables, we might as well make the most out of what we have. We could browse blogs that provide us with relevant data, tweets, books, or we could just Google things out!
But if you are really frustrated and has enough bucks to hire a freelance researcher, might as well do it.
The best way to gather data for your infographic details is through search engines. There are a lot of search engines to choose from and Google is probably the best and most picked choice. Of course, after typing in your search query, you will be bombarded with thousands, even millions of results. Now you need to sift those information out so that your research will stand.
As a rule of thumb, Wikipedia is not really suggested as a main source (Sorry, Wikipedia fans). As much as possible, use .org, or .edu domain names. Try to consider the status of the website. If you are looking for web-design related topics, you wouldn't choose a website which has few followers, right?
Next is you need to filter what you need. You need to choose the relevant, interesting and precise data for this. The reason is very elementary. No one will read you infographics if they are boring and wrong.
Try looking on these:
The Skeleton
Okay, this part isn't anatomy; you're still at 1stwebdesigner. The skeleton is just a step in making an eye-gasmic infographic. This is the part where you need to arrange the data you have collected into an organized story or flow. Each datum must point to another and so. The rule of thumb in infographic-making, there should only be six main points or parts as a maximum. You should determine these six parts. You need to list six of the best and most interesting facts you have. The trick here is, if a data bores you, it will bore everyone. If it entertains you, it will still bore everyone, so you might as well look for a better one. This will ensure sustained interest and readership and would not result into brain explosions due to information overload.
Source
Once arranged, the data must be represented in a visual format. It is very advantageous to make an outline and think of the needed graphics for your work. You also need to process data and make them graphs, flowcharts and comparisons. Remember that a good organization is as good as the design itself. If your data is as peaceful as Syria, try again. Make them as easy as possible to understand.
Source
I listed a few of the well-arranged infographics data-wise:
The Value of Being LinkedIn


Profile of a Twitter User
The Descent to Credit Card Debt
Art-attack time!
After arranging your data, you could now proceed to the design. Most infographics have a portrait orientation. According to QuickSprout, vertical infographics are posted 28.9% more frequently than horizontal ones and are 41.7% to be more likely borrowed by other websites. This might just make sense that vertical infographics are more advantageous to post.
Source
Remember to use complementary colors. This color combination tends to attract most readers as the graphics is presented in a more readable and understandable manner. You should also use large fonts to be able to convey the message even if zoomed out.
It is also advisable to use creative icons, 3d and flat. All of the posts that I have uploaded to this site will matter. Typography, colors and flat design!
Here are a few inspirations to start with:
100 Million Professionals

The Future Farm
Pikes Peak Course
Ancient Hebrew Cosmology
The Kulula Airlines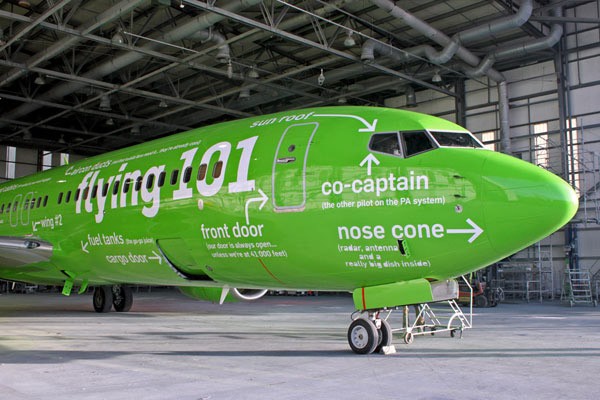 Titillating Title
Think of a titillating title! Attracting attention through titles is as good as attracting readers to read the whole work. Good titles would commonly tantamount to good articles. No one wants to read a boring article with a boring title.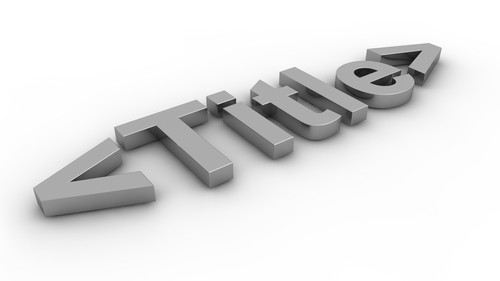 In this step, you should consider the relevance of the title to the theme of the graphic. Think of puns, assonances, allusions to your title. Be creative as possible. Try to be funny and intelligent all at the same time. Common titles include "How to", "Where to" and "Top 10s" as they tend to hit most search engines.
Tips
Catch the fish. Be an attention seeker. You must immediately grab someone's attention by just your title.
Be relevant. No matter how unorthodox your title might be, try to stay in line, try to connect the title with the infographics.
Be short and quick. The shorter your title gets, the powerful it becomes.
Deviate from these tips. Try to be different once in a while.
Here a few inspirations:
Serif vs Sans: the final battle

What The Flux? How The Flux Capacitor Works
How Big Is Your Byte?
A Day in the Life of a CEO
Conclusion
Just like many writing disciplines, doing Infographics involve a great deal of attention to detail. Every bit of information is considered to be vital to the both the design and the content. A disharmony between the two will cause poor facilitation of data and, hence, confusion.
In doing this kind of artform, one must consider every aspect of the design. The infographic artist should consider not only what is seen, but also what is learned. He should be aware of his role to sort out and distribute information.
He should know where to place what and when to place it. He should be well versed with research, writing and graphic designing, for these three, after all, are what makes an infographic.
This post may contain affiliate links. See our disclosure about affiliate links here.