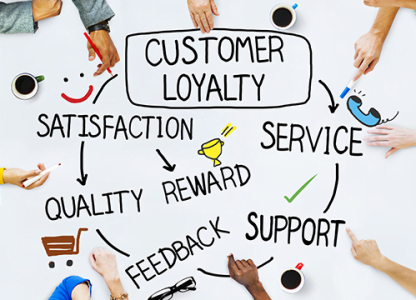 Food is a major part of our lives, especially in a country like India where everyone likes to eat and feed others wholeheartedly. In the last few years, Swiggy has been increasingly capturing the market of the restaurant industry. They have retained some of the largest customer bases in India thereby retaining the loyalty of millions of customers.
This has been achieved by several innovative methods to capture more customers and retain their loyalty. The restaurant industry has become a highly competitive one with several different food delivery companies at loggerheads with each other. To retain their leadership in the market, food aggregators need to be more and more dynamic with regard to their relationship with their customers.
Also Read: Marketing Hacks For Customer Attraction On Swiggy
Ways to Retain Customer Loyalty through Swiggy
There are several ways in which Swiggy has managed to gain a strong customer foundation. One of the best aspects of Swiggy is its continually changing system of operation which comes to the rescue at one of the most dynamic periods in history. A step-by-step guide to how Swiggy has managed to attain ground-breaking results include:
Memberships:
First, Swiggy introduced the scheme 'Swiggy Pop' which required no membership and was open to all. The aim was to provide a budget, single meals under Rs. 100 each. They made the impossible, possible in India leading to major breakthroughs in the market. Next, they introduced 'Swiggy Super.' Members of this scheme earn rewards for being loyal customers which include free delivery on orders above Rs. 99, zero surge fee, and free goodies for members called 'Super Delights.' They have a one-month plan of Rs. 49 and a three-month plan of Rs 129.
Also Read: Operational Cost Cutting By Being On Swiggy
Delivery:
Customers are constantly on the lookout for being able to pay the least amount of money for delivery while availing their orders at the said time. Punctuality is key with respect to delivery services, especially food. Along with this, it is also important that your delivery agent be friendly, courteous, and good with navigation. They end up becoming the face of the company and if they put up a positive and friendly front, the loyalty of the customer can be obtained automatically. Swiggy is widely known for its punctuality when it comes to food delivery, along with excellent delivery agents.
Also Read: How To Increase Restaurant Visibility On Swiggy?
Discounts:
The Indian audience is perpetually hungry for discounts, and that is a fact. We love to avail discounts however we can. Most people often visit the same store for a variety of discounts that are offered and Swiggy has managed to crack that code. Beginning with Swiggy Pop that provides a huge discount on meals, they also constantly tie-up with restaurants to provide their customers with endless discounts. There is no dearth of options when it comes to the number of discounts that are available.
Marketing:
Swiggy takes pride in being a social listener. They keep tabs on the market and their dynamic customers which impact their marketing strategies as well. Their advertisements are eye-catchers. At the same time, they have their own merchandise that they provide to their delivery agents such as t-shirts, raincoats, and caps. They serve as brilliant marketing methods! There is a certain pride that beams through by these delivery agents sporting the merchandise and it is this that keeps the customer wanting more.
Also Read: How To Successfully Sell On Swiggy?
Customer Service
Lastly, an active customer service department is the ultimate method in ensuring you can retain your customer's loyalty. Swiggy's approachable and readily available customer service has brought them a long way. If you have any queries or complaints, they are always happy to help.
Conclusion
Swiggy was nothing more than a community food vendor in Bengaluru about five years ago with about twenty-five restaurants on their radar. Today, it has a national customer base with a network of forty thousand restaurants and more than seven million people who have already subscribed.
Apply for E-commerce Loan In India
The advantage that Swiggy brings to newly started restaurants is that they bring them on the social map. It gives you a lot more accessible than you would have had otherwise with ample benefits. If you've ever taken a loan in the past, you might know how daunting and time-consuming the whole process can be. But with Indifi, you can apply for a business loan online in a quick and simple manner. Filling a single application, you can apply for a loan with multiple top lenders in the country. With no collateral and minimum documentation, you are sure to experience business loans in a new and improved way.