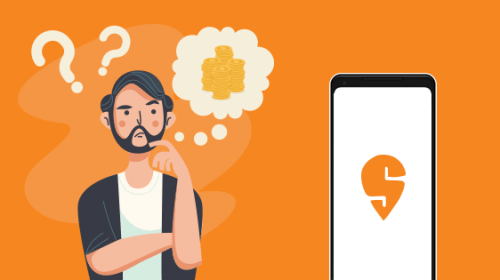 Swiggy is a gift to all foodies out there. What more could they have asked for than to get their favorite food from their favorite restaurant delivered at their location! We all have a busy schedule and in this fast-paced life, no one has the time to go to a restaurant, order the food, and wait for it to be served.
The group of three friends Shriharsha Majety, Nandan Reddy, and Rahul Jamini is well aware of their issues. This is the reason they came up with the Swiggy app. This a food delivery platform that allows you to order food from your favorite restaurant. Surprisingly enough, the food gets delivered to you within 30 minutes. Also, you will be able to track your order and find out how long it will take for the order to be delivered at your doorstep.
Apart from having formed a partnership with the restaurants, Swiggy has also accumulated its own delivery partners. These are picking up the orders from the restaurants and then delivering it to the customer within time.
Swiggy functions on a dual partnership model. Thus, it can also be beneficial for restaurants who will gain more customer orders through this app.
Also Read: How Excellent Reviews On Swiggy Can Lead To Increased Business?
Value Propositions
Swiggy's value proposition is the no restriction order plans and easy online payment system. The best thing about the app is, it doesn't have minimum order value for delivery which is often seen with the other apps. This is the reason it receives 14 million orders every month.
With this app, you can enjoy 8 different payment methods. This allows you to place your order conveniently. These are
Card
Debit and Credit Cards:
The app's net banking facility will allow you to use credit and debit cards. Moreover, you will also be able to enjoy the offers provided to you by the bank by making a transaction on Swiggy.
Sodexo and Other Meal Cards:
If you have meal cards, you can use it on your food orders.
Also Read: How To Benefit From Sales Promotion On Swiggy?
Digital Wallets
PhonePe:
This is the simplest digital wallet option to make your payment
Paytm:
By making a payment through this, you will be able to enjoy great offers on your delivery.
Mobikwik:
You now have the option to collect supercash by making a payment through this using the Mobikwik offers.
Freecharge:
This online payment method allows you to make your payment efficiently.
Also Read: Best Ways To Negotiate Terms With Swiggy
Others
LazyPay: This allows you to pay later for your meals. It is for your lazy payment mood.
Cash on Delivery: Well, if you are not too confident about making online transactions, don't fret. You can simply place the order and opt to pay on the delivery of your order.
Revenue Stream
The most critical question is how does Swiggy make payments? For this, you will have to analyze the revenue model. With the expanding business strategy, the revenue streams of Swiggy are increasing at a consistent speed.
At present, there are 6 different revenue streams. Let's take a look at them.
Also Read: Swiggy Dashboard – For Better Data Organization
Types Of Different Revenue Streams
Delivery Charges:
This is the first revenue stream that is secured from the customers. It collects a normal delivery fee of 20-40 INR for orders below 250. It increases the charges during unusual weather and high order demand.
Commission
Another part of the revenue is obtained from the commissions. The restaurants give a commission for generating sales leads and delivering their items through Swiggy. Restaurants pay a 15%-25% commission on every order that is placed through the app.
Also Read: Scaling Up The Outreach Through Swiggy
Advertising
It also earns revenue through this. Firstly through banner promotions. It displays ads of different restaurants on its app and they have to pay a price for displaying it. It also charges restaurants a premium rate for putting them on the priority list.
Swiggy Access
This is a completely new idea. The cloud kitchen concept offers ready to use kitchen spaces to the restaurant's partners in the regions they don't operate. They expect about 25% of revenue in two years. The cloud kitchen has expanded to over 30 restaurants.
Also Read: Powering Business Through Technology From Swiggy
Swiggy Super
Its membership program is known as Swiggy Super. This provided unlimited free delivery to the customers for 3 months on all orders. If customers have this, they do not have to pay any surge pricing in the time of excessive demand.
Affiliate Income
It has a partnership with some of the popular financial institutions. The food delivery system earns revenue by selling their credit cards to the customers.
Swiggy has turned out to be the leading food order and delivery company. As a matter of fact, it has changed the whole scenario of how India eats. This innovative business model has made it easier for all foodies out there to get the food they want to sit at home. It has helped out foodies just as Indifi has helped businesses with financial solutions. With live order tracking, easy payment methods, and fast delivery, Swiggy has captured a significant part of the food-tech market of India.
Also Read: Marketing Hacks For Customer Attraction On Swiggy