Are you on the lookout for the best makeup photo editor to enhance your selfies but have no idea which program to choose? This list has been created to considerably streamline your decision-making process.
Here you can find software for makeup retouching, compatible with both computers and smartphones. Also, learn the major pros and cons of each program and the capabilities they offer.
Facetune2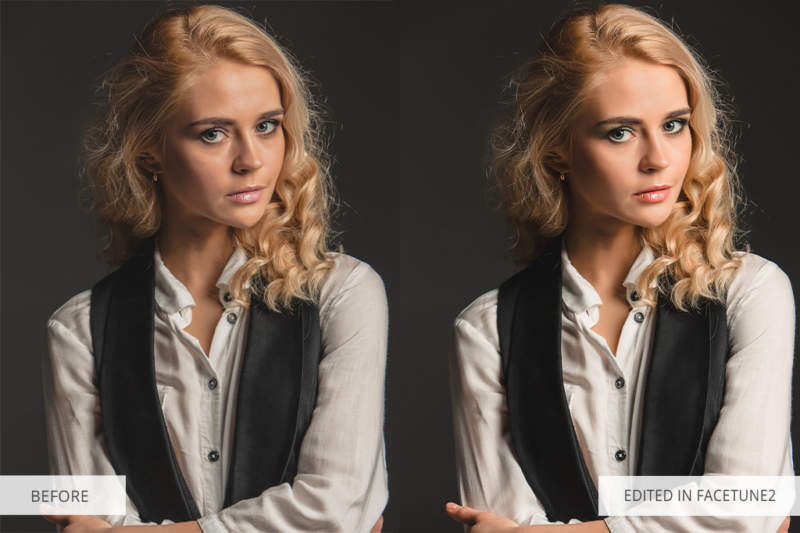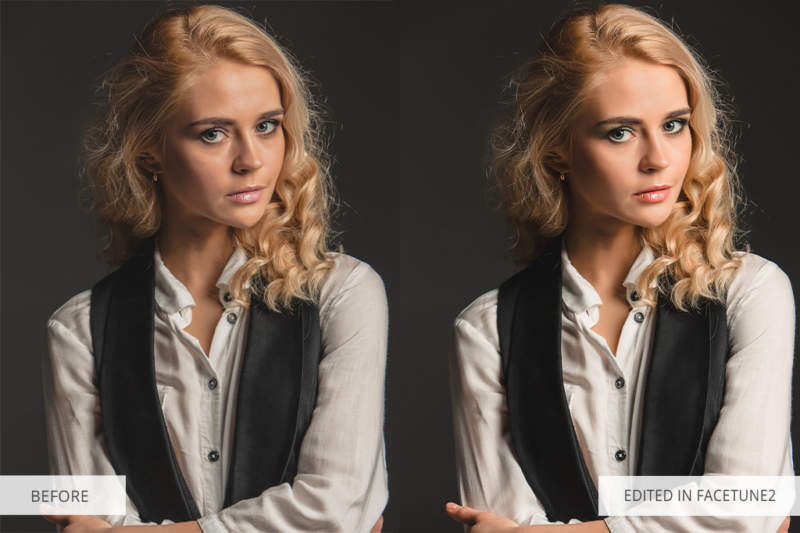 Platform: Android/iOS
Pros:
Straightforward interface
Numerous built-in selfie editing tools
Regular updates
Cons:
Limited integration with social media platforms
Facetune2 is an excellent makeup photo editor with first-class photo retouching and editing tools, skin beautifier, instruments for enhancing smile and eyes, ability to remove a red-eye effect and improve makeup, hair salon feature, face-reshaping tools, these are just some perks the program offers.
Facetune2 is a feature-rich program that offers extraordinary makeup tools, beautification filters, and image correction functions. The majority of features included in the program are free, but Facetune2 isn't inferior to some paid contenders in terms of capabilities.
If you want to explore its entire potential, you can avail of its paid version. It fully justifies each dollar spent on it.
2. Photo Wonder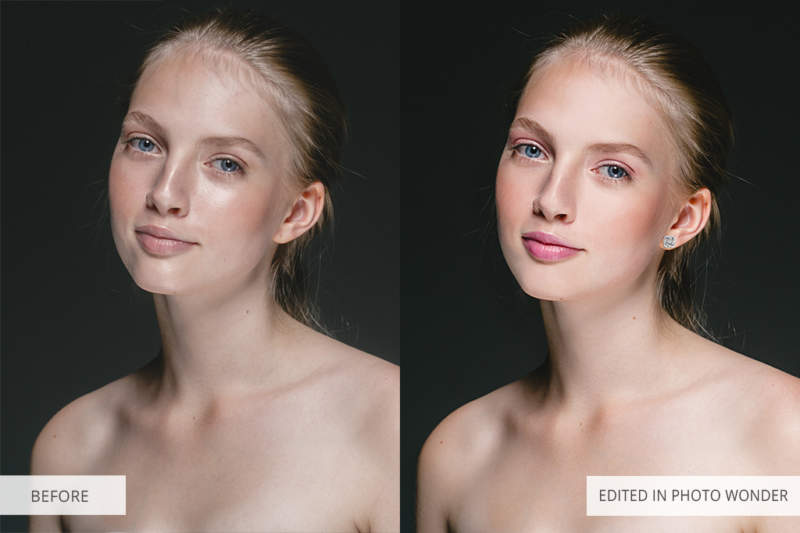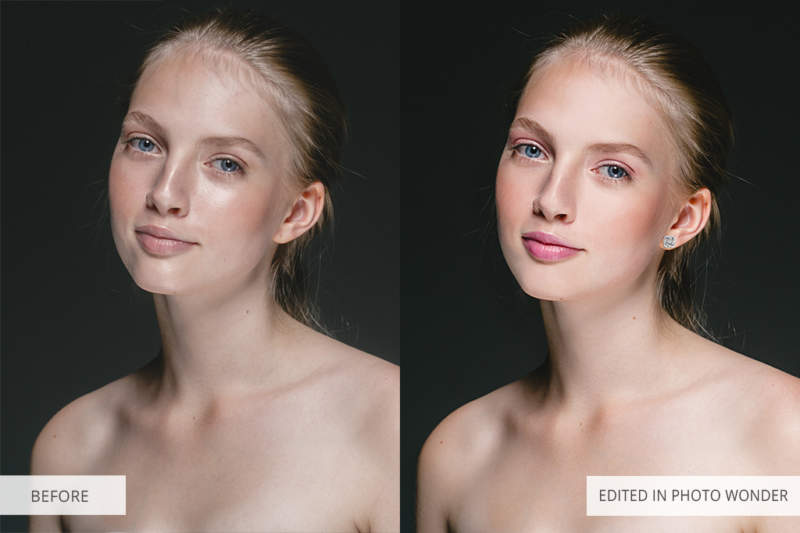 Platform: Android/iOS
Pros:
Intuitive user interface
Selfie camera with filters
A wide selection of tools
You can add accessories
Cons:
Sometimes freezes when saving the results
Although you can't use Photo Wonder as a photo makeup editor online, it is possible to download it on iOS and Android. Being free of charge, it offers a rich array of features for image enhancement.
With this app you can explore all the boundaries of your creativity. Apart from the basic photo editing features, this product includes several advanced tools you can find only in paid software.
One of the most distinctive features of Photo Wonder is the Beautify options, which allow you to remove imperfections, enlarge eyes, or whiten teeth. It is also possible to use the Slimming feature or eyeliners and blushers to enhance the beauty of your models.
No less useful option is the Decoration function that helps spice up your images with different accessories (hats, jewelry, ties), pranks (whiskers and funny eyebrows), captions, and stickers. If you want to add your special touch to the photos, you can make the best use out of a Brush tool.
3. Perfect365
Platform: Android/iOS
Pros:
Effective image editing
Comes with presets and makeup tools
Offers video tutorials and makeup tips
Cons:
Some adjustments look unnatural
Female users will definitely like Perfect365 for the ability to apply makeup in several taps. The program offers 20 tools, presets and looks for enhancing makeup and beautifying a photo.
It boasts a rich color palette, so you can experiment with a variety of color combinations. With Perfect365, you can also improve the model's lips, skin, and hair. It provides useful makeup tips and video tutorials for you to get inspired and try new looks in your pictures.
Due to the facial recognition feature, you can enjoy accurate and natural-looking makeup. The basic functionality of Perfect365 is available for free. However, you can take full advantage of the app by purchasing the full version for $1.99 per month.
4. YouCam Makeup
Platform: Android/iOS
Pros:
Intuitive interface
Plenty of automated settings
Natural-looking effects
Cons:
YouCam Makeup is a free makeup photo editor that boasts a slew of tools for virtual makeovers. With this program, you can improve skin tones, use facial feature modification, and apply makeup to eyes, lips, teeth, and face.
This is a perfect tool to eliminate imperfections and give your face more attractive, slimming contours. There is no need to apply makeup before taking a selfie since you can experiment with different tools and apply different makeup items to your face.
You can also add an extra vibe to your image with amazing hair makeovers, which include changing the hair color, haircut, and style. It is even possible to try on various brow styles to quickly find the most winning eyebrow shapes for your face.
5. Portrait Pro
Platform: Win/Mac
Pros:
Offers a free trial period
Top-grade looks
First-class face makeup editor
Cons:
Some presets have an unrealistic look
Image editing features are limited
Portrait Pro is an easy but yet powerful portrait retouching tool. The program allows you to automatically retouch the skin texture, correct facial features, and apply makeup. You can change the color, size and shape of eyes, hair and more.
Portrait Pro comes with the modeling light tool to professionally highlight the face of the subject. The program includes a complete set of digital makeup tools that allow you to create stylish and catchy looks in a wide variety of styles.
With built-in instruments, you can enhance your eyes using false eyelashes, eyeliner, eye shadow, and mascara. It is also possible to improve the face contour with highlighter and bronzer. Blush and lipsticks of different colors don't distort the natural texture.
6. Photoshop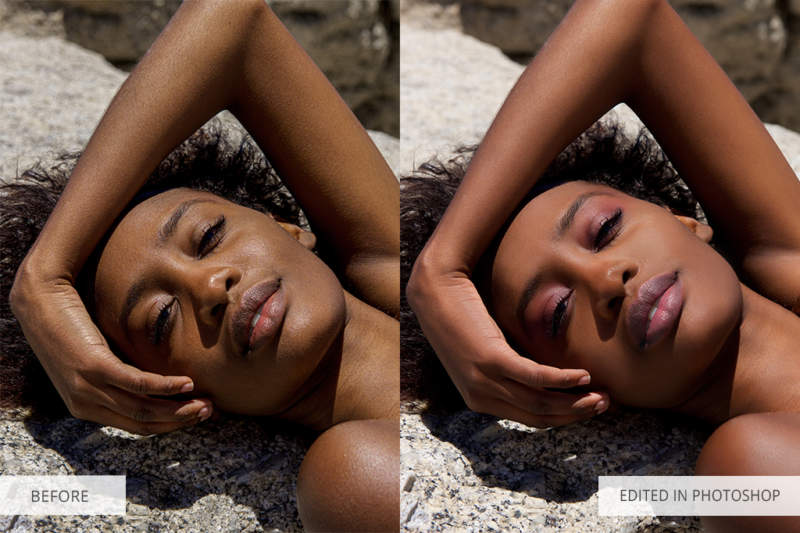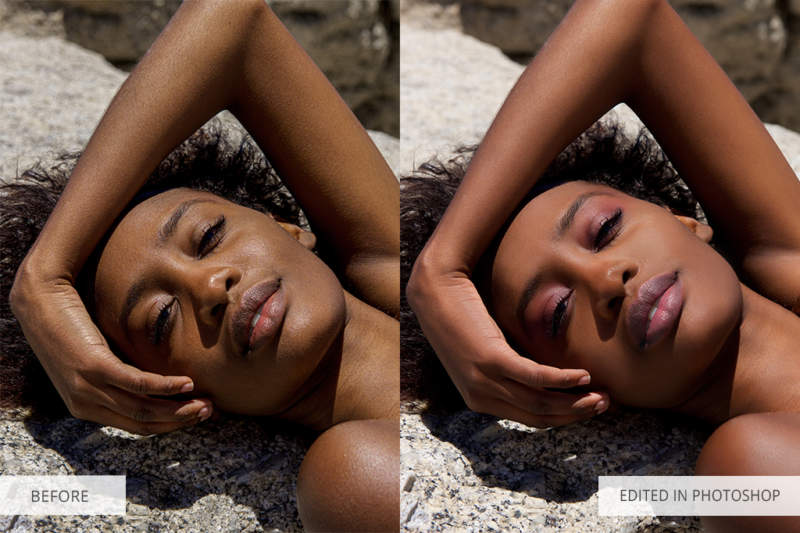 Platform: Win/Mac/Android
Pros:
Professional photo editing software used all over the globe
Includes a rich array of image editing tools
Advanced makeup effects with accurate tools
Cons:
High-priced premium subscription
Steep learning curve
Lacks face makeup editing tools
Photoshop is the most powerful software for enhancing photographs. You can also use it as a makeup photo editor to perform a full range of manipulations with a face. Apart from removing visible blemishes, smoothing color, correcting the shape of the face, nose or teeth, you can professionally apply makeup.
The process of changing the color of the lips and applying shadows or blush to the cheeks is straightforward. Even a beginner can do it using comprehensive makeup retouching tips. If you want to perform advanced picture editing or work on different parts of the body, you need to practice and learn all the Photoshop tools.
To streamline the process of enhancing eyelashes and drawing eyebrows, you can make the most out of Photoshop Brushes. Just import them to the software and use as regular paint brushes to achieve the desired effect.
7. Movavi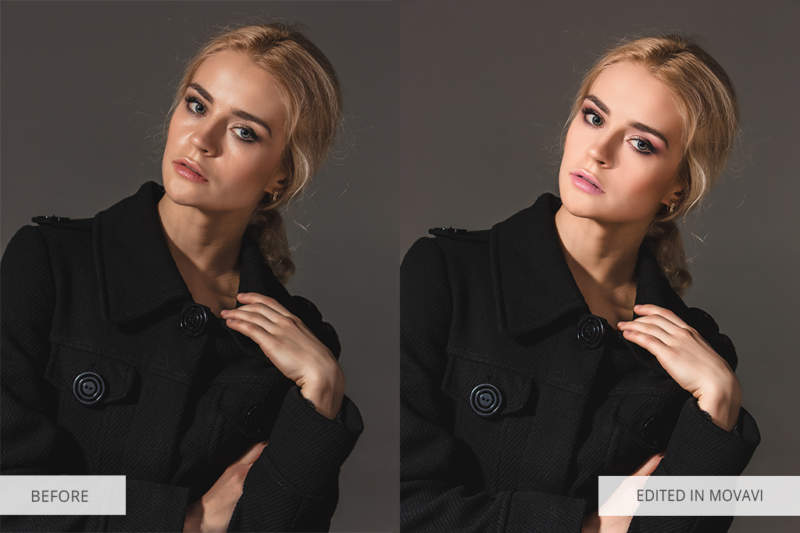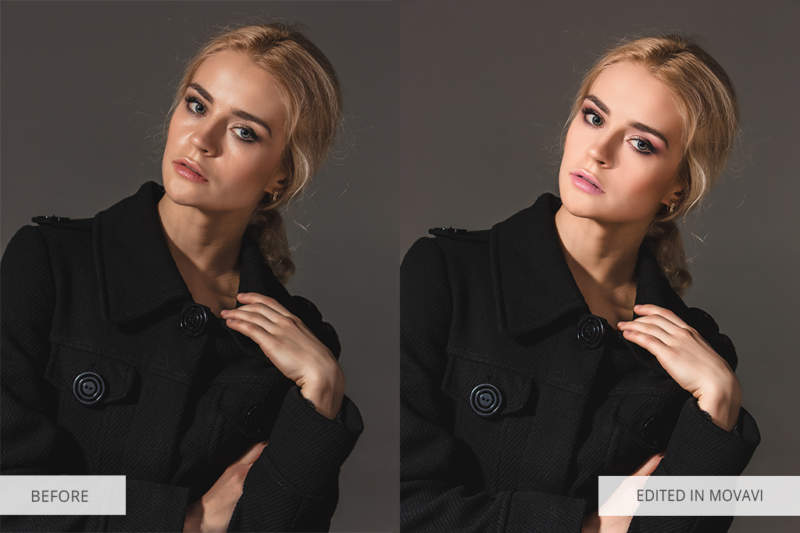 Platform: Win/Mac
Pros:
Drag-Drop functionality for precise image editing
A wide range of tools
Pre-installed overlays
Cons:
Doesn't save photos when using a free trial
Paid software
Steep learning curve
With Movavi makeup photo editor you can effectively remove pimples and blackheads, smooth the skin and enhance tones as well as remove oily glare from the face. All the imperfections will disappear in several brush strokes. After that, you can apply the foundation to make the skin look naturally soft.
Movavi offers all the necessary tools to highlight the eyes. The digital eyeshadow palette with soft airbrushes allows you to experiment with colors and apply natural-looking makeup. The well-elaborated mascara brush enhances only the lashes without leaving stamps on your brow bone and under the eyes.
Put on any shade of lipstick to play around with different looks and styles. With the help of a smart color picker, you can create a unique shade for your lips. It is also possible to adjust the color intensity to get a suitable look.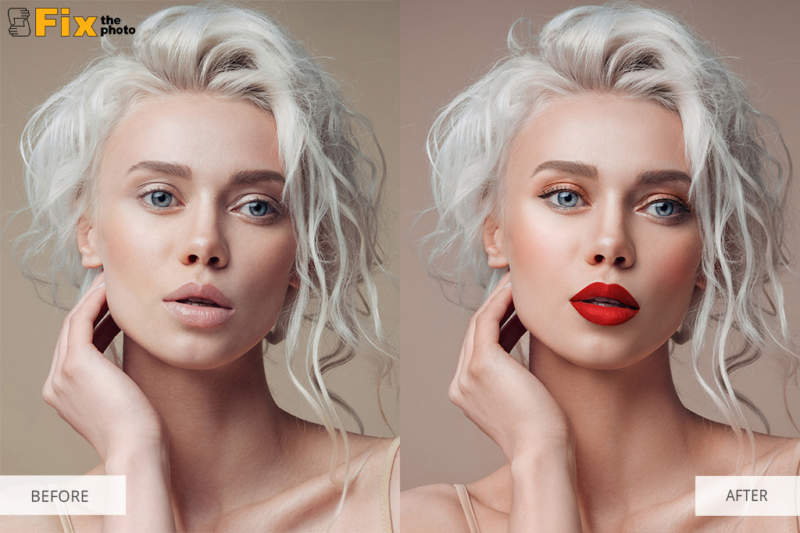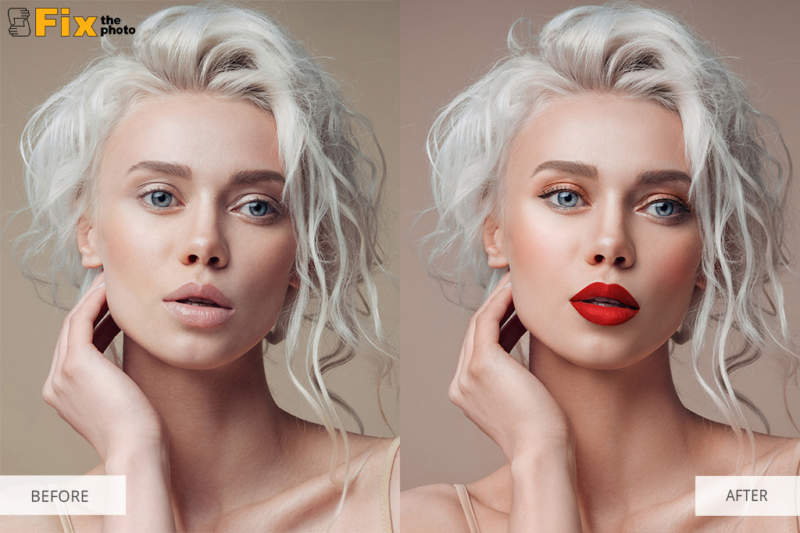 If, for some reason, you aren't satisfied with the above-listed software or you don't have enough image editing skills to meet your artistic vision, we recommend you to approach the glamour high end retouching service.
Here, for just $5 per photo, the professionals will improve the face tones, remove visible blemishes, enhance the contours of the eyebrows and upgrade the existing makeup, or apply it to clean skin.