Planning to host a webinar?
Not surprising. Webinars are a great tool for marketing, training, internal communication, and networking. If you use the right tools and plan your webinars well, you can use webinars to promote your business with a limited marketing budget.
Additionally, the multi-dimensional experience and two-way communication of webinars makes them engaging and resultful.
Not convinced?
ON24 surveyed 2,000 organizations and found that 23% of respondents hosted 50-150 webinars in 2019. Moreover, 55% of them planned to step up their webinar games in 2020.
But, planning and hosting webinars is just half the task done. You need to draw a good number of attendees to make your webinars a success. You could wait for target audiences to discover your webinars organically. But there is no guarantee of a good attendee turnout with this approach.
The solution?
You can reach out to potential attendees using clever tactics and ensure that your webinars garner the attention that they deserve.
If this proactive approach sounds good to you, read this post carefully. I'll explain eight smart ways to attract attendees to your webinar.
Let's get started.
8 Super-Effective Ways to Improve Webinar Attendeeship
All your effort to ideate and execute great webinars can fall flat if no one turns up to attend them. If that happens, your webinars' business objectives will not be fulfilled and your marketing spend will not be justified.
That's why you need sure-shot methods to get people to register for your webinars. Here are eight great webinar marketing strategies.
1. Optimized Landing Page
Even before you start your webinar promotion, you need to create an optimized landing page for webinar registration. This is the page where people land when they click any of your webinar promotion links.
Your landing page helps convey vital information about your webinars to registrants, including the date and time, topic, and speakers. It explains the key questions that will be covered in the webinar so that people can decide if they want to attend or not.
From the brand's point of view, landing pages are invaluable. They contain a form to capture details of registrants, which helps brands build their leads database.
Anything else?
To make your landing pages more compelling, you can include short teaser videos about the webinar or customer testimonials from past webinars.

Your landing page should be linked to a thank you page that thanks people for registering for your webinar. You can also pitch your next webinar or other content offerings on this page. Some thank you pages allow people to submit any questions they might have about the upcoming webinar.
2. Hello Bars in Your Website
Your website is one of the best places to get sign-ups for your webinar.
But how?
You can embed plugins called "hello bars" on your branded website to convert your website visitors into attendees. As soon as a person lands on your website, a full-width pop-up appears and sits atop the page. You can add to it a line or two about your webinar and a strong call-to-action (CTA).
When visitors click on the CTA, they are redirected to your webinar landing page from where they can register.
Hello Bars are a great tool for drawing the attention of visitors. Using animated buttons and strong typography can enhance their impact.
Need a pro tip?
Quizzes in hello bars are irresistible. Instead of straightaway pitching your webinar in a hello bar, lead people to the webinar registration page by getting them to answer objective-type questions.

The answer options should be available as buttons, which should lead to the next hello bar, eventually leading to the webinar landing page. LeadQuizzes used this tactic to improve their website capture rates by 37.96%.
3. Exit-Intent Pop-Ups
Another way to multiply your webinar sign-ups from your website is by using exit intent popup. As the name suggests, these pop-ups appear when a visitor clicks to exit your website without converting.
When a visitor hovers outside your page or near the "X" button, you can program an exit-intent pop-up to flash an enticing offer about your webinar. There's a good chance that the person will pause and read the offer. They might even hit the register button if the pop-up copy is catchy.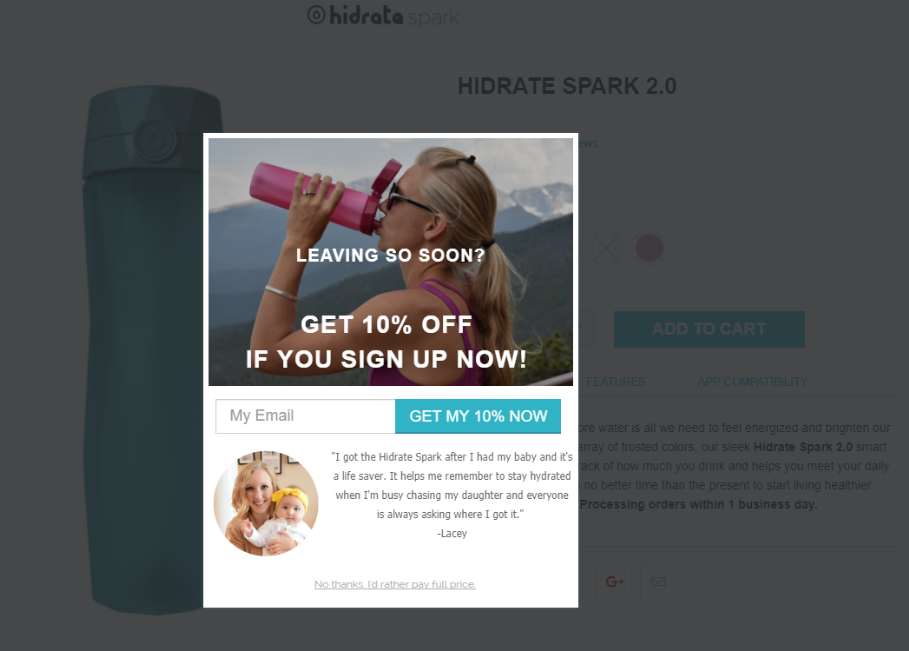 4. Teaser Videos
To create buzz about your webinar, start sharing short teaser videos on your website and social pages. Add these videos in your email newsletters as well. Make the videos shareable so that the word spreads faster.
If possible, get all of your webinar speakers to contribute to the teaser videos. Keep the videos really concise so that they don't get fragmented when you post them on social Stories.
Animated trailer videos are also very popular. Whatever format you choose, make sure that you add a registration link at the end of the video.
5. Webinar Simulation
Typically, webinars are live events. But simulated webinars can be watched on-demand. You record the content first and broadcast it later.
To improve your webinar attendee count, you should take advantage of simulated webinars. 38% of people prefer on-demand webinar viewing, according to the ON24 report cited earlier.
However, only sophisticated webinar-hosting platforms like FLOW allow you to simulate webinars. These platforms let you upload pre-recorded content blocks, along with all interactivities and screen controls. At screening time, you simply run the webinar and start interacting with attendees.
6. Paid Searches
If you have the budget, invest in advertising your webinar on search engines like Google and Bing. Paid campaigns have more targeted reach and better results as compared to organic campaigns.
Paid searches show your webinar ads in the search results pages (SERP) when a searcher types contextually-relevant queries.
For instance, if your webinar is about digital marketing hacks, your ad can show up if someone types queries like "how to ace digital marketing" or "digital marketing tips."
Often, people compare paid search and paid social when it comes to webinar promotions. I'll say it all boils down to costs and webinar objectives.
Paid search ads are costlier but have a more direct impact on conversions. If your domain authority is less than perfect, social media ads are a better bet since you can catch attention better in social feeds than on Google.
Want another pro tip?
To make your Google ads even more targeted, draw on historical registration data.
Analyze registration records from past webinars to find high-potential targets. By source attribution, you can understand which channels brought in maximum sign-ups. Then, you can use these insights to target your ads more precisely and optimize your returns.
7. Social Media Ads
Paid ads on social media platforms are excellent for attracting attendees to your webinars. These ads are more interruptive than paid search ads. However, they give you a broader reach as they are shareable.
Among social ads, Facebook Lead Ads can get maximum exposure for your webinars. They allow people to sign up for your webinar in-app thus, making the registration process seamless. Plus, Facebook's huge user base and unbeatable targeting can give your webinars enhanced visibility.
Paid ads on social media platforms are excellent for attracting attendees to your webinars.
Don't believe me?
Wishpond advertised their webinar on Facebook and derived a 458% return on investment.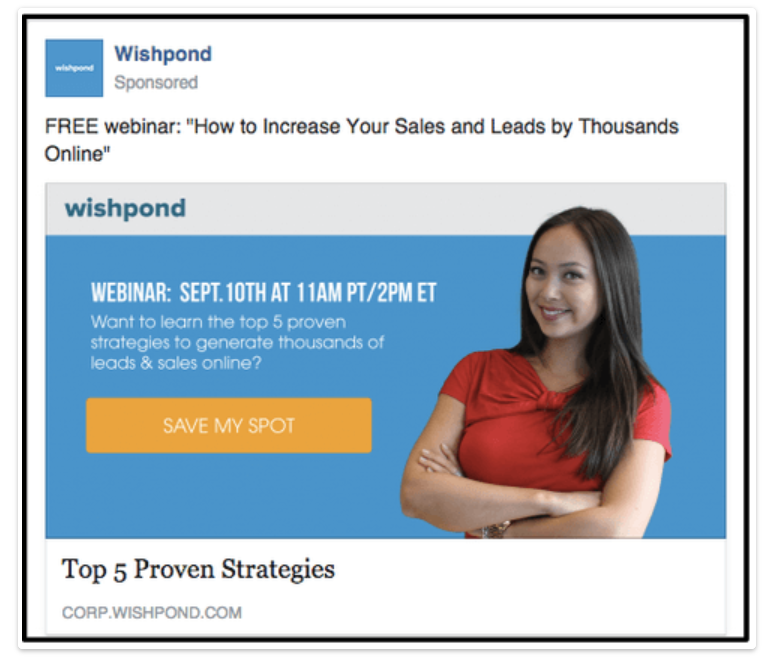 For crafting their Facebook ad campaign, the brand followed a four-step formula:
Compose brilliant ad copy with relevant trigger words like "free", "discount", and "reserve".
Follow advertising best practices to decide on colors, typography, and CTA placement.
Leverage Facebook's advanced targeting to reach people with a potential to convert.
Test ad variants to drill down into an ad that is producing good sign-up volumes.
8. Emails
Last but arguably the most important webinar promotional tactic is email marketing.
You need to schedule email workflows for before, during, and after your webinar. 1-2 weeks in advance, start sending out emails inviting your contacts to the webinar. Additionally, add a registration link in your email signature for reaching out to people outside your subscriber list.
Your email subject lines should create urgency with words like limited offers, grab a seat, and so on. Follow email deliverability best practices to send your emails at optimal times.
Follow up initial emails with regular messages reminding people about the upcoming webinar. Since webinars can be recorded and watched later, the registration process continues after the event as well. This means you need to keep sending emails after the event for a few weeks till the leads dry up.
Bonus: You can use audio to text converter that transcribes the audio of webinar that you record. When it comes to saving money and being more efficient, there's probably nothing better than being able to save time and avoid doing the same task over again. Amberscript makes audio accessible. You can convert audio to text, either automatically and fine-tuned by you, or by our professional subtitlers and language experts.
Are You Ready to Promote Your Webinars?
To get a decent turnout in your webinars, start promoting them weeks in advance. Try a combination of the tactics I've suggested above to formulate a feasible marketing plan. Don't overwhelm yourself by trying too many new strategies at one go.
Do you have any questions about webinars or promotions in general? Leave your questions in the comments below. I'm always happy to help.
---
School vector created by pch.vector – www.freepik.com