Online software solutions automate intricate furniture rental operations and assist in resolving numerous problems like complex inventory management, asset tracking, product maintenance, and unconventional pricing models.
These solutions are required by various types of entrepreneurs and business owners looking forward to releasing a furniture rental eCommerce store or marketplace.
Correspondingly, the number of rental businesses in the furniture industry is also rising because of decreasing consumer preference for ownership, low maintenance cost in the rental economy, and the frequently changing designs and trends. The working population frequently changing cities also demands flexible furnishing options that the product ownership model can't always fulfill at a reasonable cost. Thus, in the end, convenient furniture renting remains the most favorable option.
Top Players in Online Furniture Rental Industry
The furniture rental industry is saturated with several incumbents. However, only a few of them have earned a name for conducting business operations via online channels. The incumbents leading the online furniture rental industry are listed in the graphic below: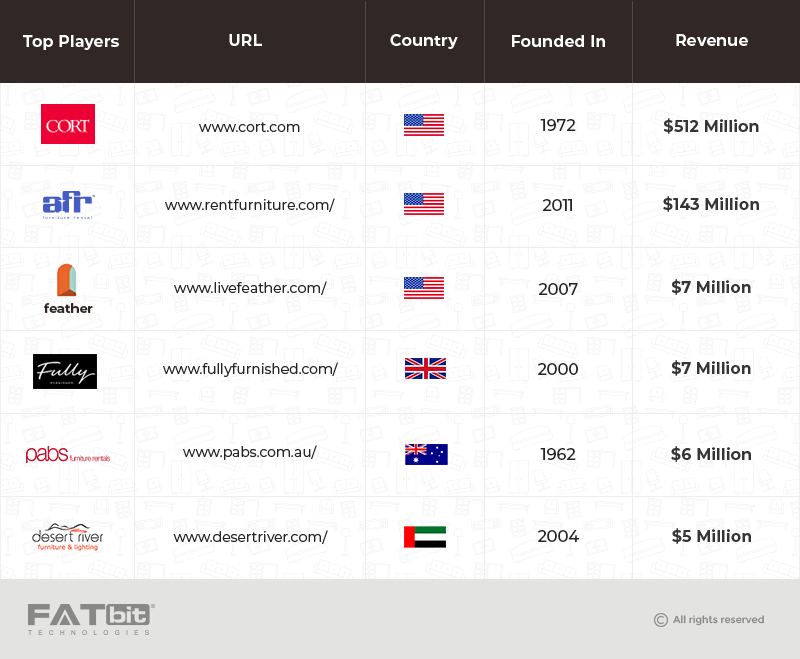 Software Solutions to Launch a Functional Furniture Rental Marketplace
Entrepreneurs interested in entering the online furniture rental industry require a website, so do the existing furniture rental businesses for undergoing digital transformation. We have curated a list of the top 5 rental solutions with which one can develop a captivating furniture rental website. (View the attached table for basic comparison.)
1. Yo!Rent
Yo!Rent is a fully-customizable white-label rental eCommerce software. It's available in two variants – multi-vendor and single vendor to meet the unique requirements of rental businesses. The software is perfectly suited to build online furniture rental, dress rental, equipment rental, vehicle rental, party supply rental websites. Yo!Rent also offers multilingual and multi-currency functionality. The team behind Yo!Rent also offers 1-year of free technical support in case of any issues and problems with the software.
Features:
Enable Rent/Sell options
Real-time stock availability
Smart review management system
Affiliate management
Multiple revenue streams
Free Integration of 15 Payment Gateways
Ratings and reviews management
Multipurpose file attachments
Minimum rental duration settings
Compare products feature
Income calculator for vendors
Pros: Free instant demo, 1-year free technical support, unlimited listings
Cons: Readymade templates are not available
Suitable for: Startups, SMEs, Agencies, Enterprises
Website: https://www.yo-rent.com/furniture-rental-marketplace-platform.html
2. Sharetribe
Sharetribe is an online marketplace solution that's available in two packages viz. ShareTribe Go and ShareTribe Flex. The packages are perfectly tailored to meet the varied demands of a wide range of businesses. ShareTribe is also fully customizable and has a recurrent pricing model, which makes it suitable for business enthusiasts experimenting with digital touchpoints and sales channels.
Features:
Renting & selling
Pre-built templates
Catalog management
Order management
Multistore management
Category management
Global payment option
Supports multiple languages
Customizable transaction process
Pros: Affordable, free version available
Cons: Limited number of users and categories
Suitable for: Startups, Entrepreneurs, SMEs
Website: https://www.sharetribe.com/
3. Arcadier
Arcadier is an online marketplace solution to launch an eCommerce website. It is simple to use and comes with optimized themes and interface. Arcadier also has a plugins marketplace to tailor the design and functionality of your website. At the time of publishing this blog, all plugins in the marketplace are free of cost, which makes Arcadier quite affordable in terms of adding minor functionality and features.
Features:
Multilingual
Themes and templates available
Social login
SEO friendly
Review management
Catalog management
Category management
Add-on services
Calendar scheduling option
Pros: Easy to start, no coding required, user friendly
Cons: Limited customizations, costly to scale your website
Suitable for: Startups, Entrepreneurs, SMEs, Large Businesses
Website: https://www.arcadier.com/
4. ExlCart
ExlCart is a customizable online marketplace software that caters to the varied needs of B2B and B2C businesses. The software is tailored to build eCommerce, groceries, restaurants, and rental marketplaces. Using ExlCart, business owners can launch a fast and responsive furniture rental marketplace. ExlCart supports unlimited product listings and comes with several add-on options.
Features:
Support multiple languages, currency, payment options
Advanced filters
Returns management
Inventory management
Subscription management
Delivery management
Multi-store management
Country and city management
Advanced search filters
Customer and vendor verification
Pros: Free installation, ease of use
Cons: Limited customization, difficult onboarding process, only 3 to 6 months of technical support
Suitable for: Startups, SMEs, Agencies, Enterprises
Website: https://www.exlcart.com/
5. EZRentOut
EZRentOut is an equipment rental software that focuses on ease of use and customizability to improve the end-user experience. The platform specifically caters to industries such as construction and tools rental, party and event rental, IT rental, and sports rentals. EZRentOut offers advanced features for booking, invoicing, and inventory management. It is also one of the few marketplace software that comes with barcode and QR code scanner options.
Features:
Order management
Import/export information via excel files
Vendor management
Availability Based Ordering
Payment & order tracking
Consolidated invoicing
Built-in invoice designer
Late Fee Calculation
Pros: Ease to use, 15 days free trial, customizable, flexible pricing plans
Cons: Caters primarily to the equipment rental businesses
Suitable for: Startups, SMEs, Enterprises
Website: https://www.ezrentout.com/
Conclusion
The aforementioned online furniture rental solutions do share some common features and functionalities. To refine the list as per your preferences, you can take the customer support and pricing model into considerations. Reaching out to the respective sales teams of these solutions will provide you with complete information regarding these products. Demos and online reviews of the software are also reliable sources of information to help you finalize your decision.