Your email signature is more than just your name and job title.
This is part of your personal identity. Just a few tricks and your brand looks like you even in emails.
A good signature stimulates a recipient's response, provides contact information, and grabs attention in a positive and memorable way.
In this article, we will take a closer look at various email signature designs you can use in 2021.
Email signature for an influencer
Email remains the king of business communication. As an influencer, you and your assistants are probably sending emails to thousands of people throughout the week too. So your email signature should always be attached. Just sending out a message with your signature can increase the chances of recipients clicking on your social media links.
In the influencer email signature example below, Vanessa uses a nice headshot and visible social media buttons to motivate recipients to follow her on social networks.
The photo in her email signature looks professional. There is a natural background that doesn't distract the reader. In addition, the influencer looks friendly directly into the camera.
She uses a headshot instead of a full-length photo. Otherwise, her face would be too small to recognize her.
Blogger, content writer, copywriter email signature
If you are a blogger, you definitely know about the importance of email marketing templates. Those save you time and make all your emails look uniform and on-brand. But what about email signature templates for professionals?
The latter ones are just as important because they can perform several essential functions. For example, Kristina's signature has a distinctive clickable button that leads to her blog and writing samples and a link to her personal website.
Just look how nicely the button matches Kristina's hair color.
Use an email signature builder with a wide selection of templates. This will allow you to create and customize your email signature without the need for any coding skills or HTML knowledge.
You can quickly edit text, change colors, add social links, a company logo, and export a customized result with the builder.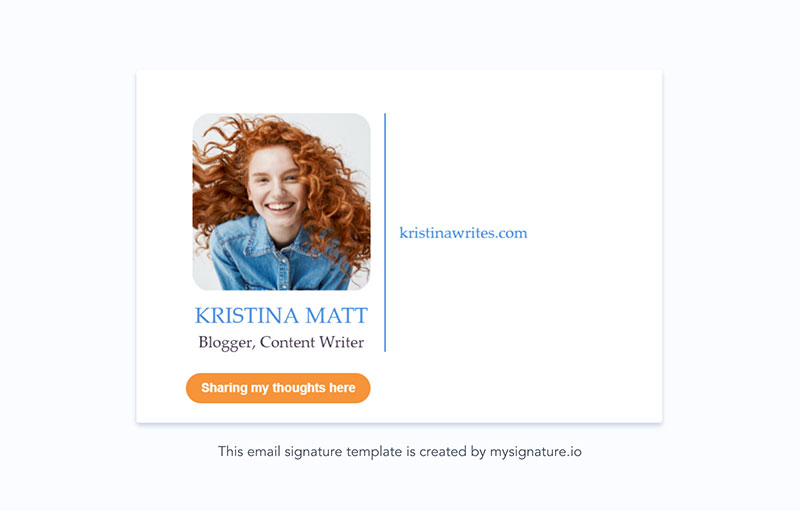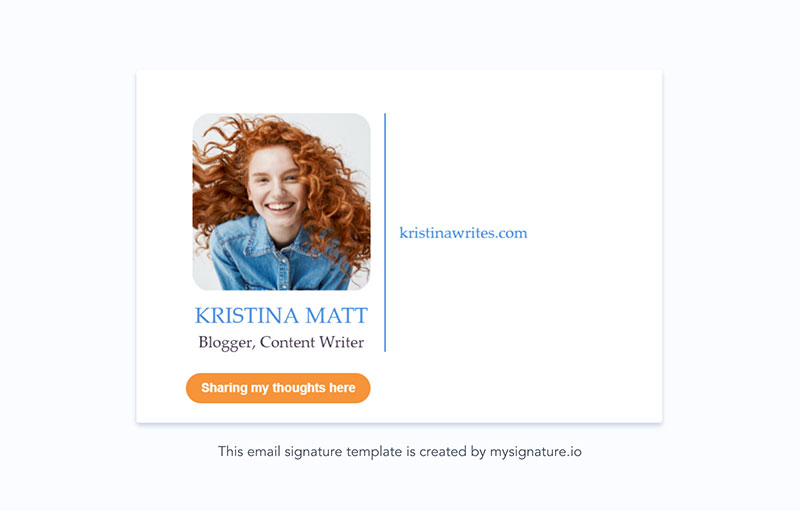 Email signature for a freelance translator
Freelancers can also benefit from using professional email footers.
If you look at Robert's signature in the example below, you will see that he found an excellent way to showcase his Fiverr & Upwork profiles in every email he sends. Thus, potential clients can take a look at his previous projects and easily get in touch with him (Robert also uses messenger icons for quick contact). Furthermore, recipients can click on the Google Calendar link at the bottom of the signature to check Robert's availability.
Graphic Designer email signature
Even though, as a designer, you will probably want to design every aspect of your email footer, modern signature builders are so simple to use and offer such a variety of email signature design examples that you won't regret using one. You save time because other designers have already done all the hard work for you.
Berenika's email footer is created with a signature generator. Yet, it showcases her talent for design. The signature has everything a design professional might need: a link to the website, social media profiles for potential clients to take a look at Berenika's portfolio and easily get in touch when necessary. Also, you can see that Instagram is her predominant social network. That's why she made it into a bright call to action button.
Email signature for a tutor or teacher
Minimalist email signature templates work well for education workers.
If you are active on social platforms, it's a good idea to include your social links for recipients to find social proof and current students' reviews.
In the example below, you can see that Sarah also added a minimalistic button allowing to schedule lessons. How do you like it?
Email signature for a recruiter
Recruiters need to draw the attention of potential employees to the company. To promote its unique culture, they can utilize professional email signature examples.
First of all, it is important to add a corporate website so that the candidate doesn't have to google for it.
Marissa's signature also has a clickable button to the list of open jobs and social media icons for quick contact. The signature is pretty minimalistic yet functional.
Photographer email signature
You can definitely drive more business with a professional email signature for photographers. But what are its essential elements?
We won't even talk about a catchy photo in a photographer's email footer. That's a must.
What else can you add?
Think about social media buttons. Those will not only make the signature look great but also give your potential clients opportunities to engage with you further.
Add a nice banner to encourage leads with a direct call to action, like in the example below.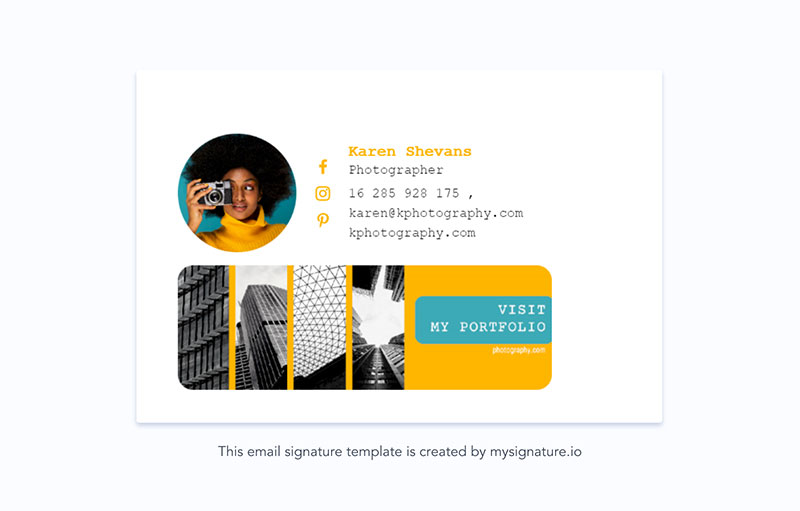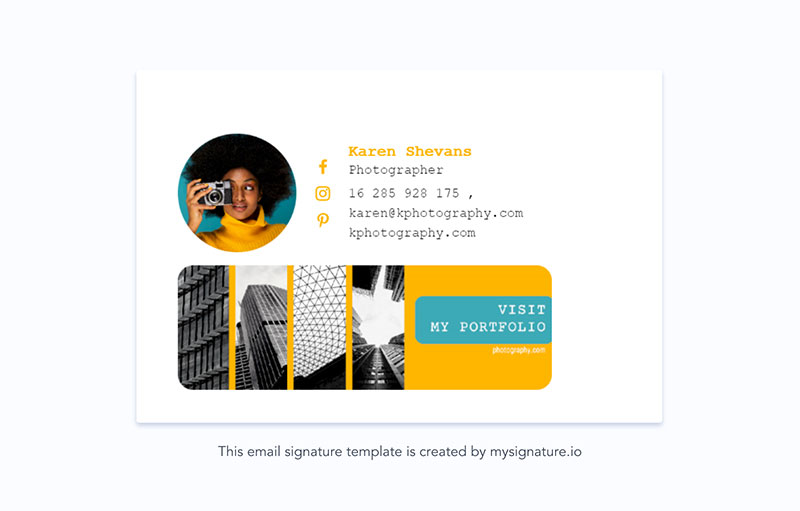 Realtor email signature
An email signature is like a business card. The only difference is you can make everything clickable, and you don't need to hand it one by one because every recipient will see this digital business card.
As a realtor, you can turn your signature into a powerful marketing tool.
In the example below, you can see that the lady not only adds her contact details but also promotes her social media channels and links to her real estate property listings and video tours.
Lawyer email signature
Many lawyer companies require a legal disclaimer to be included with every corporate email. An email signature is a perfect place to put in such a disclaimer.
In general, Sandra's email footer is minimalistic and not bright but contains all the essential elements to remain functional.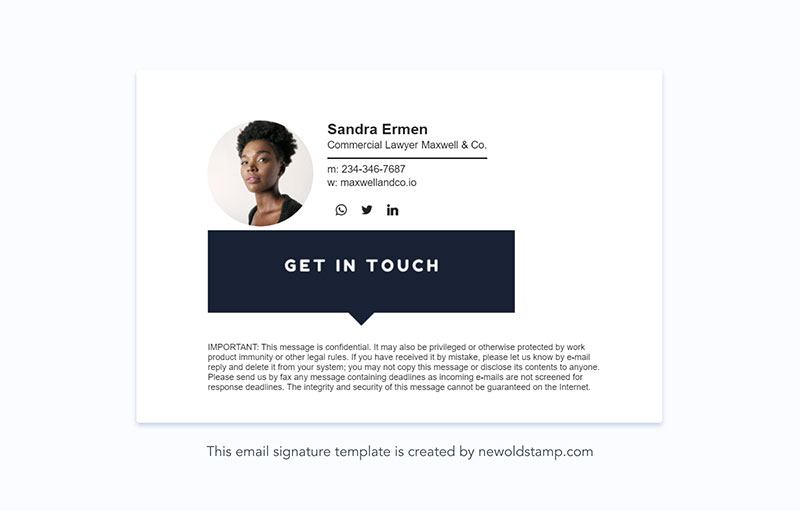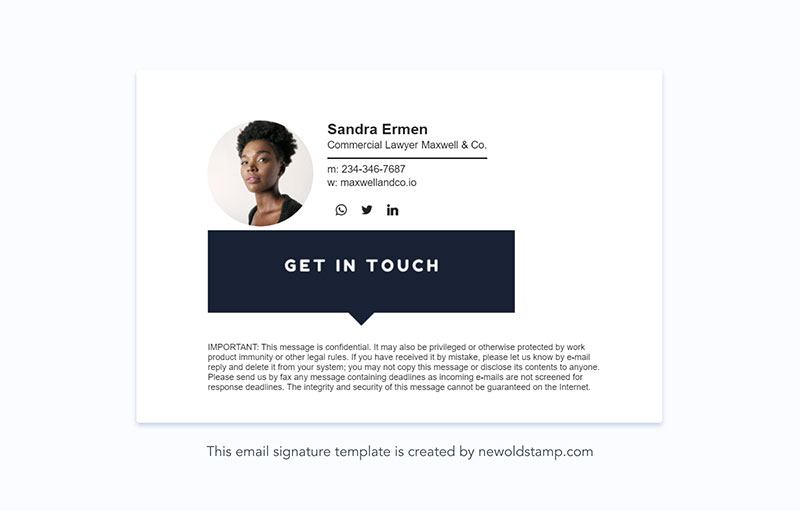 Email signature for a small business owner or entrepreneur
Business owners and entrepreneurs often need to give a presentation of their businesses. But in fact, it is possible to do that in every email they send. So yes, right, we talk about email signatures.
Look how wisely Bob Grackham, the founder of a marketing firm, used the free space at the bottom of emails. He added a company logo so that people can memorize and recognize his company. On top of that, Bob provided clickable links to his social media in the form of minimalistic icons. For those who want to book a meeting, there is a call to action button.
Summing up
A well-designed email signature is an excellent method for freelancers, bloggers, social media influencers, teachers, lawyers, realtors, small business owners, and other professionals to stand out and find their perfect clients by simply sending emails.
Thankfully, there are so many tools to create a nice footer that you don't need even a basic knowledge of coding or design.
Want more inspiration?
Check out more great email signature ideas and templates in this gallery.
***
About the author:
Helga Zabalkanska is an experienced digital marketer. Having worked in numerous industries, she has a deep understanding of various markets and a variety of tools as well as growth hacking techniques that can boost marketing activities.
Since 2015 Helga has switched to the IT industry and helps startups to disrupt markets. Currently, she is helping companies to discover the potential of their business email signatures as part of the ambitious Newoldstamp team.