The business landscape is always changing and, now more than ever,it changes at an exponentially faster rate than before. Because of this, companies are prompted to adapt by thinking of ways to stay relevant with consumers. Many companies turn to a logo redesign as a solution. Brands like Nike and Shell have actually succeeded in the process but some aren't so lucky.
A logo is an important aspect of any business entity as it acts as the identity of the brand. Think of it as the face of your business and the other aspects (office, staff, products/services, among others) are the body parts. Simply put, it is the first thing that customers remember when thinking of your company. A study found that 50% of consumers are more likely to patronize a brand with a logo they recognize. That makes the process of a logo redesign all the more difficult.
When is it time for a logo redesign?
So, the question is this: how do you redesign your logo while keeping the integrity of the brand? First off, you have to establish if a more modern logo design is the right move for your business. Redesigning can be an asset to some but a liability to others. To avoid doing more harm than good to your business, you should ask yourself the following questions:
Is the business expanding?
As your business evolves so too should your logo. After years in the industry, your company may have expanded its reach, employed more staff, and launched new products and services. Your logo should be able to represent what your business is today and for years to come.
Is your current logo dated?
Some business logos were designed according to the aesthetic of the time it was created. However, what was attractive years ago may not be so pleasing today. That is most applicable to trend-oriented logos.
Moreover, some logos may not be so compatible with mobile or computer screens as they were intended for print media. Some fonts or designs may be too small to notice on screen. It's important for your business logo to look good on all your digital marketing materials.
Are you targeting a new audience?
Businesses change because the needs of its consumers change as well. Your logo should be able to cater to a wide range of audiences and their needs through time. It has to appeal to your existing customers and be able to attract new ones.
If you fit in any of the three things mentioned above, then redesigning your logo may be the power move for your business.
5 things to do in logo redesign
A lot of time and effort goes into creating a business logo and that also goes for redesigning it. There are design principles and elements that need to be considered first. Here are six things to keep in mind when going for a logo redesign:
Decide on the elements to keep, if any
Redesigning your business logo doesn't mean you have to start from scratch. Many of your existing customers have already associated the brand with your current logo so it's better to keep some key elements in the design.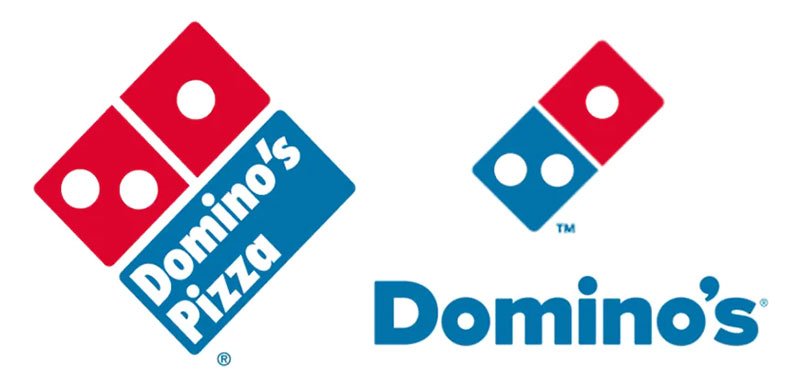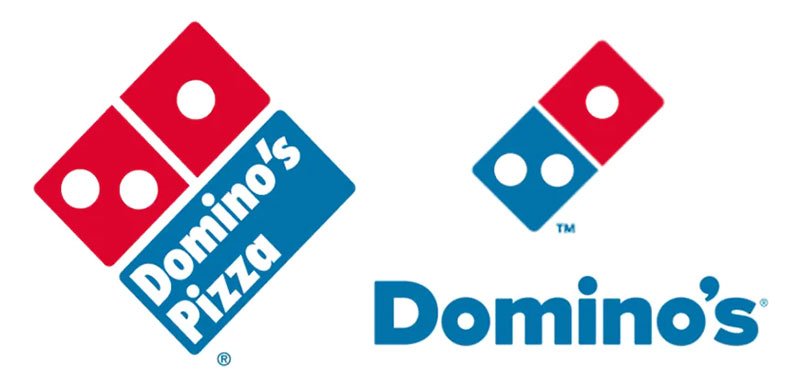 Source: 99 Designs
But what are those elements?
Those elements can be practically anything.
They can be your background, other specific visual elements such as color and font, among other things. To help you decide which elements to retain, you can ask some of your customers which elements from the previous logo they immediately associate with your brand. If you find many of them say it's your font, for example, then retain your font. Remove your font and your loyal customers will find the logo changes unsettling. You don't want that.
Take this example from famous Pizza Chain Domino's. The signature Domino pizza box has been highly recognizable by consumers worldwide. However, Domino's decided to redesign its logo last 2021 with the intention of telling its patrons that they are more than just a pizza chain now that they have expanded their menu offerings. They updated the logo design but kept the original domino concept and the red and blue color scheme.
Determine the extent of the change
Now the next question to ask is this: what is the extent of the change you want?
Although some logos, like the example above, undergo only some changes, some are transformed altogether. That is usually for rebranding purposes or if the past logo has failed to deliver the business's message.
Source: Business Insider
So do you want to change everything? Or maybe retain some of the visual elements such as a line, that shape, or that color? The answers to those will depend on you.
You have to be careful if you decide to do an overhaul, though. You need ample research to ensure that your final logo will be appealing enough your audience won't reject it. You don't want them confused about the new logo either. According to an article by Daily Blogging, 60% of consumers avoid brands with an odd or unappealing logo design.
One of the most famous examples of a drastic logo redesign was done by Federal Express. The redesign was so successful that it won various praises and awards.
The logo originally consisted of two words: "Federal" and "Express." The word "federal" was there to invoke a sense of patriotism on the part of consumers. However, since the company started shipping cargo across many countries over the years, management decided a logo redesign was due. Notice the extent of the change. The only recognizable features perhaps are the words that constitute the logo.
Create a buzz for the new logo
It doesn't matter how amazing your new logo is if it's not backed up with a well-planned announcement campaign. A redesigned logo is a business transformation as a whole. It's a step into the future and an ode to years in the business. It's only fitting that you create buzz for its launch.
One way to do this is to create a promotion or event in conjunction with the new logo's launch. Consider writing a blog about the story behind the redesign and distribute it as an e-newsletter or video to your mailing list, as well.
You may also opt for more physical promotion by printing flyers or creating merchandise using the design.
Use social media
According to the Global Web Index, 54% of consumers use social media to research a brand, making it one of the most effective drivers for brand awareness. It's only fitting that you optimize your social media avenues to promote your new logo.
As a first step, you should update your logo across all platforms (Facebook, Instagram, Twitter, etc.). Be mindful of the resolution requirements of each platform and always use a high resolution file.
From then on, you can use your new logo by showcasing it on every social media ad. Remember that branding requires consistency. Strengthen your branding efforts by placing the new logo in the same size and location in every ad. You can elevate your online campaign by using social media engagement tools or automating social media engagements.
Get new stationery
Redesigning your logo is a way of welcoming change into your business. As sad as it sounds, there should be no traces of your old logo in any of your business materials. That goes for your stationery as well.
Everything from your letterheads, business cards, and product packaging should have the new logo. Check out these other business materials and make sure you change your logo there, too:
Mailing labels
Memo paper
Fax sheets
Envelopes
To avoid branding issues, start making a checklist of all the things that need to be updated. You wouldn't want to send out official letters with two different logos to people you do business with. That would just be confusing, not just for them, but for you, too.
In Closing
In crafting a logo that perfectly reflects your visual brand identity, you must first identify the existing elements that should be incorporated in the new design and establish how drastic the changes should be for the elements that are no longer needed. Once you have your design, let your existing and potential customers know by creating hype through advertisements and social media announcements.
Finally, don't forget to make a checklist of all the materials that need updating like your stationery!
There can be a lot of emotions attached to redesigning your logo but it's a necessary step to stay afloat in this highly competitive business world. The design must be crafted carefully as one wrong move can easily affect the business.
Just be creative and do your research. You'll design that logo that stunningly represents your brand, products, and values.