Cloud hosting is the perfect solution for websites that want to scale. If you're a small business and want to know what provider to choose, you've come to the right place.
Cloud computing, in general, is a huge market. It generates more than $30 billion in 2020, and it's projected to reach $552 billion by 2027, according to Statista.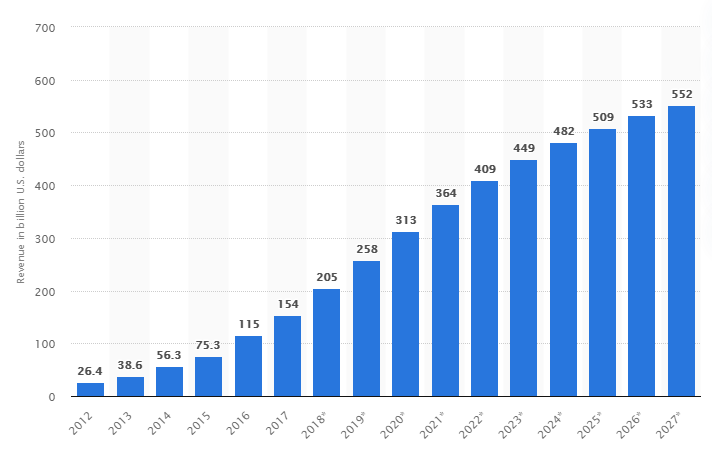 With cloud hosting, you'll enjoy a ton of resources from a variety of sources to create a robust and efficient virtual server.
Contrast this with shared hosting — where your site goes down as soon as the server is down. But if a cloud server is experiencing downtime, other servers in the same network up the slack.
Small businesses and growing websites that need an excellent balance between an affordable and high-performance server can benefit a lot from cloud-based hosts.
What is Cloud Hosting?
Cloud hosting is a type of web hosting solution whereby a website is stored on multiple servers, which allows you to utilize resources from a wide range of servers to deliver optimal performance.
Cloud services have grown in adoption in recent years. According to the Hosting Tribunal, "Companies invest about a third of their IT budget to cloud services."
The availability of server resources makes cloud hosting solutions a very reliable, flexible, and scalable web hosting service. Sites that experience spikes and dips in traffic, for example, will benefit so much from this type of hosting.
All things being equal, good hosting can help you make more money in your business.
If you need more flexibility in your hosting package, cloud hosting is the ideal choice. You can consider this as a pay-as-you-go mobile: which lets you decide your resource limits every month and pay accordingly.
Are you getting ready for a busy month? Do you expect hundreds of thousands and even millions of visitors to your website? Cloud hosting can help you weather the storm — regardless of the amount of traffic coming to your website.
You'll find hundreds of cloud-based hosting providers online. However, choosing the right one that will meet your website's needs can be daunting.
To help you make a well-informed decision, here are the 5+ cloud hosting services for small business owners:
Best Cloud Hosting Providers and Services
A2 Hosting: Best cloud hosting provider.
Cloudways: Managed cloud hosting service
SiteGround: Easy to use features.
Hostwinds: Affordable cloud hosting solution.
InMotion Hosting: Excellent customer support.
HostGator: Unmetered Storage.
1. A2 Hosting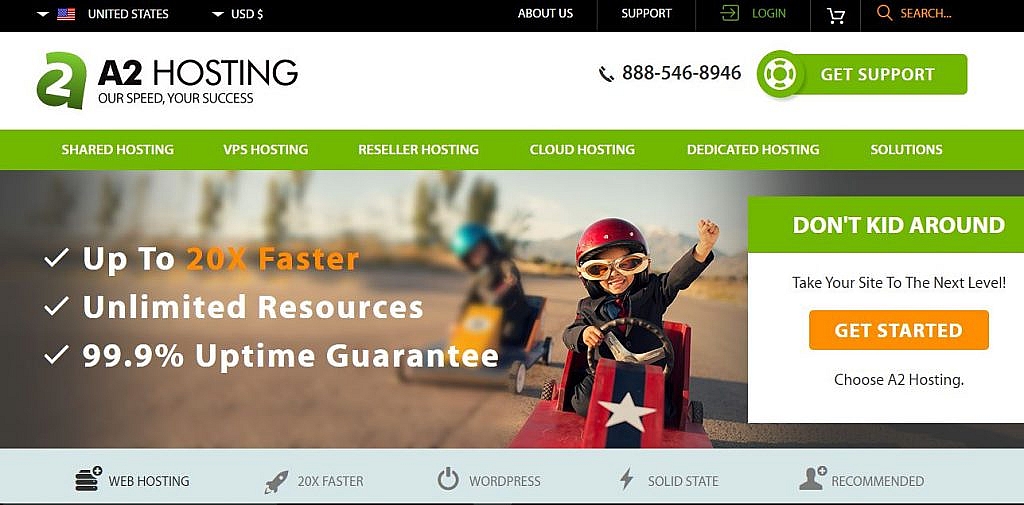 A2 Hosting is a popular web hosting company, offering cloud-based hosting packages to help you grow and scale your small business website.
What I like about A2 Hosting:
A2 Hosting offers reliable and cheap cloud hosting solutions. It's our #1 preferred provider for easy-to-use features. It also offers a money-back guarantee — which is missing in most providers.
This hosting provider is affordable, with cloud plans starting at $4.99/month. The uptime performance is 99.95%, however, you get a wealth of handy features. It offers plans that ensure peace of mind, even while you're sleeping or out on a vacation.
Some of the features include 250 GB of storage, 32 GB of RAM, 12 CPU cores, and you're allowed to host multiple (unlimited) websites — a feature that's not common in some cloud hosting providers.
What could be improved?
It doesn't offer SSL certificates. You'll have to pay for this as an add-on. Also, there's no free domain name. However, the pricing starts at $4.99/month, which is quite cheap.
Improving its customer support is also important. They can offer live chat sessions, phone calls (integrated with a predictive dialer) so that users can get their questions answered as quickly as possible.
2. Cloudways
As the name implies, Cloudways is a managed cloud hosting platform that helps you stay focused on your business, and not worry about downtime.
If you're a growing agency or you run an eCommerce business, Cloudways could be a perfect choice. That's why eCommerce brands like Boohoo, Revolve, and several others choose cloud-based hosting solutions.
What I like about Cloudways:
Cloudways is a strong rival to A2 Hosting. Depending on what your hosting needs are, its robust cloud-based server will serve your website to the target audience.
This provider is very versatile and allows you to deploy your cloud servers from any of the 25 global locations, you can also choose your region and city.
Your website will always be closer to the servers. This can improve page speed and overall performance. This also makes Cloudways' plans to be more affordable than the competitors'.
Your chosen data center will determine the price you eventually pay. You could use this map generator to build a network of the data points you're using. Feel free to choose between monthly or hourly pricing plans, depending on what goals you wish to achieve with your website.
For instance, the basic plan for a Digital Ocean data center in New York costs $10/month.
This pricing is similar to those of other locations, including San Francisco, London, and a few other cities. However, if you want more flexibility, you could access the same plan and data center for a pay-as-you-go rate of $0.0139/hour.
What could be improved?
Cloudways offers excellent and reliable customer support across its plans, as well as a 24/7 live chat and easy ticketing system.
However, you're required to sign up for one or two paid support plans if you want access to more advanced features. When you pay $100/month, for example, you'll get an Advanced support plan, which includes site monitoring and investigations, in addition to customization help.
To gain access to 24/7 phone support, though, you're required to scale up to the Premium support plan, with pricing starting at $500/month.
3. Siteground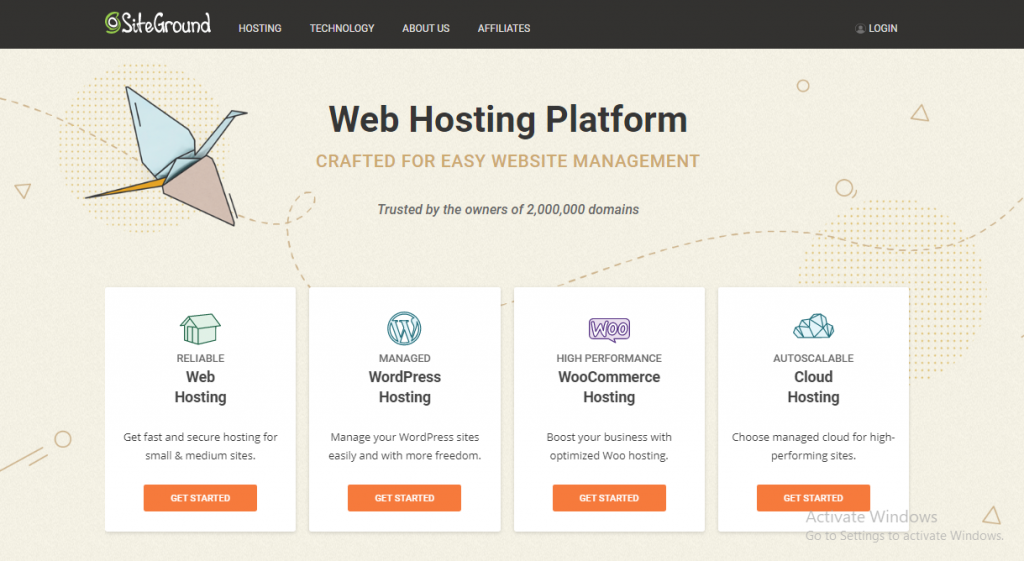 Siteground is arguably one of the widely used cloud hosting providers. It currently has 2 million+ domains hosted. Its cloud hosting service is most ideal for high-performing websites.
What I like about SiteGround:
Siteground offers amazing support via phone, email, and live chat. It boasts a 99.98% uptime and easy-to-use features. You can't go entirely wrong when you choose Siteground. It's a hugely reliable provider, with an overall score of 4.6/5.
You also get a ton of Google tools to help you integrate and optimize your website.
What could be improved?
While Siteground is an amazing web hosting company, it falls short on some angles. First, it doesn't give users free domain names when they sign up for any of its plans.
Getting a free domain name could be the motivation that a person or business needs to start their website. Many hosting providers such as Bluehost and Hostgator provide free domain names.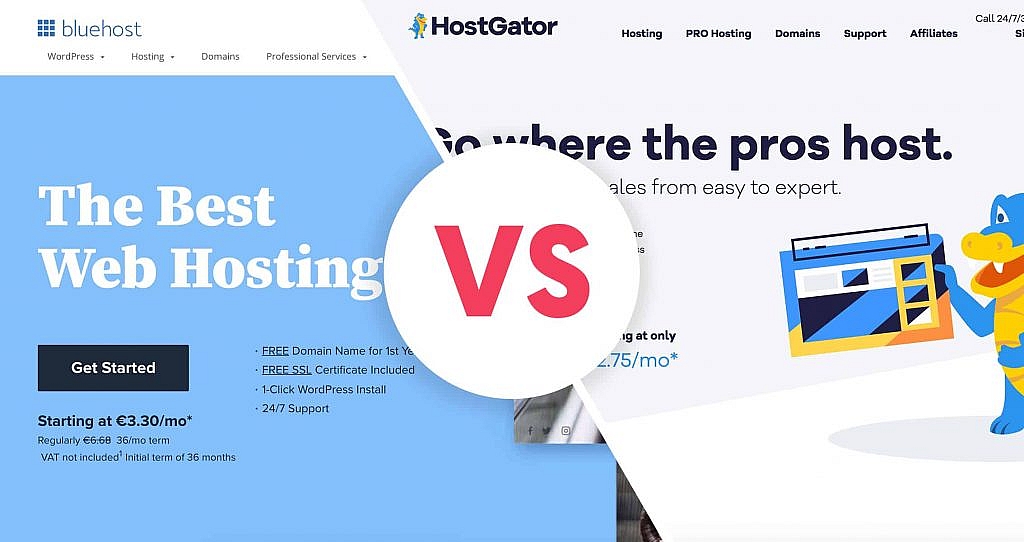 Second, Siteground is a bit costly. The starting price of $80 could discourage beginners from signing up. If you're using a shared plan, this price will feel like a big leap.
That said, Siteground offers reliable cloud hosting plans — a great uptime, responsive support, and 5TB bandwidth make it a go-to resource for site owners.
4. Hostwinds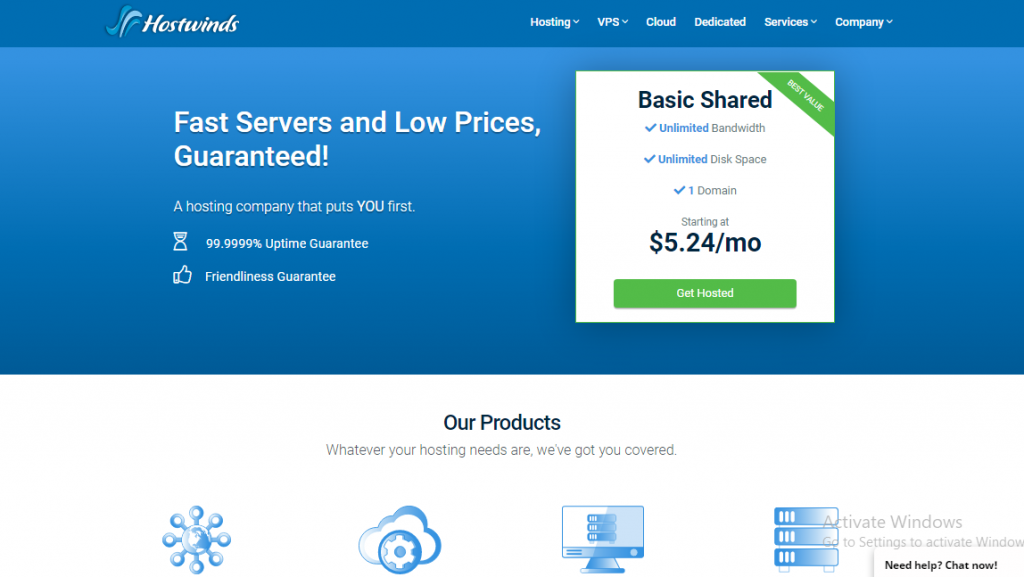 Hostwinds offers shared, dedicated, VPS, and cloud hosting solutions to small businesses. If you're looking for a low-priced hosting plan with fast servers, you might want to consider Hostwinds.
What I like about Hostwinds:
Hostwinds offers some amazing features on its cloud plans, including RAM, bandwidth, and storage. It also comes with a one-click install option for WordPress, or you can choose to design your site using Wix or Shopify.
So there's no need to hire a freelancer or start to write codes if you don't want to.
The amazing aspect of this hosting provider is the hourly pricing structure. As an example, the basic cloud hosting plan starts at $0.006931/hour, while the most advanced cloud plan begins at $0.456931/hour.
The total amounts are $4.99 and $328.99/month respectively. Hostwinds also offers a 60-day money-back guarantee — which is longer than what most hosts provide.
What could be improved?
While Hostwinds offer a decent value for your money, it lacks some of the advanced features that you'd get with a more expensive provider like Cloudways. Again, it doesn't offer free domains, free backups, and server customization.
5. InMotion Hosting
InMotion Hosting is a powerful and reliable cloud hosting provider that helps you grow your small business website. You get premium hosting features with responsive 24/7 customer support and a 99.99% uptime rate.
What I like about InMotion:
InMotion is well-respected for its shared and VPS hosting solutions, but that doesn't mean its cloud-based hosting isn't right for your business?
Small businesses involved in manufacturing use this hosting provider. Ecommerce businesses, local businesses have made InMotion their preferred cloud host.
The most striking feature is customer support.
You get access to a 24/7 live chat and phone support, a comprehensive knowledge center that answers the most common questions, and help tickets — when you need to contact the support team.
The features are welcoming — as it offers free domains and backups, unmetered CPU cores, root access, unlimited email accounts, and websites, and some other advanced features to make your website hosting truly remarkable.
What could be improved?
InMotion has its fair share of negatives as well. For one, the RAM is fairly low and capped at 8GB. It also has a limited bandwidth, which could negatively affect your website if there's a sudden traffic surge.
6. Hostgator
Hostgator has been providing cheap and trusted web hosting solutions for more than 2 decades. It offers great features and cost-effective cloud hosting to small businesses.
Hostgator is one of the most affordable hosting options on this list. You can even use the handy tools to optimize your photos before using them in your page — to increase page speed.
What I like about Hostgator:
First, it offers flexible cloud hosting plans that small business owners can choose from. Here's a breakdown:
Hatchling Plan:
Starting at $4.95
2 CPUs
Baby Plan
2 GB of memory
Single domain
Starting at $6.57
4 CPUs
Unlimited domains
Business Plan
4 GB of memory
Starting at $9.95
6 GB of memory
6 CPUs
Unlimited domains
Remember that these rates cover a 36-month contract. As you can see, the rates are cheaper than the actual price, which you're expected to pay when you renew your plan.
You'll get a free SSL certificate regardless of your chosen plan. For the Business plan, you'll get a dedicated IP, free domain, and free SEO tools as well.
Hostgator has a clean and easy-to-use dashboard. Here, you can monitor how your website is performing. It's a lot easier to view data related to page speed, reach, uptime, etc.
You can easily scale your server resources with Hostgator. All you need is one click, and you'll not have to worry about reboots, downtime, or data migrations.
Hostgator can improve its services even more by offering a customer experience course and treating international customers a lot better. This is to cater for users who don't understand the English language, a quick tutoring support could help them communicate with this set of users better.
Benefits Of Cloud Hosting
So why should you choose cloud hosting? Is it the right hosting solution for your website?
Let's consider some of the benefits of cloud hosting to help you make well-informed decisions:
1. Server Performance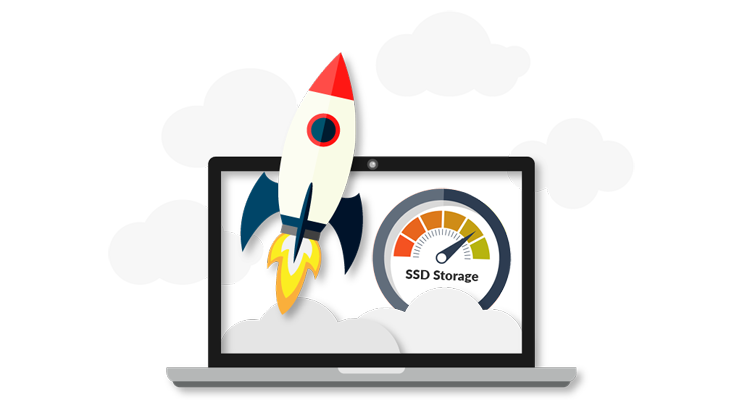 Cloud hosting and its technology is a great option for load balancing. Your website will perform at its best since you're using several data centers scattered across virtual machines.
This is different from shared hosting that uses a single physical server, and thus, could slow down your performance.
With cloud-based hosting, you can utilize a ton of resources to efficiently handle traffic spikes without losing speed.
2. Server Availability
Server downtimes are never a good thing, especially if you're making money off of your website.
The beauty of cloud hosting is that it doesn't tie you to a single server.
Even if a machine goes down – your uptime will remain unaffected. You can see how that configuration is the perfect approach to frustrating a hacker.
3. Security
Website security is a good reason to choose a cloud hosting provider. Safety is critical, not just for you, but for your site visitors as well.
Most cloud hosting providers have come to terms with the fact that security is important — hence, they ensure their setup and features are in line with the latest security standards.
Server security is important for every type of business: a local restaurant website, a nonprofit site, a medical practice portal, a fitness site, a meal planning app, or even a serviceman's website need to be secure at all times for the user.
Some of the measures put in place include DDoS protection, remote server backups, SSL certificate, anti-spam filters, malware protection, and other ways of protecting the cloud server, making it impenetrable, and protecting your online privacy.
In the future, though, cloud hosting companies may add an extra layer of security to their server, which may require a barcode software feature or other essential tools to unlock.
4. Scalability
Cloud hosting is suitable for small businesses and websites that want to scale. It gives you access to useful and on-demand resources — which helps you reposition your business with growth in mind.
If you're looking for more gigabytes of space or you'd prefer another CPU core to accomplish more processing power, then you should consider using cloud hosting solutions.
Even the cheap solutions tend to support steady website growth than any shared hosting package can do.
Web hosting companies also have a responsibility to educate their customers via online webinars and tutorial videos. They can show them ways to scale their business, and the features/tools that are accessible to them.
Marketing is equally important. Small businesses can get more traffic and links by pitching the top quality blogs that accept guest posts or target media sites like Entrepreneur, Inc., Fast Company, etc.
Essentially, using exit popups to re-engage visitors before they close their browser is also a great email marketing tactic to adopt if you want to scale your small business.
5. Customization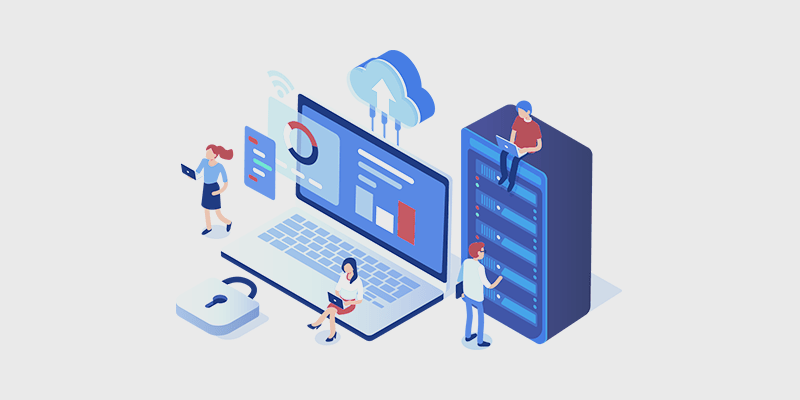 If you're looking for more flexibility when it comes to customizing your website and its system, the cloud hardware environment allows you to optimize your business.
If you have gained some administrative skills, you can do a lot of magic with the customization feature in most cloud hosting services.
But if you're a complete newbie, you can take advantage of the fully managed services offered by these cloud hosts.
6. Flexible Pricing
A cloud hosting platform allows you to scale your business. You can tap into the robust server resources to improve your site performance.
There's no need to pay for services you're not using to their fullest when you can easily control how much you're spending each month.
While shared hosting and VPS servers offer fixed pricing, it's a fact that most customers don't even utilize more than 10% of their account resources.
Do the maths and you'll agree with me that cloud hosting services save you a ton of money and resources. This is yet another reason why you should consider using this type of hosting.
Conclusion
You've read through to the end, I appreciate your discipline and patience.
I'm sure this review of the best cloud hosting services for small businesses has given you some insights on how cloud computing can help you start and grow your online business, and ensure that your website is always active and fast.
At the very least, you now know the benefits of cloud hosting and the best providers offering the most reliable cloud technology.
If you're new to cloud hosting service, I'd recommend you start with A2 Hosting since it offers affordable plans, great features, and excellent customer support.
When you're ready to dive deeper into the world of cloud technology, then you should consider Cloudways.
---
Photo by Paul Hanaoka on Unsplash