Progressive web applications (PWA) are known as websites built with web technologies, namely HTML, CSS, and JavaScript but have the look and feel of a native app.
The key functionality offered by PWAs include push notifications, add to the home screen feature and offline mode.
This technology offers businesses multiple advantages. It comes as no surprise that brands are eager to turn their websites into fast-loading and secure PWAs. Entrepreneurs find this transformation a great way to enhance user experience. Also, businesses manage to increase conversion rates and drive sales with the help of PWAs.
In this blog post, we will give our insights into the main advantages of progressive web apps. Besides, you will know how businesses can benefit from using progressive web app development services.
1. Higher customer engagement and re-engagement
Businesses can interact with their customers with the help of progressive web apps in many ways.
First, brands can send clients to push notifications to inform them about new arrivals and discounts. Also, users are notified about the current status of their orders and get personalized offers.
This strategy will be specifically beneficial for e-commerce companies. By sending push notifications, they increase the average time spent on the website. Thus, online marketplaces get better chances of converting visitors into customers.
As a result, push notifications are a powerful marketing channel that helps improve brand visibility and drive sales.
Magenest highlights the following popular uses of push notifications in the e-commerce industry.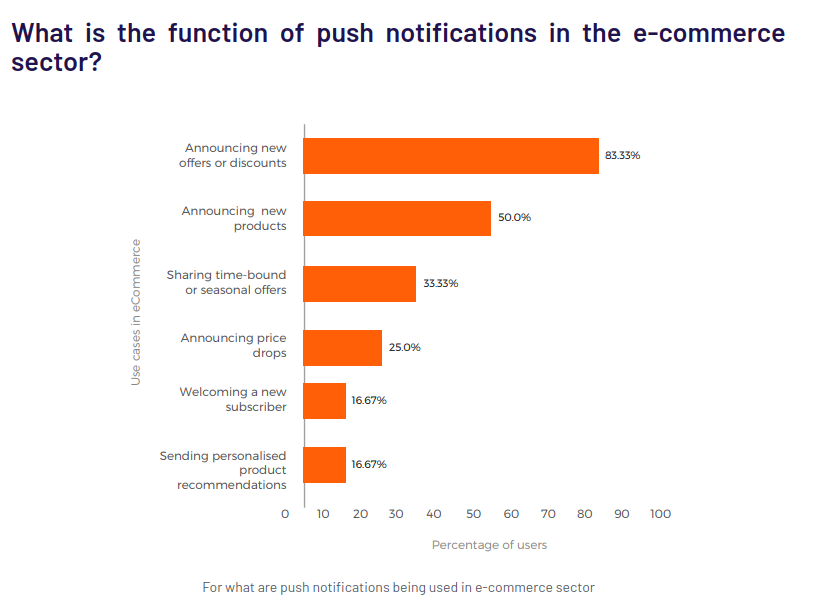 Moreover, the "Add to Home Screen" feature of progressive web applications, allows consumers to come back to the website much faster. As a result, it becomes easier for them to re-engage with their favorite brands.
Finally, PWA technology helps increase users' reach. The recent statistics show that many users are not eager to download a native app to communicate with businesses. The main reasons are limited storage, technical issues, confusion, and excessive advertising.
In this regard, PWAs offering a user experience that is close to that of a native app, clearly offer an advantage. Users don't have to go through a long install process, and not much device storage is occupied, which makes progressive web apps a good alternative.
What about successful cases of PWA implementation? Actually, there are plenty of them. Take Pinterest as an example. This social media company got fantastic results after turning its website into a PWA.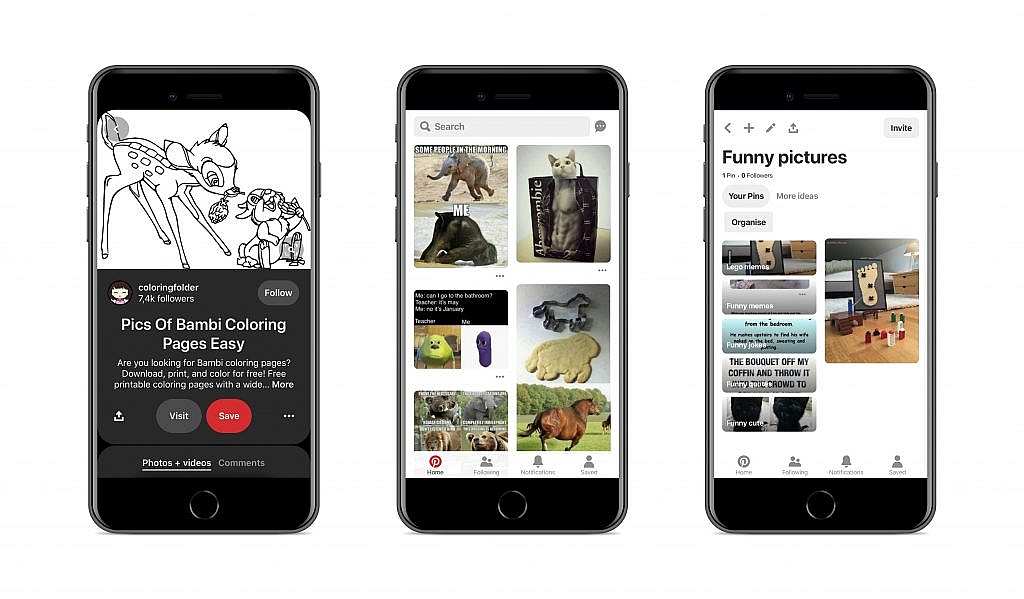 Pinterest had the task of providing users with improved performance. Besides, they wanted to speed up the page load time and decrease the bounce rate. Finally, the brand aimed at offering customers low bandwidth usage. Transition to a progressive web app in 2017 helped the brand reach these goals.
Results:
40% increase in average session time;
44% growths in ad revenue;
60% rise in engagement.
2. Improved search ranking
Since the release of mobile-first indexing in 2018, Google has been prioritizing fast and mobile-friendly websites. That is why PWAs possessing these qualities can become a silver bullet for your business.
First, progressive web apps in their nature are mobile-friendly websites. It means that users do not download them from app stores but an app to the home screens of their devices.
Besides, it will not be hard for Google to discover and index your website. It means that when users are looking for products or services you offer, they will find your site, and you will have better chances to get traffic and leads.
3. Better conversion rate
The slow response speed and poor performance can result in a high bounce rate. It means users leave your website and seek other alternatives.
Luckily we have PWAs noted for high speed. With this technology, users can add the desired item to the shopping cart much faster, and complete their purchase as well.
Also, brands can benefit from using a location tracking feature. This functionality will allow them to target the relevant consumers at the right time. Buyers will get personalized messages on the abandoned shopping cart.
Also, users can be notified about seasonal discounts that can encourage them to make a purchase.
Thus, the location tracking feature gives brands the opportunity to boost their conversion rate.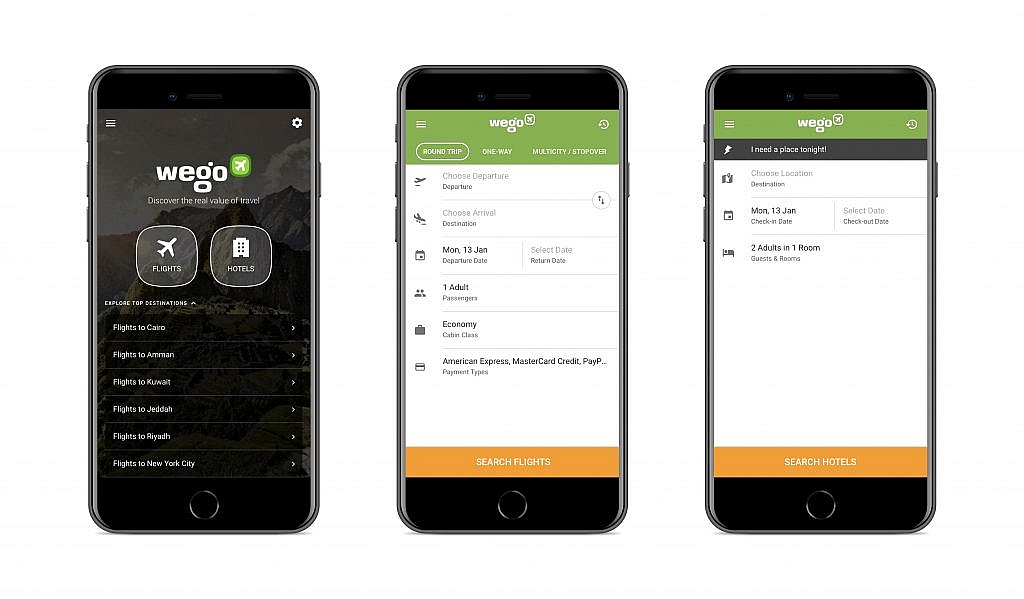 Wego is a Singaporean travel metasearch engine. Re-engagement with the target audience was crucial for this company. Also, Wego wanted to improve the user experience and the website's performance. For these purposes, Progressive Web App was developed in 2017.
Results:
12% more organic visitors;
3X rise in a click-through rate through faster ads;
20% drop in bounce rate;
26% increased number of visitors;
95% conversion rate boost (50% on iOS devices);
35% increase in average session duration on iOS devices.
4. Reduced cost of a mobile solution
When it comes to Native app development, businesses should build, maintain, and promote a separate version for Android and iOS operating systems. Entrepreneurs have to hire two teams to get a working solution.
As a result, the mobile app development cost becomes two times as expensive.
That's why you should give progressive web applications a try. As for the PWA technology, it supposes building one cross-platform application. An experienced PWA development team will build it much faster than two separate versions of your app.
As you can see, PWA development is a great way to cut down expenses on creating a mobile app.
5. Offline mode
PWAs can show good performance even on unstable networks. Built-in Service Workers cache the important content of a progressive web app automatically. It means that there is no need to download it each time you open the application.
Also, the required information is accessible for them even without an Internet connection. People living in rural communities where Internet connection is unstable can benefit greatly from using PWAs as well as consumers during the day.
6. Improved security
These days security incidents and cyber-attacks are a pressing issue for many businesses and not without reason.
"Cybint Solutions" provides alarming statistics. According to their recent findings, 64% of businesses have suffered from web-based attacks.
Given that, security becomes a significant aspect you should not leave unattended. Negligence here can harm your brand reputation significantly.
The PWA technology is noted for its improved security. PWAs carefully protect transmitted data. In addition, they prevent men-in-the-middle attacks by using the HTTP protocol and SSL certificate.
Conclusion
As you can see, progressive web apps provide businesses with endless opportunities. They serve as a great tool for engaging with customers and increasing the conversion rate.
So it is high time to invest in turning your website into a fast-loading and secure PWA if you have not done this yet.
---
Photo by Sigmund on Unsplash