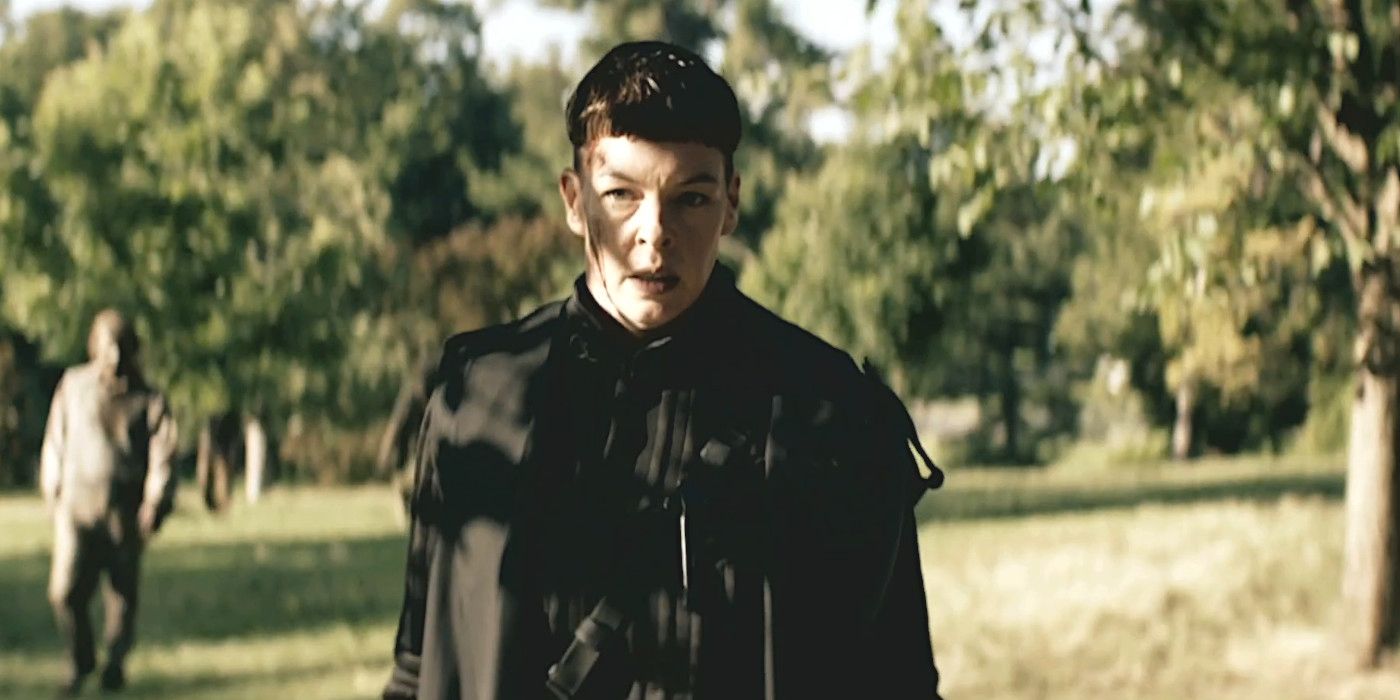 The Walking Dead: World Beyond season 2 promo teases Jadis' journey with the CRM. Pollyanna McIntosh first played the mysterious zombie apocalypse survivor Jadis in season 7 of The Walking Dead.
At first Jadis seemed like just another random survivor leading yet another random community in the Walking Dead universe. But her larger role in that universe was later revealed when it emerged that she had a connection to the mysterious helicopter group teased throughout the show's run. The plot thickened in season 9 when Rick Grimes (Andrew Lincoln) was impaled on a piece of rebar and seemed about to die, only to be rescued by Jadis and her helicopter friends. What happened to Rick after he and Jadis lifted off has not yet been explained, but Jadis at least is set to return to the TWD universe in season 2 of the spinoff show World Beyond.
Related: Walking Dead: What To Expect From World Beyond Season 2
A previous World Beyond trailer indeed afforded fans a glimpse of a returned Jadis who clearly has even deeper ties to the Civic Republic Military than were suspected. A new World Beyond season 2 "in coming episodes" promo has now been released that again teases Jadis' return and her CRM involvement. See the clip in the space below (via The Walking Dead Universe):
[embedded content]
Watch This Video Here
Jadis is seen twice in the clip, once standing among some trees during some kind of fight against zombies, and again with her CRM friends and one of their signature helicopters. She doesn't have any dialog in the clip but it seems more revelations about her connection to the CRM are about to come to light. Of course, what fans really want to know is whether Jadis is going to reveal anything about where Rick Grimes is and what has been happening to him in the time since he swooped out of The Walking Dead and into limbo. Indeed there is even some thought that Rick could show up in season 2 of The World Beyond to help tease the upcoming Walking Dead universe movies he's supposed to head up.
Frankly the chances of Rick Grimes popping into The World Beyond for even so much as a brief cameo seem very slim indeed. It's far more likely that Jadis is the one connection to the Rick Grimes storyline the show will introduce and any revelations about Rick's whereabouts will come from her. Of course it's already been revealed that the CRM is not the most trustworthy organization in the world, so there's reason to be concerned that Rick might not be in the best hands among Jadis and her cohorts. Season 2 of The Walking Dead: World Beyond will be the last for the limited-run spinoff so whatever story it has to tell won't take very much longer to wrap up.
More: Walking Dead: What Iris [SPOILER] Means For World Beyond's Future
Source: The Walking Dead Universe/YouTube
from ScreenRant – Feed https://ift.tt/3FkJmUx https://ift.tt/3Fhwdf4