Business Intelligence is a rampant industry trend gaining huge attention in the market.
You would already know that BI includes intensive data gathering, analyzing and transformation. It results in a significant change in making a business decision and jots down incredible strategies for growth.
Some people believe that BI empowers organizations with extra-sensory ability by disintegrating data into facts & reports. However, a number of loopholes can be assimilated in the process, and it can lead to serious issues in decision-making.
Thus, Business Intelligence Testing initiatives are helping businesses to gain valuable insights into the glitches in BI processes. If you are already engaged in Business intelligence processing and facing issues, then you would want to sharpen your testing processes.
In this blog, we will gain complete insight into business intelligence testing. So, stay hooked with me till the end.
Need For Business Intelligence Testing
Before we dive straight into the process of BI testing, we need to understand which circumstances raise the need to do testing in business integration. Actually, Business integration is the major process when analytics affect the work of applications.
For instance, you move to another location and want to make a payment with your credit card. But! BI application alerts it as an unusual transaction due to location change. Such changes can be done via BI to inhibit fraud.
Also, many other instances can arise in business integration that can affect the behavior of your application negatively. Thus, here comes BI testing in the picture. It helps you to find and resolve glitches in the system after making changes into the application process by achieving analytics & reports of BI.
More importantly, ETL and storage systems are the most significant aspects of the success of BI implementation. Thus, BI testing and QA company always gain complete comprehension into the way to test them eloquently.
Now, Let's understand the entails of business intelligence testing.
Business Intelligence Processes In A Discrete Sequence
1. BI Testing Process 1: Data Check At Source
The data source is one of the most significant points in BI, as it is the very first place where data gets stored and can be transferred to all significant processes. A mistake of a single decimal or full stop can cause great harm to complete work.
Moreover, there can be multiple sources of data for an enterprise business intelligence process, flooded with data in different formats. Therefore, checking data at the source point is crucial, and also matching data types on both sender and receiver end is critical.
For this, you can infuse a number of data validation restrictions to ensure that data types are being matched at both ends and being filled with incorrect fields. At this point, you need to ensure that data coming from sources are correct to avert discard.
Also, you can correct data from right and without sending it for further processing. It is usually considered the "Extract" stage of ETL.
2. BI Testing Process 2: Data Transformation Check
Before gleaning into the hardcore concept, you must know what data transformation is. Actually, it is a stage in business transformation where raw data processing is undertaken, and business-targeted information gets procured.
Here are aspects you need to check in this stage.
Match the source and destination data type, as it allows you to ensure data symmetry throughout the process.
Keep a strict check on the primary key, foreign key, default value constraint, null value constraints, and more. Everything should be accurate and intact as per DB.
Don't forget to validate the ACID properties of source and destination.
Don't forget that data transformation is a critical process, and glitches are imminent in this process, so ensure that they won't haunt your application processes. Moreover, Business intelligence integration services can turn out the biggest support in this endeavor.
3. BI Testing Process 3: Verifying Data Loading
Slow data loading can turn out to be a serious issue in enterprise business intelligence processes. And! Data loading scripts and the test would be major constituents of your ETL testing. Altogether with a data storage system, you would have to validate the following.
Performance: The systems grow more intricate, and the relationship between entities form co-relations. But! Apart from relief, it also increases complexity in data that increases the data retrieving time via queries. Thus, performance testing is a must to ensure faster and efficient data access.
Scalability: The data will grow from time to time, and you can't expect any decrease in data. Thus, the scalability test becomes a necessity to ensure uninterrupted data handling within implementation with the growing size of the business.
It includes an archival strategy test and a decision-making test.
Besides, it is more fruitful to test aspects such as failure recovery, computational abilities, exception handling, and error logging, etc. BI Testing solutions can help you improve the performance of scalability of your application for seamless functioning.
4. BI Testing Processes 4: BI Report Testing
Reporting is the last stage of business intelligence processes, and so is the last attribute for testing. Like any other reports, mistakes in BI reports are imminent. Besides, it is foolish to expect them to be consistent and swift.
In such circumstances, the following aspects are critical to be tested.
Verify generated reports and their applicability to business.
Verify the ability to personalize and customize parameters in reports such as categorization, grouping, sorting, and more.
Look at report and readability
Corresponding functionality of the application with BI elements in the end-to-end test.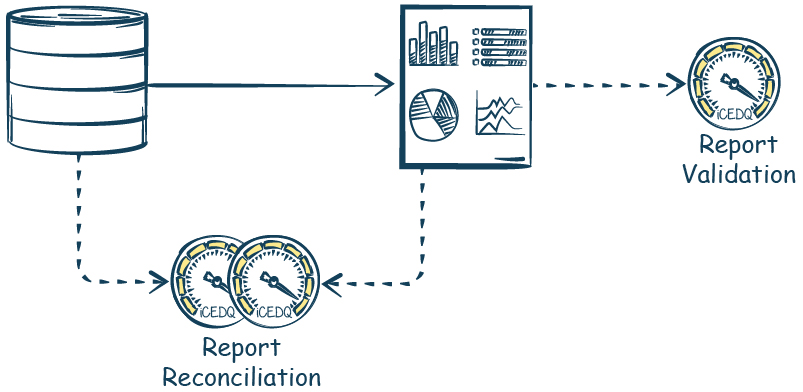 So, these were four major phases of Business intelligence testing. Let's understand what should be considered while creating strategies for business intelligence.
Business Intelligence Testing Strategy
From the above, you would have understood what aspects should be tested and what resources are for ETL and Data warehousing testing. Let's take a glance at what the testers' strategy should be.
BI testing includes a critical stage for testing to test both performance and functional end-to-end testing. Here is the process you need to follow.
So, above should be your business intelligence testing strategy followed in BI Testing & QA services to find out glitches in BI processes and gain desired outputs.
Wrapping Up
There are a number of BI reporting tools that can help businesses to make critical decisions. But! Automated BI testing ensures that you address glitches and issues in applications that took place due to business intelligence. At the same time, business intelligence empowers the system and profits businesses.
Besides, you need to remember that BI testing is good but can still turn out bad in production because of incompetence in monitoring incoming data. If you are using bad data in production, then all your efforts would be wasted, and that's where BI testing helps you ensure fruitful results.
To ensure that your BI applications are working fine and giving desired results, you can subscribe to a business intelligence testing service provided by IT outsourcing companies or connect with BI experts.