Your business has no doubt invested a lot of time into many facets of its operations. Two of those will undoubtedly be your branding and your marketing.
One of these is how your brand looks. The other is how that image is presented to the world.
And when you look at it like this, it's easy to see how the two are related. But in reality, brand owners, marketing managers, and other specialists rarely understand how the two work in unison.
There are many examples of small and medium enterprises that have perfected how their branding and marketing communications complement each other. In this article, we will take a look at a few of them and why they work so well.
Why marketing and branding need each other
When your brand looks good, it's a lot easier to spread its name, message, values, and products. That being said, looking 'good' is a very subjective term. Knowing what your ideal customer defines as 'looking good' is critical – and knowing your ideal customer is a crucial part of marketing any brand.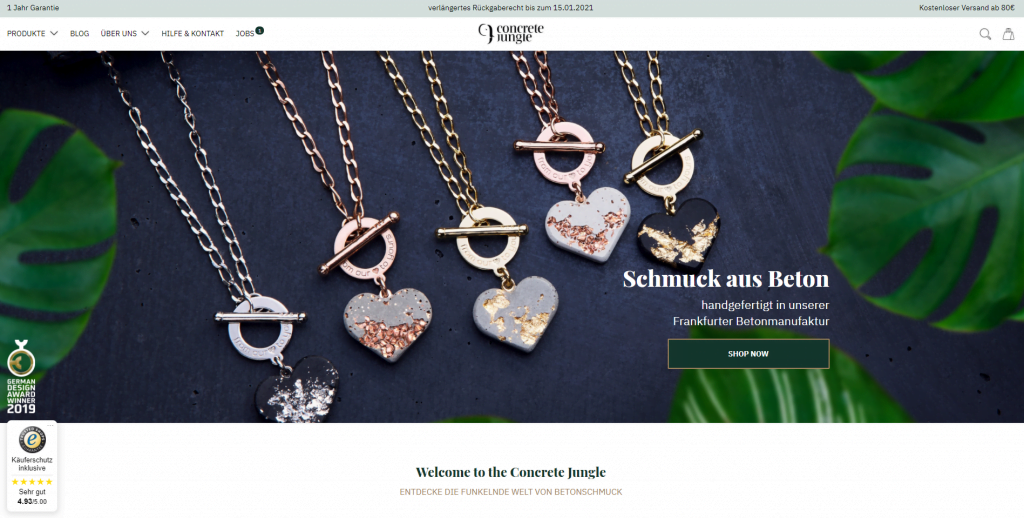 Already we can see how branding and marketing are overlapping.
When your brand has a design system that's echoed over several channels, you make it easier to appeal to that ideal customer. Marketing channels like social media, your website, as well as letterheads and email signatures, should have your brand's imagery.
Consider for a moment the role of packaging in an eCommerce brand.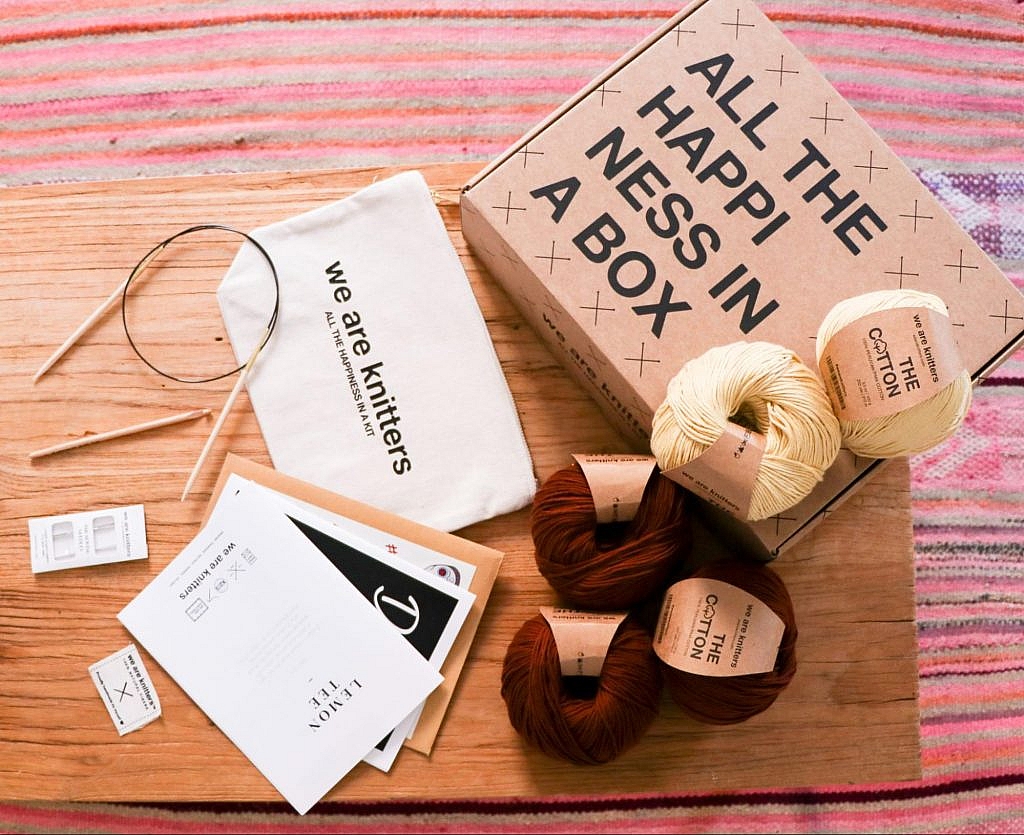 A small boutique selling apparel made from locally sourced and organic materials may use those values in its marketing and branding. The area that the materials are sourced from may be part of the marketing message, the same with the fact that those materials are organic and no chemicals have been used to process them.
Such a brand can implement eco friendly packaging to bolster further their commitment to using environmentally friendly materials. This move can support their marketing efforts and create another branding opportunity.
The values of these actions amalgamate to help your customer 'feel' what your business stands for. Your branding is a pathway to present that 'feel' to your customers, while your marketing helps you find more customers to 'feel' your brand.
When effective branding is implementing by a stable business build around a good product, your customer is in a prime position to remember your product and why it's different from your competitors.
Quality branding helps your User Generated Content, too.
Simply put, User-Generated Content is pictures, reviews, videos, and such featuring your product, created by your customers. Without going into too much detail, it's a fantastic way for trusted content creators to spread your brand's name around their engaged audience. It is also excellent at proving that your business is real and it creates a good product.
Take, for example, unboxing videos.
Unboxing videos are:
Pretty impressive numbers for a video that's little more than your product being taken out of a box.
Video marketing, in the form of unboxing videos a perfect example of marketing (user-generated content) overlapping with branding (customised small business supplies).
This is a perfect example of how good branding (quality packaging) enhances your marketing efforts (user-generated content).
The rewards are simply more significant and more long-term when marketing and branding work together.
Consider the following word: Nike.
What first comes to mind?
the goddess of victory
The US anti-air defence missile system from the 60s
'Just do it'
It's the tick, Air Jordan's, and sport that comes to your mind.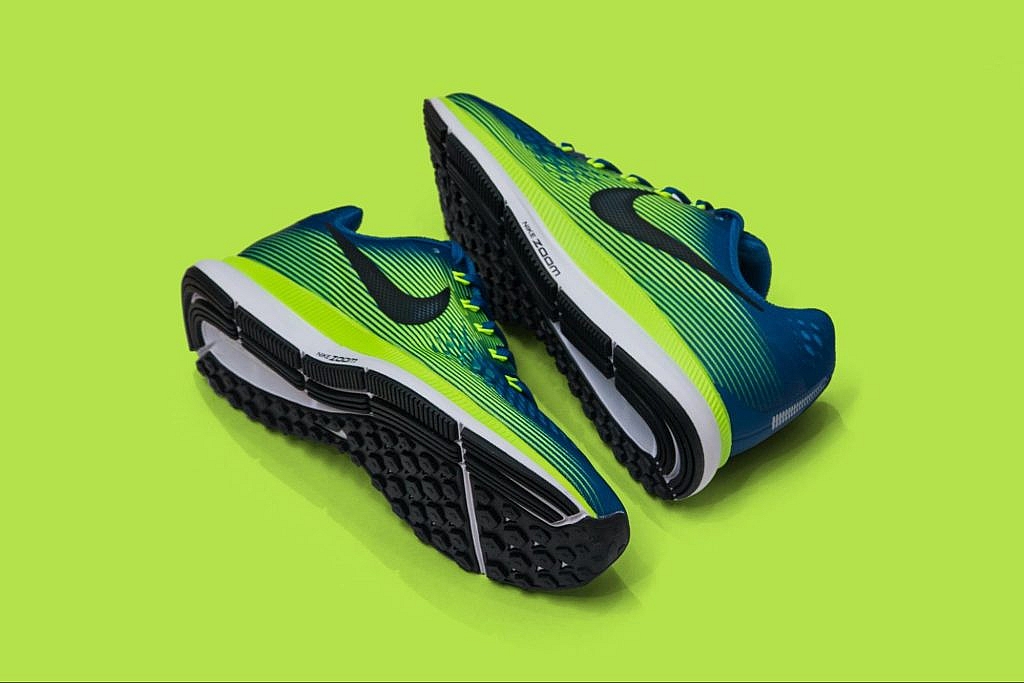 The fact that 'just do it (Nike's marketing) and the tick (branding) is the first thing that enters your mind is proof that both elements are working in unison.
Subway.
A form of mass transport, often used underground in urban populations
'Eat Fresh'
Just another example of how your brand can use these two creatures side by side.
Using your branding for marketing purposes
Hemp Juice is a manufacturer of CBD oils. This market has exploded since society has been made more aware of the therapeutic benefits of cannabis. Regulations have also been changed to allow the product to be taxed and sold.
The brand has gone in a unique direction with its branding. When many competitors have taken the cold and sterile medical/clinical approach to branding, Hemp Juice uses warm colours, round shapes, and informal copywriting.
They take this approach as they know that their target audience doesn't necessarily need the 'medical' image to be convinced of the product's effectiveness. This is because Hemp Juice's audience is more than likely already familiar with such a product.
Hemp Juice's branding strategy complements its marketing when we take a look at its use of colour.
The company sells several types of oils in the same tincture bottles, yet each formula has a different strength and is designed to have a different effect on the user.
On retail store shelves, the array of colours pop and stand out, drawing in the potential customer's eye – a great retail marketing tactic.
For their eCommerce store, it's a quick and easy way for users to understand that 'this colour has this effect' – a great way to speed up the buying process.
Here we see how good branding complements both online and offline marketing.
Social media marketing and branding
Nearly 4 billion (yes, with a 'B') have access to and use social media. With consumers in the US and Europe now wanting to keep their money in local communities and move away from large corporations, the power of social media marketing has never had the potential it does today.
In other words, social media is a marketing channel that's ripe for your business' branding.
However, you'll only garner notoriety and brand recognition on social media if you create the right content, speak to the right people and present your brand with the right imagery.
This is a great moment to remind you, whether you're a marketing manager, brand owner, or budding entrepreneur, that 'branding' consists of much more than a fancy logo and sleek colour palette.
Your branding is your word choice, the vocabulary used in your messaging, and it's the tone you use when writing blog content. It's the faces and body language of the presenters in your video content and all the greetings your customer service staff use.
Tailoring your 'branding' to the right marketing channel, whether a social media platform or not, is crucial.
LinkedIn, a social media channel more tuned for a B2B brand, is obviously a lot more professional than, for example, Instagram. This, therefore, dictates the way that you use your tone of voice to communicate a message. Similarly, a flash sale of 15% off probably won't get much traction on LinkedIn. Instead, it's a channel ripe for your brand to talk about challenges your industry faces, present your businesses' values, and attract a different type of customer.
Mr Fothergills is a British retailer of seeds, bulbs, and other plant varieties.
They use Instagram, a very visual social media channel, to present the quality of their products and explain how to get the most out of their products and general gardening tips, and sharing the content of their other customers.
The tone of voice is consistent on all posts, as are the responses to any comments left. The content shows off the high quality of their products, and overall, it's very appealing to look at as you scroll through your Instagram feed. The content is tailored to that medium, while the marketing presents the brand's values.
Mr Fothergills' LinkedIn tells a different story.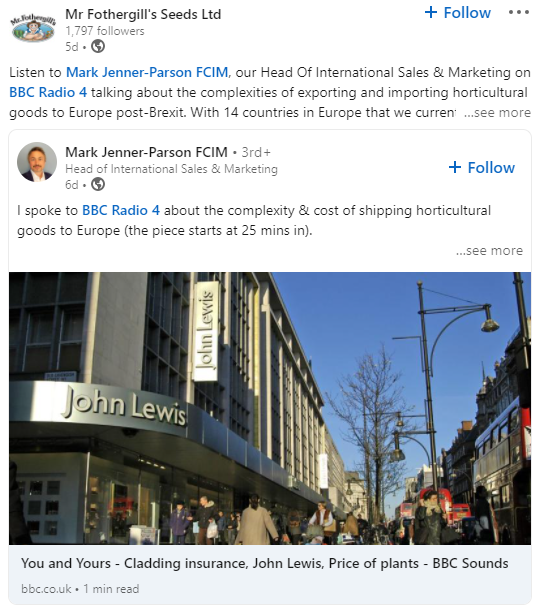 Here, they discuss content involving the export of goods to Europe post-Brexit. This is something that has an effect on the company's B2B or enterprise clients. They still communicate with a friendly and open tone of voice, creating that consistent marketing message. Their values are still focused on a quality product, again showing that the company uses its branding effectively in their marketing efforts.
Fine-tuning your word use and the messages you push in all marketing channels, not just social media, is core to making your branding help your marketing.
Branding, your image, customer loyalty, and marketing
It's much cheaper, easier, and faster to get a customer to buy from you again, rather than convince a customer to buy from you for the first time. This is where the power of customer loyalty really starts to make an impact on your bottom line.
Good branding and marketing, accompanied by a great product, naturally create and foster customer retention. As a result of the above, your brand's name stays in the customer's mind, and they're more satisfied with your brand.
This retention rests heavily on the trust that your branding and marketing initially built between you and that customer. Consumers often remember how they first heard about your brand!
When marketing to reactivate past buyers, consider a different message to build that relationship. If your product competes on price and tries to be the lowest, add more value to the sale to increase average cart spend and live time value. You can do this in the form of buy one get one free or an extended warranty.
Remember, though; it's hard to change your brand's image at this point. Suppose your brand is seen as one of high quality and rugged durability. In that case, it's going to be challenging to make a customer start to see you as affordable, accessible to everyone, and produced en masse.
The way that you promote incentives to reactivate past customers can also affect your image. If your brand prides itself on elegance, luxury, exclusivity, and opulence, a flash sale with 20% off everything will more than likely undermine that image.
Branding and marketing symbiosis
Every customer-facing channel of your business is prime for your branding and marketing efforts to spread your products, name, values, and morals. Making your branding complement your marketing efforts and vice versa isn't particularly hard, but not many brands consider the symbiotic relationship between the two.
At the end of the day, your marketing efforts are never really done, and your branding can continuously evolve and change should your buyers' sentiment also shift.