Hey there, you know what? Manufacturing websites can be great.
I mean, like, seriously. I've been spending quite a bit of time in the web design world, and I've come across some real gems in this space.
So, lemme break it down for you:
📈 I've seen some insanely good designs lately.
🎨 Creativity? Oh, you betcha.
💡 These sites are super inspiring for, like, anyone.
Honestly, we can learn so much from these sites. And I totally want to share the best of the best with you.
In this article, we're gonna dive into the Top Manufacturing Websites You Can Use as Inspiration. I'm super excited to show you these, so buckle up and get ready to be wowed!
Top manufacturing websites
Graco
What we like about Graco is that it is clean and balanced in terms of colors and images. Designers ensured this manufacturing website is friendly. They did so mostly by applying legible text and making it easy to scroll through the content.
Dynamic, high-quality pictures are a smart and very effective way of conveying a message. Isn't that what web design is all about? Creating something beautiful and letting it work for you?
Cisco
Cisco's manufacturing website supports the values of the company. The first thing you notice on their well-balanced homepage is the navigation sequence. There is a 3-level horizontal menu that expands from the header bar and contains all of their fancy features. Examples include various data distribution methods and important dates, and key topics such as web security.
What is the best way to display that many security and communication devices? Any item in the menu can be accessed with a single click, regardless of where you land.
The simple menu design is perfect for large corporations like Cisco. The company manufactures, develops, and sells hardware and software. They have an array of products to offer to multiple business sectors. Therefore, they rely on graphics for a more pleasant user experience, so that every visitor can find what they are looking for within seconds.
Lockheed Martin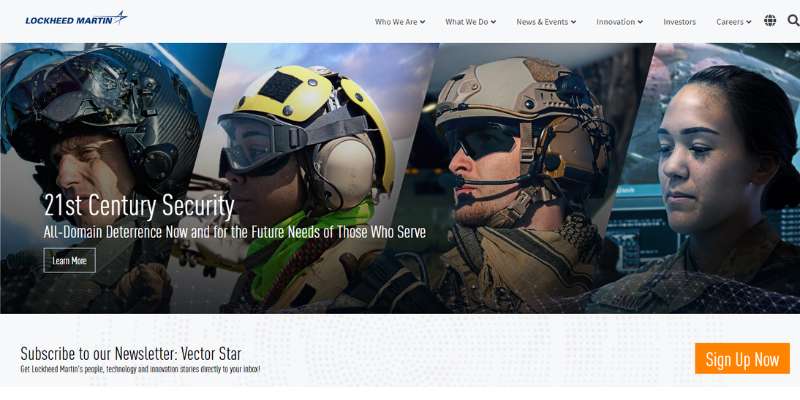 Lockheed Martin's manufacturing website also has a prominent homepage. Visitors are greeted by a high-resolution picture of their newest product. For example, there is a missile space-flight trajectory. It is accompanied by their famous slogan: "Revolutionizing hyperspace technologies".
In this way, the company displays cutting-edge experience and sophistication level.
All along, visitors enjoy high-resolution graphics and fresh imagery. Such an approach on manufacturing websites convinces visitors of the critical nature of their work. This site does an even better job with extensive reads and press releases on every technological product. There is even a dedicated page for their social events and activities.
John Deere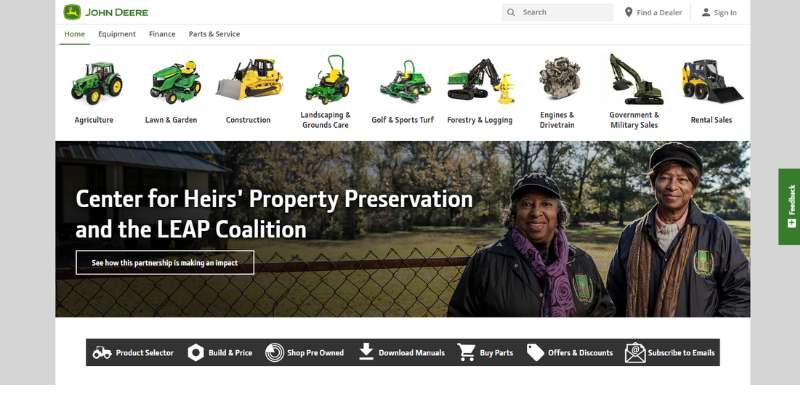 Advertisement
John Deere's manufacturing website mastered the skill of good content marketing. They also feature top-notch images to engage the visitor. It takes only a few seconds to understand who they are and what they do. Isn't that what any manufacturing website aims to achieve?
Fairlawn Tool Inc.
The key tool of Fairlawn web design is the heavy use of imagery. A choice like this doesn't have to compromise function, as best shown by this website. We are still talking about a highly-responsive design that scales perfectly on different devices. You can access it from a smartphone to a full-size computer.
The site is bold but easy to use. It showcases appealing and action-oriented scenes without many text descriptions. It also uses attractive and recognizable icons, all tailored to the brand and the overall looks of the site. The layout is somewhat unusual but doesn't compromise the scrolling experience. Last but not least, there is a very up-to-date and effective search function.
Zeon
Zeon's manufacturing websites, the same as the company, convey a hero message of quality and innovation. It also speaks tone of service delivery and excellent customer support. Users are informed via high-resolution images. Better yet, these images load quickly regardless of the internet speed.
Zeon discarded endless scrolling in favor of action-driven features. Examples of such CTAs include Talk to an expert, View our Products, Join our Team, etc.
As a result, their pages load in under one second, which places them among the 10% of fastest-loading sites in the world.
IBM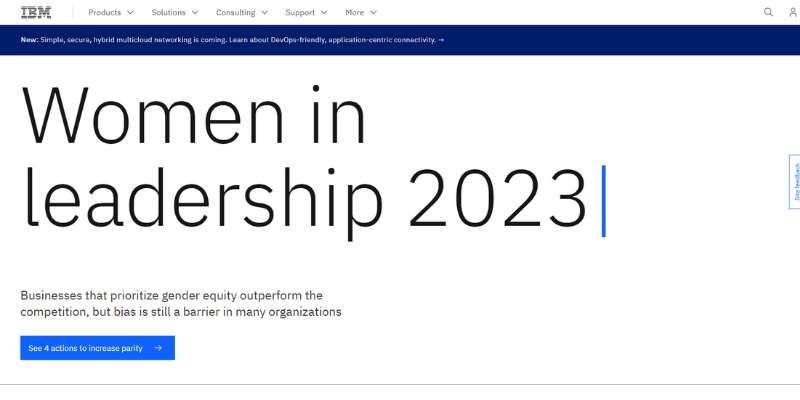 IBM's homepage is persona-specific, and that's the feature to look forward to. Their content relates to multiple CTAs specific to the persona and the type of interaction.
Marlin Steel
Marlin Steel deserves a high position among the best manufacturing websites. Next to their videos, images, and compelling copies, there is a clear value proposition that speaks loads about the company.
The video narrative is also very compelling and linked to their YouTube channel. For those of you who want to learn more, there is a rich library with case studies, white papers, and custom 3D renderings.
Tymetal Corp.
Tymetal is another leader in the manufacturing industry that specializes in security gates. The manufacturing business site offers the categorization of information for different security requirements.
It all starts with the homepage image slider. You click on an option, and a sub-page menu with clickable text describes the skills you're looking for. Easy navigation should not be taken for granted in a manufacturing industry as complex and difficult as this one.
On top of all that, the Tymetal corp website features professional videos. In such a way, the designer communicates and clarifies the services and value to be delivered to the customer. These features are highly appreciated by busy engineers and facility managers. Industry professionals don't have the time to search through catchy taglines and fancy features.
Independent Machine Company
It is important to have an attractive and functional website, but manufacturing prefers function over form. Thus, they offer a simple website that informs visitors of their offers with a large image slider.
Independent Machine Company's site does an excellent job informing visitors about their services. Key information is placed just below their homepage's image slider. There are 4 service types, and each of the images features a longer description of their project. Main services and machinery are marked as highlights and supported with a hero image, which makes them easy to find.
Caterpillar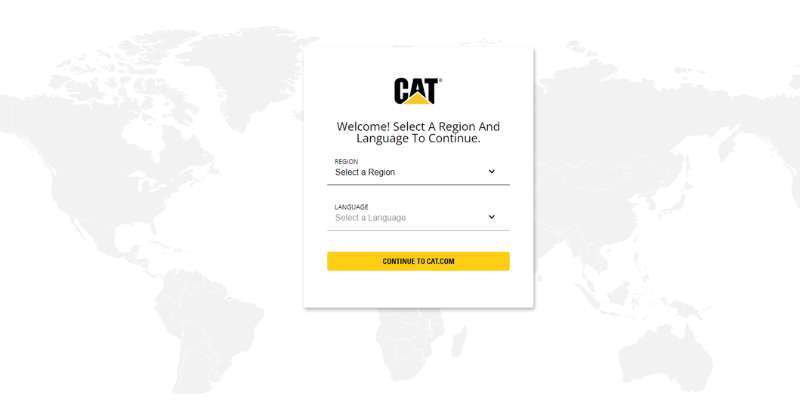 Caterpillar's website welcomes visitors with a region-specific map. This map helps narrow the products and services available to them. They are also greeted with the catchy 'Let's Do the Work' tagline, which convinces them of the quality of the service.
As they scroll, they get to be part of the process by seeing images of happy employees at work. For each construction machine, there is a clickable thumbnail that provides more information.
TextTech Industries
This manufacturing website relies on legible fonts and large headlines. You will also appreciate the catchy color palette that helps differentiate among different sections of the site.
Mark Forged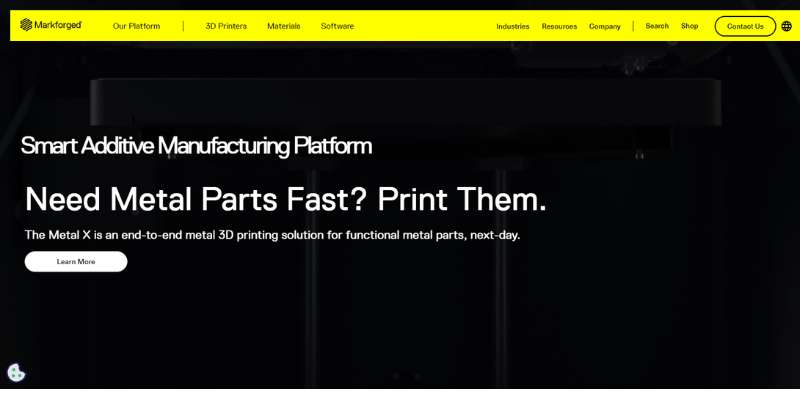 Mark Forged stands for elegant manufacturing website design. We are talking about a unique dark-themed website with sleek graphics, quality imagery, and bold typeface. Site visitors are in for a treat!
At the same time, the site arranges its compelling content paired with 3D imagery. For each product, there is a short explanation of which problems and challenges it solves. The application spotlights are further supported by blogs, case studies, and technical resources.
Plex
Our search for the best manufacturing websites would not be complete without Plex. You will be amazed by their outstanding website design. We recommend you check the videos displaying their manufacturing process.
We are also talking about a website that is fast, easy to navigate, and very responsive. This website design once again confirms that the most efficient layouts are simple layouts.
Rice Lake Glass
This great manufacturing website captivates attention in many different ways. For instance, there is a catchy hero video of the manufacturing process. Site visitors rely on the tabbed interface to easily locate essential information and learn about the company.
Titan Systems
This world-renowned brand works with rich graphics and simple, yet catchy text chunks. The clean home page features an orderly, simple navigation bar that can lead you to any section of the site.
Marion Body
This manufacturing site captivates attention with robust taglines in the center of the homepage. The quality images are strategically scattered all over the site, to ensure you have the right information at hand at all times.
AngloAmerican
All the best manufacturing websites have a powerful hero section, as in the case of AngloAmerican. The website design also relies on the smart use of white spaces, legible fonts, and high-quality imagery.
American Alloy Fabricators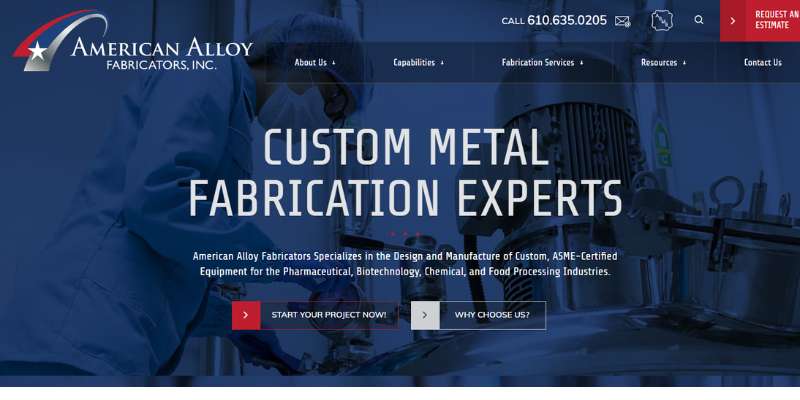 This manufacturing website design is all about navigation. Users enjoy catchy and consistent animations and a delightful color palette. Overall, the website has a superior and professional tone, the same as the manufacturer it stands for.
Chrome Industries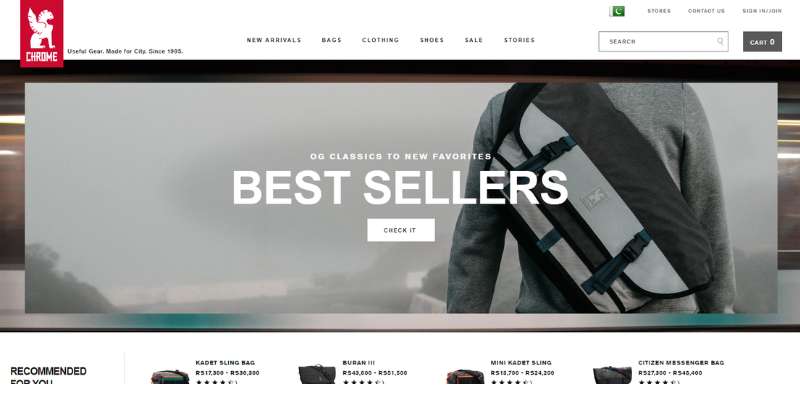 The key advantage of Chrome Industries' website is the use of quality imagery. According to their sales team, appealing product imagery is key to generating leads and retaining customers.
CST Tires USA
In a fashion similar to Chrome Industries, this website uses professional images. These images are their most important tools for selling and inbound marketing. They use quality fonts and white spaces, which makes the website legible and easy for the eye at the same time.
Anduril
Anduril has a very modern manufacturing website with a no-frill design. You can immediately tell that their images and fonts are carefully selected to attract attention. At the same time, the minimalist layout enables you to locate information within seconds.
AvinED
AvinED's web designers show us which is the right way to use color on a manufacturing website. They can be proud of the unique layout and the classy look of the website.
NTS Unitek
NTS website features a fancy hero section and a dynamic slider that brings the site to life. Different service sections are displayed as tab items. More importantly, they are accompanied by quality images and short descriptions.
MAC Instruments
MAC Instruments is a very popular manufacturing company. Following the trend of best manufacturing websites, they chose function over form. Design is simple, and navigation is achieved with bold, clear buttons. The excess use of graphics reassures visitors that they've found the right provider in their industry.
Chalmers & Kubeck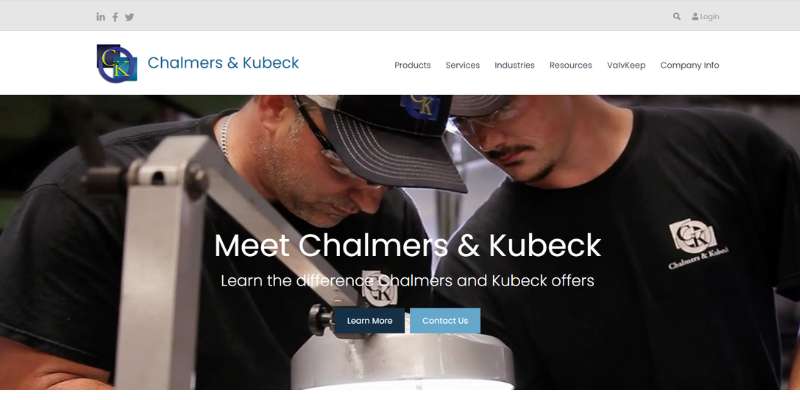 Chalmers & Kubeck is the leading independently-owned US machine shop. They provide both machinery and manufacturing services. With an offer like this, it is even more important to facilitate the experience of their website visitors.
Contrary to expectations, this website is clear, simple, and well-organized. The heavy use of text may be unavoidable, but their high-quality images certainly break the monotony.
Rockwell Automation
This manufacturing website is best known for its futuristic touch. Sleek and professional, this site pleases visitors with pleasant hover effects. As they scroll, they are even more impressed by the smooth transition animations. There is a clear and concise layout suitable for all industrial and manufacturing companies. Check it out!
Sharretts Plating
Sharretts Plating is a magnum for industrial plating services. This explains their high-quality web design. They serve a variety of customers, but the site is still efficient and easy to navigate. There are a lot of other manufacturing websites that can learn from them.
FAQs on designing a manufacturing website
What are the essential elements of a manufacturing website design?
Clear navigation, large call-to-action buttons, interesting images, and captivating information are essential features of a manufacturing website design.
Showcase your manufacturing expertise and explain your value proposition effectively. You should also check that your site runs quickly on mobile devices and that it is optimized for them.
Social proof features, such as reviews and testimonials from satisfied customers, are an effective way to gain the confidence of potential new ones.
How can I make my manufacturing website user-friendly?
Focus on simplicity and usability to attract industrial website visitors. Make sure the navigation is simple and straightforward, and that you use clear, succinct language.
Think about incorporating icons or other visual clues to aid people in navigating your site. Also, make sure that your website is mobile-friendly and has a quick load time.
What colors and fonts are best for a manufacturing website?
Your brand's identity and the people you're trying to reach will determine the colors and fonts that work best for your manufacturing website.
Yet, sans-serif typefaces, which are both clean and modern, tend to project an air of professionalism and reliability.
Websites in the manufacturing industry frequently employ the colors blue, grey, and black to express trustworthiness, strength, and stability.
How can I showcase my manufacturing capabilities on my website?
The production methods, machinery and equipment, quality control procedures, and certifications can all be highlighted on a company website to demonstrate the company's manufacturing capabilities.
You can show your competence and experience by including case studies and customer success stories.
What types of images and graphics should I use on my manufacturing website?
High-quality images and graphics that are consistent with your brand should be used on a manufacturing company's website.
To better inform site visitors about your manufacturing capabilities and inspire confidence in potential buyers, think about including photographs of your facilities, products, and team members.
How can I optimize my manufacturing website for search engines?
Do some keyword research and use those terms throughout your manufacturing website's content and meta tags to make it search engine friendly.
Make sure your website is easy to use on mobile devices and loads quickly. If you want to increase your site's visibility in search engines, you should think about establishing inbound connections from credible resources.
How can I ensure my manufacturing website is accessible to all users?
Use accessible design techniques such as large and legible fonts, picture alt tags, and keyboard navigation to make your manufacturing website available to everyone.
You should also test your website's accessibility with third-party technologies like screen readers.
What content should I include on my manufacturing website to engage visitors?
Articles, blogs, case studies, and other instructional materials are all great examples of content that may keep people interested in a manufacturing company's website.
To further pique the interest of site visitors, consider including quizzes or polls. Consider using social proof pieces like reviews and testimonials from satisfied consumers as well.
How can I incorporate interactive features on my manufacturing website?
Product configurators, virtual tours of buildings or equipment, and chatbots to answer commonly asked questions are just a few examples of interactive elements that can be added to a manufacturing company's website. Your website's user engagement and user experience can both benefit from these additions.
What are some best practices for designing a mobile-friendly manufacturing website?
Using a responsive design that adjusts to multiple screen sizes, optimizing photos and media for mobile devices, and making sure your site runs quickly are all essential for developing a mobile-friendly manufacturing website. Also, make sure your mobile site's navigation is simple and straightforward.
Final thoughts on these manufacturing websites
If you're looking for the best manufacturing website, this list is a great starting point. Hardware suppliers need an industrial website that is simple but features lots of information, and that is always a challenge.
Therefore, it helps to look at the great website of these industrial companies and learn how it is done.
We hope our list will help you create the perfect industrial website for your needs. Keep in mind that your website should be informative, speak in favor of your industry expertise, and be suitable for mobile devices. The better the website is, the more customers the manufacturing company will attract!
If you enjoyed reading this article about manufacturing websites, you should check out these also: