Creative photo manipulation services are helpful if you need to prepare modern website designs, marketing material, flyers, posters, etc. Photo manipulation professionals implement their theoretical ideas combining different photos into one integrated artistic image.
Qualitative photo manipulation is not just the "merging" of images in Photoshop. It includes image editing of all fragments in one color gamut, tone correction, considering location of the light sources and the direction of the shadow; it is almost impossible to divide such an image into original photographs.
Therefore, a company providing photo manipulation services unites real artists, who can create any picture at your request. Taking into account the high price of such orders ($20-$50 per picture), the service should be trustworthy. We have compared 8 reputable platforms sending each of them an identical order.
1. FixThePhoto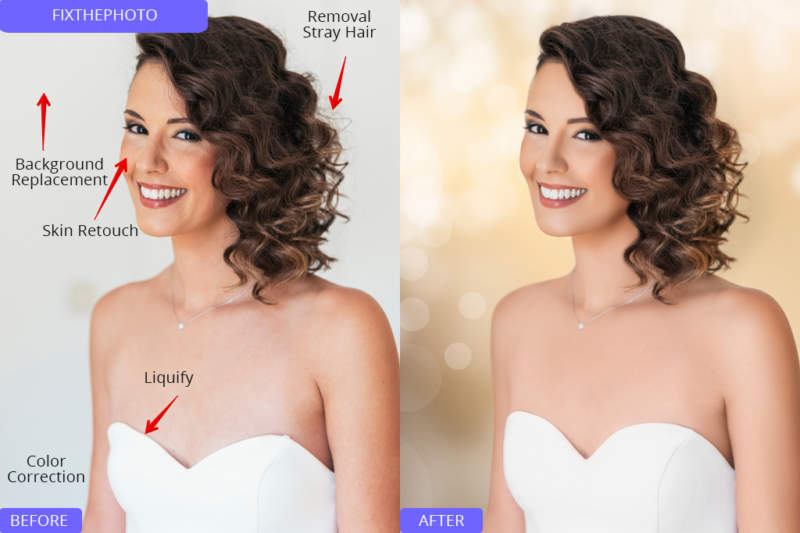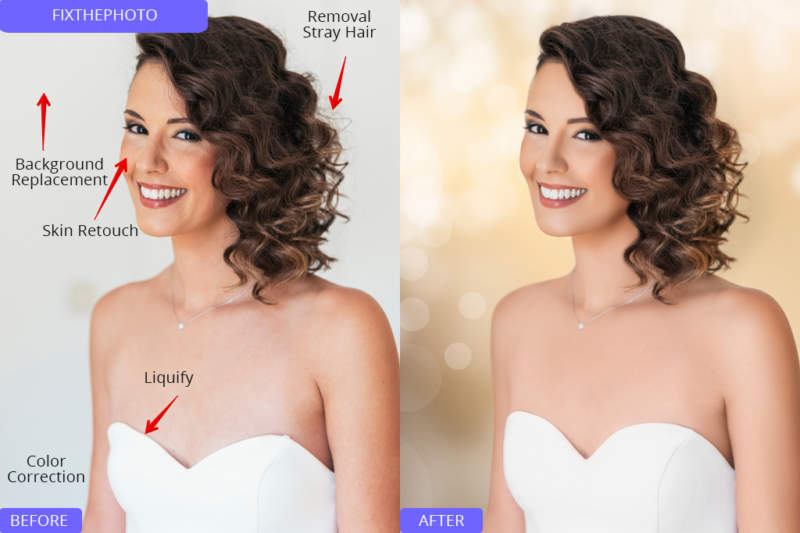 Quality of work: It's the best work that we received. We didn't send them detailed instructions but hoped that the enhanced image would look like this. Pay attention to the skin retouching quality and especially how skillfully they removed her stray hair.
Retouchers also replaced the background and the result looks quite realistic. What we like the most is their attention to details, you can see the new background between the hairs.
Website usability: FixThePhoto pleases its users with a simple and easy-to-use website. We like that it offers numerous photo manipulation samples and judging from their gallery they may implement even the most unusual photo manipulation ideas. You may upload your files using Dropbox, E-mail or WeTransfer. What is more, apart from offering photo manipulation services, these guys offer Photoshop overlays, actions, textures, and Lightroom presets.
Price and turnaround: The services are affordable and easy-to-understand; each service has a detailed description, and you understand what you pay for. The price for a photo manipulation service is $25 that is an average cost of professional services in this sphere. It took them 3 days to cope with my order.
2. Wedding-Retouching
Quality of work: The edited photo has a very soft and beautiful look. The first thing that we have noticed is the perfect retouching of the skin, hair and, particularly, makeup. The latter was skillfully enhanced and highlighted. The background is light, simple and in perfect harmony with the portrait itself.
Website usability: Wedding-Retouching company has a typical site for the services they provide. It is clean, light and simple. It has a useful blog with professional recommendations that are mainly related to wedding photography. Although the portfolio is big, it doesn't have many samples of photo manipulation (such services are called Photo Montage here).
Price and turnaround: The price list is absolutely straightforward. What is more, this platform offers great discounts on wedding packages; therefore, this platform is very popular among wedding shooters. We paid $15 for an image ‒ quite an acceptable price for such a level. It took them 4 days to cope with the task. This is a regular speed for such photo manipulation service.
3. WeEdit.Photos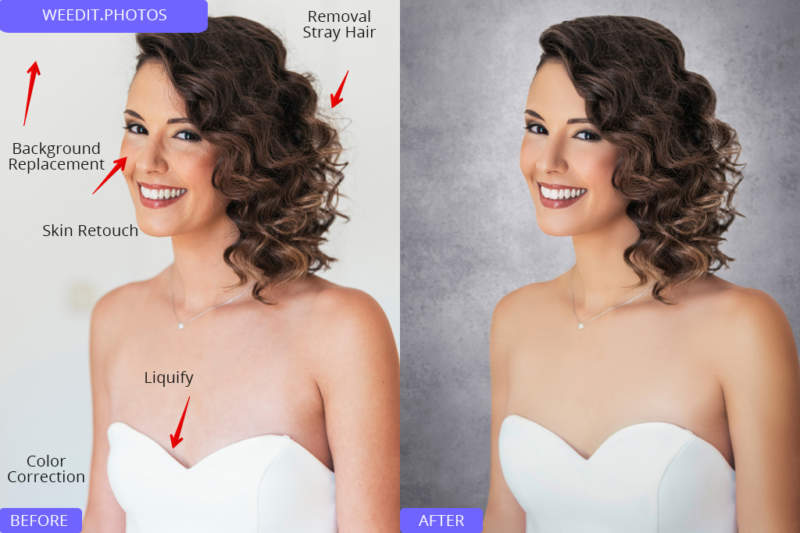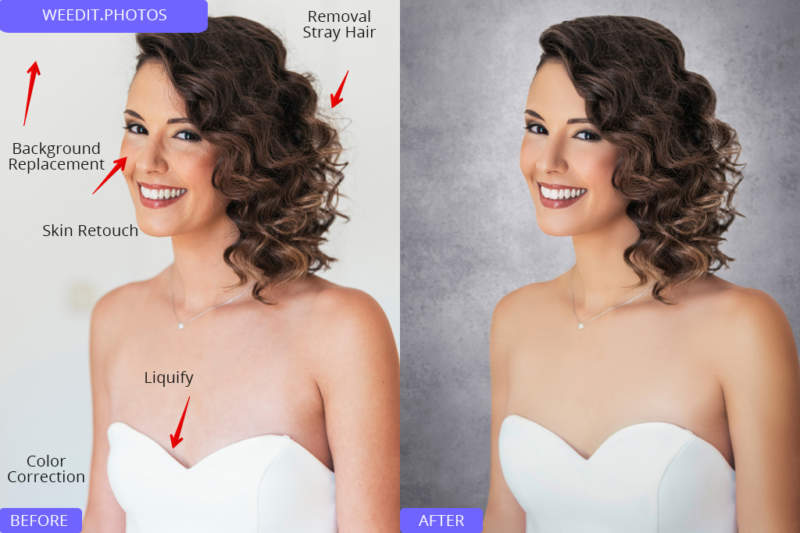 Quality of work: Unlike the previous two companies, this service focused on creating a more austere background, however, the overall quality remains fairly impressive. Stray hair removal, skin retouching and color correction were done at the top level.
Website usability: WeEdit.Photos has a qualitative and modern site easy to navigate and understand. However, at first, we were confused by the absence of the service list; then we found it on the main page written in a small font.
There is a good blog but it is not active for more than a year. It is rather easy to order photo manipulation services on this platform ‒ you just have to register and upload your images directly to the site or via Dropbox.
Price and turnaround: We've paid $10 for the order and think that it is a low price for such kind of work. They were very fast ‒ it took them only two business days to cope with our image.
4. Outsource2india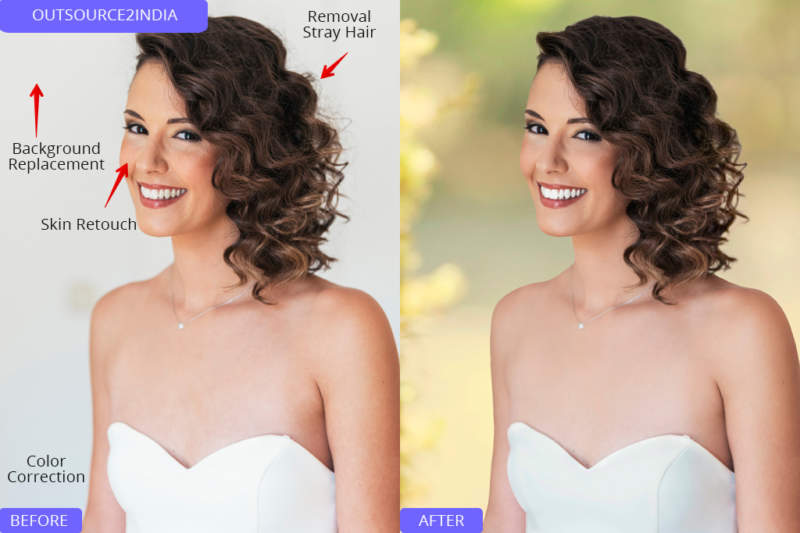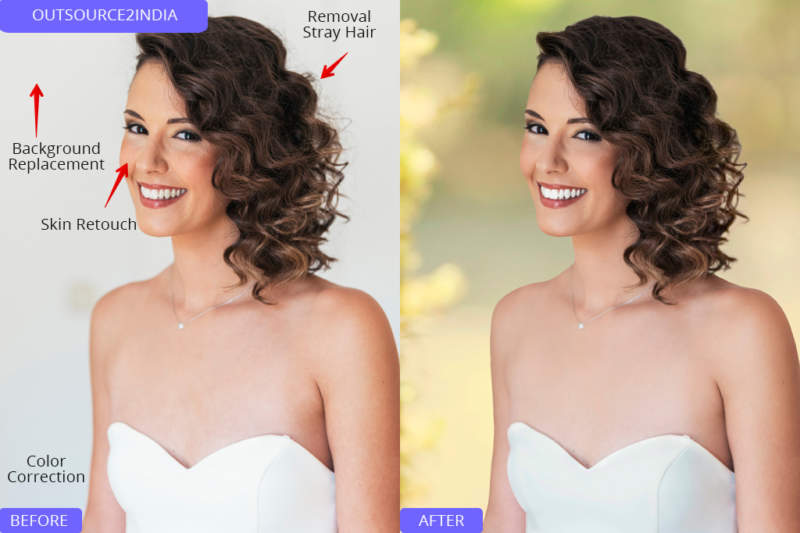 Quality of work: Skin retouching was done on a decent level, just like color correction, but stray hair removal could have been done more skillfully. They enhanced the background and tried to make it look more realistic as if a photo was taken outdoors. However, because of the color difference between edited parts, it's obvious that the background was replaced.
Website usability: The site is rather difficult to understand since this company offers not only photo manipulation services but also numerous other adjustments, starting from app development and ending with financial management.
When you manage to find the list of their image editing services, you have to decide on the direction of the particular service. We have chosen creative photo manipulation services and didn't see any samples ‒ there was one 1 image 200х200px large.
Price and turnaround: The situation is very funny when it comes to pricing ‒ nobody knows what the final price will be. You pay $7 per hour and one order may cost you $10 while the other ‒ $30. We've paid $25 that is quite much for this type of work.
5. Ditostech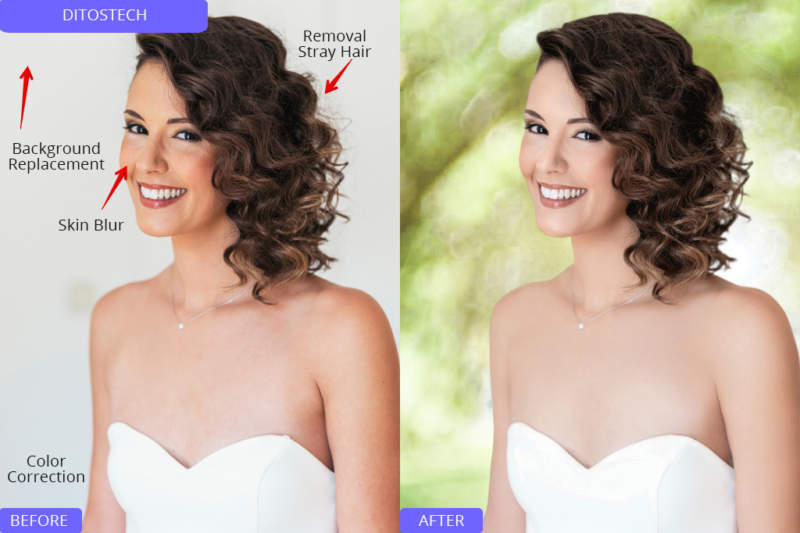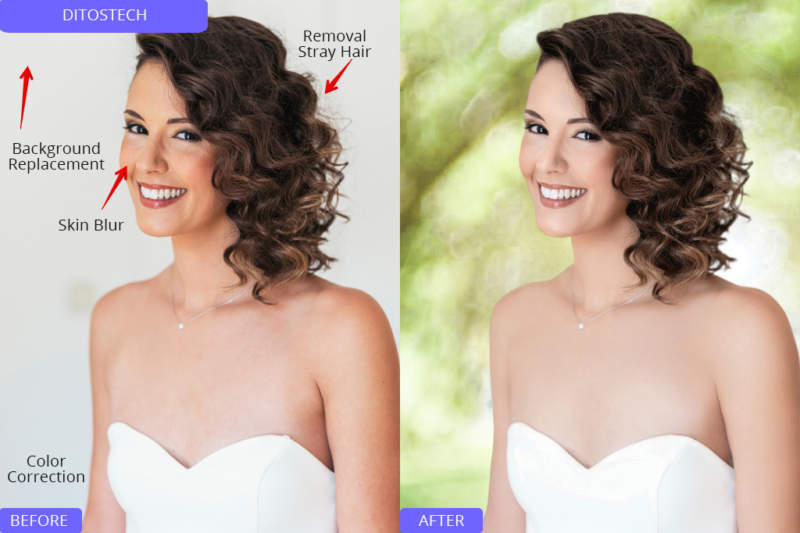 Quality of work: It seems that after color correction the image lost its natural colors. The skin was slightly enhanced, however, there was no need to advanced retouching as the skin of the girl on the "Before" photo is perfect. We fail to comprehend why they have opted for the "outside" background, but they cut in out quite accurately.
Website usability: The site has a slightly outdated interface but, in general, it is rather appealing. The portfolio contains 55 images, only two of which are related to photo manipulation services. These two works are done incompetently and it is easy to identify separate images and their joints. To place an order, click on Free Trial, send them an email and wait for the answer.
Price and turnaround: There are no prices clearly defined. To know them, you should send an email. Speaking about advantages, there is the possibility to place a free trial order. They didn't inform us of the price and didn't contact us. They coped with the order in 4 days.
6. Mapsystemsindia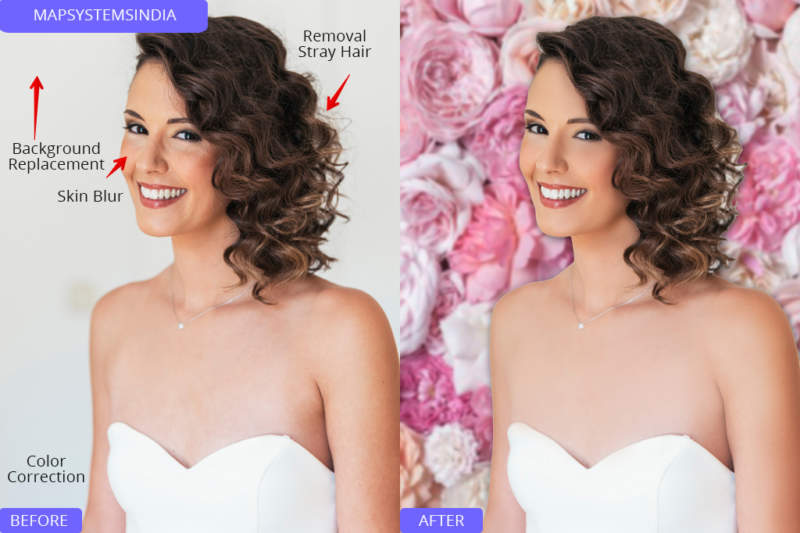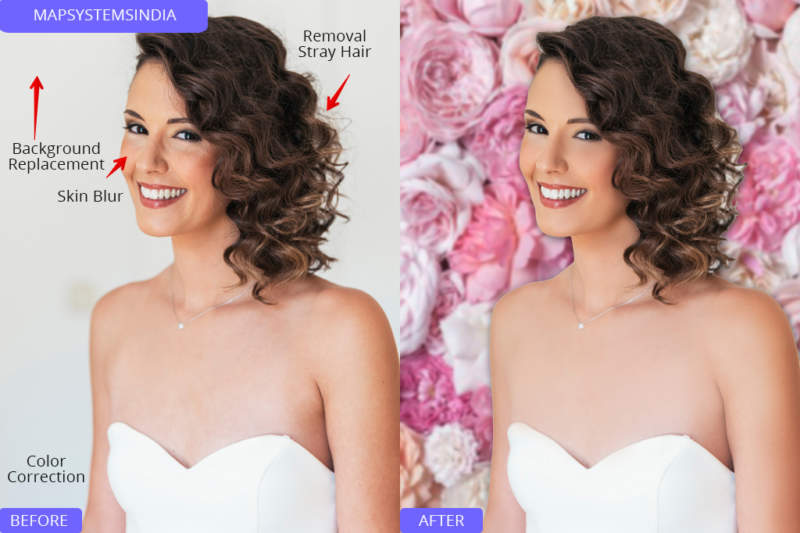 Quality of work: It's hard not to notice the outline that remained after cutting the girl out of the previous background. Instead of doing skin retouching, they slightly blurred the image, which made some parts of the face, especially the right eye, look flat. You can easily notice the previous background between the hairs as well.
Website usability: The site is simple and it is easy to find a necessary image manipulation service on the list of 20 available ones. They give a detailed description of all the changes that may be applied by their professionals.
Unfortunately, there are no work samples. To place an order, you should provide your data, email address and mobile number. Then you wait for the answer and they tell whether they can do it.
Price and turnaround: There is no price list. You will know the price for your order only after the telephone talk or over email. The price for the order was $13 and they spent 2 days but we had been waiting for a call to place an order for half of the day.
7. Clippingpathlab
Quality of work: When we see such examples of photo retouching, we want to advise retouchers to replace their monitors, as something is definitely wrong with them. In most cases, it happens when the settings are off because the monitor hasn't been calibrated properly for a long time.
The photo is quite dark. Even if we set brightness to the maximum, the girl looks as if she was standing in the shadow. However, we like the background choice.
Website usability: This image manipulation service has a simple and plain site that is easy to navigate. However, the background is too bright. There are some photo manipulation examples and several product editing samples and that's all. So, we didn't expect they would agree to accept the order. Ordering is rather simple ‒ just fill in the form and upload files directly to the site.
Price and turnaround: There are almost no prices. There is only a price for clipping path services; other prices will be available only upon your order. We paid $10 for their work and they coped with the task in 2 days.
8. Colorexpertsbd
Quality of work: We would call this work "Early-2000s filters". Instead of replacing the background, they simply removed the dark spot, though, it's still quite noticeable, and left the rest as it was.
They didn't retouch the image but made it look blurry. The hair was slightly edited, but they left some protruding hair. The worst part of it is that color correction was done on a monitor with a serious color rendering issue.
Website usability: The image manipulation service has a simple and convenient site with a modern interface that looks really nice. However, the section with samples is poorly-designed ‒ each example photo looks like a funny Ps image shared on various forums, not like serious work. Everything looks amateurish and negligently. To place an order, you have to fill in a really long form with lots of personal data and then upload your files.
Price and turnaround: The price list is quite detailed but there are no prices for photo manipulation services. However, you may place a free order. This work would cost $11 but we got it for free. It was ready in 2 days.