Using Twitter to establish your brand image is a positive move for your startup business. Resorting to Twitter as a cost-effective means is a great way to engage your audience. Considering the advantages and taking a look at the advantages to help you understand why you should have a Twitter account for your startup business.
Why Should You Use Twitter to Promote Your Startup?
When you use Twitter for your startup business, your audience can interact with you and share their ideas about a subject you have just tweeted. Moreover, they get to know your latest news or promotions and can participate in them. Furthermore, they can contact you in case of the occurrence of any kind of issue.
There are about 321 million daily active users on Twitter which implies that the platform can make your startup thrive. In addition, Twitter is the 4th social media globally for attracting website traffic in October 2020, according to Similarweb. Consequently, Twitter is a social media you can trust as a fertile land with respect to leads that can grow your startup business. Remember to always analyze your sales metrics so that you know if you are going in the right direction.
Tips to Make your Startup's Twitter Account Stand Out
1. Create a Perfect Twitter Profile
To start your activity as a startup on Twitter, you should first of all work on your Twitter profile. Here you will read about the details that you should consider for creating a perfect Twitter profile.
Pick an Easy-to-Search Twitter Handle
A Twitter handle or username is different from a Twitter name. Twitter handle is the unique name that appears in your profile URL with a @ sign in the beginning. It can contain up to 15 characters. On the other hand, the Twitter name is the complete name of your startup that you can change any time It can contain up to 50 characters. Remember that if the two names are too different from each other, your account will be hard-to-search.
Take a look at @archillect profile on Twitter:
Searchable Business Name
As the Twitter handle has to be unique and searchable, you can try adding 'Inc', 'Pvt Ltd', 'HQ', etc. at the end, if your desired username is already taken. To keep your Twitter handle easy-to-search, you should avoid using characters, numbers, and long or complicated names. Moreover, using keywords is a mistake as it may appear as spam when users search for the keyword.
You can also use the abbreviations of your startup business just like the following example:
On-Brand or Real Twitter Profile Photo and Cover Image
Adding a photo and cover image is essential for your startup Twitter profile if you want to appear professional. The profile photo that you choose can either be a real image or a logo. Either way, it has to represent your brand well enough. The best dimension for your profile photo is 400×400 pixels.
The cover image or the header of your profile can contain more than just your brand image. You can change it from time to time and either inspire your audience or inform them about your latest news, products, services, updates, etc. Changing your cover image constantly gives a dynamic nature to your account that is interesting and engaging. The ideal size for a header is 1500×1500 pixels.
Remember to upload the highest resolution JPG, PNG, or GIF format of your photos for both the profile photo and the cover image.
Look at the profile photo and cover image of @bookpoets and check out the relevance:
Brief and Descriptive Twitter Bio
The next step is to optimize your Twitter bio. A bio on Twitter contains up to 160 characters and you should describe your startup within a few words. Your description should be written in a way that gives one or several reasons for the audience to follow you. For instance, you can write about the value of what you do, how you can make their life easier, etc.
Twitter bio can also include a bio. Therefore, you can insert the direct link to your startup website or other social media in your Twitter bio. In addition, you can reach local followers by adding location to the bio. No need to panic if you are only active online because you can still add your founding location or the locations you work with.
Check out @motivational Twitter profile:
You can add your Twitter profile link as well as all social media links to your Instagram bio and generate leads from Instagram to your Twitter account. Moreover, add your Twitter profile link to your other social media and promote it effectively.
A Catchy Pinned Tweet
Pinned tweets are the static tweets on the top of your profile. Therefore, when a new visitor visits your Twitter profile, they can see your pinned tweet prior to other tweets.
A pinned tweet should be your most exciting, informative, and inspiring tweet. It could also be the latest news about your startup that you want your audience to know and engage with, for instance, your promotions, product launch, cause or charity, etc. Though you can change your pinned tweet any time, you can still keep it for several months as well. It all is up to you and the path your startup business is going through.
Pinning a tweet is quite easy. All you should do is click the arrow at the top-right corner of your tweet and select 'Pin to your profile'. Piece of cake!
Look at @nutellaUSA pinned tweet as an instance:
2. Promote Other Twitter Businesses
Promoting other businesses on Twitter is necessary to capture their attention for promoting you. In other words, recognizing others leads to your own recognition by them. When you shape such rapport strategically, the result is definitely promising.
Retweeting the other businesses' tweets is a good way to both get noticed by them and to inform your own followers about that particular tweet. Therefore, mass tweeting would not be wise at all as it can signify that you have no content to share by yourself. In addition, remember to share your thoughts on each retweet and convey your message.
3. Use the Best Niche-Related Hashtags
Using hashtags on Twitter is advantageous for your startup business since it allows Twitter to index your post. Then, users on Twitter can check out the post if they search for that particular hashtag. Therefore, your post attracts anyone who is interested in that particular hashtag and you can increase your audience accordingly.
Add hashtags to your posts whenever you feel the need for hashtags for your posts depending on their subjects. However, remember not to overuse hashtags per tweet. Keep the number of your hashtags between one or two per post and it would be ideal.
Twitter also has 'trending' hashtags that are mostly used or, in other words, 'trended' among Twitter users. To be more specific, trending hashtags are those that people tweet about the most. Trending hashtags are not unique. They differ from location to location or are dependent on social connections and interests.
Using trending hashtags for an irrelevant post just for the sake of their popularity is something that you should avoid. Because it is a useless unbeneficial act. People like to see relevant posts when they search for a trending hashtag. Irrelevant posts will be ignored due to the lack of interest and therefore you will not get any audience for your post through trending hashtags.
The screenshot below shows @Nigella_Lawson use of the hashtag:
4. Tweet Timing
Tweeting without a schedule and without considering the best timing can only lead to failure in your Twitter marketing strategies. Let's see how you can avoid the danger of sending your content to the middle of nowhere where no one looks at them.
Schedule and Automate Your Tweets to Be Consistent
Thanks to the growth of technology and AI tools, automation has replaced doing many things manually. Automation of tasks can save a lot of your time so that you have more time to devote to other more important tasks such as creating a captivating content strategy. In addition, automation removes the risk of forgetting to post at a suitable time due to an overload of tasks.
You can share your tweets ahead of time by using scheduling tools and setting the exact day and time for your post to be shared. Therefore, you are able to eliminate manual posting pressure and stress.
Tweet at the Best Time Possible
Posting your tweet at the best time can win your tweet a lot of audiences. Hence, your goal of posting is more likely to be accomplished. But, when is the best time to tweet?
Well, there is no exact time to tell. The reason is that the best time may differ for each business and the type of audience you want to attract. However, there is never a dead-end for almost any issue. You can still follow some recommendations.
According to a detailed analysis of TrackMaven, the best day to tweet is Thursdays. On the other hand, users are more likely to check Twitter during their coffee breaks at work than on weekends. They prefer to catch up on more personal activities or spend time with family and friends on weekends instead.
Regarding the time, the best time spans to tweet are 8 to 10 in the morning and 6 to 9 in the evening according to Hubspot. Remember to be careful of the time zones if your location is different from the location of your target audience. So, always check for their time zone and post in the mentioned time.
5. Interact with Your Followers and Respond to all Comments & DMs
As a startup, you should get yourself known to a larger group of audience. One way to do this is to start interacting with them effectively. Using related trending hashtags is a means to interact with your followers. Your followers engage with your content and you can start hosting a Twitter chat.
A Twitter chat requires your account to have a lot of active followers. During a Twitter chat, users discuss a particular topic using a trending hashtag. The usual time for a Twitter chat is about an hour. Hosting a Twitter chat shows that you are active on Twitter and can engage your followers.
Another thing you can do to keep your followers engaged is to actively respond to all comments and direct messages. Your audience may contact you through comments or direct messages for various reasons. For instance, troubleshooting, customer service, suggestions, etc.
If you leave your direct messages unanswered, you will get a low customer care mark from that user. In addition, if the user is an unsatisfied customer, it is highly likely that they leave a negative comment so that the situation becomes scandalous for you. Therefore, it is smart and wise to answer them especially knowing the fact that there is no character limit for Twitter direct messages.
One last point about DMs to consider is that you should change your Twitter setting to receive messages from anyone. Because by default, you can only receive DMs from those you are following. Changing your setting makes it possible for anyone to contact you through DMs. So, just enable 'Receive Direct Messages from Anyone' in your 'Privacy Setting'.
What to Share on Twitter to Make your Startup's Account Stand Out?
It may happen to you that you run out of ideas for your Startup's Twitter account. Considering what to share on Twitter, you can plan ahead and create creative posts. These ideas may help you get more attention from your followers:
Twitter allows its users to upload up to four photos per post. In addition to real photos, you can go further and think of graphics, infographics, diagrams, etc. in case you want to make your post more data-oriented. There are many tools that can help you create many designs easily and in no time.
Furthermore, GIFs are other exciting options for adding variety to your tweets. Moreover, they can engage your followers regarding how creative and lively they are. If you cannot create GIFs, you can choose among the GIFs that are available on the Twitter keyboard by searching for a keyword. You can also use the available tools to make GIFs that are original to your startup.
Other types of content that you can share are videos or even your blog posts, of course, if you have a blog or website. This is a good way to both engage your followers on Twitter and drive traffic to your website or blog. You can also consult with your product manager and share the latest images of your products.
Here is how @bigseventravel shares its website articles: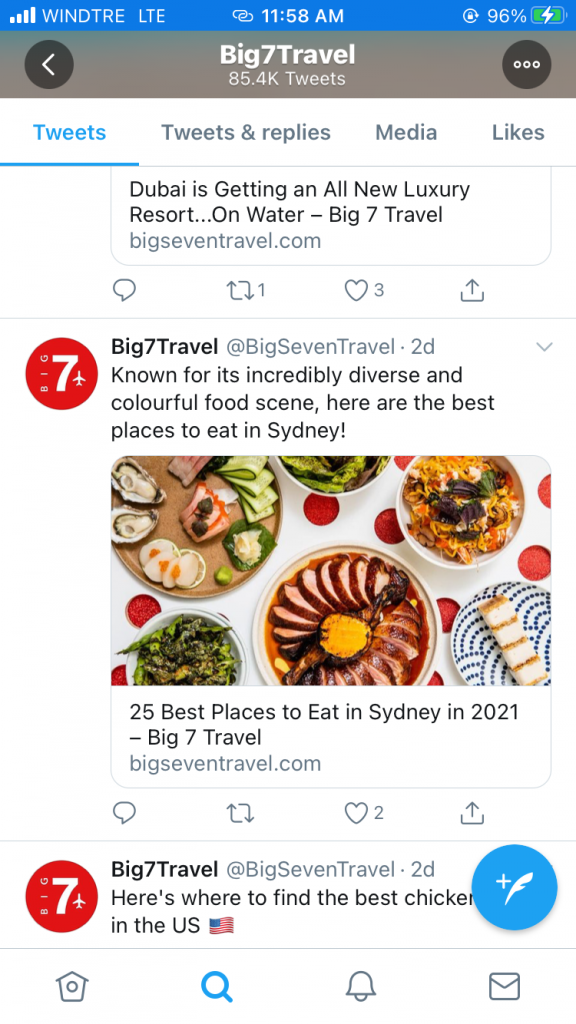 Plus, there are numerous tweet ideas to frequently share and stay active and consistent. For instance, you can thank your followers, retweet previous tweets, share event-related tweets, etc. Furthermore, you can keep up with your posting schedule and preserve your online presence on Twitter.
Conclusion
As a startup owner and marketer, you can follow the instructions above and use Twitter effectively to establish your brand identity, create a sense of community, and build up a strong relationship with your followers and customers. The thing you should always consider while working with social media is that you should be patient and follow the strategies correctly and creatively. It may take time for audiences to know you as a brand so stay motivated. Wish you the best of luck!
---
Photo by Joshua Hoehne on Unsplash