If you want to get more organic traffic to your website and make more sales, you need to ensure that you have an effective SEO strategy. As part of this, along with making technical SEO tweaks, ensuring you have the right domain name, and building backlinks to your site, you should be focusing on creating content that will boost your search engine rankings and attract more people to your site.
In this article, we're going to break down 5 different ways you can use content marketing to boost your SEO. Let's dig in!
Create content that will improve your E-A-T rating
Google only wants to send their searchers to websites that are known for providing accurate and trustworthy information. So, you need to establish your reputation in that area. This is where E-A-T comes in — it stands for expertise, authority, and trustworthiness, which are three factors Google considers when trying to determine how to rank a piece of content. The term comes from Google Search's quality rater guidelines and is something the search engine has been focusing on since 2018.
To improve your rating and show Google that you can be trusted, you need to be creating content that shows your site is a credible source of information. Let's take a look at a few examples of companies that do a great job of publishing E-A-T-boosting content on their sites for inspiration.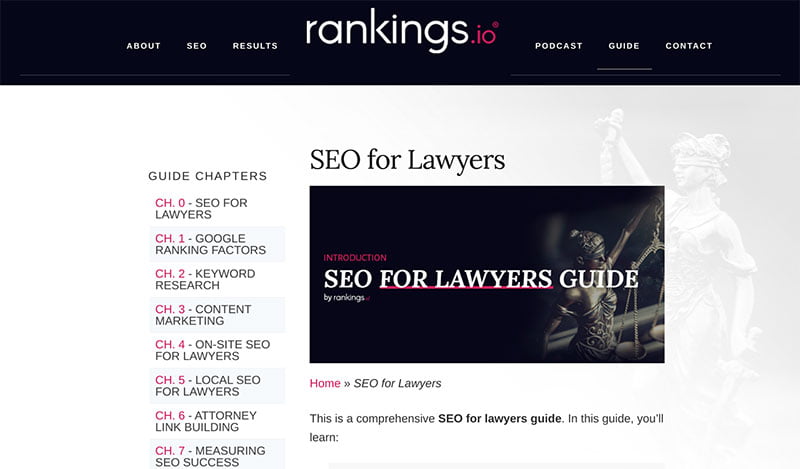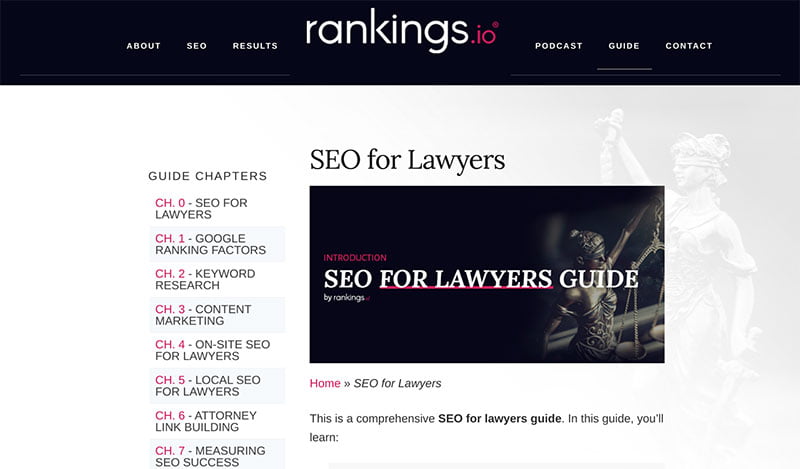 For instance, Rankings.io is a company that specializes in digital marketing for law firms, so they've created and published a detailed guide to SEO for lawyers.
This piece of content makes it very clear to both search engines and website visitors that the company possesses a lot of knowledge on this topic and is an authority in the field. To prove this, they've covered everything from the fundamentals of search engine optimization for law firms to how the results of SEO campaigns can be measured. You might be hesitant to create this kind of content as you fear giving away all of your secrets, so prospective clients will just do your job themselves. However, that's not how content marketing typically works — it's more likely that someone would read this guide, realize that this is an area of digital marketing that takes a lot of expertise, and enlist the help of the company to reach their goals.
And, because this resource does a lot to prove that Rankings.io is an expert in its sector, as well as a trustworthy source of information, it's likely to boost the site's SEO, too.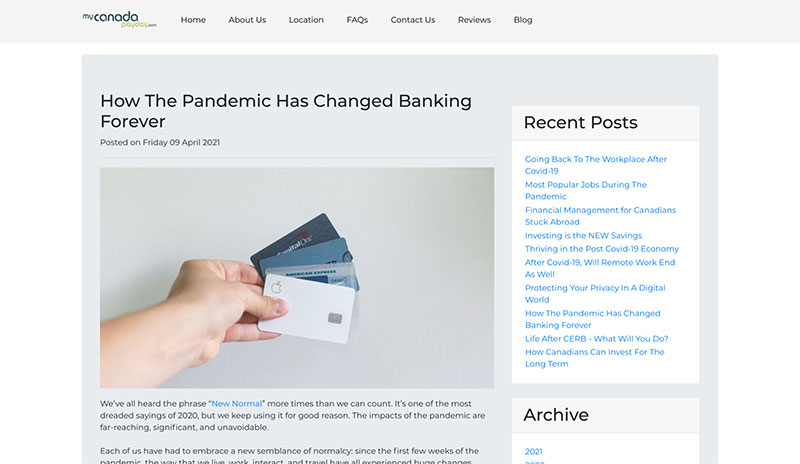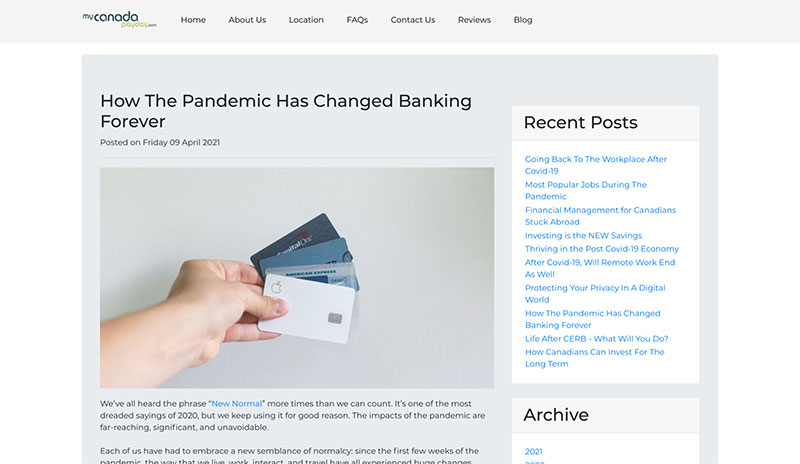 This tactic can work for businesses in almost any field, so let's take a look at another example from the financial sector. MyCanadaPayday is a loan provider, and they regularly publish expert content to help their target audience better understand the financial field. They're guide to how the pandemic has changed banking is a great example.
Again, this piece of content will signal to both search engines and website visitors that the company is a knowledgeable and trustworthy source of information about managing your finances. This is then likely to give the company a boost on the search engine results pages, and could lead to more conversions.
This guide is so effective because it covers a topic that is both timely and incredibly relevant to the company that published it. It includes a lot of valuable information MyCanadaPayday's audience could be looking for, and it shows the business is paying attention to the way the world is changing. It's a great piece of E-A-T-boosting content, and you should consider how you could create something similar for your site.
Think about what you're an expert in and what kinds of content you could publish to prove it. This will help you to charm both search engines and website visitors.
Publish content other sites will share and link to
Publishing high-quality content is key to getting great backlinks. It's important to keep this in mind when you're trying to boost your SEO because, when high-authority websites link back to your website, Google takes it as a vote of confidence in your work and might improve your rankings as a result.
When you're looking to create shareable and link-worthy content, you need a strategy — you can't just publish any old blog post and expect it to get links. So, let's take a look at the types of content that people tend to share and how you can start publishing them on your own site to support your SEO efforts.
First, let's talk about visual content. Think impressive photographs, infographics, and videos, for instance.
Some people don't like to sit down and read a lengthy article, which means they might be drawn to the likes of infographics and videos instead. Plus, a lot of businesses don't have the means to create their own so, if you can, other sites will be likely to share them to make their own content more engaging. Make sure you let those in your niche know that you're happy for them to use your unique visuals, as long as they credit you with a link back to your website.
Ultimate guides can also be very shareable, as they contain so much in-depth information that others will want to pass on to their readers.
Think about what your business specializes in, and what topics your ideal audience will want to learn more about. Then, use this as a basis to create a high-quality guide that's better and more comprehensive than anything else that's already out there.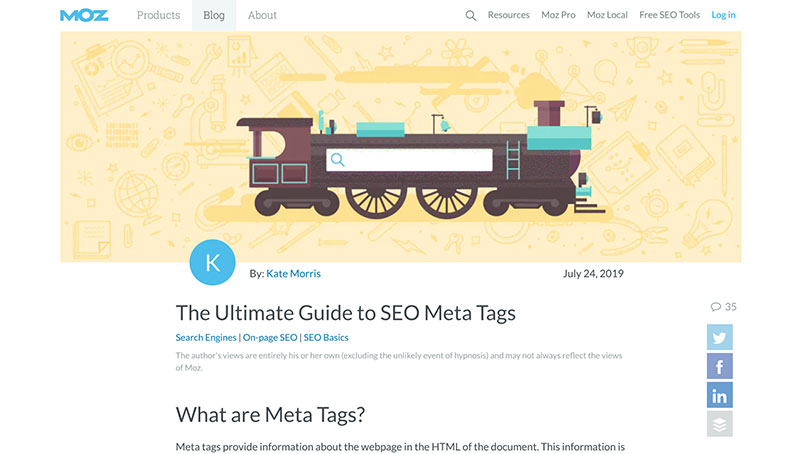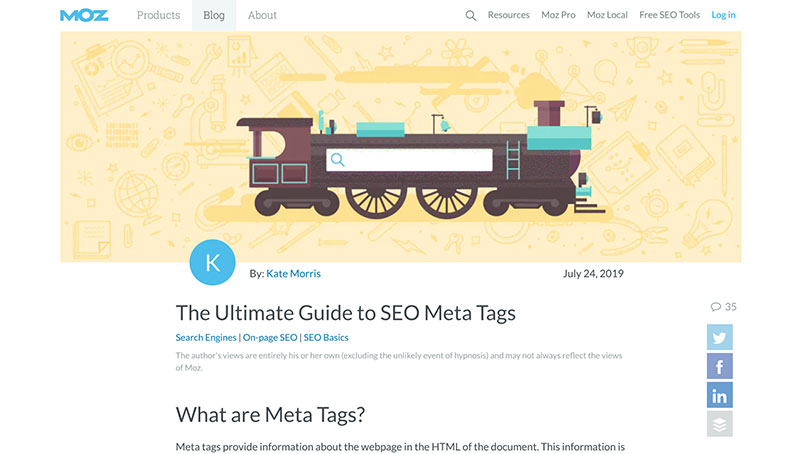 Moz, a company that specializes in digital marketing, has an ultimate guide to SEO meta tags, for example. This showcases how well they know this topic, and also includes a lot of helpful information people will want to link to when they write about similar topics. This makes the guide very shareable and linkworthy.
Finally, conducting and publishing original research is another way you can attract a lot of high-quality backlinks organically. Think about it: if you dive in and do some research on an important topic nobody has covered before, people will want to cite you as an original source of information or statistics when they write about a similar topic.
For instance, take a look at how Compare.com, a car insurance comparison site, researched the true price of driving uninsured.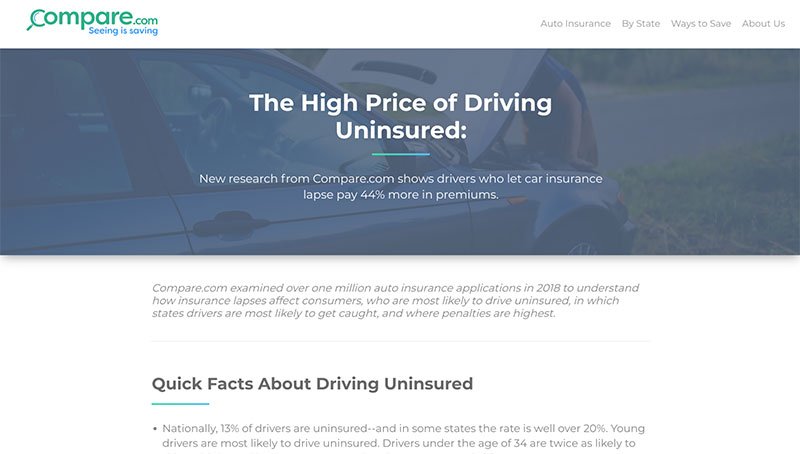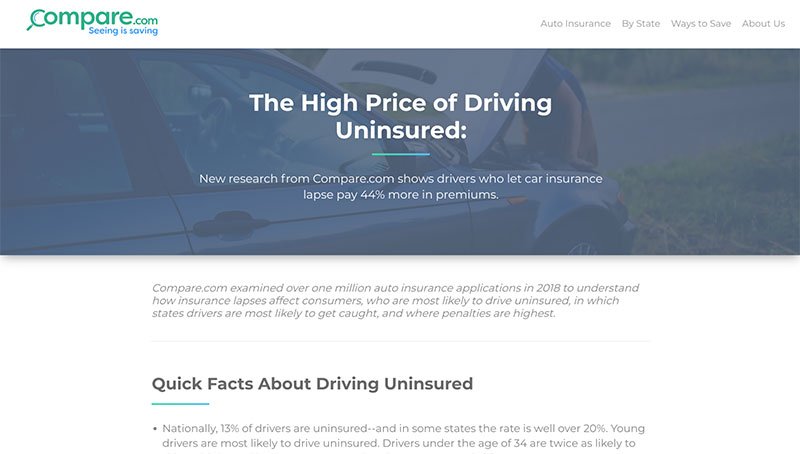 They had their customers answer a variety of questions about auto insurance and published the results. This research is very shareable and linkworthy as, if insurance companies, automotive websites, or news sites want to talk about these statistics, it's likely they'll link back to the site, which could give their SEO a boost.
Is there a statistic that you wish existed, or a topic you think needs more research? Do the work yourself! You'll be rewarded with a lot of high-quality backlinks that could improve your online visibility and help you reach the right people.
Look for content gaps your competitors have left
When coming up with ideas for new content, you'll want to leave your competitors in a cloud of smoke, so it's a good idea to monitor what they're publishing and whether there are any gaps you could fill. To start, look through your competitors' content and see if there are any topics relevant to your business that they aren't yet discussing.
You can also conduct a competitor keyword analysis; this is where you identify which keywords your competitors are ranking for and you aren't. Moz's Keyword Explorer can help you out with this. Once you have conducted a keyword gap analysis, allow your research to inform your content marketing strategy, and it won't be long before you're ranking alongside (or ideally above) your competitors.
Answer common customer queries with your content
If you get a lot of the same questions from different customers, consider whether it would be helpful to address them in your content. Start by combing through your direct messages on social media and check in with your customer service team. Look for common themes and questions and take notes.
Next, it's worth conducting keyword research to find out what people are asking search engines, and how you can best optimize your content. Not only can creating content with this in mind improve your SEO, but it could also save your customers service team time in the long run.
Answer the Public is a great tool for figuring out what questions people are asking on any given topic. Start by brainstorming a list of topics related to your business then plug them into the tool. It will provide you with related questions that people want the answers to. Consider how you can integrate these into your content.
For inspiration, let's break down some examples of sites that do a great job of publishing content based on customer queries.
For example, FreshBooks, an online accounting software provider, has created a helpful guide that talks about whether small businesses should hire an accountant.
This could go a long way towards boosting their SEO and attracting their ideal clients because their target audience is primarily made up of freelancers and small business owners that need advice in this area. If an internet user stumbles upon this page through a search inquiry, they might be interested in FreshBooks' services, making it a helpful article to boost their sales in addition to their SEO.
Similarly, The RealFX Group, a real estate company based out of Texas, helps customers with content that addresses the question of whether student loans can affect your ability to buy a home.
Many of their customers are likely to have student loans and they could be concerned about their debt or credit score if they're looking for a house. Not only might their target customers stumble across their site when doing research in this area but, because the piece provides a lot of helpful information and positions The RealFX Group as experts in their field, it will help to build trust with customers and could lead to a lot more sales. So, it's not just good for the company's SEO — it could benefit their conversion rate, too.
Look into what kinds of questions your customers tend to have before investing in your products or services, and aim to answer them with your content. Then, when they're doing their research, they'll be much more likely to discover you through the search engine results pages.
Provide free tools and resources that will help your customers out
If you can create free tools and resources that your ideal customers will genuinely find valuable, this will build a relationship with them and make them more likely to spend money with you in the future. Additionally, these tools can be great for your SEO, as they can lead people to your website when they're simply doing research or looking for the solution to a problem you're able to solve.
Think about what kinds of tools would be the most helpful for your customers. For example, if you sell items that people wear, like makeup or glasses, virtual try-ons could be a good option. Or, if you work with numbers, you could provide a free calculator that will help your target audience to make specific calculations.


Garnier, a cosmetics company, provides customers with a helping hand using their virtual hair dye shade selector. Users can simply upload a picture of their face and hair and Garnier will show them what they would look like with various different styles. This is a great way for people to try the company's products without having to make a commitment, which is sure to be very helpful for those on the fence about dyeing their hair.
Similarly, JustFoodForDogs helps pet owners to determine how much food they should be feeding their pooches with a dog food calculator. People who are doing research around this topic could stumble across the calculator and, if they find it very helpful, they'll be far more likely to invest in the company's dog food in future. It's great for SEO as well as building connections with customers.
Think about what kinds of pain points your customers have, and consider whether you could solve them with a simple tool that will earn their trust. It can be great for boosting your SEO as well as your sales.
Summary
Search engine optimization is one of the most important aspects of modern digital marketing. And, one of the most powerful ways you can boost your rankings is by creating content that your audience is looking for.
By showcasing your authority, making link-worthy content, filling gaps your competitors have left, and answering common questions your target audience have, you can climb the search engine results pages and make significantly more sales. Better get to writing!
—
Author bio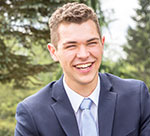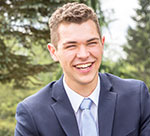 Alex Ratynski is the founder of Ratynski Digital, an online marketing consultancy that focuses on helping small and medium-sized businesses achieve their goals. He set up his company after working as a local SEO director for a dental marketing agency, where he helped to turn clients' ventures into thriving multi-million dollar businesses. He spends most hours strategizing SEO for his clients.